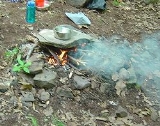 Cooking on a campfire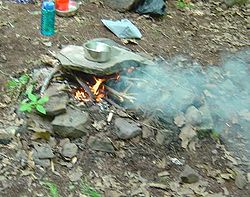 Outdoor cooking
differs substantially from kitchen-based cooking, the most obvious difference being lack of an easily defined kitchen area. As a result,
campers
Camping
Camping is an outdoor recreational activity. The participants leave urban areas, their home region, or civilization and enjoy nature while spending one or several nights outdoors, usually at a campsite. Camping may involve the use of a tent, caravan, motorhome, cabin, a primitive structure, or no...
and
backpackers
Backpacking (wilderness)
Backpacking combines the activities of hiking and camping for an overnight stay in backcountry wilderness...
have developed a significant body of techniques and specialized equipment for preparing food in outdoors environments. Such techniques have traditionally been associated with
nomad
Nomad
Nomadic people , commonly known as itinerants in modern-day contexts, are communities of people who move from one place to another, rather than settling permanently in one location. There are an estimated 30-40 million nomads in the world. Many cultures have traditionally been nomadic, but...
ic cultures such as the
Berbers
Berber people
Berbers are the indigenous peoples of North Africa west of the Nile Valley. They are continuously distributed from the Atlantic to the Siwa oasis, in Egypt, and from the Mediterranean to the Niger River. Historically they spoke the Berber language or varieties of it, which together form a branch...
of North Africa, the Arab Beduins, the
Plains Indians
Plains Indians
The Plains Indians are the Indigenous peoples who live on the plains and rolling hills of the Great Plains of North America. Their colorful equestrian culture and resistance to White domination have made the Plains Indians an archetype in literature and art for American Indians everywhere.Plains...
and
pioneers
American pioneer
American pioneers are any of the people in American history who migrated west to join in settling and developing new areas. The term especially refers to those who were going to settle any territory which had previously not been settled or developed by European or American society, although the...
of North America, and have been carried down to and refined in modern times for use during recreational outdoors pursuits.
Currently, much of the work of maintaining and developing outdoor cooking traditions in Westernized countries is done by the
Scouting
Scouting
Scouting, also known as the Scout Movement, is a worldwide youth movement with the stated aim of supporting young people in their physical, mental and spiritual development, that they may play constructive roles in society....
movement and by
wilderness educators
Outdoor education
Outdoor education usually refers to organized learning that takes place in the outdoors. Outdoor education programs sometimes involve residential or journey-based experiences in which students participate in a variety of adventurous challenges in the form of outdoor activities such as hiking,...
such as the
National Outdoor Leadership School
National Outdoor Leadership School
The National Outdoor Leadership School , is a non-profit outdoor education school based in the United States dedicated to teaching environmental ethics, technical outdoor skills, safety and judgment, and leadership on extended wilderness expeditions...
and
Outward Bound
Outward Bound
Outward Bound is an international, non-profit, independent, outdoor educationorganization with approximately 40 schools around the world and 200,000 participants per year...
, as well as by writers and cooks closely associated with the outdoors community.
Food and recipes
The type of food common in
outdoor
Wilderness
Wilderness or wildland is a natural environment on Earth that has not been significantly modified by human activity. It may also be defined as: "The most intact, undisturbed wild natural areas left on our planet—those last truly wild places that humans do not control and have not developed with...
s settings is somewhat different compared to household foods, and also differs depending on the type of cooking activity. While someone at a public campground may have easy access to a grocery store and be able to prepare plenty of recipes with fresh meat and vegetables, someone on an extended trip into the
backcountry
Backcountry
A backcountry area in general terms is a geographical region that is:* isolated* remote* undeveloped* difficult to accessThe term may apply to various regions that are reasonably close to urban areas but are:* not immediately accessible by car...
will not be able to carry large amounts of fresh food, due to the extra weight from high water content, and will have to rely heavily on food with a low water content, such dried meats and vegetables, packaged dehydrated camping foods, and starches such as
ramen
Ramen
is a Japanese noodle dish. It consists of Chinese-style wheat noodles served in a meat- or fish-based broth, often flavored with soy sauce or miso, and uses toppings such as , , kamaboko, green onions, and occasionally corn...
,
polenta
Polenta
Polenta is a dish made from boiled cornmeal. The word "polenta" is borrowed from Italian.-Description:Polenta is made with ground yellow or white cornmeal , which can be ground coarsely or finely depending on the region and the texture desired.As it is known today, polenta derives from earlier...
, and dried potato flakes. Wilderness experts in both categories sometimes make use of locally available wild foods as well, particularly wild vegetables and fruit but also occasionally fresh fish and wild game; however, it is not unusual for camping food, especially backcountry food, to be partially or totally vegetarian.
Camping food is often very high in fat and carbohydrates to provide energy for long hikes, and hikers (much like
soldiers
MRE
The Meal, Ready-to-Eat — commonly known as the MRE — is a self-contained, individual field ration in lightweight packaging bought by the United States military for its service members for use in combat or other field conditions where organized food facilities are not available...
) must rely heavily on energy-packed snacks such as
trail mix
Trail Mix
Trail mix is a combination of dried fruit, grains, nuts, and sometimes chocolate, developed as a snack food to be taken along on outdoor hikes....
,
chocolate
Chocolate
Chocolate is a raw or processed food produced from the seed of the tropical Theobroma cacao tree. Cacao has been cultivated for at least three millennia in Mexico, Central and South America. Its earliest documented use is around 1100 BC...
,
energy bar
Energy bar
Energy bars are supplemental bars containing cereals and other high energy foods targeted at people that require quick energy but do not have time for a meal...
s, and
sports drink
Sports drink
A sports drink beverage is designed to help athletes rehydrate when fluids are depleted after training or competition. Electrolyte replacement promotes proper rehydration, which is important in delaying the onset of fatigue during exercise...
s. Water can also be at a premium, so important parts of a camper's pantry include
chlorine
Chlorine
Chlorine is the chemical element with atomic number 17 and symbol Cl. It is the second lightest halogen, found in the periodic table in group 17. The element forms diatomic molecules under standard conditions, called dichlorine...
or
iodine
Iodine
Iodine is a chemical element with the symbol I and atomic number 53. The name is pronounced , , or . The name is from the , meaning violet or purple, due to the color of elemental iodine vapor....
-based water disinfectants as well as drink mixes to mask the flavor of the chemical treatment.
Recipes are often designed with significant planning and home preparation in mind, with certain ingredients mixed at home and then cooked on the trail; to that end, there are a number of providers of freeze-dried food, both ingredients and full meals, to the outdoors market, and just-add-water instant meals (including hot cereals, pasta or rice in sauce, and instant soup) from the supermarket are popular as well. Alternatively, some wilderness experts advocate bulk rationing, in which each hiker is given a selection of raw ingredients and prepares a meal from scratch on the trail.
Methods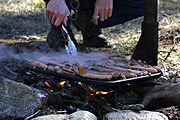 Most outdoor cooking is dictated by the foods themselves which are to be cooked. The first five discussions below, of direct heat, boiling, frying, grilling, and roasting, will, perhaps, describe the cooking methods employed most often in outdoor cooking. These techniques will require only rudimentary, commonsensical tools. Additional methods described farther below may be of interest only to those "
foodie
Foodie
Foodie is an informal term for a particular class of aficionado of food and drink. The word was coined in 1981 by Paul Levy and Ann Barr, who used it in the title of their 1984 book The Official Foodie Handbook.- Distinguished from gourmet :...
s" who carry their interests into the outdoors for gourmet meals. These advanced methods may require additional equipment or techniques.
Direct heat
The most traditional method for outdoor cooking (and indeed the oldest form of cooking known to humanity) is by means of a
campfire
Campfire
A campfire is a fire lit at a campsite, to serve the following functions: light, warmth, a beacon, a bug and/or apex predator deterrent, to cook, and for a psychological sense of security. In established campgrounds they are usually in a fire ring for safety. Campfires are a popular feature of...
. Campfires can be used for
cooking
Cooking
Cooking is the process of preparing food by use of heat. Cooking techniques and ingredients vary widely across the world, reflecting unique environmental, economic, and cultural traditions. Cooks themselves also vary widely in skill and training...
food
Food
Food is any substance consumed to provide nutritional support for the body. It is usually of plant or animal origin, and contains essential nutrients, such as carbohydrates, fats, proteins, vitamins, or minerals...
by a number of techniques. The techniques for cooking on a campfire are no different from those used for everyday cooking before the invention of stoves or where stoves are still not available. Individuals who are
backpacking
Backpacking (wilderness)
Backpacking combines the activities of hiking and camping for an overnight stay in backcountry wilderness...
in an area that allows the gathering of firewood may decide to cook on a campfire to avoid the need to carry extra equipment; however, most campfire cooking is done in front-country campgrounds. Cooking food using a campfire can be tricky for those not accustomed to it; also, due to risk of fire damage, campfires are
illegal
Crime
Crime is the breach of rules or laws for which some governing authority can ultimately prescribe a conviction...
in many areas, so many campers prefer to use a
portable stove
Portable stove
A portable stove is a cooking stove specially designed to be portable and lightweight, as for camping or picnicking, or for use in remote locations where an easily transportable means of cooking or heating is needed...
instead.
Boiling
In backpacking particularly,
boiling
Boiling
Boiling is the rapid vaporization of a liquid, which occurs when a liquid is heated to its boiling point, the temperature at which the vapor pressure of the liquid is equal to the pressure exerted on the liquid by the surrounding environmental pressure. While below the boiling point a liquid...
water is the most common kitchen operation undertaken on the trail, used for cooking or reconstituting food, making hot beverages, cleaning up, and even sanitizing drinking water. Portable stoves are therefore generally rated in terms of how quickly they can boil a liter (or other appropriate size) of water; indeed, some commercial stove models are specifically optimized for fast boiling, with other operations such as frying or baking being an afterthought.
Like camp frying pans, camp pots are generally made of very lightweight material (often aluminum or, at a considerable price premium, titanium). Though less of a worry given the thermal mass of water, the camp cook must still take care not to allow food to burn, since the pot itself has very little mass to spread the heat out.
Alternatively, a fireproof container (e.g. mess can,
bamboo
Bamboo
Bamboo is a group of perennial evergreens in the true grass family Poaceae, subfamily Bambusoideae, tribe Bambuseae. Giant bamboos are the largest members of the grass family....
segment or improvised tree bark pot) is placed (or hung) above the fire.
Roasting
Possibly the simplest method of cooking over a campfire and one of the most common is to
roast
Roasting
Roasting is a cooking method that uses dry heat, whether an open flame, oven, or other heat source. Roasting usually causes caramelization or Maillard browning of the surface of the food, which is considered by some as a flavor enhancement. Roasting uses more indirect, diffused heat , and is...
food on long
skewer
Skewer
A skewer is a thin metal or wood stick used to hold pieces of food together. They are used while grilling or roasting meats, and in other culinary applications....
s that can be held above the flames. This is popular for cooking
hot dog
Hot dog
A hot dog is a sausage served in a sliced bun. It is very often garnished with mustard, ketchup, onions, mayonnaise, relish and/or sauerkraut.-History:...
s or toasting
marshmallow
Marshmallow
The marshmallow is a confection that, in its modern form, typically consists of sugar, corn syrup, water, gelatin that has been softened in hot water, dextrose, vanilla flavourings, and sometimes colouring, whipped to a spongy consistency. Some marshmallow recipes call for egg whites...
s for making
s'more
S'more
A s'more is a traditional nighttime campfire treat popular in the United States and Canada consisting of a roasted marshmallow and a layer of chocolate sandwiched between two pieces of graham cracker.-Etymology and origins:...
s.
Hungarians
often roast slab bacon (
Szalonna
Szalonna (bacon)
Szalonna is Hungarian for back bacon made of smoked pork fat with the rind and is traditional in Hungarian cuisine. It is often smoked or cooked in some manner before purchase so that the buyer can eat it without further preparation. It is very different from popular American bacon, which is...
) over a campfire. Besides skewers and fireplace popcorn popper, pie irons too may be used (small iron molds with long handles), into which can be placed slices of bread with some form of filling — which are placed over hot coals to cook. When using meat, roasting can have the advantage over grilling in that the grease that drips from the food can be reused. This can be done by placing a fireproof container under the food.
Grilling
Grills
Grill (cooking)
A barbecue grill is a device for cooking food by applying heat directly from below. There are several varieties of such grills, with most falling into one of two categories: gas-fueled and charcoal. There is a great debate over the merits of charcoal or gas for use as the cooking method between...
are simple to use and they tend to make the food pick up flavors from the
smoke
Smoke
Smoke is a collection of airborne solid and liquid particulates and gases emitted when a material undergoes combustion or pyrolysis, together with the quantity of air that is entrained or otherwise mixed into the mass. It is commonly an unwanted by-product of fires , but may also be used for pest...
. Grills over a campfire are used in the same way as ordinary charcoal
barbecue
Barbecue
Barbecue or barbeque , used chiefly in the United States, Canada, the United Kingdom, New Zealand and Australia is a method and apparatus for cooking meat, poultry and occasionally fish with the heat and hot smoke of a fire, smoking wood, or hot coals of...
s. If the food is simply placed on the grill, it may catch fire so it requires constant attention. Hand-held grills, aka broiler that clamp over the food may be used for various tasks like warming food, grilling burgers or sausages or making
toast
Toast
Toast is bread that has been browned by exposure to radiant heat. This browning reaction is known as the Maillard reaction. Toasting warms the bread and makes it firmer, so it holds toppings more securely...
. In cases where open fires are not allowed, lightweight charcoal grills (sometimes considered a type of
hibachi
Hibachi
The is a traditional Japanese heating device. It consists of a round, cylindrical or a box-shaped open-topped container, made from or lined with a heatproof material and designed to hold burning charcoal....
) are sometimes used for direct grilling of food.
Frying
Frying
Frying
Frying is the cooking of food in oil or another fat, a technique that originated in ancient Egypt around 2500 BC. Chemically, oils and fats are the same, differing only in melting point, but the distinction is only made when needed. In commerce, many fats are called oils by custom, e.g...
is not always necessary, but is often used for
fish
Fish
Fish are a paraphyletic group of organisms that consist of all gill-bearing aquatic vertebrate animals that lack limbs with digits. Included in this definition are the living hagfish, lampreys, and cartilaginous and bony fish, as well as various extinct related groups...
or
wild game
Game (food)
Game is any animal hunted for food or not normally domesticated. Game animals are also hunted for sport.The type and range of animals hunted for food varies in different parts of the world. This will be influenced by climate, animal diversity, local taste and locally accepted view about what can or...
caught while on the trip, as well as pancakes and certain kinds of
bread
Bread
Bread is a staple food prepared by cooking a dough of flour and water and often additional ingredients. Doughs are usually baked, but in some cuisines breads are steamed , fried , or baked on an unoiled frying pan . It may be leavened or unleavened...
and desserts made on the trail. As a general rule, the frying medium used in camp cooking is usually either vegetable oil or
margarine
Margarine
Margarine , as a generic term, can indicate any of a wide range of butter substitutes, typically composed of vegetable oils. In many parts of the world, the market share of margarine and spreads has overtaken that of butter...
. Normal (salted) butter may also be appropriate for camp use, but unsalted butter or lard may not be, due to their shorter shelf life.
Camp frying pans often lack handles for easy packing, with the camp cook using a clamp-like device to pick up and move the pan. Camp frying pans are generally made out of very thin metal (though some campers do use
cast iron
Cast iron
Cast iron is derived from pig iron, and while it usually refers to gray iron, it also identifies a large group of ferrous alloys which solidify with a eutectic. The color of a fractured surface can be used to identify an alloy. White cast iron is named after its white surface when fractured, due...
pans for this purpose as well), so extra care must be taken to evenly cook the food, especially over the small-diameter flame of a portable stove. A "round the clock" technique, where the frying pan is moved repeatedly to expose different parts of its base to the flame, is the most commonly recommended solution to the problem, though it is also possible to use a flame diffuser to achieve the same effect. For campfire use, on the other hand, some camp cooks prefer a legged cast-iron pan called a "spider", which is elevated to allow a small fire directly beneath it.
Camp cooks making
pancake
Pancake
A pancake is a thin, flat, round cake prepared from a batter, and cooked on a hot griddle or frying pan. Most pancakes are quick breads; some use a yeast-raised or fermented batter. Most pancakes are cooked one side on a griddle and flipped partway through to cook the other side...
s in a moderate-size pan often simplify their work and speed up their service by pouring enough batter to make one large, moderate-thickness pancake that takes up the entire pan and then cutting the final product with the spatula to serve individual portions. Also, camp cooks often replicate toast using a fry pan: a bread slice (or more, or a combination of whole and cut portions) are placed in a well greased pan, pressed down with spatula, flipped, and pressed down again.
An improvised griddle can be made by putting a flat stone directly on the fire (or above it, on top of other stones). Food is then placed on the stone.
Baking
Putting a baking sheet pan over a furnace can allow for
baking
Baking
Baking is the technique of prolonged cooking of food by dry heat acting by convection, and not by radiation, normally in an oven, but also in hot ashes, or on hot stones. It is primarily used for the preparation of bread, cakes, pastries and pies, tarts, quiches, cookies and crackers. Such items...
, which is in turn derived from the concept of the
masonry oven
Masonry oven
A masonry oven, colloquially known as a brick oven or stone oven, is an oven consisting of a baking chamber made of fireproof brick, concrete, stone, or clay. Though traditionally wood-fired, coal-fired ovens were common in the 19th century, modern masonry ovens are often fired with natural gas or...
. This was common for centuries, used to make breads, pies, and other items, and is still popular today, particularly among campers who enjoy
stuffing
Stuffing
In cooking, stuffing or filling is an edible substance or mixture, often a starch, used to fill a cavity in another food item...
their meats. Ovens can be made from cast iron, sheet metal or aluminum foil covered cardboard box.
Reflector oven
Reflector oven
A reflector oven or a Dutch oven, is a polished metal container designed to surround an article of food being baked over an open flame and reflect the heat back towards the food...
s are metal containers designed to surround an article of food being baked over an open flame and reflect the heat back towards the food.
Dutch ovens and other pots
Closely associated with the
American Old West
American Old West
The American Old West, or the Wild West, comprises the history, geography, people, lore, and cultural expression of life in the Western United States, most often referring to the latter half of the 19th century, between the American Civil War and the end of the century...
, the
Dutch oven
Dutch oven
A Dutch oven is a thick-walled cooking pot with a tight-fitting lid. Dutch ovens have been used as cooking vessels for hundreds of years....
of tradition is a heavy
cast iron
Cast iron
Cast iron is derived from pig iron, and while it usually refers to gray iron, it also identifies a large group of ferrous alloys which solidify with a eutectic. The color of a fractured surface can be used to identify an alloy. White cast iron is named after its white surface when fractured, due...
pot, traditionally made with three short legs and a concave cover for holding hot coals on top. While such pots are generally considered too heavy for backpackers, Dutch ovens are often used in group camp-outs and cookouts.
Dutch oven
Dutch oven
A Dutch oven is a thick-walled cooking pot with a tight-fitting lid. Dutch ovens have been used as cooking vessels for hundreds of years....
s were traditionally specially designed for camping, and such pots (often with legs and a handle, both for suspending the pot over a fire) are still widely available, though sometimes at a premium over flat-bottomed stovetop models. The oven is placed in a bed of hot coals, often from a keyhole fire with additional coals placed on top of the lid, which in camp ovens usually has a raised rim to keep the coals from falling off. Dutch ovens are made of
cast iron
Cast iron
Cast iron is derived from pig iron, and while it usually refers to gray iron, it also identifies a large group of ferrous alloys which solidify with a eutectic. The color of a fractured surface can be used to identify an alloy. White cast iron is named after its white surface when fractured, due...
or aluminum, and are generally not considered suitable for
backpacking
Backpacking (wilderness)
Backpacking combines the activities of hiking and camping for an overnight stay in backcountry wilderness...
due to the heavy weight of the pot. Dutch ovens are convenient for cooking dishes that take a long time such as stews, joints of meat and baked goods. They are not the only option for
baking
Baking
Baking is the technique of prolonged cooking of food by dry heat acting by convection, and not by radiation, normally in an oven, but also in hot ashes, or on hot stones. It is primarily used for the preparation of bread, cakes, pastries and pies, tarts, quiches, cookies and crackers. Such items...
on a campout as devices for baking on portable stoves exist and clay ovens can be constructed at longer encampments.
A pot hanging over the fire, although picturesque, may spill, and the rigging may be difficult to construct from found wood. Generally this is done with metal rigging, much of it identical to that historically used in home fireplaces before the invention of stoves. Two vertical iron bars with an iron cross-piece allow pots to be hung at various heights or over different temperatures of fire. Griddles, grills and skewers can also be hung over the fire. When working with wood, one may use two tripods, lashed with tripod lashings, but the
rope
Rope
A rope is a length of fibres, twisted or braided together to improve strength for pulling and connecting. It has tensile strength but is too flexible to provide compressive strength...
will be liable to melt or burn.
Dovetail joint
Dovetail joint
A dovetail joint or simply dovetail is a joint technique most commonly used in woodworking joinery. Noted for its resistance to being pulled apart , the dovetail joint is commonly used to join the sides of a drawer to the front....
s are more secure, but difficult to carve.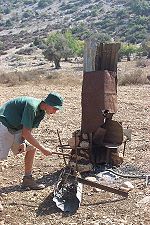 A good alternative to cooking with a tripod is to cook directly upon the fire itself. To do this properly the fire needs to have a reasonable bed of coals and to have burned down to the point where it is not a roaring fire. While the pot may be set directly upon the coals, this is not preferable since that will tend to extinguish the coals. To lift the pot up off the fire, often two small logs of similar size may be used on either side of the pot; camp-style Dutch ovens have three legs built into the pot to perform this function. An alternative is the use of a metal thread fire basket (e.g.
kanun
Kanun (disambiguation)
Kanun can refer to any of the following:* Kanun, a Middle Eastern stringed musical instrument* Short for Kanuni i Lekë Dukagjinit, the traditional clan law of Albania* An alternative spelling for Qanun, a term for non-religious state law in Islamic settings....
). This allows continued airflow through the fire while providing optimal heat. The one down side to this form of cooking is that the pots will become blackened with soot and ash, which can be difficult to scrub off. The ash and soot build up can be easily avoided by applying a thin layer of dish soap (preferably biodegradable) to the outside of the pot before cooking. The ash and soot will stick to the soap which is then easily rinsed off later.
Steaming
Steaming
Steaming
Steaming is a method of cooking using steam. Steaming is considered a healthy cooking technique and capable of cooking almost all kinds of food.-Method:...
is possible with plants such as
bamboo
Bamboo
Bamboo is a group of perennial evergreens in the true grass family Poaceae, subfamily Bambusoideae, tribe Bambuseae. Giant bamboos are the largest members of the grass family....
. In this method, a piece of bamboo is set diagonally above a fire. The bamboo is perforated from within (between the joints) and water is placed in the lowest bamboo segment. Food (e.g. rice) is then placed in the top segment which is steamed due to the water evaporating from the heat in the lowest segment.
Other covered techniques
The original form of covered cooking is the
earth oven
Earth oven
An earth oven or cooking pit is one of the most simple and long-used cooking structures . At its simplest, an earth oven is simply a pit in the ground used to trap heat and bake, smoke, or steam food...
, simply a covered pit with a fire built in it, demonstrated in techniques such as the
Polynesia
Polynesia
Polynesia is a subregion of Oceania, made up of over 1,000 islands scattered over the central and southern Pacific Ocean. The indigenous people who inhabit the islands of Polynesia are termed Polynesians and they share many similar traits including language, culture and beliefs...
n umu, the central Asian tandoori, and the
Native American clambake
New England clam bake
The New England clam bake is a traditional method of cooking foods, especially seafood such as lobster, mussels, crabs, steamers, and quahogs. The seafood is often supplemented by sausages, potatoes, onions, carrots, corn on the cob, etc...
.
Another commonly used technique is the baking of food in aluminum foil packets. Food is wrapped inside a durable packet of
tin
Tin
Tin is a chemical element with the symbol Sn and atomic number 50. It is a main group metal in group 14 of the periodic table. Tin shows chemical similarity to both neighboring group 14 elements, germanium and lead and has two possible oxidation states, +2 and the slightly more stable +4...
or aluminum foil, crimped to seal, and placed on or under hot coals.
Baked potato
Baked potato
A baked potato, or jacket potato, is the edible result of baking a potato. When well cooked, a baked potato has a fluffy interior and a crisp skin. It may be served with fillings and condiments such as butter, cheese or ham....
es are commonly cooked this way but entire meals can be cooked in one packet. Besides aluminum or tin, organic material such as leaves (of tree, "
Nelumbo nucifera
Nelumbo nucifera
Nelumbo nucifera, known by a number of names including Indian Lotus, Sacred Lotus, Bean of India, or simply Lotus, is a plant in the monogeneric family Nelumbonaceae...
" lotus, "Dendrocalamus latiflorus Munro" bamboo aka
Bambusa oldhamii
Bambusa oldhamii
Bambusa oldhamii, known as giant timber bamboo or Oldham's bamboo, is a large species of bamboo originating from Taiwan. It is the most common and widely grown in the United States and has been introduced into cultivation around the world...
(麻竹葉),
phragmites
Phragmites
Phragmites, the Common reed, is a large perennial grass found in wetlands throughout temperate and tropical regions of the world. Phragmites australis is sometimes regarded as the sole species of the genus Phragmites, though some botanists divide Phragmites australis into three or four species...
,
plantain
Plantain
Plantain is the common name for herbaceous plants of the genus Musa. The fruit they produce is generally used for cooking, in contrast to the soft, sweet banana...
,
taro
Taro
Taro is a common name for the corms and tubers of several plants in the family Araceae . Of these, Colocasia esculenta is the most widely cultivated, and is the subject of this article. More specifically, this article describes the 'dasheen' form of taro; another variety is called eddoe.Taro is...
, etc.), husks (of corn, "
Phyllostachys
Phyllostachys
Phyllostachys is a genus of bamboo. The species are native to Asia with a large number of species found in Central China, but can now be found in many temperate and semi-tropical areas around the world as cultivated plants or escapes from cultivation...
makinoi" bamboo (桂竹籜), etc.), and skins of fruit (
citrus
Citrus
Citrus is a common term and genus of flowering plants in the rue family, Rutaceae. Citrus is believed to have originated in the part of Southeast Asia bordered by Northeastern India, Myanmar and the Yunnan province of China...
, etc.) are also frequently employed. Tree leaves such as those from the banana tree do not burn/ignite as they contain enough oil to resist the heat from the flames (at least until the frying is complete). The way to adapt recipes where food is wrapped in foil is to use a barrier such as baking or silicone paper between the food and the foil; the overall technique is similar to the
en papillote
En papillote
En Papillote is a method of cooking in which the food is put into a folded pouch or parcel and then baked. The parcel is typically made from folded parchment paper, but other material such as a paper bag or aluminium foil may be used...
technique developed in
French cuisine
French cuisine
French cuisine is a style of food preparation originating from France that has developed from centuries of social change. In the Middle Ages, Guillaume Tirel , a court chef, authored Le Viandier, one of the earliest recipe collections of Medieval France...
, but uses a more robust container.
Other simple methods include clay wrapping food (such as in the
kleftiko
method used in Greek cuisine), leaf wrapping, and plank grilling, where food is cooked on a wooden plank set above the fire. Hot-stone cooking, where food is placed on a heated stone next to or even in the fire or where fire-heated stones are dropped into a pot are other methods.
Long-distance truckers, automotive travelers and
rally
Rallying
Rallying, also known as rally racing, is a form of auto racing that takes place on public or private roads with modified production or specially built road-legal cars...
racers have occasionally resorted to cooking on accessible sections of the
vehicle engine
Internal combustion engine
The internal combustion engine is an engine in which the combustion of a fuel occurs with an oxidizer in a combustion chamber. In an internal combustion engine, the expansion of the high-temperature and high -pressure gases produced by combustion apply direct force to some component of the engine...
; the book
Manifold Destiny
Manifold Destiny (cookbook)
Manifold Destiny is a 1989 cookbook , its updated 1998 edition and a 2008 update on the subject of cooking on the surface of a car engine. It was written by Chris Maynard and Bill Scheller, a photographer and a travel writer who were also accomplished rally drivers...
, though written to a certain extent as a humor book, is considered the authoritative reference on the subject. The food is usually wrapped in several layers of aluminum foil and secured onto the engine block or other hot parts of the engine.
In some areas where there is a significant amount of steady, less-hazardous
volcanic activity
Volcano
2. Bedrock3. Conduit 4. Base5. Sill6. Dike7. Layers of ash emitted by the volcano8. Flank| 9. Layers of lava emitted by the volcano10. Throat11. Parasitic cone12. Lava flow13. Vent14. Crater15...
,
lava

Lava

Lava refers both to molten rock expelled by a volcano during an eruption and the resulting rock after solidification and cooling. This molten rock is formed in the interior of some planets, including Earth, and some of their satellites. When first erupted from a volcanic vent, lava is a liquid at...


cooking
(invented in
Hawaii
Hawaii
Hawaii is the newest of the 50 U.S. states , and is the only U.S. state made up entirely of islands. It is the northernmost island group in Polynesia, occupying most of an archipelago in the central Pacific Ocean, southwest of the continental United States, southeast of Japan, and northeast of...
) is sometimes practiced as a novelty. The food does not come in direct contact with the molten rock, instead being wrapped in a moist barrier (usually wet tropical leaves such as
banana
Banana
Banana is the common name for herbaceous plants of the genus Musa and for the fruit they produce. Bananas come in a variety of sizes and colors when ripe, including yellow, purple, and red....
foliage or
ti leaves
Ti (plant)
Cordyline fruticosa is an evergreen flowering plant in the Asparagus family, Asparagaceae, known by a wide variety of common names including Cabbage Palm, Good Luck Plant, Palm Lily, Ti Plant, Kī, La'i , Tī Pore , Sī , "Lauti" , and Autī .Formerly treated in the families Agavaceae...
). The wrapper is
sacrificial
Ablation
Ablation is removal of material from the surface of an object by vaporization, chipping, or other erosive processes. This occurs in spaceflight during ascent and atmospheric reentry, glaciology, medicine, and passive fire protection.-Spaceflight:...
, and is chipped or otherwise cleaned off along with the cooled lava before serving.
Specialist equipment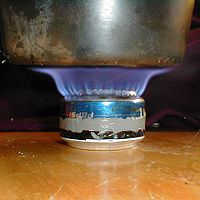 Portable stove
Portable stove
A portable stove is a cooking stove specially designed to be portable and lightweight, as for camping or picnicking, or for use in remote locations where an easily transportable means of cooking or heating is needed...
s are widely used in areas where fuel such as wood is scarce or there is a significant fire or environmental hazard to building a campfire. Such devices usually use a liquid fuel (usually a
petroleum
Petroleum
Petroleum or crude oil is a naturally occurring, flammable liquid consisting of a complex mixture of hydrocarbons of various molecular weights and other liquid organic compounds, that are found in geologic formations beneath the Earth's surface. Petroleum is recovered mostly through oil drilling...
derivative or some kind of
alcohol
Alcohol
In chemistry, an alcohol is an organic compound in which the hydroxy functional group is bound to a carbon atom. In particular, this carbon center should be saturated, having single bonds to three other atoms....
), but gaseous fuels like
propane
Propane
Propane is a three-carbon alkane with the molecular formula , normally a gas, but compressible to a transportable liquid. A by-product of natural gas processing and petroleum refining, it is commonly used as a fuel for engines, oxy-gas torches, barbecues, portable stoves, and residential central...
and solid fuels such as wood shavings and
hexamine
Hexamine
Hexamethylenetetramine is a heterocyclic organic compound with the formula 6N4. This white crystalline compound is highly soluble in water and polar organic solvents. It has a cage-like structure similar to adamantane. It is useful in the synthesis of other chemical compounds, e.g. plastics,...
are also used depending on the stove design; while two-burner models are commonly used for front-country campstoves and function much like residential gas stoves, backpacking stoves generally put out a much more concentrated and less powerful flame and require lightweight cooking equipment ("
billycan
Billycan
A billycan, more commonly known simply as a billy or occasionally as a billy can , is a lightweight cooking pot which is used on a campfire or a camping stove.-Usage and etymology of the term:...
s") made of aluminum or
titanium
Titanium
Titanium is a chemical element with the symbol Ti and atomic number 22. It has a low density and is a strong, lustrous, corrosion-resistant transition metal with a silver color....
rather than more typical kitchen-type utensils.
In addition, there are often special techniques for baked goods made on the trail in the absence of specialized camp oven equipment, including flipping over the (lidded) pan while on the heat and the "twiggy fire", which mimics the use of charcoal on the lid of a Dutch oven using a small campfire on the lid of the pan.
Reflector oven
Reflector oven
A reflector oven or a Dutch oven, is a polished metal container designed to surround an article of food being baked over an open flame and reflect the heat back towards the food...
s are placed on the ground next to the fire, and gather
thermal radiation
Thermal radiation
Thermal radiation is electromagnetic radiation generated by the thermal motion of charged particles in matter. All matter with a temperature greater than absolute zero emits thermal radiation....
from it.
Solar cooker
Solar cooker
A solar cooker, or solar oven, is a device which uses the energy of sunlight to heat food or drink to cook it or sterilize it. High-tech versions, for example electric ovens powered by solar cells, are possible, and have some advantages such as being able to work in diffuse light. However at...
s are sometimes used in places where absolutely minimal environmental impact is required or simply desired.
Ceramic Grills come in many guises and have been around in simple format since ancient times. Many modern cookers sport ornate designs that can be quite beautiful. These grills cook well and efficiently because they retain heat and seal in moisture. Most quality grills are weatherproof and can be used year round to grill, BBQ, smoke and bake. Other benefits include fast heating time and a lack of hot-spots. They are fuel-efficient, using a minimum of charcoal, and may be safer for children due to the lack of hot-spots.
Dangers
See also: Campfire safety
Special precautions are required for camping in
bear
Bear
Bears are mammals of the family Ursidae. Bears are classified as caniforms, or doglike carnivorans, with the pinnipeds being their closest living relatives. Although there are only eight living species of bear, they are widespread, appearing in a wide variety of habitats throughout the Northern...
country because cooking activities and food storage attract these potentially dangerous animals. Food preparation and storage must be located a safe distance from sleeping areas, so a fire near camp cannot be used for cooking. Food needs to be stored in bear cans or bear bags hung from a tree or post. Other animals may be attracted to food too; most notably
raccoon
Raccoon
Procyon is a genus of nocturnal mammals, comprising three species commonly known as raccoons, in the family Procyonidae. The most familiar species, the common raccoon , is often known simply as "the" raccoon, as the two other raccoon species in the genus are native only to the tropics and are...
s,
squirrel
Squirrel
Squirrels belong to a large family of small or medium-sized rodents called the Sciuridae. The family includes tree squirrels, ground squirrels, chipmunks, marmots , flying squirrels, and prairie dogs. Squirrels are indigenous to the Americas, Eurasia, and Africa and have been introduced to Australia...
s,
skunk
Skunk
Skunks are mammals best known for their ability to secrete a liquid with a strong, foul odor. General appearance varies from species to species, from black-and-white to brown or cream colored. Skunks belong to the family Mephitidae and to the order Carnivora...
s, and
mice
Mouse
A mouse is a small mammal belonging to the order of rodents. The best known mouse species is the common house mouse . It is also a popular pet. In some places, certain kinds of field mice are also common. This rodent is eaten by large birds such as hawks and eagles...
.
Outdoor cooking elements can be of danger due to their high flammability and proximity to occupants with no fire alarm warning. Use of highly
flammable alcohols
Flammable liquid
Generally, a flammable liquid is a liquid that can catch fire.In the USA, there is a precise definition of flammable liquid as one with a flash point below 100 degrees Fahrenheit. Less-flammable liquids are defined as combustible liquids...
to refuel portable cookers, gas cookers need to be checked for leaks and kept well away from tents in a sheltered and stable setting. Keep tents at a safe distance from cooking utilities, ground camp fires and make sure they are properly extinguished before resigning to sleep. Wind can carry hot embers, it is recommended to draw a circle of safety. Avoid open ground sleeping next to a camp fire, campers have been known to roll in their sleep towards the heat source including sleeping bags catching fire. During a study most of the contact burns inflicted had a relation of 81% to intoxication, oppose to the flame and flash burns comprising just 11%.
A number of incidents involving camping and fire have resulted in fatalities and severe injuries.
See also
External Links