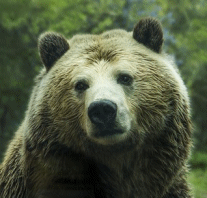 Bear
Bears
are
mammal
Mammal
Mammals are members of a class of air-breathing vertebrate animals characterised by the possession of endothermy, hair, three middle ear bones, and mammary glands functional in mothers with young...
s of the
family
Family (biology)
In biological classification, family is* a taxonomic rank. Other well-known ranks are life, domain, kingdom, phylum, class, order, genus, and species, with family fitting between order and genus. As for the other well-known ranks, there is the option of an immediately lower rank, indicated by the...
Ursidae
. Bears are classified as
caniforms
Caniformia
Caniformia, or Canoidea , is a suborder within the order Carnivora. They typically possess a long snout and non-retractile claws . The Pinnipedia evolved from caniform ancestors and are accordingly assigned to this group...
, or doglike carnivorans, with the
pinniped
Pinniped
Pinnipeds or fin-footed mammals are a widely distributed and diverse group of semiaquatic marine mammals comprising the families Odobenidae , Otariidae , and Phocidae .-Overview: Pinnipeds are typically sleek-bodied and barrel-shaped...
s being their closest living relatives. Although there are only eight living
species
Species
In biology, a species is one of the basic units of biological classification and a taxonomic rank. A species is often defined as a group of organisms capable of interbreeding and producing fertile offspring. While in many cases this definition is adequate, more precise or differing measures are...
of bear, they are widespread, appearing in a wide variety of
habitat
Habitat
* Habitat , a place where a species lives and grows*Human habitat, a place where humans live, work or play** Space habitat, a space station intended as a permanent settlement...
s throughout the
Northern Hemisphere
Northern Hemisphere
The Northern Hemisphere is the half of a planet that is north of its equator—the word hemisphere literally means "half sphere". It is also that half of the celestial sphere north of the celestial equator...
and partially in the
Southern Hemisphere
Southern Hemisphere
The Southern Hemisphere is the part of Earth that lies south of the equator. The word hemisphere literally means 'half ball' or "half sphere"...
. Bears are found in the
continent
Continent
A continent is one of several very large landmasses on Earth. They are generally identified by convention rather than any strict criteria, with seven regions commonly regarded as continents—they are : Asia, Africa, North America, South America, Antarctica, Europe, and Australia.Plate tectonics is...
s of
North America
North America
North America is a continent wholly within the Northern Hemisphere and almost wholly within the Western Hemisphere. It is also considered a northern subcontinent of the Americas...
,
South America
South America
South America is a continent situated in the Western Hemisphere, mostly in the Southern Hemisphere, with a relatively small portion in the Northern Hemisphere. The continent is also considered a subcontinent of the Americas. It is bordered on the west by the Pacific Ocean and on the north and east...
,
Europe
Europe
Europe is, by convention, one of the world's seven continents. Comprising the westernmost peninsula of Eurasia, Europe is generally 'divided' from Asia to its east by the watershed divides of the Ural and Caucasus Mountains, the Ural River, the Caspian and Black Seas, and the waterways connecting...
, and
Asia
Asia
Asia is the world's largest and most populous continent, located primarily in the eastern and northern hemispheres. It covers 8.7% of the Earth's total surface area and with approximately 3.879 billion people, it hosts 60% of the world's current human population...
.
Common characteristics of modern bears include a large body with stocky legs, a long snout, shaggy hair,
plantigrade
Plantigrade
right|151px|thumb|Human skeleton, showing plantigrade habitIn terrestrial animals, plantigrade locomotion means walking with the podials and metatarsals flat on the ground. It is one of three forms of locomotion adopted by mammals...
paws with five nonretractile claws, and a short tail.