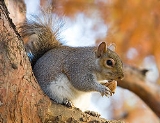 Squirrel
Squirrels
belong to a large
family
Family (biology)
In biological classification, family is* a taxonomic rank. Other well-known ranks are life, domain, kingdom, phylum, class, order, genus, and species, with family fitting between order and genus. As for the other well-known ranks, there is the option of an immediately lower rank, indicated by the...
of small or medium-sized
rodent
Rodent
Rodentia is an order of mammals also known as rodents, characterised by two continuously growing incisors in the upper and lower jaws which must be kept short by gnawing....
s called the
Sciuridae
. The family includes
tree squirrel
Tree squirrel
Tree squirrels include over a hundred species that are found on all continents except Antarctica, and are the members of the squirrel family most commonly referred to as "squirrels"...
s,
ground squirrel
Ground squirrel
The ground squirrels are members of the squirrel family of rodents which generally live on or in the ground, rather than trees. The term is most often used for the medium-sized ground squirrels, as the larger ones are more commonly known as marmots or prairie dogs, while the smaller and less...
s,
chipmunk
Chipmunk
Chipmunks are small striped squirrels native to North America and Asia. They are usually classed either as a single genus with three subgenera, or as three genera.-Etymology and taxonomy:...
s,
marmot
Marmot
The marmots are a genus, Marmota, of squirrels. There are 14 species in this genus.Marmots are generally large ground squirrels. Those most often referred to as marmots tend to live in mountainous areas such as the Alps, northern Apennines, Eurasian steppes, Carpathians, Tatras, and Pyrenees in...
s (including
woodchuck
Groundhog
The groundhog , also known as a woodchuck, whistle-pig, or in some areas as a land-beaver, is a rodent of the family Sciuridae, belonging to the group of large ground squirrels known as marmots. Other marmots, such as the yellow-bellied and hoary marmots, live in rocky and mountainous areas, but...
s),
flying squirrel
Flying squirrel
Flying squirrels, scientifically known as Pteromyini or Petauristini, are a tribe of 44 species of squirrels .- Description :...
s, and
prairie dog
Prairie dog
Prairie dogs are burrowing rodents native to the grasslands of North America. There are five different species of prairie dogs: black-tailed, white-tailed, Gunnison's, Utah and Mexican prairie dogs. They are a type of ground squirrel, found in the United States, Canada and Mexico...
s. Squirrels are indigenous to the Americas, Eurasia, and Africa and have been
introduced
Introduced species
An introduced species — or neozoon, alien, exotic, non-indigenous, or non-native species, or simply an introduction, is a species living outside its indigenous or native distributional range, and has arrived in an ecosystem or plant community by human activity, either deliberate or accidental...
to Australia. Squirrels are first attested in the
Eocene
Eocene
The Eocene Epoch, lasting from about 56 to 34 million years ago , is a major division of the geologic timescale and the second epoch of the Paleogene Period in the Cenozoic Era. The Eocene spans the time from the end of the Palaeocene Epoch to the beginning of the Oligocene Epoch. The start of the...
, about 40 million years ago, and are most closely related to the
mountain beaver
Mountain Beaver
The Mountain Beaver is the most primitive extant rodent. Not to be confused with the North American beaver Castor canadensis, or its relative the Eurasian beaver, Castor fiber, it has several common names including Aplodontia, Boomer, Ground Bear, and Giant Mole...
and to the
dormice
Dormouse
Dormice are rodents of the family Gliridae. Dormice are mostly found in Europe, although some live in Africa and Asia. They are particularly known for their long periods of hibernation...
among living species.
Etymology
The word
squirrel
, first attested in 1327, comes via
Anglo-Norman
Anglo-Norman language
Anglo-Norman is the name traditionally given to the kind of Old Norman used in England and to some extent elsewhere in the British Isles during the Anglo-Norman period....
esquirel
from the
Old French
Old French
Old French was the Romance dialect continuum spoken in territories that span roughly the northern half of modern France and parts of modern Belgium and Switzerland from the 9th century to the 14th century...
escurel
, the reflex of a Latin word
sciurus
. This Latin word was itself borrowed from Ancient Greek word σκίουρος,
skiouros
, which means shadow-tailed, referring to the bushy appendage possessed by many of its members.
The native
Old English
Old English language
Old English or Anglo-Saxon is an early form of the English language that was spoken and written by the Anglo-Saxons and their descendants in parts of what are now England and southeastern Scotland between at least the mid-5th century and the mid-12th century...
word,
ācweorna
, survived only into Middle English (as
aquerne
) before being replaced. The Old English word is of Common Germanic origin, with
cognate
Cognate
In linguistics, cognates are words that have a common etymological origin. This learned term derives from the Latin cognatus . Cognates within the same language are called doublets. Strictly speaking, loanwords from another language are usually not meant by the term, e.g...
s such as
German
German language
German is a West Germanic language, related to and classified alongside English and Dutch. With an estimated 90 – 98 million native speakers, German is one of the world's major languages and is the most widely-spoken first language in the European Union....
Eichhorn
,
Norwegian
Norwegian language
Norwegian is a North Germanic language spoken primarily in Norway, where it is the official language. Together with Swedish and Danish, Norwegian forms a continuum of more or less mutually intelligible local and regional variants .These Scandinavian languages together with the Faroese language...
ekorn
,
Dutch
Dutch language
Dutch is a West Germanic language and the native language of the majority of the population of the Netherlands, Belgium, and Suriname, the three member states of the Dutch Language Union. Most speakers live in the European Union, where it is a first language for about 23 million and a second...
eekhoorn
,
Swedish
Swedish language
Swedish is a North Germanic language, spoken by approximately 10 million people, predominantly in Sweden and parts of Finland, especially along its coast and on the Åland islands. It is largely mutually intelligible with Norwegian and Danish...
ekorre
and
Danish
Danish language
Danish is a North Germanic language spoken by around six million people, principally in the country of Denmark. It is also spoken by 50,000 Germans of Danish ethnicity in the northern parts of Schleswig-Holstein, Germany, where it holds the status of minority language...
egern
.
Characteristics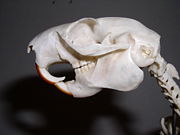 Squirrels are generally small animals, ranging in size from the
African pygmy squirrel
African Pygmy Squirrel
The African Pygmy Squirrel is a species of rodent in the Sciuridae family. It is monotypic within the genus Myosciurus. It is found in Cameroon, Republic of the Congo, Equatorial Guinea, and Gabon. Its natural habitat is subtropical or tropical moist lowland forests. It is threatened by habitat...
, at 7 centimetre in length, and just 10 g (0.35273962105112 oz) in weight, to the
Alpine marmot
Alpine Marmot
The Alpine Marmot is a species of marmot found in mountainous areas of central and southern Europe. Alpine marmots live at heights between 800 and 3,200 metres in the Alps, Carpathians, Tatras, the Pyrenees and Northern Apennines in Italy...
, which is 53 centimetre long, and weighs from 5 kilogram. Squirrels typically have slender bodies with bushy tails and large eyes. Their
fur
Fur
Fur is a synonym for hair, used more in reference to non-human animals, usually mammals; particularly those with extensives body hair coverage. The term is sometimes used to refer to the body hair of an animal as a complete coat, also known as the "pelage". Fur is also used to refer to animal...
is generally soft and silky, although much thicker in some species than others. The color of squirrels is highly variable between—and often even within—species.
The hindlimbs are generally longer than the forelimbs, and they have four or five toes on each foot. Their paws on their forefeet include a
thumb
Thumb
The thumb is the first digit of the hand. When a person is standing in the medical anatomical position , the thumb is the lateral-most digit...
, although this is often poorly developed. The feet also have a soft pad on the underside.
Squirrels live in almost every habitat from tropical
rainforest
Rainforest
Rainforests are forests characterized by high rainfall, with definitions based on a minimum normal annual rainfall of 1750-2000 mm...
to semiarid
desert
Desert
A desert is a landscape or region that receives an extremely low amount of precipitation, less than enough to support growth of most plants. Most deserts have an average annual precipitation of less than...
, avoiding only the high polar regions and the driest of deserts. They are predominantly
herbivorous
Herbivore
Herbivores are organisms that are anatomically and physiologically adapted to eat plant-based foods. Herbivory is a form of consumption in which an organism principally eats autotrophs such as plants, algae and photosynthesizing bacteria. More generally, organisms that feed on autotrophs in...
, subsisting on seeds and nuts, but many will eat insects, and even small vertebrates.
As their large eyes indicate, squirrels generally have an excellent sense of
vision
Visual perception
Visual perception is the ability to interpret information and surroundings from the effects of visible light reaching the eye. The resulting perception is also known as eyesight, sight, or vision...
, which is especially important for tree-dwelling species. They also have very versatile and sturdy claws for grasping and
climbing
Tree climbing
Tree climbing is a recreational or functional activity consisting of ascending and moving around in the crown of trees.Use of a rope, helmet, and harness are the minimum requirements to ensure the safety of the climber. Other equipment can also be used depending on the experience and skill of the...
. Many also have a good sense of
touch
Somatosensory system
The somatosensory system is a diverse sensory system composed of the receptors and processing centres to produce the sensory modalities such as touch, temperature, proprioception , and nociception . The sensory receptors cover the skin and epithelia, skeletal muscles, bones and joints, internal...
, with vibrissae on their heads and limbs.
The teeth of sciurids follow the typical rodent pattern, with large gnawing
incisor
Incisor
Incisors are the first kind of tooth in heterodont mammals. They are located in the premaxilla above and mandible below.-Function:...
s that grow throughout life, and grinding cheek teeth set back behind a wide gap, or
diastema
Diastema (dentistry)
Diastema is a space or gap between two teeth. Many species of mammals have diastemata as a normal feature, most commonly between the incisors and molars.-In humans:...
. The typical
dental formula
Dentition
Dentition pertains to the development of teeth and their arrangement in the mouth. In particular, the characteristic arrangement, kind, and number of teeth in a given species at a given age...
for sciurids is
Behavior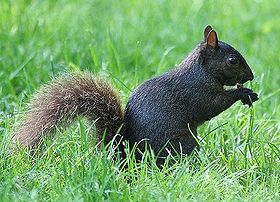 Squirrels breed once or twice a year, and give birth to a varying number of young after three to six weeks, depending on species. The young are born naked, toothless, and blind. In most species of squirrel, only the female looks after the young, which are
weaned
Weaning
Weaning is the process of gradually introducing a mammal infant, either human or animal, to what will be its adult diet and withdrawing the supply of its mother's milk.The process takes place only in mammals, as only mammals produce milk...
at around six to ten weeks of age and become sexually mature at the end of their first year. Ground dwelling species are generally social animals, often living in well-developed colonies, but the tree-dwelling species are more solitary.
Ground and tree squirrels are typically diurnal, while flying squirrels tend to be nocturnal—except for lactating flying squirrels and their offspring which have a period of diurnality during the summer.
Feeding
Unlike
rabbit
Rabbit
Rabbits are small mammals in the family Leporidae of the order Lagomorpha, found in several parts of the world...
s or
deer
Deer
Deer are the ruminant mammals forming the family Cervidae. Species in the Cervidae family include white-tailed deer, elk, moose, red deer, reindeer, fallow deer, roe deer and chital. Male deer of all species and female reindeer grow and shed new antlers each year...
, squirrels cannot feed upon
cellulose
Cellulose
Cellulose is an organic compound with the formula , a polysaccharide consisting of a linear chain of several hundred to over ten thousand β linked D-glucose units....
and must rely on foods rich in
protein
Protein
Proteins are biochemical compounds consisting of one or more polypeptides typically folded into a globular or fibrous form, facilitating a biological function. A polypeptide is a single linear polymer chain of amino acids bonded together by peptide bonds between the carboxyl and amino groups of...
, carbohydrates, and
fat
Fat
Fats consist of a wide group of compounds that are generally soluble in organic solvents and generally insoluble in water. Chemically, fats are triglycerides, triesters of glycerol and any of several fatty acids. Fats may be either solid or liquid at room temperature, depending on their structure...
. In temperate regions, early spring is the hardest time of year for squirrels, because buried nuts begin to sprout and are no longer available for the squirrel to eat, and new food sources have not become available yet. During these times squirrels rely heavily on the buds of trees. Squirrels' diet consists primarily of a wide variety of plant food, including
nut
Nut (fruit)
A nut is a hard-shelled fruit of some plants having an indehiscent seed. While a wide variety of dried seeds and fruits are called nuts in English, only a certain number of them are considered by biologists to be true nuts...
s,
seed
Seed
A seed is a small embryonic plant enclosed in a covering called the seed coat, usually with some stored food. It is the product of the ripened ovule of gymnosperm and angiosperm plants which occurs after fertilization and some growth within the mother plant...
s,
conifer cone
Conifer cone
A cone is an organ on plants in the division Pinophyta that contains the reproductive structures. The familiar woody cone is the female cone, which produces seeds. The male cones, which produce pollen, are usually herbaceous and much less conspicuous even at full maturity...
s,
fruit
Fruit
In broad terms, a fruit is a structure of a plant that contains its seeds.The term has different meanings dependent on context. In non-technical usage, such as food preparation, fruit normally means the fleshy seed-associated structures of certain plants that are sweet and edible in the raw state,...
s,
fungi
Fungus
A fungus is a member of a large group of eukaryotic organisms that includes microorganisms such as yeasts and molds , as well as the more familiar mushrooms. These organisms are classified as a kingdom, Fungi, which is separate from plants, animals, and bacteria...
and green
vegetation
Vegetation
Vegetation is a general term for the plant life of a region; it refers to the ground cover provided by plants. It is a general term, without specific reference to particular taxa, life forms, structure, spatial extent, or any other specific botanical or geographic characteristics. It is broader...
. However some squirrels also consume meat, especially when faced with hunger. Squirrels have been known to eat
insect
Insect
Insects are a class of living creatures within the arthropods that have a chitinous exoskeleton, a three-part body , three pairs of jointed legs, compound eyes, and two antennae...
s, eggs, small
bird
Bird
Birds are feathered, winged, bipedal, endothermic , egg-laying, vertebrate animals. Around 10,000 living species and 188 families makes them the most speciose class of tetrapod vertebrates. They inhabit ecosystems across the globe, from the Arctic to the Antarctic. Extant birds range in size from...
s, young
snake
Snake
Snakes are elongate, legless, carnivorous reptiles of the suborder Serpentes that can be distinguished from legless lizards by their lack of eyelids and external ears. Like all squamates, snakes are ectothermic, amniote vertebrates covered in overlapping scales...
s and smaller
rodent
Rodent
Rodentia is an order of mammals also known as rodents, characterised by two continuously growing incisors in the upper and lower jaws which must be kept short by gnawing....
s. Indeed, some tropical species have shifted almost entirely to a diet of insects.
Predatory behavior by various species of ground squirrels, particularly the
thirteen-lined ground squirrel
Thirteen-lined ground squirrel
The thirteen-lined ground squirrel , also known as the striped gopher, leopard ground squirrel, squinney, and as the leopard-spermophile in Audubon's day, is a ground squirrel....
, has been noted. For example, Bailey, a scientist in the 1920s, observed a thirteen-lined ground squirrel preying upon a young chicken. Wistrand reported seeing this same species eating a freshly killed snake. Whitaker examined the stomachs of 139 thirteen-lined ground squirrels, and found bird flesh in four of the specimens and the remains of a short-tailed
shrew
Shrew
A shrew or shrew mouse is a small molelike mammal classified in the order Soricomorpha. True shrews are also not to be confused with West Indies shrews, treeshrews, otter shrews, or elephant shrews, which belong to different families or orders.Although its external appearance is generally that of...
in one; Bradley, examining
white-tailed antelope squirrel
White-tailed Antelope Squirrel
The white-tailed antelope squirrel is a diurnal species of ground squirrel found in arid regions of the southwestern United States and northern Mexico...
s' stomachs, found at least 10% of his 609 specimens' stomachs contained some type of vertebrate, mostly
lizard
Lizard
Lizards are a widespread group of squamate reptiles, with nearly 3800 species, ranging across all continents except Antarctica as well as most oceanic island chains...
s and rodents. Morgart (1985) observed a white-tailed antelope squirrel capturing and eating a silky pocket mouse.
Taxonomy
The living squirrels are divided into five subfamilies, with about 50
genera
Genera
Genera is a commercial operating system and development environment for Lisp machines developed by Symbolics. It is essentially a fork of an earlier operating system originating on the MIT AI Lab's Lisp machines which Symbolics had used in common with LMI and Texas Instruments...
and nearly 280
species
Species
In biology, a species is one of the basic units of biological classification and a taxonomic rank. A species is often defined as a group of organisms capable of interbreeding and producing fertile offspring. While in many cases this definition is adequate, more precise or differing measures are...
. The oldest squirrel fossil,
Hesperopetes
, dates back to the
Chadronian
Chadronian
The Chadronian age within the North American Land Mammal Ages chronology is the North American faunal stage typically set from 38,000,000 to 33,900,000 years BP, a period of . It is usually considered to fall within the Eocene epoch...
(Late
Eocene
Eocene
The Eocene Epoch, lasting from about 56 to 34 million years ago , is a major division of the geologic timescale and the second epoch of the Paleogene Period in the Cenozoic Era. The Eocene spans the time from the end of the Palaeocene Epoch to the beginning of the Oligocene Epoch. The start of the...
, about 40–35 million years ago), and is similar to modern flying squirrels.
During the latest Eocene to the
Miocene
Miocene
The Miocene is a geological epoch of the Neogene Period and extends from about . The Miocene was named by Sir Charles Lyell. Its name comes from the Greek words and and means "less recent" because it has 18% fewer modern sea invertebrates than the Pliocene. The Miocene follows the Oligocene...
, there were a variety of squirrels which cannot be assigned with certainty to any living lineage. At least some of these probably were variants of the oldest, basal "proto-squirrels" (in the sense that they lacked the full range of living squirrels'
autapomorphies
Autapomorphy
In cladistics, an autapomorphy is a distinctive anatomical feature, known as a derived trait, that is unique to a given terminal group. That is, it is found only in one member of a clade, but not found in any others or outgroup taxa, not even those most closely related to the group...
). The distribution and diversity of such ancient and ancestral forms suggests that the squirrels as a group might have originated in North America.
Apart from these sometimes little-known fossil forms, the phylogeny of the living squirrels is fairly straightforward. There are three main lineages, one comprising the Ratufinae (Oriental giant squirrels). These contain a mere handful of living species in tropical
Asia
Asia
Asia is the world's largest and most populous continent, located primarily in the eastern and northern hemispheres. It covers 8.7% of the Earth's total surface area and with approximately 3.879 billion people, it hosts 60% of the world's current human population...
. The
Neotropical Pygmy Squirrel
Neotropical Pygmy Squirrel
The Neotropical pygmy squirrel is a very small tree squirrel, being the only living species in the genus Sciurillus and the subfamily Sciurillinae...
of tropical
South America
South America
South America is a continent situated in the Western Hemisphere, mostly in the Southern Hemisphere, with a relatively small portion in the Northern Hemisphere. The continent is also considered a subcontinent of the Americas. It is bordered on the west by the Pacific Ocean and on the north and east...
is the sole living member of the Sciurillinae. The third lineage is by far the largest and contains all other subfamilies; it has a near-cosmopolitan distribution. This further supports the hypothesis that the common ancestor of all squirrels living and fossil lived in North America, as these three most ancient lineages seem to have
radiated
Evolutionary radiation
An evolutionary radiation is an increase in taxonomic diversity or morphological disparity, due to adaptive change or the opening of ecospace. Radiations may affect one clade or many, and be rapid or gradual; where they are rapid, and driven by a single lineage's adaptation to their environment,...
from there – if squirrels had originated in Eurasia for example, one would expect quite ancient lineages in
Africa
Africa
Africa is the world's second largest and second most populous continent, after Asia. At about 30.2 million km² including adjacent islands, it covers 6% of the Earth's total surface area and 20.4% of the total land area...
, but African squirrels seem to be of more recent origin.
The main group of squirrels also can be split up in three, which yields the remaining subfamilies. The
Sciurinae
Sciurinae
The Sciurinae is a subfamily of squirrels in the . It unites the flying squirrels with certain related tree squirrels. Older sources place the flying squirrels in a separate subfamily and unite all remaining sciurids into the subfamily Sciurinae, but this has been strongly refuted by genetic...
contains the
flying squirrel
Flying squirrel
Flying squirrels, scientifically known as Pteromyini or Petauristini, are a tribe of 44 species of squirrels .- Description :...
s (Pteromyini) and the
Sciurini
Sciurini
Sciurini is a tribe that includes about forty species of squirrels, mostly from the Americas. It includes five living genera—the American dwarf squirrels, Microsciurus; the Bornean Rheithrosciurus; the widespread American and Eurasian tree squirrels of the genus Sciurus, which includes some of the...
, which among others contains the American tree squirrels; the former have often been considered a separate subfamily but are now seen as a
tribe
Tribe (biology)
In biology, a tribe is a taxonomic rank between family and genus. It is sometimes subdivided into subtribes.Some examples include the tribes: Canini, Acalypheae, Hominini, Bombini, and Antidesmeae.-See also:* Biological classification* Rank...
of the Sciurinae. The
pine squirrel
Pine squirrel
Pine squirrels are squirrels of the genus Tamiasciurus. This genus includes three species, the American Red Squirrel T. hudsonicus, the Douglas Squirrel T. douglasii and Mearns's Squirrel T. mearnsi...
s (
Tamiasciurus
) on the other hand are usually included with the main tree squirrel lineage, but appear to be about as distinct as the flying squirrels; hence they are sometimes considered a distinct tribe, Tamiasciurini.
Be that as it may, the three-way split of the main squirrel lineage is rather neat from a biogeographical and ecological perspective. Two of the three subfamilies are of about equal size, containing between nearly 70 and 80 species each; the third is about twice as large. The Sciurinae contains arboreal (tree-living) squirrels, mainly of the Americas and to a lesser extent Eurasia. The
Callosciurinae
Callosciurinae
Callosciurinae is an Asiatic subfamily of squirrels. It contains about 60 species, most of them in South East Asia. It is named after the Callosciurus genus, which means 'Beautiful Squirrels'.-Classification:*Family Sciuridae...
on the other hand is most diverse in tropical Asia and contains squirrels which are also arboreal, but have a markedly different
habitus
Morphology (biology)
In biology, morphology is a branch of bioscience dealing with the study of the form and structure of organisms and their specific structural features....
and appear more "elegant", an effect enhanced by their often very colorful fur. The
Xerinae
Xerinae
Xerinae is a subfamily of squirrels, many of which are highly terrestrial. It includes the tribes Marmotini , Xerini , and Protoxerini .-References:* Thorington, R. W. and R. S. Hoffmann. 2005. Family Sciuridae. Pp 754-818 in Wilson, E. D...
– the largest subfamily – are made up from the mainly terrestrial (ground-living) forms and include the large
marmot
Marmot
The marmots are a genus, Marmota, of squirrels. There are 14 species in this genus.Marmots are generally large ground squirrels. Those most often referred to as marmots tend to live in mountainous areas such as the Alps, northern Apennines, Eurasian steppes, Carpathians, Tatras, and Pyrenees in...
s and the popular
prairie dog
Prairie dog
Prairie dogs are burrowing rodents native to the grasslands of North America. There are five different species of prairie dogs: black-tailed, white-tailed, Gunnison's, Utah and Mexican prairie dogs. They are a type of ground squirrel, found in the United States, Canada and Mexico...
s among others, as well as the tree squirrels of Africa; they tend to be more gregarious than other squirrels which do not usually live together in close-knit groups.
Basal and incertae sedis

Incertae sedis

, is a term used to define a taxonomic group where its broader relationships are unknown or undefined. Uncertainty at specific taxonomic levels is attributed by , , and similar terms.-Examples:*The fossil plant Paradinandra suecica could not be assigned to any...


Sciuridae (all fossil

Fossil

Fossils are the preserved remains or traces of animals , plants, and other organisms from the remote past...


)

Hesperopetes
Kherem
Lagrivea

Lagrivea

Lagrivea is a fossil genus of squirrel from the Middle Miocene of France. The single species, L. vireti, is known from three mandibles and two isolated teeth. All come from the fissure filling of La Grive L5, part of the La Grive-Saint-Alban complex in Saint-Alban-de-Roche, southeastern France...



Oligosciurus
Plesiosciurus
Prospermophilus
Sciurion
Similisciurus
Sinotamias
Vulcanisciurus

Subfamily Cedromurinae (fossil)
Subfamily Ratufinae – Oriental giant squirrels (1 genus, 4 species)
Subfamily Sciurillinae – Neotropical Pygmy Squirrel (monotypic

Monotypic

In biology, a monotypic taxon is a taxonomic group with only one biological type. The term's usage differs slightly between botany and zoology. The term monotypic has a separate use in conservation biology, monotypic habitat, regarding species habitat conversion eliminating biodiversity and...


)
Subfamily Sciurinae

Sciurinae

The Sciurinae is a subfamily of squirrels in the . It unites the flying squirrels with certain related tree squirrels. Older sources place the flying squirrels in a separate subfamily and unite all remaining sciurids into the subfamily Sciurinae, but this has been strongly refuted by genetic...




Tribe Sciurini

Sciurini

Sciurini is a tribe that includes about forty species of squirrels, mostly from the Americas. It includes five living genera—the American dwarf squirrels, Microsciurus; the Bornean Rheithrosciurus; the widespread American and Eurasian tree squirrels of the genus Sciurus, which includes some of the...


– tree squirrels (5 genera, c.38 species)
Tribe Pteromyini – true flying squirrels (15 genera, c.45 species)

Subfamily Callosciurinae

Callosciurinae

Callosciurinae is an Asiatic subfamily of squirrels. It contains about 60 species, most of them in South East Asia. It is named after the Callosciurus genus, which means 'Beautiful Squirrels'.-Classification:*Family Sciuridae...


– Asian ornate squirrels

Tribe Callosciurini (13 genera, nearly 60 species)
Tribe Funambulini palm squirrels (1 genus, 5 species)

Subfamily Xerinae

Xerinae

Xerinae is a subfamily of squirrels, many of which are highly terrestrial. It includes the tribes Marmotini , Xerini , and Protoxerini .-References:* Thorington, R. W. and R. S. Hoffmann. 2005. Family Sciuridae. Pp 754-818 in Wilson, E. D...


– terrestrial squirrels

Tribe Xerini – spiny squirrels (3 genera, 6 species)
Tribe Protoxerini

Protoxerini

Protoxerini is a tribe of squirrels found in Africa. There are thirty species in six genera.-Genera:Epixerus Funisciurus Heliosciurus Myosciurus Paraxerus...


(6 genera, c.50 species)
Tribe Marmotini – ground squirrels, marmots, chipmunks, prairie dogs, etc. (6 genera, c.90 species)
Literature cited
Milton, Katherine (1984): [Family Sciuridae]. In: Macdonald, D. (ed.): The Encyclopedia of Mammals: 612–623. Facts on File, New York. ISBN 0-87196-871-1
Steppan, Scott J. & Hamm, Shawn M. (2006): Tree of Life Web Project

Tree of Life Web Project

The Tree of Life Web Project is an ongoing Internet project providing information about the diversity and phylogeny of life on Earth. This collaborative peer reviewed project began in 1995, and is written by biologists from around the world....


– Sciuridae (Squirrels). Version of 13 May 2006. Retrieved 10 December 2007.
Steppan, Scott J.; Storz, B.L. & Hoffmann, R.S. (2004): "Nuclear DNA phylogeny of the squirrels (Mammalia: Rodentia) and the evolution of arboreality from c-myc and RAG1" (pdf). Mol. Phyl. Evol.

Molecular Phylogenetics and Evolution

Molecular Phylogenetics and Evolution is a peer-reviewed scientific journal of evolutionary biology and phylogenetics. The journal is edited by D.E. Wildman.-Indexing:The journal is indexed in:*EMBiology*Journal Citation Reports*Scopus*Web of Science...


30(3): 703–719.
Thorington, R.W. & Hoffmann, R.S. (2005): Family Sciuridae. In: Mammal Species of the World – A Taxonomic and Geographic Reference: 754–818. Johns Hopkins University Press, Baltimore.
Whitaker, John O. Jr. & Elman, Robert (1980): The Audubon Society Field Guide to North American Mammals (2nd ed.). Alfred Knopf

Alfred Knopf

Alfred Knopf is the name of:*Alfred A. Knopf, Sr. , founder of Alfred A. Knopf, Inc., the publishing company*Alfred A. Knopf, Jr. , son of Alfred A. Knopf, Sr.*Alfred A. Knopf or Knopf Publishing Group, subsidiary of Random House...


, New York. ISBN 0-394-50762-2
External links