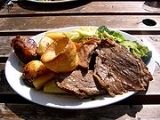 Roasting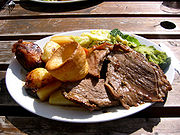 Roasting
is a cooking method that uses dry heat, whether an open flame,
oven
Oven
An oven is a thermally insulated chamber used for the heating, baking or drying of a substance. It is most commonly used for cooking. Kilns, and furnaces are special-purpose ovens...
, or other heat source. Roasting usually causes
caramelization
Caramelization
Caramelization is the browning of sugar, a process used extensively in cooking for the resulting nutty flavor and brown color. As the process occurs, volatile chemicals are released, producing the characteristic caramel flavor....
or
Maillard browning
Maillard reaction
The Maillard reaction is a form of nonenzymatic browning similar to caramelization. It results from a chemical reaction between an amino acid and a reducing sugar, usually requiring heat....
of the surface of the food, which is considered by some as a
flavor
Flavor
Flavor or flavour is the sensory impression of a food or other substance, and is determined mainly by the chemical senses of taste and smell. The "trigeminal senses", which detect chemical irritants in the mouth and throat as well as temperature and texture, are also very important to the overall...
enhancement. Roasting uses more indirect, diffused heat (as in an oven), and is suitable for slower cooking of meat in a larger, whole piece.
Meat
Meat
Meat is animal flesh that is used as food. Most often, this means the skeletal muscle and associated fat and other tissues, but it may also describe other edible tissues such as organs and offal...
s and most
root and bulb vegetable
Root vegetable
Root vegetables are plant roots used as vegetables. Here "root" means any underground part of a plant.Root vegetables are generally storage organs, enlarged to store energy in the form of carbohydrates. They differ in the concentration and the balance between sugars, starches, and other types of...
s can be roasted. Any piece of meat, especially
red meat
Red meat
Red meat in traditional culinary terminology is meat which is red when raw and not white when cooked. In the nutritional sciences, red meat includes all mammal meat. Red meat includes the meat of most adult mammals and some fowl ....
, that has been cooked in this fashion is called a
roast
. In addition, large uncooked cuts of meat are referred to as roasts. A roast joint of meat can take one, two, even three hours to cook - the resulting meat is tender. Also, meats and vegetables prepared in this way are described as "roasted", e.g., roasted
chicken
Chicken (food)
Chicken is the most common type of poultry in the world, and is prepared as food in a wide variety of ways, varying by region and culture.- History :...
or roasted squash.
Methods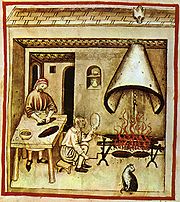 For roasting, the food may be placed on a rack, in a roasting pan or, to ensure even application of heat, may be rotated on a spit or
rotisserie
Rotisserie
Rotisserie is a style of roasting where meat is skewered on a spit - a long solid rod used to hold food while it is being cooked over a fire in a fireplace or over a campfire, or roasted in an oven. This method is generally used for cooking large joints of meat or entire animals, such as pigs,...
. If a pan is used, the juice can be retained for use in gravy, Yorkshire pudding, etc. During oven roasting, hot air circulates around the meat, cooking all sides evenly. There are several plans for roasting meat: low-temperature cooking, high-temperature cooking, and a combination of both. Each method can be suitable, depending on the food and the tastes of the people.
A low-temperature oven, 95 °C to 160 °C (200 °F to 325 °F), is best when cooking with large cuts of meat, turkey and whole chickens. This is not technically roasting temperature, but it is called slow-roasting. The benefit of slow-roasting an item is less moisture loss and a more tender product. More of the collagen that makes meat tough is dissolved in slow cooking. At true roasting temperatures, 200 °C (400 °F) or more, the water inside the muscle is lost at a high rate.
Cooking at high temperatures is beneficial if the cut is tender enough—as in filet mignon

Filet mignon

Filet mignon is a steak cut of beef taken from the smaller end of the tenderloin, or psoas major of the beef carcass, usually a steer or heifer...


or strip loin—to be finished cooking before the juices escape. A reason for high temperature roasting is to brown the outside of the food, similar to browning food in a pan before pot roasting or stewing it. Fast cooking gives more variety of flavor, because the outside is brown while the center is much less done.
The combination method uses high heat just at either the beginning or the end of the cooking process, with most of the cooking at a low temperature. This method produces the golden-brown texture and crust, but maintains more of the moisture than simply cooking at a high temperature, although the product will not be as moist as low-temperature cooking the whole time. Searing

Searing

Searing is a technique used in grilling, baking, braising, roasting, sautéing, etc., in which the surface of the food is cooked at high temperature so a caramelized crust forms. Similar techniques, browning and blackening, are typically used to sear all sides of a particular piece of meat, fish,...


and then turning down to low is also beneficial when a dark crust and caramelized flavor

Flavor

Flavor or flavour is the sensory impression of a food or other substance, and is determined mainly by the chemical senses of taste and smell. The "trigeminal senses", which detect chemical irritants in the mouth and throat as well as temperature and texture, are also very important to the overall...


is desired for the finished product. Note that searing in no way "locks in" moisture: moisture loss is simply a function of heat and time. The outside is brown and the rest is done fairly uniformly.
In general, in either case, the meat is removed from heat before it has finished cooking and left to sit for a few minutes, while the inside cooks further from the residual heat content, a phenomenon known as
carry over cooking
Carry over cooking
Carry over cooking refers to the phenomenon that food retains heat and continues to cook even after being removed from the source of heat. The larger and denser the object being heated the greater the amount of carry over cooking. After being removed from the heat source the internal temperature...
.
The objective in any case is to retain as much moisture as possible, while providing the texture and color. As meat cooks, the structure and especially the collagen breaks down, allowing juice to come out of the meat. So meat is juiciest at about medium rare while the juice is coming out. During roasting, meats and vegetables are frequently
basted
Basting (cooking)
Basting is a cooking technique that involves cooking meat with either its own juices or some type of preparation such as a sauce or marinade. The meat is left to cook, then periodically coated with the juice....
on the surface with
butter
Butter
Butter is a dairy product made by churning fresh or fermented cream or milk. It is generally used as a spread and a condiment, as well as in cooking applications, such as baking, sauce making, and pan frying...
,
lard
Lard
Lard is pig fat in both its rendered and unrendered forms. Lard was commonly used in many cuisines as a cooking fat or shortening, or as a spread similar to butter. Its use in contemporary cuisine has diminished because of health concerns posed by its saturated-fat content and its often negative...
, or
oil
Cooking oil
Cooking oil is purified fat of plant origin, which is usually liquid at room temperature ....
to reduce the loss of moisture by evaporation. In recent times, plastic oven bags have become popular for roasts. These cut cooking times and reduce the loss of moisture during roasting, but reduce flavor development from Maillard browning, somewhat more like (boiled or steamed) stew or pot roast. They are particularly popular for turkeys.
Until the late 19th century, roasting by dry heat in an oven was called
baking.
Roasting originally meant turning meat or a bird on a spit in front of a fire. It is one of the oldest forms of cooking known.
Traditionally recognized roasting methods consist only of baking and cooking over or near an open fire.
Grilling
Grilling
Grilling is a form of cooking that involves dry heat applied to the surface of food, commonly from above or below.Grilling usually involves a significant amount of direct, radiant heat, and tends to be used for cooking meat quickly and meat that has already been cut into slices...
is normally not technically a roast, since a grill (gridiron) is used (in English-speaking countries). Smoking differs from roasting because of the lower temperature and controlled smoke application.
Meat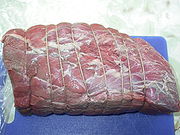 Most meat roasts are large cuts of meat. Many roasts are tied with string prior to roasting, often using the
reef knot
Reef knot
The reef knot or square knot is an ancient and simple binding knot used to secure a rope or line around an object. Although the reef knot is often seen used for tying two ropes together, it is not recommended for this purpose due to potential instability of the knot.A reef knot is formed by tying...
or, in the more traditional sense, the
packer's knot
Packer's knot
The packer's knot is a binding knot which is easily pulled taut and quickly locked in position. It is most often made in small line or string, such as that used for hand baling, parcel tying, and binding roasts. This latter use, and its general form, make it a member of a class of similar knots...
. Tying holds them together during roasting, keeping any stuffing inside, and keeps the roast in a round profile, which promotes even cooking.
Prior to roasting in an oven, meat is generally "
browned
Browning (partial cooking)
Browning is the process of partially cooking the surface of meat to help remove excessive fat and to give the meat a brown color crust and flavor through various browning reactions. Ground meat will frequently be browned prior to adding other ingredients and completing the cooking process...
" by brief exposure to high temperature. This imparts a traditional flavor and color to the roast. Red meats such as beef, lamb, and venison, and certain game birds are often roasted to be "pink" or "rare", meaning that the center of the roast is still red. Although there is a growing fashion in some restaurants to serve "rose pork", temperature monitoring of the center of the roast is the only sure way to avoid foodborne disease.
In
Britain
United Kingdom
The United Kingdom of Great Britain and Northern IrelandIn the United Kingdom and Dependencies, other languages have been officially recognised as legitimate autochthonous languages under the European Charter for Regional or Minority Languages...
and
Ireland
Ireland
Ireland is an island to the northwest of continental Europe. It is the third-largest island in Europe and the twentieth-largest island on Earth...
, a roast of meat may be referred to as a
joint
, or a leg, if it is a leg.
Other
Roasting is a preferred method of cooking for most
poultry
Poultry
Poultry are domesticated birds kept by humans for the purpose of producing eggs, meat, and/or feathers. These most typically are members of the superorder Galloanserae , especially the order Galliformes and the family Anatidae , commonly known as "waterfowl"...
, and certain cuts of
beef
Beef
Beef is the culinary name for meat from bovines, especially domestic cattle. Beef can be harvested from cows, bulls, heifers or steers. It is one of the principal meats used in the cuisine of the Middle East , Australia, Argentina, Brazil, Europe and the United States, and is also important in...
,
pork
Pork
Pork is the culinary name for meat from the domestic pig , which is eaten in many countries. It is one of the most commonly consumed meats worldwide, with evidence of pig husbandry dating back to 5000 BC....
, or lamb. Some vegetables, such as potatoes,
zucchini
Zucchini
The zucchini is a summer squash which often grows to nearly a meter in length, but which is usually harvested at half that size or less. It is a hybrid of the cucumber. Along with certain other squashes, it belongs to the species Cucurbita pepo. Zucchini can be dark or light green...
,
pumpkin
Pumpkin
A pumpkin is a gourd-like squash of the genus Cucurbita and the family Cucurbitaceae . It commonly refers to cultivars of any one of the species Cucurbita pepo, Cucurbita mixta, Cucurbita maxima, and Cucurbita moschata, and is native to North America...
, turnips, parsnips,
cauliflower
Cauliflower
Cauliflower is one of several vegetables in the species Brassica oleracea, in the family Brassicaceae. It is an annual plant that reproduces by seed...
,
asparagus
Asparagus
Asparagus officinalis is a spring vegetable, a flowering perennialplant species in the genus Asparagus. It was once classified in the lily family, like its Allium cousins, onions and garlic, but the Liliaceae have been split and the onion-like plants are now in the family Amaryllidaceae and...
,
squash
Squash (fruit)
Squashes generally refer to four species of the genus Cucurbita, also called marrows depending on variety or the nationality of the speaker...
, and
peppers
Capsicum
Capsicum is a genus of flowering plants in the nightshade family, Solanaceae. Its species are native to the Americas where they have been cultivated for thousands of years, but they are now also cultivated worldwide, used as spices, vegetables, and medicines - and have become are a key element in...
lend themselves to roasting as well. Roasted chestnuts are also a popular snack in winter.
See also
Coffee roasting

Coffee roasting

Roasting coffee transforms the chemical and physical properties of green coffee beans into roasted coffee products. The roasting process is what produces the characteristic flavor of coffee by causing the green coffee beans to expand and to change in color, taste, smell, and density...



Dry roasting

Dry roasting

Dry Roasting is a process by which heat is applied to dry foodstuffs without the use of oil or water as a carrier. Unlike other dry heat methods, dry roasting is used with foods such as nuts and seeds, which do not contain significant fat or moisture of their own...



Low-temperature cooking
Braising

Braising

Braising , is a combination cooking method using both moist and dry heat; typically the food is first seared at a high temperature and then finished in a covered pot with a variable amount of liquid, resulting in a particular flavour...


or pot roasting
Roast beef

Roast beef

Roast beef is a dish of beef which is roasted in an oven. Essentially prepared as a main meal, the leftovers can be and are often served within sandwiches and sometimes is used to make hash...



Pan frying

Pan frying

Pan frying is a form of frying characterized by the use of minimal cooking oil or fat ; typically using just enough oil to lubricate the pan...



Asado

Asado

Asado is a term used both for a range of barbecue techniques and the social event of having or attending a barbecue in Argentina, Uruguay, Paraguay, Chile and southern Brazil. In the former countries asado is also the standard word for barbecue. An asado usually consists of beef alongside various...



External links