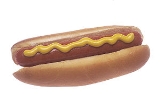 Hot dog
A
hot dog
is a
sausage
Sausage
A sausage is a food usually made from ground meat , mixed with salt, herbs, and other spices, although vegetarian sausages are available. The word sausage is derived from Old French saussiche, from the Latin word salsus, meaning salted.Typically, a sausage is formed in a casing traditionally made...
served in a sliced
bun
Hot dog bun
A hot dog bun is a type of soft bun shaped specifically to contain a hot dog. The original purpose of this bun was to make it possible to eat hot dogs without burning ones hands....
. It is very often garnished with
mustard
Mustard (condiment)
Mustard is a condiment made from the seeds of a mustard plant...
,
ketchup
Ketchup
Ketchup is a sweet-and-tangy condiment typically made from tomatoes, vinegar, sugar or high-fructose corn syrup and an assortment of...
,
onion
Onion
The onion , also known as the bulb onion, common onion and garden onion, is the most widely cultivated species of the genus Allium. The genus Allium also contains a number of other species variously referred to as onions and cultivated for food, such as the Japanese bunching onion The onion...
s,
mayonnaise
Mayonnaise
Mayonnaise, , often abbreviated as mayo, is a sauce. It is a stable emulsion of oil, egg yolk and either vinegar or lemon juice, with many options for embellishment with other herbs and spices. Lecithin in the egg yolk is the emulsifier. Mayonnaise varies in color but is often white, cream, or pale...
,
relish
Relish
A relish is a cooked, pickled, or chopped vegetable or fruit food item which is typically used as a condiment.In North America, relish commonly alludes to sweet pickle relish-like sauce that often condiments hot dogs, hamburgers and other types of fast food.-Description and ingredients:The item...
and/or
sauerkraut
Sauerkraut
Sauerkraut , directly translated from German: "sour cabbage", is finely shredded cabbage that has been fermented by various lactic acid bacteria, including Leuconostoc, Lactobacillus, and Pediococcus. It has a long shelf-life and a distinctive sour flavor, both of which result from the lactic acid...
.
Claims about hot dog invention are difficult to assess, as stories assert the creation of the sausage, the placing of the sausage (or another kind of sausage) on bread or a bun as
finger food
Finger food
Finger food is food meant to be eaten directly using the hands, in contrast to food eaten with a knife and fork, chopsticks, or other utensils. In some cultures, food is almost always eaten with the hands; for example, Ethiopian cuisine is eaten by rolling various dishes up in injera bread. In the...
, the popularization of the existing dish, or the application of the name "hot dog" to a sausage and bun combination most commonly used with ketchup or mustard and sometimes relish.
The word
frankfurter
comes from
Frankfurt
Frankfurt
Frankfurt am Main , commonly known simply as Frankfurt, is the largest city in the German state of Hesse and the fifth-largest city in Germany, with a 2010 population of 688,249. The urban area had an estimated population of 2,300,000 in 2010...
,
Germany
Germany
Germany , officially the Federal Republic of Germany , is a federal parliamentary republic in Europe. The country consists of 16 states while the capital and largest city is Berlin. Germany covers an area of 357,021 km2 and has a largely temperate seasonal climate...
, where pork sausages served in a bun similar to hot dogs originated.