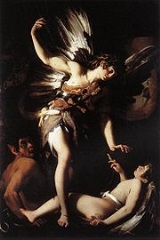 Chiaroscuro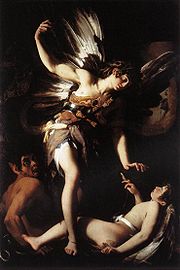 Chiaroscuro
in
art
Art
Art is the product or process of deliberately arranging items in a way that influences and affects one or more of the senses, emotions, and intellect....
is "an Italian term which literally means 'light-dark'. In paintings the description refers to clear tonal
contrasts
Contrast (vision)
Contrast is the difference in visual properties that makes an object distinguishable from other objects and the background. In visual perception of the real world, contrast is determined by the difference in the color and brightness of the object and other objects within the same field of view...
which are often used to suggest the volume and modelling of the subjects depicted".
Further specialized uses include
chiaroscuro woodcut
, for coloured woodcuts printed with different blocks, each using a different coloured ink; and
chiaroscuro drawing
for drawings on coloured paper with drawing in a dark medium and white highlighting. Similar effects in the lighting of cinema and photography are also chiaroscuro.
Origin in the chiaroscuro drawing
Chiaroscuro originated during the
Renaissance
Renaissance
The Renaissance was a cultural movement that spanned roughly the 14th to the 17th century, beginning in Italy in the Late Middle Ages and later spreading to the rest of Europe. The term is also used more loosely to refer to the historical era, but since the changes of the Renaissance were not...
as drawing on coloured paper, where the artist worked from the paper's base tone towards light using white
gouache
Gouache
Gouache[p], also spelled guache, the name of which derives from the Italian guazzo, water paint, splash or bodycolor is a type of paint consisting of pigment suspended in water. A binding agent, usually gum arabic, is also present, just as in watercolor...
, and towards dark using ink, bodycolour or watercolour. These in turn drew on traditions in
illuminated manuscript
Illuminated manuscript
An illuminated manuscript is a manuscript in which the text is supplemented by the addition of decoration, such as decorated initials, borders and miniature illustrations...
s, going back to late Roman Imperial manuscripts on purple-dyed
vellum
Vellum
Vellum is mammal skin prepared for writing or printing on, to produce single pages, scrolls, codices or books. It is generally smooth and durable, although there are great variations depending on preparation, the quality of the skin and the type of animal used...
. Chiaroscuro woodcuts began as imitations of this technique. When discussing Italian art, the term is sometimes used to mean painted images in monochrome or two colours, more generally known in English by the French equivalent,
grisaille
Grisaille
Grisaille is a term for painting executed entirely in monochrome or near-monochrome, usually in shades of grey. It is particularly used in large decorative schemes in imitation of sculpture. Many grisailles in fact include a slightly wider colour range, like the Andrea del Sarto fresco...
. The term early broadened in meaning to cover all strong contrasts in
illumination
Illumination (image)
Processing of illumination is an important concept in computer vision and computer graphics....
between light and dark areas in art, which is now the primary meaning.
Chiaroscuro modelling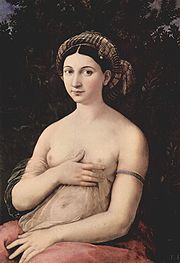 The more technical use of the term chiaroscuro is the effect of light modelling in
painting
Painting
Painting is the practice of applying paint, pigment, color or other medium to a surface . The application of the medium is commonly applied to the base with a brush but other objects can be used. In art, the term painting describes both the act and the result of the action. However, painting is...
,
drawing
Drawing
Drawing is a form of visual art that makes use of any number of drawing instruments to mark a two-dimensional medium. Common instruments include graphite pencils, pen and ink, inked brushes, wax color pencils, crayons, charcoal, chalk, pastels, markers, styluses, and various metals .An artist who...
or
printmaking
Printmaking
Printmaking is the process of making artworks by printing, normally on paper. Printmaking normally covers only the process of creating prints with an element of originality, rather than just being a photographic reproduction of a painting. Except in the case of monotyping, the process is capable...
, where three-dimensional volume is suggested by the value gradation of colour and the analytical division of light and shadow shapes - often called "
shading
Shading
Shading refers to depicting depth perception in 3D models or illustrations by varying levels of darkness.-Drawing:Shading is a process used in drawing for depicting levels of darkness on paper by applying media more densely or with a darker shade for darker areas, and less densely or with a lighter...
". The invention of these effects in the West, "skiagraphia" or "shadow-painting" to the Ancient Greeks, was traditionally ascribed to the famous Athenian painter of the 5th century BC,
Apollodoros
Apollodorus (painter)
Apollodorus Skiagraphos was an influential Ancient Greek painter of the 5th century BC whose work has since been entirely lost. Apollodorus left a technique behind known as skiagraphia, a way to easily produce shadow, that affected the works not only of his contemporaries but also of later...
. Although virtually no Ancient Greek painting survives, their understanding of the effect of light modelling can still be seen in the late 4th century BC mosaics of
Pella
Pella
Pella , an ancient Greek city located in Pella Prefecture of Macedonia in Greece, was the capital of the ancient kingdom of Macedonia.-Etymology:...
, Macedonia, in particular the
Deer Hunt
, in the House of the Abduction of Helen, inscribed
gnosis epoesen
, or 'knowledge did it'.
They also survived in rather crude standardized form in
Byzantine art
Byzantine art
Byzantine art is the term commonly used to describe the artistic products of the Byzantine Empire from about the 5th century until the Fall of Constantinople in 1453....
and were refined again in the Middle Ages to become standard by the early fifteenth-century in painting and manuscript illumination in Italy and Flanders, and then spread to all Western art. The Raphael painting illustrated, with light coming from the left, demonstrates both delicate modelling chiaroscuro to give volume to the body of the model, and also strong chiaroscuro in the more common sense in the contrast between the well-lit model and the very dark background of foliage. However, to further complicate matters, the compositional chiaroscuro of the contrast between model and background would probably not be described using this term, as the two elements are almost completely separated. The term is mostly used to describe compositions where at least some principal elements of the main composition show the transition between light and dark, as in the Baglioni and Geertgen tot Sint Jans paintings illustrated above and below.
Chiaroscuro modelling is now taken for granted, but had some opponents; the English portrait miniaturist
Nicholas Hilliard
Nicholas Hilliard
Nicholas Hilliard was an English goldsmith and limner best known for his portrait miniatures of members of the courts of Elizabeth I and James I of England. He mostly painted small oval miniatures, but also some larger cabinet miniatures, up to about ten inches tall, and at least two famous...
cautioned in his treatise on painting against all but the minimal use we see in his works, reflecting the views of his patron Queen
Elizabeth I of England
Elizabeth I of England
Elizabeth I was queen regnant of England and Ireland from 17 November 1558 until her death. Sometimes called The Virgin Queen, Gloriana, or Good Queen Bess, Elizabeth was the fifth and last monarch of the Tudor dynasty...
:"seeing that best to show oneself needeth no shadow of place but rather the open light...Her Majesty..chose her place to sit for that purpose in the open alley of a goodly garden, where no tree was near, nor any shadow at all..."
In drawings and prints
hatching
Hatching
Hatching is an artistic technique used to create tonal or shading effects by drawing closely spaced parallel lines...
, or shading by parallel lines, is often used to achieve modelling chiaroscuro. Washes, stipple or dotting effects, and "surface tone" in printmaking are other techniques.
Chiaroscuro woodcuts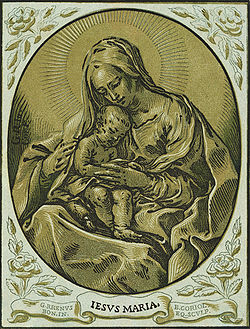 Chiaroscuro
woodcut
Woodcut
Woodcut—occasionally known as xylography—is a relief printing artistic technique in printmaking in which an image is carved into the surface of a block of wood, with the printing parts remaining level with the surface while the non-printing parts are removed, typically with gouges...
s do not necessarily feature strong contrasts of light and dark, but are
old master print
Old master print
An old master print is a work of art produced by a printing process within the Western tradition . A date of about 1830 is usually taken as marking the end of the period whose prints are covered by this term. The main techniques concerned are woodcut, engraving and etching, although there are...
s in woodcut using two or more blocks printed in different colours. According to the one definition of the term, they were first invented by
Lucas Cranach
Lucas Cranach
Lucas Cranach may refer to:*Lucas Cranach the Elder *Lucas Cranach the Younger...
in Germany in 1507, and first made in Italy by
Ugo da Carpi
Ugo da Carpi
Ugo da Carpi , painter and printmaker, the first Italian practitioner of the art of the chiaroscuro woodcut, a technique involving the use of several wood blocks to make one print, each block cut to produce a different tone of the same colour...
a=before 1516. Other printmakers to use the technique include
Cranach
Lucas Cranach the Elder
Lucas Cranach the Elder , was a German Renaissance painter and printmaker in woodcut and engraving...
,
Hans Wechtlin
Hans Wechtlin
Johann, Johannes or Hans Wechtlin was a German Renaissance artist, active between at least 1502 and 1526, whose woodcuts are his only certainly surviving work...
, Hans Baldung Grien and
Parmigianino
Parmigianino
Girolamo Francesco Maria Mazzola , also known as Francesco Mazzola or more commonly as Parmigianino or sometimes "Parmigiano", was an Italian Mannerist painter and printmaker active in Florence, Rome, Bologna, and his native city of Parma...
. In Germany the technique peaked around 1520, but it was used in Italy throughout the sixteenth century. Later artists like Goltzius sometimes made use of it. In some German two-block prints, the keyblock (or "line block") was printed in black and the tone block or blocks had flat areas of colour. In Italy, chiaroscuri were produced without keyblocks to achieve a very different effect. They resembled the style of wash drawings also known as chiaroscuro.
Compositional chiaroscuro to Caravaggio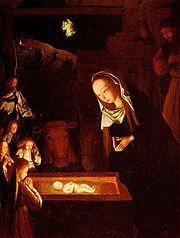 Manuscript illumination was, as in many areas, especially experimental in attempting ambitious lighting effects, as the results were not for public display. The development of compositional chiaroscuro received a considerable impetus in Northern Europe from the vision of the
Nativity of Jesus
Nativity of Jesus
The Nativity of Jesus, or simply The Nativity, refers to the accounts of the birth of Jesus in two of the Canonical gospels and in various apocryphal texts....
of Saint
Bridget of Sweden
Bridget of Sweden
Bridget of Sweden Bridget of Sweden Bridget of Sweden (1303 – 23 July 1373; also Birgitta of Vadstena, Saint Birgitta , was a mystic and saint, and founder of the Bridgettines nuns and monks after the death of her husband of twenty years...
, a very popular mystic. She described the infant Jesus as emitting light himself; depictions increasingly reduced other light sources in the scene to emphasize this effect, and the Nativity remained very commonly treated with chiaroscuro through to the Baroque.
Hugo van der Goes
Hugo van der Goes
Hugo van der Goes was a Flemish painter. He was, along with Jan van Eyck, Rogier van der Weyden, Hans Memling and Gerard David, one of the most important of the Early Netherlandish painters.-Biography:...
and his followers painted many scenes lit only by candle, or the divine light from the infant Christ. As with some later painters, in their hands the effect was of stillness and calm rather than the drama of the Baroque.
Strong chiaroscuro became a popular effect during the sixteenth century, in
Mannerism
Mannerism
Mannerism is a period of European art that emerged from the later years of the Italian High Renaissance around 1520. It lasted until about 1580 in Italy, when a more Baroque style began to replace it, but Northern Mannerism continued into the early 17th century throughout much of Europe...
and in
Baroque
Baroque
The Baroque is a period and the style that used exaggerated motion and clear, easily interpreted detail to produce drama, tension, exuberance, and grandeur in sculpture, painting, literature, dance, and music...
art. Divine light continued to illuminate, often rather inadequately, the compositions of
Tintoretto
Tintoretto
Tintoretto , real name Jacopo Comin, was a Venetian painter and a notable exponent of the Renaissance school. For his phenomenal energy in painting he was termed Il Furioso...
,
Veronese
Paolo Veronese
Paolo Veronese was an Italian painter of the Renaissance in Venice, famous for paintings such as The Wedding at Cana and The Feast in the House of Levi...
and their many followers. Dark subjects dramatically lit by a shaft of light from a single constricted and often unseen source was a compositional device developed by
Ugo da Carpi
Ugo da Carpi
Ugo da Carpi , painter and printmaker, the first Italian practitioner of the art of the chiaroscuro woodcut, a technique involving the use of several wood blocks to make one print, each block cut to produce a different tone of the same colour...
(c. 1455-c. 1523),
Giovanni Baglione
Giovanni Baglione
Giovanni Baglione was an Italian Late Mannerist and Early Baroque painter and art historian. He is best remembered for his acrimonious involvement with the artist Caravaggio and his writings concerning the other Roman artists of his time.-Early life:A pupil of Francesco Morelli, he worked mainly...
(1566–1643) and
Caravaggio
Caravaggio
Michelangelo Merisi da Caravaggio was an Italian artist active in Rome, Naples, Malta, and Sicily between 1593 and 1610. His paintings, which combine a realistic observation of the human state, both physical and emotional, with a dramatic use of lighting, had a formative influence on the Baroque...
(1573–1610), the last of whom was crucial in developing the style of
tenebrism
Tenebrism
Tenebrism, from the Italian tenebroso , is a style of painting using very pronounced chiaroscuro, where there are violent contrasts of light and dark, and darkness becomes a dominating feature of the image...
, where dramatic chiaroscuro becomes a dominant stylistic device.
17th and 18th centuries

Tenebrism was especially practised in
Spain
Spain
Spain , officially the Kingdom of Spain languages]] under the European Charter for Regional or Minority Languages. In each of these, Spain's official name is as follows:;;;;;;), is a country and member state of the European Union located in southwestern Europe on the Iberian Peninsula...
and the Spanish-ruled Kingdom of
Naples
Naples
Naples is a city in Southern Italy, situated on the country's west coast by the Gulf of Naples. Lying between two notable volcanic regions, Mount Vesuvius and the Phlegraean Fields, it is the capital of the region of Campania and of the province of Naples...
, by Jusepe de Ribera and his followers.
Adam Elsheimer
Adam Elsheimer
Adam Elsheimer was a German artist working in Rome who died at only thirty-two, but was very influential in the early 17th century. His relatively few paintings were small scale, nearly all painted on copper plates, of the type often known as cabinet paintings. They include a variety of light...
(1578–1610), a German artist living in Rome, produced several night scenes lit mainly by fire, and sometimes moonlight. Unlike Caravaggio, his dark areas contain very subtle detail and interest. The influences of Caravaggio and Elsheimer were strong on
Peter Paul Rubens
, who exploited their respective approaches to tenebrosity for dramatic effect in paintings such as
The Raising of the Cross
The Elevation of the Cross (Rubens)
The Elevation of the Cross is a triptych painting by Flemish artist Peter Paul Rubens, completed in 1610-1611....
(1610–1611).
A particular genre that developed was the nocturnal scene lit by candlelight, which looked back to earlier northern artists like Geertgen tot Sint Jans and more immediately to the innovations of Caravaggio and Elsheimer. This theme played out with many artists from the
Low Countries
Low Countries
The Low Countries are the historical lands around the low-lying delta of the Rhine, Scheldt, and Meuse rivers, including the modern countries of Belgium, the Netherlands, Luxembourg and parts of northern France and western Germany....
in the first few decades of the 17th century, where it became associated with the Utrecht Caravaggisti like Gerrit van Honthorst and
Dirck van Baburen
Dirck van Baburen
Dirck Jaspersz. van Baburen was a Dutch painter associated with the Utrecht Caravaggisti.-Biography:Dirck van Baburen was probably born in Wijk bij Duurstede, but his family moved to Utrecht when he was still young. He was also known as Teodoer van Baburen and Theodor Baburen...
, and with Flemish Baroque painters such as
Jacob Jordaens
Jacob Jordaens
Jacob Jordaens was one of three Flemish Baroque painters, along with Peter Paul Rubens and Anthony van Dyck, to bring prestige to the Antwerp school of painting. Unlike those contemporaries he never traveled abroad to study Italian painting, and his career is marked by an indifference to their...
.
Rembrandt
's early works from the 1620s also adopted the single-candle light source. The nocturnal candle-lit scene re-emerged in the
Dutch Republic
Dutch Republic
The Dutch Republic — officially known as the Republic of the Seven United Netherlands , the Republic of the United Netherlands, or the Republic of the Seven United Provinces — was a republic in Europe existing from 1581 to 1795, preceding the Batavian Republic and ultimately...
in the mid 17th century on a smaller scale in the works of
fijnschilder
Fijnschilder
The Fijnschilders , also called the Leiden Fijnschilders , were Dutch Golden Age painters who, from about 1630 to 1710, strove to create as natural a reproduction of reality as possible in their meticulously executed, often small-scale works.Although in the seventeenth century, as in modern Dutch,...
s such as Gerrit Dou and Gottfried Schalken.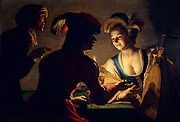 Rembrandt's own interest in effects of darkness shifted in his mature works. He relied less on the sharp contrasts of light and dark that marked the Italian influences of the earlier generation, a factor found in his mid-17th century etchings. In that medium he shared many similarities with his contemporary in Italy,
Giovanni Benedetto Castiglione
Giovanni Benedetto Castiglione
Giovanni Benedetto Castiglione was an Italian Baroque artist, painter, printmaker and draftsman, of the Genoese school. He is best known now for his elaborate engravings, and as the inventor of the printmaking technique of monotyping. He was known as Il Grechetto in Italy and in France as Le...
, whose work in
printmaking
Printmaking
Printmaking is the process of making artworks by printing, normally on paper. Printmaking normally covers only the process of creating prints with an element of originality, rather than just being a photographic reproduction of a painting. Except in the case of monotyping, the process is capable...
led him to invent the
monotype
Monotyping
Monotyping is a type of printmaking made by drawing or painting on a smooth, non-absorbent surface. The surface, or matrix, was historically a copper etching plate, but in contemporary work it can vary from zinc or glass to acrylic glass. The image is then transferred onto a sheet of paper by...
.
Outside the Low Countries, artists such as
Georges de La Tour
Georges de La Tour
Georges de La Tour was a French Baroque painter, who spent most of his working life in the Duchy of Lorraine, which was temporarily absorbed into France between 1641 and 1648...
and
Trophime Bigot
Trophime Bigot
Trophime Bigot , also known as Théophile Bigot, Teofili Trufemondi, Candlelight Master, Maître à la Chandelle, was a French painter of the Baroque era, active in Rome and his native Provence....
in France and
Joseph Wright of Derby
Joseph Wright of Derby
Joseph Wright , styled Wright of Derby, was an English landscape and portrait painter. He has been acclaimed as "the first professional painter to express the spirit of the Industrial Revolution"....
in England, carried on with such strong, but graduated, candlelight chiaroscuro.
Watteau used a gentle chiaroscuro in the leafy backgrounds of his fêtes galantes, and this was continued in pictures by many French artists, notably
Fragonard
Jean-Honoré Fragonard
Jean-Honoré Fragonard was a French painter and printmaker whose late Rococo manner was distinguished by remarkable facility, exuberance, and hedonism. One of the most prolific artists active in the last decades of the Ancien Régime, Fragonard produced more than 550 paintings , of which only five...
. At the end of the century Fuseli and others used a heavier chiaroscuro for romantic effect, as did
Delacroix
Eugène Delacroix
Ferdinand Victor Eugène Delacroix was a French Romantic artist regarded from the outset of his career as the leader of the French Romantic school...
and others in the nineteenth century.
Usage of the term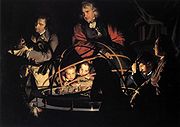 The French use of the term,
clair-obscur
, was introduced by the seventeenth century art-critic
Roger de Piles
Roger de Piles
Roger de Piles was a French painter, engraver, art critic and diplomat.-Life:Born in Clamecy, Roger de Piles started his career in art as a pupil of Claude François....
in the course of a famous argument (
Débat sur le coloris
) on the relative merits of drawing and colour in painting (his
Dialogues sur le coloris
, 1673 was a key contribution to the
Débat
). In English, the Italian term has been used since at least the late 17th century. The term is less often used of art after the late nineteenth century, although the Expressionist and other modern movements make great use of the effect. Especially since the strong 20th century rise in the reputation of Caravaggio, in non-specialist use the term is mainly used for strong chiaroscuro effects such as his, or Rembrandt's. As the
Tate
Tate
-Places:*Tate, Georgia, a town in the United States*Tate County, Mississippi, a county in the United States*Táté, the Hungarian name for Totoi village, Sântimbru Commune, Alba County, Romania*Tate, Filipino word for States...
puts it: "Chiaroscuro is generally only remarked upon when it is a particularly prominent feature of the work, usually when the artist is using extreme contrasts of light and shade." Photography and cinema have also adopted the term. For the history of the term, see René Verbraeken,
Clair-obscur, histoire d'un mot (Nogent-le-Roi, 1979).

Classical voice instructors describe the optimal balance of clearness and darkness in the singing voice tone as chiaroscuro: a combination of brightness and "ping" (brilliance and resonance) with warmth and depth i.e. the 'dark' colours (natural or manufactured) of the individual timbre. This technique is one of the main arsenals of dramatic singers especially useful in verismo

Verismo

Verismo was an Italian literary movement which peaked between approximately 1875 and the early 1900s....


operas e.g. Tosca

Tosca

Tosca is an opera in three acts by Giacomo Puccini to an Italian libretto by Luigi Illica and Giuseppe Giacosa. It premiered at the Teatro Costanzi in Rome on 14 January 1900...


, Pagliacci

Pagliacci

Pagliacci , sometimes incorrectly rendered with a definite article as I Pagliacci, is an opera consisting of a prologue and two acts written and composed by Ruggero Leoncavallo. It recounts the tragedy of a jealous husband in a commedia dell'arte troupe...


, and Cavalleria rusticana

Cavalleria rusticana

Cavalleria rusticana is an opera in one act by Pietro Mascagni to an Italian libretto by Giovanni Targioni-Tozzetti and Guido Menasci, adapted from a play written by Giovanni Verga based on his short story. Considered one of the classic verismo operas, it premiered on May 17, 1890 at the Teatro...


, where it can be used to great effect in recitatives and declamatory passages; it also allows more lyric voices to safely survive the strain of bread-and-butter lyrico-spinto roles such as Mario (Tosca

Tosca

Tosca is an opera in three acts by Giacomo Puccini to an Italian libretto by Luigi Illica and Giuseppe Giacosa. It premiered at the Teatro Costanzi in Rome on 14 January 1900...


). Famous examples include Zinka Milanov

Zinka Milanov

Zinka Milanov was a Croatian-born operatic spinto soprano who had a major career centred on the New York Metropolitan Opera.-Biography:...


, Maria Callas

Maria Callas

Maria Callas was an American-born Greek soprano and one of the most renowned opera singers of the 20th century. She combined an impressive bel canto technique, a wide-ranging voice and great dramatic gifts...


, Leontyne Price

Leontyne Price

Mary Violet Leontyne Price is an American soprano. Born and raised in the Deep South, she rose to international acclaim in the 1950s and 1960s, and was one of the first African Americans to become a leading artist at the Metropolitan Opera.One critic characterized Price's voice as "vibrant",...


, Anna Moffo

Anna Moffo

Anna Moffo was an Italian-American opera singer and one of the leading lyric-coloratura sopranos of her generation...


, Carlo Bergonzi

Carlo Bergonzi

Carlo Bergonzi is an Italian operatic tenor. Although he performed and recorded some bel canto and verismo roles, he is above all associated with the operas of Giuseppe Verdi, including a large number of the composer's lesser-known works that he helped revive...


, Franco Corelli

Franco Corelli

Franco Corelli was a famous Italian tenor who had a major international opera career between 1951 and 1976. Associated in particular with the spinto and dramatic tenor roles of the Italian repertory, he was celebrated universally for his powerhouse voice, electrifying top notes, clear timbre, a...


and Renata Scotto

Renata Scotto

Renata Scotto is an Italian soprano and opera director.Recognized for her sense of style, musicality and as a remarkable singer-actress, Scotto is considered one of the preeminent singers of her generation, specializing in the bel canto repertoire with excursions into the verismo and Verdi...


.

Cinema and photography
Chiaroscuro is also used in cinematography to indicate extreme low-key lighting to create distinct areas of light and darkness in films, especially in black and white films. Classic examples are The Hunchback of Notre Dame

The Hunchback of Notre Dame (1939 film)

The Hunchback of Notre Dame is a 1939 American monochrome film starring Charles Laughton as Quasimodo and Maureen O'Hara as Esmeralda. It was directed by William Dieterle and produced by Pandro S. Berman...


(1939), The Devil and Daniel Webster

The Devil and Daniel Webster (1941 film)

The Devil and Daniel Webster is a 1941 fantasy film, adapted by Stephen Vincent Benét and Dan Totheroh from Benét's short story, "The Devil and Daniel Webster". The film's title was changed to All That Money Can Buy to avoid confusion with another film released by RKO that year, The Devil and Miss...


(1941) and the black and white scenes in Andrei Tarkovsky

Andrei Tarkovsky

Andrei Arsenyevich Tarkovsky was a Soviet and Russian filmmaker, writer, film editor, film theorist, theatre and opera director, widely regarded as one of the finest filmmakers of the 20th century....


's Stalker

Stalker (film)

Stalker is a 1979 science fiction film directed by Andrei Tarkovsky, with a screenplay written by Boris and Arkady Strugatsky, loosely based on their novel Roadside Picnic...


(1979).

In photography

Photography

Photography is the art, science and practice of creating durable images by recording light or other electromagnetic radiation, either electronically by means of an image sensor or chemically by means of a light-sensitive material such as photographic film...


, chiaroscuro is often effected with the use of "Rembrandt lighting

Rembrandt lighting

Rembrandt lighting is a lighting technique that is sometimes used in studio portrait photography. It can be achieved using one light and a reflector, or two lights, and is popular because it is capable of producing images which appear both natural and compelling with a minimum of equipment...


". In more highly-developed photographic processes, this technique may also be termed "ambient/natural lighting", although when done so for the effect, the look is artificial and not generally documentary in nature. W. Eugene Smith

W. Eugene Smith

William Eugene Smith was an American photojournalist known for his refusal to compromise professional standards and his brutally vivid World War II photographs.- Life and work :...


, Josef Koudelka

Josef Koudelka

Josef Koudelka is a Czech photographer.-Biography:Josef Koudelka was born in 1938 in Boskovice, Moravia, town of about 10,000 inhabitants. He began photographing his family and the surroundings with a 6 x 6 Bakelite camera...


, Garry Winogrand

Garry Winogrand

Garry Winogrand was a street photographer known for his portrayal of America in the mid-20th century. John Szarkowski called him the central photographer of his generation....


, Lothar Wolleh

Lothar Wolleh

Lothar Wolleh was a well-known German photographer.Until the end of the sixties, Lothar Wolleh worked as a commercial photographer. He took portraits of international contemporary painters, sculptors and performance artists...


, Annie Leibovitz

Annie Leibovitz

Anna-Lou "Annie" Leibovitz is an American portrait photographer.-Early life and education:Born in Waterbury, Connecticut, Leibovitz is the third of six children. She is a third-generation American whose great-grandparents were Jewish immigrants, from Central and Eastern Europe. Her father's...


, Floria Sigismondi

Floria Sigismondi

Floria Sigismondi is an Italian, naturalised Canadian, photographer and director.Apart from her art exhibitions, she is best known for writing and directing The Runaways, starring Kristen Stewart and Dakota Fanning...


and Ralph Gibson

Ralph Gibson

Ralph Gibson is an American art photographer best known for his photographic books. His images often incorporate fragments with erotic and mysterious undertones, building narrative meaning through contextualization and surreal juxtaposition.Ralph Gibson studied photography while in the US Navy and...


may be considered some of the modern masters of chiaroscuro in documentary photography.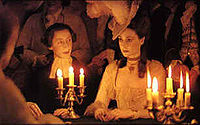 Perhaps the most direct personification of the intent of chiaroscuro in filmmaking, though, would be Stanley Kubrick

Stanley Kubrick

Stanley Kubrick was an American film director, writer, producer, and photographer who lived in England during most of the last four decades of his career...


's Barry Lyndon

Barry Lyndon

Barry Lyndon is a 1975 British-American period romantic war film produced, written, and directed by Stanley Kubrick based on the 1844 novel The Luck of Barry Lyndon by William Makepeace Thackeray which recounts the exploits of an 18th century Irish adventurer...


,. When informed that no lens currently had a wide enough aperture to shoot a costume drama set in grand palaces using only candlelight, Kubrick bought and retrofitted a special lens for these purposes: a modified Mitchell BNC camera and a Zeiss lens manufactured for the rigors of space photography, with a maximum aperture of f/.7. The naturally unaugmented lighting situations in the film exemplified low-key, natural lighting in filmwork at its most extreme outside of the Eastern European/Soviet filmmaking tradition (itself exemplified by the harsh low-key lighting style employed by Soviet filmmaker Sergei Eisenstein

Sergei Eisenstein

Sergei Mikhailovich Eisenstein , né Eizenshtein, was a pioneering Soviet Russian film director and film theorist, often considered to be the "Father of Montage"...


).

Sven Nykvist

Sven Nykvist

Sven Vilhem Nykvist was a Swedish cinematographer. He worked on over 120 films, but is known especially for his work with director Ingmar Bergman...


, the longtime collaborator of Ingmar Bergman

Ingmar Bergman

Ernst Ingmar Bergman was a Swedish director, writer and producer for film, stage and television. Described by Woody Allen as "probably the greatest film artist, all things considered, since the invention of the motion picture camera", he is recognized as one of the most accomplished and...


, also informed much of his photography with chiaroscuro realism, as well as Gregg Toland

Gregg Toland

Gregg Toland, A.S.C. was an American cinematographer noted for his innovative use of lighting and techniques such as deep focus, an example of which can be found in his work on Orson Welles' Citizen Kane.-Career:...


, who influenced such cinematographers as László Kovács

László Kovács (cinematographer)

László Kovács, A.S.C. was a Hungarian cinematographer who was influential in the development of American New Wave films. Most famous for his award-winning work on Easy Rider and Five Easy Pieces, Kovács was the recipient of numerous awards, including three Lifetime Achievement Awards...


, Vilmos Zsigmond

Vilmos Zsigmond

Vilmos Zsigmond, A.S.C. is a Hungarian-American cinematographer.In 2003, a survey conducted by the International Cinematographers Guild placed Zsigmond among the ten most influential cinematographers in history.-Biography:...


, and Vittorio Storaro

Vittorio Storaro

Vittorio Storaro, A.S.C., A.I.C. is an Italian cinematographer.In 2003, a survey conducted by the International Cinematographers Guild judged Storaro one of history's ten most influential cinematographers.-Biography:...


with his use of deep and selective focus augmented with strong horizon-level key lighting penetrating through windows and doorways. Much of the celebrated film noir

Film noir

Film noir is a cinematic term used primarily to describe stylish Hollywood crime dramas, particularly those that emphasize cynical attitudes and sexual motivations. Hollywood's classic film noir period is generally regarded as extending from the early 1940s to the late 1950s...


tradition relies on techniques Toland perfected in the early thirties that are related to chiaroscuro (though high-key lighting, stage lighting, frontal lighting, and other effects are interspersed in ways that diminish the chiaroscuro claim).

Gallery
Chiaroscuro in modelling; Paintings
Chiaroscuro in modelling; Prints and drawings

Chiaroscuro as a major element in composition: painting
Chiaroscuro as a major element in composition: photography
Chiaroscuro faces
Chiaroscuro drawings and woodcuts


External links