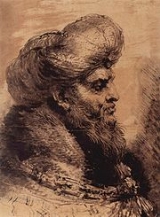 Monotyping
Monotyping
is a type of
printmaking
Printmaking
Printmaking is the process of making artworks by printing, normally on paper. Printmaking normally covers only the process of creating prints with an element of originality, rather than just being a photographic reproduction of a painting. Except in the case of monotyping, the process is capable...
made by
drawing
Drawing
Drawing is a form of visual art that makes use of any number of drawing instruments to mark a two-dimensional medium. Common instruments include graphite pencils, pen and ink, inked brushes, wax color pencils, crayons, charcoal, chalk, pastels, markers, styluses, and various metals .An artist who...
or
painting
Painting
Painting is the practice of applying paint, pigment, color or other medium to a surface . The application of the medium is commonly applied to the base with a brush but other objects can be used. In art, the term painting describes both the act and the result of the action. However, painting is...
on a smooth, non-absorbent surface. The surface, or
matrix
Matrix (printing)
In hot metal typesetting, a matrix is a mold for casting a letter, known as a sort, used in letterpress printing....
, was historically a copper etching plate, but in contemporary work it can vary from zinc or glass to
acrylic glass
Acrylic glass
Poly is a transparent thermoplastic, often used as a light or shatter-resistant alternative to glass. It is sometimes called acrylic glass. Chemically, it is the synthetic polymer of methyl methacrylate...
. The image is then transferred onto a sheet of
paper
Paper
Paper is a thin material mainly used for writing upon, printing upon, drawing or for packaging. It is produced by pressing together moist fibers, typically cellulose pulp derived from wood, rags or grasses, and drying them into flexible sheets....
by pressing the two together, usually using a printing-press. Monotypes can also be created by inking an entire surface and then, using
brush
Brush
A brush is a tool with bristles, wire or other filaments, used for cleaning, grooming hair, make up, painting, surface finishing and for many other purposes. It is one of the most basic and versatile tools known to mankind, and the average household may contain several dozen varieties...
es or rags, removing ink to create a subtractive image, e.g. creating lights from a field of opaque colour. The inks used may be oil based or water based. With oil based inks, the paper may be dry, in which case the image has more contrast, or the paper may be damp, in which case the image has a 10 percent greater range of tones.
Monotyping produces a unique print, or monotype; most of the ink is removed during the initial pressing. Although subsequent reprintings are sometimes possible, they differ greatly from the first print and are generally considered inferior. A second print from the original plate is called a "ghost print" or "cognate".
Stencil
Stencil
A stencil is a thin sheet of material, such as paper, plastic, or metal, with letters or a design cut from it, used to produce the letters or design on an underlying surface by applying pigment through the cut-out holes in the material. The key advantage of a stencil is that it can be reused to...
s, watercolor,
solvent
Solvent
A solvent is a liquid, solid, or gas that dissolves another solid, liquid, or gaseous solute, resulting in a solution that is soluble in a certain volume of solvent at a specified temperature...
s, brushes, and other tools are often used to embellish a monotype print. Monotypes are often spontaneously executed and with no previous
sketch
Sketch (drawing)
A sketch is a rapidly executed freehand drawing that is not usually intended as a finished work...
.
History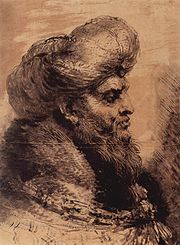 The monotype process was invented by
Giovanni Benedetto Castiglione
Giovanni Benedetto Castiglione
Giovanni Benedetto Castiglione was an Italian Baroque artist, painter, printmaker and draftsman, of the Genoese school. He is best known now for his elaborate engravings, and as the inventor of the printmaking technique of monotyping. He was known as Il Grechetto in Italy and in France as Le...
(1609-64), an Italian painter and etcher who was also the first artist to produce brushed sketches intended as finished and final works of art (rather than as studies for another work). He is the only Italian to have invented a
printmaking
Printmaking
Printmaking is the process of making artworks by printing, normally on paper. Printmaking normally covers only the process of creating prints with an element of originality, rather than just being a photographic reproduction of a painting. Except in the case of monotyping, the process is capable...
technique. He began to make monotypes in the 1640s, normally working from black to white, and produced over twenty surviving ones, over half of which are set at night (
Theseus finding the Arms of his Father, 1643
).
William Blake
William Blake
William Blake was an English poet, painter, and printmaker. Largely unrecognised during his lifetime, Blake is now considered a seminal figure in the history of both the poetry and visual arts of the Romantic Age...
developed a different technique, painting on millboard in egg tempera to produce both new works and coloured impressions of his prints and book illustrations. Few other artists used the technique until Degas, who made several, often working on them further after printing (
Beside the Sea, 1876-7
); Pissarro also made several. Paul Gaugin used a variant technique involving tracing, later taken up by
Paul Klee
Paul Klee
Paul Klee was born in Münchenbuchsee, Switzerland, and is considered both a German and a Swiss painter. His highly individual style was influenced by movements in art that included expressionism, cubism, and surrealism. He was, as well, a student of orientalism...
. In the twentieth century the technique became more popular.
Comparing monotypes to monoprints
Monoprints and monotypes are very similar. Both involve the transfer of ink from a plate to the paper, canvas, or other surface that will ultimately hold the work of art. In the case of monotypes, the plate is a featureless plate. It contains no features that will impart any definition to successive prints. The most common feature would be the etched or engraved line on a metal plate. In the absence of any permanent features on the surface of the plate, all articulation of imagery is dependent on one unique inking, resulting in one unique print.
Monoprints, on the other hand, are the results of plates that have permanent features on them. Monoprints can be thought of as variations on a theme, with the theme resulting from some permanent features being found on the plate—lines, textures—that persist from print to print. Variations are confined to those resulting from how the plate is inked prior to each print. The variations are endless, but certain permanent features on the plate will tend to persist from one print to the next.
See also
www.monoprints.com a website to learn the difference between monoprints and monotypes
Monoprinting

Monoprinting

Monoprinting is a form of printmaking that has images or lines that can only be made once, unlike most printmaking, where there are multiple originals. There are many techniques of monoprinting...



Paper marbling

Paper marbling

Paper marbling is a method of aqueous surface design, which can produce patterns similar to smooth marble or other stone. The patterns are the result of color floated on either plain water or a viscous solution known as size, and then carefully transferred to an absorbent surface, such as paper or...