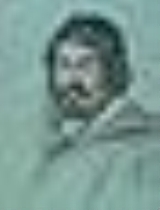 Caravaggio
Michelangelo Merisi da Caravaggio
(kara'vaddʒo; 29 September 1571 – 18 July 1610) was an
Italian
Italian people
The Italian people are an ethnic group that share a common Italian culture, ancestry and speak the Italian language as a mother tongue. Within Italy, Italians are defined by citizenship, regardless of ancestry or country of residence , and are distinguished from people...
artist
Artist
An artist is a person engaged in one or more of any of a broad spectrum of activities related to creating art, practicing the arts and/or demonstrating an art. The common usage in both everyday speech and academic discourse is a practitioner in the visual arts only...
active in
Rome
Rome
Rome is the capital of Italy and the country's largest and most populated city and comune, with over 2.7 million residents in . The city is located in the central-western portion of the Italian Peninsula, on the Tiber River within the Lazio region of Italy.Rome's history spans two and a half...
,
Naples
Naples
Naples is a city in Southern Italy, situated on the country's west coast by the Gulf of Naples. Lying between two notable volcanic regions, Mount Vesuvius and the Phlegraean Fields, it is the capital of the region of Campania and of the province of Naples...
,
Malta
Malta
Malta , officially known as the Republic of Malta , is a Southern European country consisting of an archipelago situated in the centre of the Mediterranean, south of Sicily, east of Tunisia and north of Libya, with Gibraltar to the west and Alexandria to the east.Malta covers just over in...
, and
Sicily
Sicily
Sicily is a region of Italy, and is the largest island in the Mediterranean Sea. Along with the surrounding minor islands, it constitutes an autonomous region of Italy, the Regione Autonoma Siciliana Sicily has a rich and unique culture, especially with regard to the arts, music, literature,...
between 1593 and 1610. His paintings, which combine a realistic observation of the human state, both physical and emotional, with a dramatic use of lighting, had a formative influence on the
Baroque
Baroque
The Baroque is a period and the style that used exaggerated motion and clear, easily interpreted detail to produce drama, tension, exuberance, and grandeur in sculpture, painting, literature, dance, and music...
school of painting.
Caravaggio trained as a painter in
Milan
Milan
Milan is the second-largest city in Italy and the capital city of the region of Lombardy and of the province of Milan. The city proper has a population of about 1.3 million, while its urban area, roughly coinciding with its administrative province and the bordering Province of Monza and Brianza ,...
under a master who had himself trained under
Titian
Titian
Tiziano Vecelli or Tiziano Vecellio Tiziano Vecelli or Tiziano Vecellio Tiziano Vecelli or Tiziano Vecellio (c. 1488/1490 – 27 August 1576 better known as Titian was an Italian painter, the most important member of the 16th-century Venetian school. He was born in Pieve di Cadore, near...
.