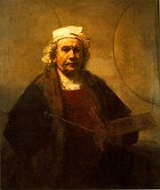 Rembrandt
Rembrandt Harmenszoon van Rijn
(ˈrɛmbrɑnt ˈɦɑrmə(n)soːn vɑn ˈrɛin, 15 July 1606 – 4 October 1669) was a
Dutch
Dutch people
The Dutch people are an ethnic group native to the Netherlands. They share a common culture and speak the Dutch language. Dutch people and their descendants are found in migrant communities worldwide, notably in Suriname, Chile, Brazil, Canada, Australia, South Africa, New Zealand, and the United...
painter and
etcher
Etching
Etching is the process of using strong acid or mordant to cut into the unprotected parts of a metal surface to create a design in intaglio in the metal...
. He is generally considered one of the greatest painters and printmakers in European art history and the most important in
Dutch history
History of the Netherlands
The history of the Netherlands is the history of a maritime people thriving on a watery lowland river delta at the edge of northwestern Europe. When the Romans and written history arrived in 57 BC, the country was sparsely populated by various tribal groups at the periphery of the empire...
. His contributions to art came in a period of great wealth and cultural achievement that historians call the
Dutch Golden Age
Dutch Golden Age
The Golden Age was a period in Dutch history, roughly spanning the 17th century, in which Dutch trade, science, military and art were among the most acclaimed in the world. The first half is characterised by the Eighty Years' War till 1648...
, when
Dutch Golden Age painting
Dutch Golden Age painting
Dutch Golden Age painting is the painting of the Dutch Golden Age, a period in Dutch history generally spanning the 17th century, during and after the later part of the Eighty Years War for Dutch independence. The new Dutch Republic was the most prosperous nation in Europe, and led European trade,...
, although in many ways antithetical to the
Baroque
Baroque
The Baroque is a period and the style that used exaggerated motion and clear, easily interpreted detail to produce drama, tension, exuberance, and grandeur in sculpture, painting, literature, dance, and music...
style that dominated Europe, was extremely prolific and innovative.
Having achieved youthful success as a
portrait
Portrait painting
Portrait painting is a genre in painting, where the intent is to depict the visual appearance of the subject. Beside human beings, animals, pets and even inanimate objects can be chosen as the subject for a portrait...
painter, Rembrandt's later years were marked by personal tragedy and financial hardships.