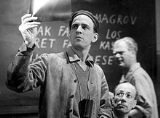 Ingmar Bergman
Ernst Ingmar Bergman (ˈɪŋmar ˈbærjman; 14 July 1918 – 30 July 2007) was a
Swedish
Sweden
Sweden , officially the Kingdom of Sweden , is a Nordic country on the Scandinavian Peninsula in Northern Europe. Sweden borders with Norway and Finland and is connected to Denmark by a bridge-tunnel across the Öresund....
director, writer and producer for
film
Film director
A film director is a person who directs the actors and film crew in filmmaking. They control a film's artistic and dramatic nathan roach, while guiding the technical crew and actors.-Responsibilities:...
, stage and
television
Television director
A television director directs the activities involved in making a television program and is part of a television crew.-Duties:The duties of a television director vary depending on whether the production is live or recorded to video tape or video server .In both types of productions, the...
. Described by
Woody Allen
Woody Allen
Woody Allen is an American screenwriter, director, actor, comedian, jazz musician, author, and playwright. Allen's films draw heavily on literature, sexuality, philosophy, psychology, Jewish identity, and the history of cinema...
as "probably the greatest film artist, all things considered, since the invention of the motion picture camera", he is recognized as one of the most accomplished and influential film directors of all time.
He directed over sixty films and documentaries for cinematic release and for television, most of which he also wrote, and directed over one hundred and seventy plays.
Say anything you want against The Seventh Seal. My fear of death — this infantile fixation of mine — was, at that moment, overwhelming. I felt myself in contact with death day and night, and my fear was tremendous. When I finished the picture, my fear went away. I have the feeling simply of having painted a canvas in an enormous hurry — with enormous pretension but without any arrogance. I said, 'Here is a painting; take it, please.'

Interview with Charles Thomas Samuels (1971)
I want very much to tell, to talk about, the wholeness inside every human being. It's a strange thing that every human being has a sort of dignity or wholeness in him, and out of that develops relationships to other human beings, tensions, misunderstandings, tenderness, coming in contact, touching and being touched, the cutting off of a contact and what happens then.

As quoted in Ingmar Bergman Directs (1972) by John Simon
I write scripts to serve as skeletons awaiting the flesh and sinew of images.

The New York Times (22 January 1978)
I was very cruel to actors and to other people. I think I was a very, very unpleasant young man. If I met the young Ingmar today, I think I would say, "You are very talented and I will see if I can help you, but I don't think I want anything else to do with you." I don't say I'm pleasant now, but I think I changed slowly in my 50's. At least I hope I've changed.

As quoted in "Ingmar Bergman: Summing Up A Life In Film" by Michiko Kakutani in The New York Times Magazine (26 June 1983)
I am so 100 percent Swedish... Someone has said a Swede is like a bottle of ketchup — nothing and nothing and then all at once — splat. I think I'm a little like that. And I think I'm Swedish because I like to live here on this island. You can't imagine the loneliness and isolation in this country. In that way, I'm very Swedish — I don't dislike to be alone

As quoted in "Ingmar Bergman: Summing Up A Life In Film" by Michiko Kakutani in The New York Times Magazine (26 June 1983)