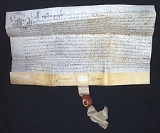 Vellum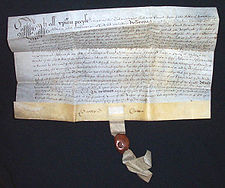 Vellum
is mammal skin prepared for writing or printing on, to produce single pages, scrolls,
codices
Codex
A codex is a book in the format used for modern books, with multiple quires or gatherings typically bound together and given a cover.Developed by the Romans from wooden writing tablets, its gradual replacement...
or books. It is generally smooth and durable, although there are great variations depending on preparation, the quality of the skin and the type of animal used. The manufacture involves the cleaning, bleaching, stretching on a frame, and scraping of the skin with a hemispherical knife. To create tension, scraping is alternated with wetting and drying. A final finish may be achieved by abrading the surface with pumice, and treating with a preparation of lime or chalk to make it accept writing or printing ink. Modern "paper vellum" (vegetable vellum) is used for a variety of purposes, especially for plans, technical drawings, and
blueprint
Blueprint
A blueprint is a type of paper-based reproduction usually of a technical drawing, documenting an architecture or an engineering design. More generally, the term "blueprint" has come to be used to refer to any detailed plan....
s.
Material and manufacture
Vellum is a translucent material produced from the skin, often split, of a young animal, that has been soaked,
limed
Calcium hydroxide
Calcium hydroxide, traditionally called slaked lime, is an inorganic compound with the chemical formula Ca2. It is a colourless crystal or white powder and is obtained when calcium oxide is mixed, or "slaked" with water. It has many names including hydrated lime, builders lime, slack lime, cal, or...
, and scudded (a depilatory process), and then dried at normal temperature under tension, usually on a wooden device called a stretching
frame
Picture frame
A picture frame is a decorative edging for a picture, such as a painting or photograph, intended to enhance it, make it easier to display, or protect it.-Construction:...
. The important distinction between vellum (or parchment) and
leather
Leather
Leather is a durable and flexible material created via the tanning of putrescible animal rawhide and skin, primarily cattlehide. It can be produced through different manufacturing processes, ranging from cottage industry to heavy industry.-Forms:...
is that the former is not processed using
tanning
Tanning
Tanning is the making of leather from the skins of animals which does not easily decompose. Traditionally, tanning used tannin, an acidic chemical compound from which the tanning process draws its name . Coloring may occur during tanning...
. The distinction between vellum and
parchment
Parchment
Parchment is a thin material made from calfskin, sheepskin or goatskin, often split. Its most common use was as a material for writing on, for documents, notes, or the pages of a book, codex or manuscript. It is distinct from leather in that parchment is limed but not tanned; therefore, it is very...
has been made in several different ways, and no one definition can be considered correct, but vellum has always denoted the better quality.
In Europe, from Roman times, the term vellum was used for the best quality of prepared skin, regardless of the animal from which the hide was obtained,
calf
Calfskin
Calfskin is a leather or membrane produced from the hide of a calf. Calfskin is particularly valuable because of its softness, and non fine grain. It is commonly used for high-quality shoes, wallets and similar products, as well as traditional leather bookbindings...
,
sheep
Sheepskin (material)
Sheepskin is the hide of a sheep, sometimes also called lambskin. Unlike common leather, sheepskin is tanned with the fleece intact, as in a pelt.-Uses:...
, and
goat
Goat
The domestic goat is a subspecies of goat domesticated from the wild goat of southwest Asia and Eastern Europe. The goat is a member of the Bovidae family and is closely related to the sheep as both are in the goat-antelope subfamily Caprinae. There are over three hundred distinct breeds of...
all being commonly used (other animals, including pig, deer, donkey, horse, or camel have been used). Although the term derives from the French for "calf", except for
Muslim
Muslim
A Muslim, also spelled Moslem, is an adherent of Islam, a monotheistic, Abrahamic religion based on the Quran, which Muslims consider the verbatim word of God as revealed to prophet Muhammad. "Muslim" is the Arabic term for "submitter" .Muslims believe that God is one and incomparable...
or Jewish use, animal vellum can include hide from virtually any other mammal. The best quality, "uterine vellum", was said to be made from the skins of
stillborn
Stillbirth
A stillbirth occurs when a fetus has died in the uterus. The Australian definition specifies that fetal death is termed a stillbirth after 20 weeks gestation or the fetus weighs more than . Once the fetus has died the mother still has contractions and remains undelivered. The term is often used in...
or unborn animals, although the term was also applied to fine quality skins made from young animals. Many libraries and museums increasingly use only the safe if confusing term "membrane"; depending on factors such as the method of preparation it may be very hard to determine the animal involved without using a laboratory, and the term avoids the need to distinguish between vellum and parchment.
French sources, closer to the original etymology, tend to define
velin
as from calf only, while the British Standards Institution defines parchment as made from the split skin of several species, and vellum from the unsplit skin. In the usage of modern practitioners of the artistic crafts of writing, illuminating, lettering, and bookbinding, "vellum" is normally reserved for calfskin, while any other skin is called "parchment".
Manuscripts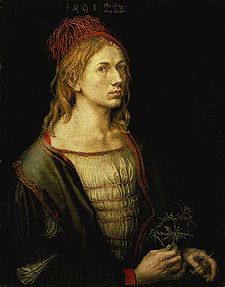 Most of the finer sort of medieval manuscripts, whether
illuminated
Illuminated manuscript
An illuminated manuscript is a manuscript in which the text is supplemented by the addition of decoration, such as decorated initials, borders and miniature illustrations...
or not, were written on vellum. Some
Gandharan Buddhist texts
Gandharan Buddhist Texts
The Gandhāran Buddhist Texts are the oldest Buddhist manuscripts yet discovered, dating from about the 1st century CE. They are written in Gāndhārī, and are possibly the oldest extant Indic texts altogether. They were sold to European and Japanese institutions and individuals, and are currently...
were written on vellum, and all Sifrei Torah (Hebrew: ספר תורה ; plural: ספרי תורה, Sifrei Torah) are written on kosher
klaf
Klaf
Klaf is the designation given a particular piece of skin. The Talmudic definition includes both the form of the skin and the way its processed in particular that it must be tanned. Since the innovative ruling of Rabbeinu Tam Klaf (or kelaf) is the designation given a particular piece of skin. The...
or vellum.
A quarter of the 180 copy edition of
Johannes Gutenberg
's first
Bible
Gutenberg Bible
The Gutenberg Bible was the first major book printed with a movable type printing press, and marked the start of the "Gutenberg Revolution" and the age of the printed book. Widely praised for its high aesthetic and artistic qualities, the book has an iconic status...
printed in 1455 with
movable type
Movable type
Movable type is the system of printing and typography that uses movable components to reproduce the elements of a document ....
was also printed on vellum, presumably because his market expected this for a high-quality book. Paper was used for most book-printing, as it was cheaper and easier to process through a
printing press
Printing press
A printing press is a device for applying pressure to an inked surface resting upon a print medium , thereby transferring the ink...
and
bind
Bookbinding
Bookbinding is the process of physically assembling a book from a number of folded or unfolded sheets of paper or other material. It usually involves attaching covers to the resulting text-block.-Origins of the book:...
.
In art, vellum was used for paintings, especially if they needed to be sent long distances, before
canvas
Canvas
Canvas is an extremely heavy-duty plain-woven fabric used for making sails, tents, marquees, backpacks, and other items for which sturdiness is required. It is also popularly used by artists as a painting surface, typically stretched across a wooden frame...
became widely used in about 1500, and continued to be used for drawings, and watercolours.
Old master print
Old master print
An old master print is a work of art produced by a printing process within the Western tradition . A date of about 1830 is usually taken as marking the end of the period whose prints are covered by this term. The main techniques concerned are woodcut, engraving and etching, although there are...
s were sometimes printed on vellum, especially for presentation copies, until at least the seventeenth century.
Limp vellum
Limp vellum
Limp binding is a bookbinding method in which the book has flexible cloth, leather, vellum, or paper sides. When the sides of the book are made of vellum, the bookbinding method is also known as limp vellum....
or limp-parchment bindings were used frequently in the 16th and 17th centuries, and were sometimes
gilt
Gilding
The term gilding covers a number of decorative techniques for applying fine gold leaf or powder to solid surfaces such as wood, stone, or metal to give a thin coating of gold. A gilded object is described as "gilt"...
but were also often not
embellished
Embellishment
In sewing and crafts an embellishment is anything that adds design interest to the piece.-Common examples of embellishment in sewing and crafts:* appliqué* embroidery, done either by machine or by hand...
. In later centuries vellum has been more commonly used like leather, that is, as the covering for stiff board bindings. Vellum can be stained virtually any color but seldom is, as a great part of its beauty and appeal rests in its faint grain and hair markings, as well as its warmth and simplicity.
Lasting in excess of 1,000 years—Gregory the Great, Pastoral Care (Troyes, Bibliothèque Municipale, MS 504), for example dates from about 600 and is in excellent condition—animal vellum can be far more durable than paper. For this reason, many important documents are written on animal vellum, such as diplomas. Referring to a diploma as a "sheepskin" alludes to the time when diplomas were written on vellum made from animal hides.
Modern use
British Acts of Parliament are still printed on vellum for archival purposes, as are those of the
Republic of Ireland
Republic of Ireland
Ireland , described as the Republic of Ireland , is a sovereign state in Europe occupying approximately five-sixths of the island of the same name. Its capital is Dublin. Ireland, which had a population of 4.58 million in 2011, is a constitutional republic governed as a parliamentary democracy,...
. It is still used for Jewish scrolls, of the
Torah
Torah
Torah- A scroll containing the first five books of the BibleThe Torah , is name given by Jews to the first five books of the bible—Genesis , Exodus , Leviticus , Numbers and Deuteronomy Torah- A scroll containing the first five books of the BibleThe Torah , is name given by Jews to the first five...
in particular, for luxury book-binding, memorial books, and for various documents in
calligraphy
Calligraphy
Calligraphy is a type of visual art. It is often called the art of fancy lettering . A contemporary definition of calligraphic practice is "the art of giving form to signs in an expressive, harmonious and skillful manner"...
.
Today, because of low demand and complicated manufacturing process, animal vellum is expensive and hard to find. The only UK company still producing traditional parchment and vellum is William Cowley (Est 1870) who are based in
Newport Pagnell
Newport Pagnell
Newport Pagnell is a town in the Borough of Milton Keynes , England. It is separated by the M1 motorway from Milton Keynes itself, though part of the same urban area...
,
Buckinghamshire
Buckinghamshire
Buckinghamshire is a ceremonial and non-metropolitan home county in South East England. The county town is Aylesbury, the largest town in the ceremonial county is Milton Keynes and largest town in the non-metropolitan county is High Wycombe....
. A modern imitation is made out of
cotton
Cotton
Cotton is a soft, fluffy staple fiber that grows in a boll, or protective capsule, around the seeds of cotton plants of the genus Gossypium. The fiber is almost pure cellulose. The botanical purpose of cotton fiber is to aid in seed dispersal....
. Known as paper vellum, this material is considerably cheaper than animal vellum and can be found in most art and drafting supply stores. Some brands of
writing paper
Writing paper
Printing and writing papers are paper grades used for newspapers, magazines, catalogs, books, commercial printing, business forms, stationeries, copying and digital printing. About 1/3 of the total pulp and paper marked is printing and writing papers....
and other sorts of paper use the term "vellum" to suggest quality.
Vellum is still used on instruments such as the
banjo
Banjo
In the 1830s Sweeney became the first white man to play the banjo on stage. His version of the instrument replaced the gourd with a drum-like sound box and included four full-length strings alongside a short fifth-string. There is no proof, however, that Sweeney invented either innovation. This new...
and the
bodhran
Bodhrán
The bodhrán is an Irish frame drum ranging from 25 to 65 cm in diameter, with most drums measuring 35 to 45 cm . The sides of the drum are 9 to 20 cm deep. A goatskin head is tacked to one side...
, although synthetic skins are also available for these instruments.
Paper vellum
Modern imitation or "paper vellum" is made from plasticized cotton. Usually translucent, paper vellum in various
sizes
Paper size
Many paper size standards conventions have existed at different times and in different countries. Today there is one widespread international ISO standard and a localised standard used in North America . The paper sizes affect writing paper, stationery, cards, and some printed documents...
is often used in applications where tracing is required, such as
architectural plan
Architectural plan
An architectural plan is a plan for architecture, and the documentation of written and graphic descriptions of the architectural elements of a building project including sketches, drawings and details.- Overview :...
s. Like natural vellum, the synthetic is more dimensionally stable than a linen or paper sheet, which is frequently critical in the development of large scaled drawings and plans such as
blueprint
Blueprint
A blueprint is a type of paper-based reproduction usually of a technical drawing, documenting an architecture or an engineering design. More generally, the term "blueprint" has come to be used to refer to any detailed plan....
s. It was also extremely important in that reproduction technology for dissemination of the plans as, like a high quality natural vellum, it could be produced in a thin enough sheet to be virtually
transparent
Transparency and translucency
In the field of optics, transparency is the physical property of allowing light to pass through a material; translucency only allows light to pass through diffusely. The opposite property is opacity...
to strong light enabling a source drawing to be used directly in the reproduction of field-used drawings.
Preservation
True vellum is typically stored in a stable environment with constant temperature and 30% (± 5%)
relative humidity
Relative humidity
Relative humidity is a term used to describe the amount of water vapor in a mixture of air and water vapor. It is defined as the partial pressure of water vapor in the air-water mixture, given as a percentage of the saturated vapor pressure under those conditions...
. If vellum is stored in an environment with less than 11% relative humidity, it becomes fragile, brittle, and susceptible to mechanical stresses; if it is stored in an environment with greater than 40% relative humidity, it becomes vulnerable to gelation and to
mold
Mold
Molds are fungi that grow in the form of multicellular filaments called hyphae. Molds are not considered to be microbes but microscopic fungi that grow as single cells called yeasts...
or
fungus
Fungus
A fungus is a member of a large group of eukaryotic organisms that includes microorganisms such as yeasts and molds , as well as the more familiar mushrooms. These organisms are classified as a kingdom, Fungi, which is separate from plants, animals, and bacteria...
growth. The optimal temperature for the preservation of vellum is 20 ± 1.5 °C (68 ± 3 °F).
External links