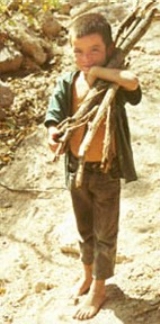 Boy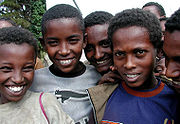 A
boy
is a young
male
Male
Male refers to the biological sex of an organism, or part of an organism, which produces small mobile gametes, called spermatozoa. Each spermatozoon can fuse with a larger female gamete or ovum, in the process of fertilization...
human
Human
Humans are the only living species in the Homo genus...
(usually
child
Child
Biologically, a child is generally a human between the stages of birth and puberty. Some vernacular definitions of a child include the fetus, as being an unborn child. The legal definition of "child" generally refers to a minor, otherwise known as a person younger than the age of majority...
or
adolescent
Adolescence
Adolescence is a transitional stage of physical and mental human development generally occurring between puberty and legal adulthood , but largely characterized as beginning and ending with the teenage stage...
), as contrasted to its
female
Female
Female is the sex of an organism, or a part of an organism, which produces non-mobile ova .- Defining characteristics :The ova are defined as the larger gametes in a heterogamous reproduction system, while the smaller, usually motile gamete, the spermatozoon, is produced by the male...
counterpart,
girl
Girl
A girl is any female human from birth through childhood and adolescence to attainment of adulthood. The term may also be used to mean a young woman.-Etymology:...
, or an adult male, a
man
Man
The term man is used for an adult human male . However, man is sometimes used to refer to humanity as a whole...
.
The term "boy" is primarily used to indicate biological
sex
Sex
In biology, sex is a process of combining and mixing genetic traits, often resulting in the specialization of organisms into a male or female variety . Sexual reproduction involves combining specialized cells to form offspring that inherit traits from both parents...
distinctions, cultural
gender
Gender
Gender is a range of characteristics used to distinguish between males and females, particularly in the cases of men and women and the masculine and feminine attributes assigned to them. Depending on the context, the discriminating characteristics vary from sex to social role to gender identity...
role distinctions or both. The latter most commonly applies to adult men, either considered in some way immature or inferior, in a position associated with aspects of boyhood, or even without such boyish connotation as age-indiscriminate synonym. The term can be joined with a variety of other words to form these gender-related labels as compound words.
Ongoing debates about the influences of
nature versus nurture
Nature versus nurture
The nature versus nurture debate concerns the relative importance of an individual's innate qualities versus personal experiences The nature versus nurture debate concerns the relative importance of an individual's innate qualities ("nature," i.e. nativism, or innatism) versus personal experiences...
in shaping the behavior of girls and boys raises questions about whether the roles played by boys are mainly the result of inborn differences or of socialization. Images of boys in art, literature and popular culture often demonstrate assumptions about gender roles.
Etymology
The word "boy" comes from
Middle English
Middle English
Middle English is the stage in the history of the English language during the High and Late Middle Ages, or roughly during the four centuries between the late 11th and the late 15th century....
boi, boye
("boy, servant"), related to other
Germanic
Germanic languages
The Germanic languages constitute a sub-branch of the Indo-European language family. The common ancestor of all of the languages in this branch is called Proto-Germanic , which was spoken in approximately the mid-1st millennium BC in Iron Age northern Europe...
words for
boy
, namely
East Frisian
Saterland Frisian language
Saterland Frisian, also known as Sater Frisian or Saterlandic , is the last living dialect of the East Frisian language. It is closely related to the other Frisian languages—North Frisian, which, like Saterland Frisian, is spoken in Germany and West Frisian, which is spoken in the Netherlands.- Old...
boi
("boy, young man") and
West Frisian
West Frisian language
West Frisian is a language spoken mostly in the province of Friesland in the north of the Netherlands. West Frisian is the name by which this language is usually known outside the Netherlands, to distinguish it from the closely related Frisian languages of Saterland Frisian and North Frisian,...
boai
("boy"). Though the exact
etymology
Etymology
Etymology is the study of the history of words, their origins, and how their form and meaning have changed over time.For languages with a long written history, etymologists make use of texts in these languages and texts about the languages to gather knowledge about how words were used during...
is obscure, the English and Frisian forms probably derive from an earlier Anglo-Frisian *
bō-ja
("little brother"), a diminutive of the Germanic root *
bō-
("brother, male relation"), from
Proto-Indo-European
Proto-Indo-European language
The Proto-Indo-European language is the reconstructed common ancestor of the Indo-European languages, spoken by the Proto-Indo-Europeans...
*
bhā-
, *
bhāt-
("father, brother"). The root is also found in Flemish
boe
("brother"),
Norwegian dialectal
Norwegian language
Norwegian is a North Germanic language spoken primarily in Norway, where it is the official language. Together with Swedish and Danish, Norwegian forms a continuum of more or less mutually intelligible local and regional variants .These Scandinavian languages together with the Faroese language...
boa
("brother"), and, through a reduplicated variant *
bō-bō-
, in Old Norse
bófi
,
Dutch
Dutch language
Dutch is a West Germanic language and the native language of the majority of the population of the Netherlands, Belgium, and Suriname, the three member states of the Dutch Language Union. Most speakers live in the European Union, where it is a first language for about 23 million and a second...
boef
"(criminal) knave, rogue",
German
German language
German is a West Germanic language, related to and classified alongside English and Dutch. With an estimated 90 – 98 million native speakers, German is one of the world's major languages and is the most widely-spoken first language in the European Union....
Bube
("knave, rogue"). Furthermore, the word may be related to
Bōia
, an Anglo-Saxon personal name.
Scope
An adult male human is a
man
Man
The term man is used for an adult human male . However, man is sometimes used to refer to humanity as a whole...
, but when age is not a crucial factor, both terms can be interchangeable, e.g., 'boys and their toys' applies equally to adults and young boys, just as 'Are you mice or men?' can also apply to young boys.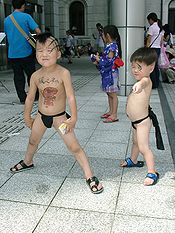 The age boundary is not clear cut, rather dependent on the context or even on individual circumstances. A young man who has not assumed (or has been denied) the traditional roles of a man might also be called a boy. It may feel uncomfortable to a young male upon being referred to as a "man" before he believes he has assumed these roles, such as having a career, a partner, a household of his own, fatherhood, etc., though the addition of a jocular modifier such as "young man" or "little man" might lessen the dissonance. Conversely, it may feel uncomfortable to a male to be called a "boy" if he believes he has assumed the traditional roles of a "man". In
mother's/mama's boy
, the word emphatically implies a male (
minor
Minor (law)
In law, a minor is a person under a certain age — the age of majority — which legally demarcates childhood from adulthood; the age depends upon jurisdiction and application, but is typically 18...
or adult in years) who is too immature to be independent.
In some traditions boyhood is held to be exchanged for adult manhood, or at least approach it significantly, by certain -in se independent- acts assuming a role deemed to be typical for a "normal" man (though there are limits) as marriage, fathering offspring or military service. Various cultural and/or religious
rites of passage
Rites of Passage
Rites of Passage is an African American History program sponsored by the Stamford, Connecticut US public schools. The program consists of an extra day of schooling on Saturday for 12 weeks, service projects, and a culminating educational trip to Gambia and Senegal. Gambia and Senegal are the...
serve, partially or specifically, to mark the transition to manhood.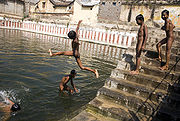 There is often a number of traditional differences in attire between boys and adult men, which may even give rise to a metaphoric term such as
broekvent
in Dutch (i.e., a boy who has not yet "graduated" from shorts to trousers) and in what is socially accepted as appropriate behaviour, e.g., boys may be publicly seen naked in cultures where men are not.
In English, the words
youth
Youth
Youth is the time of life between childhood and adulthood . Definitions of the specific age range that constitutes youth vary. An individual's actual maturity may not correspond to their chronological age, as immature individuals could exist at all ages.-Usage:Around the world, the terms "youth",...
, teenager and
adolescent
Adolescence
Adolescence is a transitional stage of physical and mental human development generally occurring between puberty and legal adulthood , but largely characterized as beginning and ending with the teenage stage...
may refer to either male or female. No gender-specific term exists for an intermediate stage between a boy and a man, except "young man", although the term
puberty
Puberty
Puberty is the process of physical changes by which a child's body matures into an adult body capable of reproduction, as initiated by hormonal signals from the brain to the gonads; the ovaries in a girl, the testes in a boy...
, for one who reached sexual reproductivity (or the legally assumed age, e.g. 14 for boys, often set lower for girls) without being a legal adult yet, stems from a Latin word for boys only, itself named after the accompanying male body hair,
pubes
, on face and genital region.
Many occasions occur when an adult male is commonly referred to as a boy. A person's
boyfriend
Boyfriend
A boyfriend is a person's regular male companion in a romantic or sexual relationship, although normally not in long-term committed relationships, where other titles A boyfriend is a person's regular male companion in a romantic or sexual relationship, although normally not in long-term committed...
or loverboy may be of any age; this even applies to a 'working' call-boy, toyboy (though usually younger than the client as youth is generally considered attractive). Reflecting the general aesthetic preference for youth, one says
pretty boy
(e.g. in the nickname of Charles Arthur "Pretty Boy" Floyd, who committed his first bank robbery at age 30) or
Adonis
Adonis
Adonis , in Greek mythology, the god of beauty and desire, is a figure with Northwest Semitic antecedents, where he is a central figure in various mystery religions. The Greek , Adōnis is a variation of the Semitic word Adonai, "lord", which is also one of the names used to refer to God in the Old...
(name of a mythological youth) even when a male beauty is clearly of riper age. In terms (used pejoratively or neutrally) for
homosexuals
Homosexuality
Homosexuality is romantic or sexual attraction or behavior between members of the same sex or gender. As a sexual orientation, homosexuality refers to "an enduring pattern of or disposition to experience sexual, affectional, or romantic attractions" primarily or exclusively to people of the same...
such as
batty boy
Batty boy
Batty boy , batty man are pejorative sexual slurs used to describe gay, bisexual and effeminate men, or those presumed to be gay and bisexual. The term is a Jamaican Patois abbreviation of the word bottom into batty; "batty boy" is a cognate of the American English "butt boy"...
(alongside "batty man"; from "bottom") or "bum boy", age is not essential, but the connotation of immaturity can strengthen insulting use.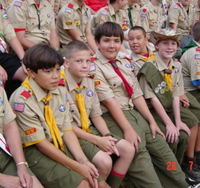 A man's group of male friends etc. engaged in
Male bonding
Male bonding
Male bonding is a term that is used in ethology, social science, and in general usage to describe patterns of friendship and/or cooperation in men...
are often called "the boys". It is most common to refer to men, irrespective of age or even in an adult age group, as boys in the context of a team (especially all-male), such as
old boy
Old boy network
An old boy network, or society, can refer to social and business connections among former pupils of male-only private schools. British public school students were traditionally called "boys", thus graduated students are "old boys"....
s for networking of adult men who attended the same school(s) as boys, or as professional colleagues, e.g. "the boys at the office, - police station etc." (often all adults). The members of a student fraternity can be called frat(ernity) boys, technically preferable to the pleonasm frat-bro(ther), and remain so for life as adults, after graduation.
In sports 'the boys' commonly refers to the
teammate
Team sport
A team sport includes any sport which involves players working together towards a shared objective. A team sport is an activity in which a group of individuals, on the same team, work together to accomplish an ultimate goal which is usually to win. This can be done in a number of ways such as...
s; e.g.,
UK
United Kingdom
The United Kingdom of Great Britain and Northern IrelandIn the United Kingdom and Dependencies, other languages have been officially recognised as legitimate autochthonous languages under the European Charter for Regional or Minority Languages...
football managers quite often refer to their players as "The boy so-and-so" and this usage is by no means restricted to the youngest players, though it is rarely applied to the most senior.
In US urban, particularly
African American
African American
African Americans are citizens or residents of the United States who have at least partial ancestry from any of the native populations of Sub-Saharan Africa and are the direct descendants of enslaved Africans within the boundaries of the present United States...
and
Latino
Latino
The demonyms Latino and Latina , are defined in English language dictionaries as:* "a person of Latin-American descent."* "A Latin American."* "A person of Hispanic, especially Latin-American, descent, often one living in the United States."...
slang
Slang
Slang is the use of informal words and expressions that are not considered standard in the speaker's language or dialect but are considered more acceptable when used socially. Slang is often to be found in areas of the lexicon that refer to things considered taboo...
the term boy is used with a possessive as meaning friend (
my boy,
his boys
), presumably as a reduction of
homeboy
, originally a male from the same area.
In some cases, the word
boy
is used merely to designate the age of the (male) person, irrespective of the function, as in altar boy, a minor acting as liturgical
acolyte
Acolyte
In many Christian denominations, an acolyte is anyone who performs ceremonial duties such as lighting altar candles. In other Christian Churches, the term is more specifically used for one who wishes to attain clergyhood.-Etymology:...
, or in
Boy Scout
Boy Scout
A Scout is a boy or a girl, usually 11 to 18 years of age, participating in the worldwide Scouting movement. Because of the large age and development span, many Scouting associations have split this age group into a junior and a senior section...
s, an organisation specifically for boys. Thus the compound
-man
can then be replaced by
-boy
, as in footboy; or boy is simply added, either as a prefix (e.g., in boy-racer) or as a suffix (e.g., in
Teddy Boy
Teddy Boy
The British Teddy Boy subculture is typified by young men wearing clothes that were partly inspired by the styles worn by dandies in the Edwardian period, styles which Savile Row tailors had attempted to re-introduce in Britain after World War II...
).
An adult equivalent (with or without
-man
) is not to be expected when -boy designates an apprentice (for which some languages use a compound with the equivalent of boy, e.g.
leerjongen
'learning boy' in Dutch) or lowest rank implying specific on the job training if promotion is to be obtained, as in kitchen-boy. Similarly
schoolboy
only applies to minors; the modern near-synonym
pupil
originally designated a minor in Roman law as being under a specific adult's authority, as
in loco parentis
.
Expressions such as "boys will be boys" (i.e., a male always retains a tendency for boyish games or mischief) allude to stereotypically ascribed characteristics of boys and men; in the term
tomboy
Tomboy
A tomboy is a girl who exhibits characteristics or behaviors considered typical of the gender role of a boy, including the wearing of typically masculine-oriented clothes and engaging in games and activities that are often physical in nature, and which are considered in many cultures to be the...
, a woman's (according to the counterpart-gender stereotype) uncharacteristically bold nature is even described solely by comparing her to a boy.
The use of boy (like kid) in (fantasy or descriptive) nicknames, also for adult men (e.g.
Shark Boy
Shark Boy
Dean Mathew Roll is an American professional wrestler, better known by his ring name Shark Boy and his experience in Total Nonstop Action Wrestling .-Early career:...
for a wrestler with matching costume), may also connote to the informal or naughty image of boyhood.
In such terms as 'city boy' or 'home boy', the age notion is at most anachronistic, as they indicate any male who grew up (or by extension lived a long time) in a certain environment.
Specific uses and compounds
The following subsections treat some specific contexts where the term boy is frequently used, as such or in compound terms, often 'emancipated' from the age notion as such.
Master

Master (form of address)

Master is an archaic masculine title or form of address in English.- In English and Welsh society :Master was used in England for men of some rank, especially "free masters" of a trade guild and by any manual worker or servant employee to his employer , but also generally by those lower in status...


was replaced (not for a slave owner or his overseer etc.) by the late 19th century, as a form of address, especially employed by servants, by Mister (etymologically equal) for the master of the household and other adults, but retained for boys until age 13.
Military
The term 'our boys' is commonly used for a nation's soldiers, often with sympathy. Given the physical demands of battle, recruits are preferably in their physical prime, but adult professionals remain included in the term as long as they remain in service.
A case where the term is formally used for (adult) men is
sideboy
Sideboy
A side boy is a member of an even-numbered group of seamen posted in two rows at the quarterdeck when a visiting dignitary boards or leaves the ship, historically to help him aboard, presently as a ceremonial guard of honour, in a ceremony known as tending the Side. Side boys are instructed by the...
, a member of an even-numbered group of seaman posted in two rows at the Quarterdeck when a visiting dignitary boards or leaves a ship.
In the Ottoman empire, the young, mainly Christian military recruits for life (often forcibly enlisted by 'devshirme') were officially called
acemi oglanlar
("novice boys").
Thus "-boy" can enter the
nickname
Nickname
A nickname is "a usually familiar or humorous but sometimes pointed or cruel name given to a person or place, as a supposedly appropriate replacement for or addition to the proper name.", or a name similar in origin and pronunciation from the original name....
for a particular nation's
soldier
Soldier
A soldier is a member of the land component of national armed forces; whereas a soldier hired for service in a foreign army would be termed a mercenary...
s, e.g. the US (infantry)
doughboy
Doughboy
Doughboy is an informal term for an American soldier, especially members of the American Expeditionary Forces in World War I. The term dates back to the Mexican–American War of 1846–48....
, or a specific force, e.g.
Fly-boy
is slang for an
airman
Airman
An airman is a member of the air component of a nation's armed service. In the United States Air Force and the Royal Air Force , it can also refer to a specific enlisted rank...
.
Furthermore, specific terms refer to minors used in the armed forces:
drummer boy

Drummer boy (military)

Drummer boys were children recruited as military drummers for use on the battlefield.Armies regularly recruited young boys for this service, well into the nineteenth century...



ship's boy is a minor

Minor (law)

In law, a minor is a person under a certain age — the age of majority — which legally demarcates childhood from adulthood; the age depends upon jurisdiction and application, but is typically 18...


in naval training; boy seaman

Boy Seaman

A boy seaman is a boy who serves as seaman and/or is trained for such service.-Royal Navy:In the British naval forces, where there was a need to recruit enough hands to man the vast fleet of the British Empire, extensive regulations existed concerning the selection and status of boys enlisted to...


refers to specific, low-paid apprentice ranks, notably in the Royal Navy

Royal Navy

The Royal Navy is the naval warfare service branch of the British Armed Forces. Founded in the 16th century, it is the oldest service branch and is known as the Senior Service...


; until the middle of the twentieth century, they were the only Navy staff subject (like their civilian age-peers, at home and in school) to physical punishment, usually spanking

Spanking

Spanking refers to the act of striking the buttocks of another person to cause temporary pain without producing physical injury. It generally involves one person striking the buttocks of another person with an open hand. When an open hand is used, spanking is referred to in some countries as...


, traditionally administered on the bare bottom (as in English public schools; the adults were lashed on the backside above the waist), either formally (ordered in court martial, publicly executed on deck) or, more often but less severely, summary; the same was true of a midshipman

Midshipman

A midshipman is an officer cadet, or a commissioned officer of the lowest rank, in the Royal Navy, United States Navy, and many Commonwealth navies. Commonwealth countries which use the rank include Australia, New Zealand, South Africa, India, Pakistan, Singapore, Sri Lanka and Kenya...


, also a minor, but indicated with "-man" rather than "-boy", possibly reflecting their higher status as future naval officers. Sometimes in ex-servicemen's parades, an old man is described as "ship's boy" to say that he served so classed in the Navy as a boy.
However, when a minor in military employ is considered (historically often far less restrictive then nowadays) too young to be a 'normal' warrior (illegal under present UN rules, but without precise enforceable age limits), he's called boy soldier, regardless whether he's used as an armed fighter or only in logistic or similar functions such as bearer.
Domestic, residential and similar 'personal' attendants
Houseboy

Houseboy

A Houseboy is typically a male servant or assistant who performs domestic or personal chores. Examples of its usage include:*An American slang term that originated in World War II for a native boy who helped a soldier perform basic responsibilities like cleaning, laundry, ironing, shoe-shining,...


, or often "boy" for short, became a common term for domestic staff, notably non-European natives in the Asian and African colonies, adopted as such in other languages, e.g. in Dutch and French (also in the Belgian colonies).
Bellboy

Bellhop

A bellhop, also bellboy or bellman, is a hotel porter, who helps patrons with their luggage while checking in or out. Bellhops often wear a uniform , like certain other page boys or doormen...


was originally a ship's bell-ringer, later a hotel page.
Busboy

Busboy

Busser, busboy and busgirl are terms used in the United States for someone who works in the restaurant and catering industry clearing tables, taking dirty dishes to the dishwasher, setting tables and otherwise assisting the waiting staff....


is a rank in restaurants etc. below (head) waiter, fitting for trainees but may be held by ripe adults, even under younger (e.g. better qualified) superiors
Page

Page (servant)

A page or page boy is a traditionally young male servant, a messenger at the service of a nobleman or royal.-The medieval page:In medieval times, a page was an attendant to a knight; an apprentice squire...


, from the Greek παις pais, again in many languages, already in Hellenistic times παίδες βασιλικοί paides basilikoi 'royal (i.e. court) boys'.
Cabin boy

Cabin boy

A Cabin boy or ship's boy is a boy who waits on the officers and passengers of a ship, especially running errands for the captain....



Cabana boy

Cabana boy

A cabana boy is a male attendant performing sexual services to the guests of a hotel or a large private estate, operating from a nearby cabaña , notably on a beach. A pool boy performs the same duties at a swimming pool...



Hamam oğlanı "bath boy" (also called Tellak) working in a Turkish bath.
Hall boy

Hall boy

The hall boy or hallboy was the lowest ranked male servant on the staff of a great house. Usually a boy or young teenager, his name derived from the fact that his main duties were in the servants' hall, where he may also have slept....



Kitchen boy, belows the cook(s); in a large household there may be specific functions, such as spitboy
Linkboy like linkman meant torch

Torch

A torch is a fire source, usually a rod-shaped piece of wood with a rag soaked in pitch and/or some other flammable material wrapped around one end. Torches were often supported in sconces by brackets high up on walls, to throw light over corridors in stone structures such as castles or crypts...


- or other light-bearer
Cultural and religious life
Altar boy (see above)
Choir boy designates a boy (always a minor) singer in a choir

Choir

A choir, chorale or chorus is a musical ensemble of singers. Choral music, in turn, is the music written specifically for such an ensemble to perform.A body of singers who perform together as a group is called a choir or chorus...


; here applies a specific physiological, artistically relevant criterion: they remain a musical category of their own (boy soprano

Boy soprano

A boy soprano is a young male singer with an unchanged voice in the soprano range. Although a treble, or choirboy, may also be considered to be a boy soprano, the more colloquial term boy soprano is generally only used for boys who sing, perform, or record as soloists, and who may not necessarily...


, also known as a treble

Boy soprano

A boy soprano is a young male singer with an unchanged voice in the soprano range. Although a treble, or choirboy, may also be considered to be a boy soprano, the more colloquial term boy soprano is generally only used for boys who sing, perform, or record as soloists, and who may not necessarily...


) until their voice 'breaks', during puberty, to join one of the adult male voice registers (countertenor

Countertenor

A countertenor is a male singing voice whose vocal range is equivalent to that of a contralto, mezzo-soprano, or a soprano, usually through use of falsetto, or far more rarely than normal, modal voice. A pre-pubescent male who has this ability is called a treble...


(closest to treble), alto

Alto

Alto is a musical term, derived from the Latin word altus, meaning "high" in Italian, that has several possible interpretations.When designating instruments, "alto" frequently refers to a member of an instrumental family that has the second highest range, below that of the treble or soprano. Hence,...


, tenor

Tenor

The tenor is a type of male singing voice and is the highest male voice within the modal register. The typical tenor voice lies between C3, the C one octave below middle C, to the A above middle C in choral music, and up to high C in solo work. The low extreme for tenors is roughly B2...


, baritone

Baritone

Baritone is a type of male singing voice that lies between the bass and tenor voices. It is the most common male voice. Originally from the Greek , meaning deep sounding, music for this voice is typically written in the range from the second F below middle C to the F above middle C Baritone (or...


, or bass); only the castrato

Castrato

A castrato is a man with a singing voice equivalent to that of a soprano, mezzo-soprano, or contralto voice produced either by castration of the singer before puberty or one who, because of an endocrinological condition, never reaches sexual maturity.Castration before puberty prevents a boy's...


may (not guaranteed) remain a soprano

Soprano

A soprano is a voice type with a vocal range from approximately middle C to "high A" in choral music, or to "soprano C" or higher in operatic music. In four-part chorale style harmony, the soprano takes the highest part, which usually encompasses the melody...


as an adult man; historically the term was designed for all-male (mainly church) choirs, with men with already broken voices (often former choir boys), in modern times it also applies to mixed choirs.
Rural life and professions
Cowboy

Cowboy

A cowboy is an animal herder who tends cattle on ranches in North America, traditionally on horseback, and often performs a multitude of other ranch-related tasks. The historic American cowboy of the late 19th century arose from the vaquero traditions of northern Mexico and became a figure of...


originally designated a herdsboy employed as cowherd, but lost the age notion, first retaining the connotation of inferior status, later applying to the whole ranch life culture; by contrast "shepherd's boy" (rather herding sheep or goat

Goat

The domestic goat is a subspecies of goat domesticated from the wild goat of southwest Asia and Eastern Europe. The goat is a member of the Bovidae family and is closely related to the sheep as both are in the goat-antelope subfamily Caprinae. There are over three hundred distinct breeds of...


s, representing less capital) remained restricted to minors.
Commercial and other services
Often the term "boy" describes positions of the trainee type, such as stable boy (a junior stable hand).
Best boy

Best boy

In a film crew there are two kinds of best boy: best boy electric and best boy grip. They are assistants to their department heads, the gaffer and the key grip, respectively.- Job responsibilities :...


in a film crew denotes the chief assistant, usually of the gaffer or key grip, next in line to be promoted; an example of a use where the term is traditionally unaltered in crediting female incumbents
Breaker boy

Breaker boy

A breaker boy was a coal-mining worker in the United States and United Kingdom whose job was to separate impurities from coal by hand in a coal breaker. Although breaker boys were primarily children, elderly coal miners who could no longer work in the mines because of age, disease, or accident were...


s were boys between 8 and 12 years old who worked as coal breakers in U.S. coal mines. The job resulted in a high number of fatal and debilitating injuries and the practice of employing children as coal breakers largely ended by 1920 due to the efforts of the National Child Labor Committee

National Child Labor Committee

The National Child Labor Committee, or NCLC, is a private, non-profit organization in the United States that serves as a leading proponent for the national child labor reform movement...


.
Office boy and copy boy

Copy boy

A copy boy is a typically young and junior worker on a newspaper.The job involves taking typed stories from one section of a newspaper to another....


refer to a young(est) employee (i.e. lacking experience), in training and/or performing menial services such as carrying typewritten texts between offices of a newspaper.
Even into the early 20th century, the British empire systematically employed boy clerks, including a specific rank of boy copyist, recruited by examination (despite the name, requiring schooling) and reserved for candidates aged 15–18, not retained in that rank after the age of 20.
Certain jobs need so little training or formal qualifications that they can easily be performed as student jobs, and thus tend to be filled mostly or exclusively by minors, as it would not pay to employ an adult at or above minimum wage. Thus an equivalent word with the compound man (or similar) may be the rarer one, or even inexistent. Examples include delivery boy, errand boy, messenger boy and various specific terms naming the product to deliver, such as
paperboy
Paperboy
A paperboy is the general name for a person employed by a newspaper, They are often used around the office to run low end errands. They make copies and distribute them. Paperboys traditionally were and are still often portrayed on television and movies as preteen boys, often on a bicycle...
(closest adult counterpart postman),
pizza
Pizza
Pizza is an oven-baked, flat, disc-shaped bread typically topped with a tomato sauce, cheese and various toppings.Originating in Italy, from the Neapolitan cuisine, the dish has become popular in many parts of the world. An establishment that makes and sells pizzas is called a "pizzeria"...
boy (alongside pizzaman), or to serve, such as a potboy (drinks waiter). In other cases the compound mentions a crucial attribute of his task, e.g.
ball boy
Ball Boy
Ball Boy is a comic strip in the UK comic The Beano and also the name of the main character. It first appeared in issue 1735, dated 18 October 1975. It features a five-a-side football team that includes:* Ball Boy - the captain of the team, Ball Boy bears resemblances to The Dandy's Owen Goal...
(more recently also girls) in tennis.
In some cases his small, light body makes a boy a better choice, e.g. as
jockey
Jockey
A jockey is an athlete who rides horses in horse racing or steeplechase racing, primarily as a profession. The word also applies to camel riders in camel racing.-Etymology:...
where no weight handicap is in force.
A nipper originally was a boy send out by an adult (often his own father) as pickpocket, later a boy assistant to various professions such as a carter, still later (recorded since 1859) a boys' age term roughly equal to toddler

Toddler

A toddler is a young child, usually defined as being between the ages of one and three. Registered nurse, midwife and author, Robin Barker, states 'Any time from eight months onwards your baby will begin to realise he is a separate person from you...



Race
Historically, in countries such as the U.S. and
South Africa
South Africa
The Republic of South Africa is a country in southern Africa. Located at the southern tip of Africa, it is divided into nine provinces, with of coastline on the Atlantic and Indian oceans...
, "boy" was not only a 'neutral' term for domestics but also used as a disparaging racist
insult
Insult
An insult is an expression, statement which is considered degrading and offensive. Insults may be intentional or accidental...
towards men of colour (especially of African descent), recalling their subservient status even after the 20th century legal emancipation (from slavery, evolved to race segregation, viz. Apartheid) and alleged infantility, and many still consider it offensive in that context to this day since it denotes that men of colour (especially of African descent) are less than men or no better than an animal. For example a simple command for a
dog
Dog
The domestic dog is a domesticated form of the gray wolf, a member of the Canidae family of the order Carnivora. The term is used for both feral and pet varieties. The dog may have been the first animal to be domesticated, and has been the most widely kept working, hunting, and companion animal in...
would be, "Come here boy!"
Non-function specific analogous terms
Boys, in the strict or a wider sense, are often informally referred to by analogous or metaphorical terms. The literal connotations, which may be ironic or downright pejorative, have often been eroded by common use. Some terms are unisex, with or without (at least historical) preponderance of use for boys:
Cub

Cub

A cub is the young of certain large predatory animals such as bears, lions, wolves, and big cats; analogous to a domestic puppy or kittenCub may refer to:* Cub, a member of Cub Scouts* Cub player, a member of certain sports teams, e.g...


, pup

Pup

Pup may refer to:In zoology:*Puppies, younger dogs*Pinniped young*Shark young*Rodent youngIn other uses:* Sopwith Pup, an aircraft used by the British in World War I* Beagle Pup, a 1960s British light aircraft...


(py) and whelp

Whelp

The term Whelp can refer to:* A Whelp: a young, carnivorous mammal, essentially one that is still dependent on its parent for food, care and/or protection...


compare boys to the young of predatory animals, the slang tadpole

Tadpole

A tadpole or polliwog is the wholly aquatic larval stage in the life cycle of an amphibian, particularly that of a frog or toad.- Appellation :...


even to that of an amphibian;
Buck, another animal young, usually refers to a sexually adventurous male youngster
Loon

Loon

The loons or divers are a group of aquatic birds found in many parts of North America and northern Eurasia...


, originally an (idle) lout, has got -mainly in Scotland- unrelated specific meanings, including boy, simpleton

Simpleton (folklore)

In folklore, a simpleton is a person whose foolish actions are the subject of often-repeated stories. Simpletons are also known as noodles, fools, and gothamites. Folklore often holds, with no basis in fact, that certain towns or countries are thought to be home to large numbers of simpletons...


and looney person
Sprout

Shoot

Shoots are new plant growth, they can include stems, flowering stems with flower buds, and leaves. The new growth from seed germination that grows upward is a shoot where leaves will develop...


compares to a plant's young shoots
References to the boy's generally lighter physique than a man include stripling

Stripling

-People:*Jon Stripling, bass player*Kathryn Stripling Byer, author*Randy Stripling, actor*Sidney Stripling, musician-Schools and companies:*Stripling & Cox, department store*Stripling Middle School in Fort Worth, Texas-in fiction:...


'slender youth' and -rather insulting- slang like half-pint or small-fry
More specifically, shaveling (or in slang shaver

Shaver

Shaver means a person who shaves, or an object which shaves, a razor.It can also refer to:* a boy, as a slang term for shaveling* Shaver, California, former town in California* Shaver Creek, tributary of the Juniata River in Huntingdon County, Pennsylvania...


) refers to boys' lesser hair growth than men's before - and densification around puberty
Various terms refer to children's, often especially boys', lack of adult manners (e.g. "snot(ty) nose(d) (kid)") or to often mischievous behavior, e.g. "rascal

Rascal

Rascal or rascals may refer to:In music:* Dizzee Rascal , English rapper, songwriter, and record producer* The Rascals, American blue-eyed soul group* The Rascals , indie rock band from the Hoylake, England...


", also by analogy with animals, e.g. "monkey", "urchin

Urchin

Urchin or urcheon is the Middle English term for "hedgehog". As such, it is applied to many things that take a similar form to a hedgehog:* Street children, homeless children who live on the street...


" (as 'prickly' as a hedgehog); "(spoiled) brat

Spoiled brat

A spoiled child is a child that exhibits behavioral problems from overindulgence by his or her parents. Spoiled children may be described as "overindulged", "grandiose", "narcissistic" or "egocentric-regressed"...


" refers to such undiscipline for lack of firm upbringing.
Furthermore, common boys' names have also been used metonymically

Metonymy

Metonymy is a figure of speech used in rhetoric in which a thing or concept is not called by its own name, but by the name of something intimately associated with that thing or concept...


to stand for boys and/or men in general, as in 'every Dick and Tom'.
Analogous uses and popular etymology
By analogy "boy" can also refer as an anthropomorphic term to a young male (or any male) of another animal, either in general or species-specific; in the last case it may even have a specific term, notably derived from a boy's name, such as "billy goat" for a 'boy' goat, or
tomcat
Tomcat
Tomcat may refer to:* A male cat, known as a tom or tommiecat* Tomcats , a 2001 comedy film* Apache Tomcat, an open-source Java Servlet Container developed by the Apache Software Foundation* Beretta Tomcat, a small .32 caliber pistol...
(known since 1809, for any male cat; but just Tom, applied to male kittens, is recorded since c.1303)
Again by analogy "boy" can occasionally even refer to a 'male' object.
Some words contain 'boy' in English by mistake (folk etymology), actually referring to a (near) homophone such as French
bois
= "wood" (e.g. in "low boy", a type of
furniture
Furniture
Furniture is the mass noun for the movable objects intended to support various human activities such as seating and sleeping in beds, to hold objects at a convenient height for work using horizontal surfaces above the ground, or to store things...
, and in "tallboy", both furniture and a high glass or goblet).
Boys in art
Many mythological boys have frequently been represented in various arts, e.g. Venus' often mischievous son
Cupid
Cupid
In Roman mythology, Cupid is the god of desire, affection and erotic love. He is the son of the goddess Venus and the god Mars. His Greek counterpart is Eros...
, himself a young god of love which he 'inflicts' on humans by shooting his arrows; in some style periods even multiplied as naked little boys called
putti
Putto
A putto is a figure of an infant often depicted as a young male. Putti are defined as chubby, winged or wingless, male child figure in nude. Putti are distinct from cherubim, but some English-speakers confuse them with each other, except that in the plural, "the Cherubim" refers to the biblical...
.
In religious art, generally adults preponderate (except as extras), with certain marked, stereotypical exceptions such as the infant Jesus or
angel
Angel
Angels are mythical beings often depicted as messengers of God in the Hebrew and Christian Bibles along with the Quran. The English word angel is derived from the Greek ἄγγελος, a translation of in the Hebrew Bible ; a similar term, ملائكة , is used in the Qur'an...
s which may even act as 'Christianized' putti.
In children's books of
English folklore
English folklore
English folklore is the folk tradition which has developed in England over a number of centuries. Some stories can be traced back to their roots, while the origin of others is uncertain or disputed...
, elves are often portrayed as mischievous little boys who are very small with leaf-shaped ears and blond hair.
In
portrait
Portrait
thumb|250px|right|Portrait of [[Thomas Jefferson]] by [[Rembrandt Peale]], 1805. [[New-York Historical Society]].A portrait is a painting, photograph, sculpture, or other artistic representation of a person, in which the face and its expression is predominant. The intent is to display the likeness,...
art, and generally in commissioned work (including funeral art), the subjects are usually determined by the wishes of the (adult) client, so minors are often in the minority, yet in wealthy families especially heirs are (re)presented as part of their social positioning in view of future marriage and succession, generally either as mini-adults or stereotypical youth, e.g. at play or in cozy home scenes.
Some artists displayed a clear predeliction for scenes with boys, in certain cases (especially if frequently depicting revealing poses) believed to have to do with a homo-erotic taste, as is believed of the highly respected Old Master
Caravaggio
Caravaggio
Michelangelo Merisi da Caravaggio was an Italian artist active in Rome, Naples, Malta, and Sicily between 1593 and 1610. His paintings, which combine a realistic observation of the human state, both physical and emotional, with a dramatic use of lighting, had a formative influence on the Baroque...
, or
Henry Scott Tuke
Henry Scott Tuke
Henry Scott Tuke, RA RWS , was a British visual artist; primarily a painter, but also a photographer. His most notable work was in the Impressionist style, and he is probably best known for his paintings of nude boys and young men....
who kept producing such works even though the market circa 1900 was rather unappreciative.
In music, boys' voices, before they 'break' being of a soprano register (specifically known as
treble
Boy soprano
A boy soprano is a young male singer with an unchanged voice in the soprano range. Although a treble, or choirboy, may also be considered to be a boy soprano, the more colloquial term boy soprano is generally only used for boys who sing, perform, or record as soloists, and who may not necessarily...
) unlike adult men (in a choir usually tenor and bass), have been most sought-after, especially where female voices were considered inappropriate as often in church and certain theatrical music - this even led to the practice of physically trying to prevent their 'angelical' voices ever to break by surgically cutting short the hormonal drive to manhood: for centuries,
castrato
Castrato
A castrato is a man with a singing voice equivalent to that of a soprano, mezzo-soprano, or contralto voice produced either by castration of the singer before puberty or one who, because of an endocrinological condition, never reaches sexual maturity.Castration before puberty prevents a boy's...
singers, who coupled adult strength and experience with a treble register, starred in contratenor parts, mainly in operatic styles.
See also
External links