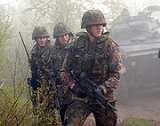 Soldier
A
soldier
is a member of the land component of
nation
Nation
A nation may refer to a community of people who share a common language, culture, ethnicity, descent, and/or history. In this definition, a nation has no physical borders. However, it can also refer to people who share a common territory and government irrespective of their ethnic make-up...
al
armed forces
Armed forces
The armed forces of a country are its government-sponsored defense, fighting forces, and organizations. They exist to further the foreign and domestic policies of their governing body, and to defend that body and the nation it represents from external aggressors. In some countries paramilitary...
; whereas a soldier hired for service in a foreign army would be termed a
mercenary
Mercenary
A mercenary, is a person who takes part in an armed conflict based on the promise of material compensation rather than having a direct interest in, or a legal obligation to, the conflict itself. A non-conscript professional member of a regular army is not considered to be a mercenary although he...
. The majority of
cognate
Cognate
In linguistics, cognates are words that have a common etymological origin. This learned term derives from the Latin cognatus . Cognates within the same language are called doublets. Strictly speaking, loanwords from another language are usually not meant by the term, e.g...
s of the word "soldier" that exist in other languages have a meaning that embraces both
commissioned
Officer (armed forces)
An officer is a member of an armed force or uniformed service who holds a position of authority. Commissioned officers derive authority directly from a sovereign power and, as such, hold a commission charging them with the duties and responsibilities of a specific office or position...
and
non-commissioned officer
Non-commissioned officer
A non-commissioned officer , called a sub-officer in some countries, is a military officer who has not been given a commission...
s in national land forces.
Etymology
The word
soldier
entered modern English in the 14th century, from the equivalent
Middle English
Middle English
Middle English is the stage in the history of the English language during the High and Late Middle Ages, or roughly during the four centuries between the late 11th and the late 15th century....
word
soudeour
, from
Anglo-French
Old French
Old French was the Romance dialect continuum spoken in territories that span roughly the northern half of modern France and parts of modern Belgium and Switzerland from the 9th century to the 14th century...
soudeer
or
soudeour
, meaning mercenary, from
soudee
, meaning shilling's worth or wage, from
sou
or
soud
, shilling. The word is also related to the
Medieval Latin
Medieval Latin
Medieval Latin was the form of Latin used in the Middle Ages, primarily as a medium of scholarly exchange and as the liturgical language of the medieval Roman Catholic Church, but also as a language of science, literature, law, and administration. Despite the clerical origin of many of its authors,...
soldarius
, meaning soldier (literally, "one having pay"). These words were ultimately derived from the
Late Latin
Late Latin
Late Latin is the scholarly name for the written Latin of Late Antiquity. The English dictionary definition of Late Latin dates this period from the 3rd to the 6th centuries AD extending in Spain to the 7th. This somewhat ambiguously defined period fits between Classical Latin and Medieval Latin...
word
solidus
Solidus (coin)
The solidus was originally a gold coin issued by the Romans, and a weight measure for gold more generally, corresponding to 4.5 grams.-Roman and Byzantine coinage:...
, referring to an
Ancient Roman
Ancient Rome
Ancient Rome was a thriving civilization that grew on the Italian Peninsula as early as the 8th century BC. Located along the Mediterranean Sea and centered on the city of Rome, it expanded to one of the largest empires in the ancient world....
coin used in the
Byzantine Empire
Byzantine Empire
The Byzantine Empire was the Eastern Roman Empire during the periods of Late Antiquity and the Middle Ages, centred on the capital of Constantinople. Known simply as the Roman Empire or Romania to its inhabitants and neighbours, the Empire was the direct continuation of the Ancient Roman State...
.
Occupational designations
In most armed forces use of the word soldier has taken on a more general meaning, due to the increasing specialization of military occupations that require different areas of knowledge and skill-sets. As a result, "soldiers" are referred to by names or ranks which reflect an individual's military occupation specialty arm, service or branch of military employment, their type of unit, or operational employment or technical use such as: trooper, tanker,
commando
Commando
In English, the term commando means a specific kind of individual soldier or military unit. In contemporary usage, commando usually means elite light infantry and/or special operations forces units, specializing in amphibious landings, parachuting, rappelling and similar techniques, to conduct and...
,
dragoon
Dragoon
The word dragoon originally meant mounted infantry, who were trained in horse riding as well as infantry fighting skills. However, usage altered over time and during the 18th century, dragoons evolved into conventional light cavalry units and personnel...
, infantryman, marine,
paratrooper
Paratrooper
Paratroopers are soldiers trained in parachuting and generally operate as part of an airborne force.Paratroopers are used for tactical advantage as they can be inserted into the battlefield from the air, thereby allowing them to be positioned in areas not accessible by land...
, ranger,
sniper
Sniper
A sniper is a marksman who shoots targets from concealed positions or distances exceeding the capabilities of regular personnel. Snipers typically have specialized training and distinct high-precision rifles....
, engineer,
sapper
Sapper
A sapper, pioneer or combat engineer is a combatant soldier who performs a wide variety of combat engineering duties, typically including, but not limited to, bridge-building, laying or clearing minefields, demolitions, field defences, general construction and building, as well as road and airfield...
,
medic
Medic
Medic is a general term for a person involved in medicine, especially emergency or first-response medicine, such as an emergency medical technician, paramedic, or a military member trained in battlefield medicine. Also the term is used toward a Nurse in pre-hospital care and/or emergency...
, or a
gunner
Gunner (rank)
Gunner is a rank equivalent to Private in the British Army Royal Artillery and the artillery corps of other Commonwealth armies. The next highest rank is usually Lance-Bombardier, although in the Royal Canadian Artillery it is Bombardier....
.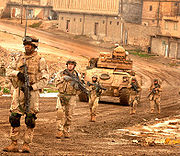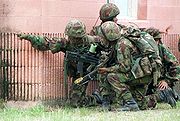 Other terms
In many countries soldiers serving in specific occupations are referred to by terms other than their occupational name. For example
military police
Military police
Military police are police organisations connected with, or part of, the military of a state. The word can have different meanings in different countries, and may refer to:...
personnel in the UK are known as "redcaps" from the colour of their berets or other headwear.
In the
United States Army
United States Army
The United States Army is the main branch of the United States Armed Forces responsible for land-based military operations. It is the largest and oldest established branch of the U.S. military, and is one of seven U.S. uniformed services...
and the
United States Marine Corps
United States Marine Corps
The United States Marine Corps is a branch of the United States Armed Forces responsible for providing power projection from the sea, using the mobility of the United States Navy to deliver combined-arms task forces rapidly. It is one of seven uniformed services of the United States...
, infantrymen are called "grunts", while artillerymen are sometimes referred to as "redlegs", from the branch color for
artillery
Artillery
Originally applied to any group of infantry primarily armed with projectile weapons, artillery has over time become limited in meaning to refer only to those engines of war that operate by projection of munitions far beyond the range of effect of personal weapons...
. US soldiers are often called "G.I.s".
French Marine Infantry
Troupes de marine
The or Infanterie de marine, formerly Troupes coloniales, are an arm of the French Army with a colonial heritage. The Troupes de marine have a dedicated overseas service role. Despite their title they have been a part of the Army since 1958...
are called marsouins because of their amphibious role. Military units in most armies have nicknames of this type, arising either from items of distinctive
uniform
Military uniform
Military uniforms comprises standardised dress worn by members of the armed forces and paramilitaries of various nations. Military dress and military styles have gone through great changes over the centuries from colourful and elaborate to extremely utilitarian...
, some historical connotation or rivalry between branches or regiments.
U.S. Marines are sometimes called "jar-heads" because of their "high and tight" haircuts and the way they wear their hats makes their heads look like the cap of a jar or decanter.
External links