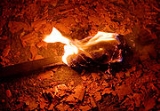 Torch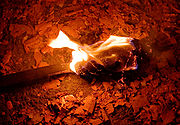 A
torch
is a fire source, usually a rod-shaped piece of
wood
Wood
Wood is a hard, fibrous tissue found in many trees. It has been used for hundreds of thousands of years for both fuel and as a construction material. It is an organic material, a natural composite of cellulose fibers embedded in a matrix of lignin which resists compression...
with a rag soaked in
pitch
Pitch (resin)
Pitch is the name for any of a number of viscoelastic, solid polymers. Pitch can be made from petroleum products or plants. Petroleum-derived pitch is also called bitumen. Pitch produced from plants is also known as resin. Products made from plant resin are also known as rosin.Pitch was...
and/or some other flammable material wrapped around one end. Torches were often supported in
sconces
Sconce (light fixture)
A sconce is a type of light fixture affixed to a wall in such a way that it uses only the wall for support, and the light is usually directed upwards. It does not have a base on the ground...
by brackets high up on walls, to throw light over corridors in stone structures such as
castle
Castle
A castle is a type of fortified structure built in Europe and the Middle East during the Middle Ages by European nobility. Scholars debate the scope of the word castle, but usually consider it to be the private fortified residence of a lord or noble...
s or
crypt
Crypt
In architecture, a crypt is a stone chamber or vault beneath the floor of a burial vault possibly containing sarcophagi, coffins or relics....
s. This traditional use of the word lives on in the Olympic Torch, procession torches and the like.
A torch carried in relay by cross-country runners is used to light the
Olympic flame
Olympic Flame
The Olympic Flame or Olympic Torch is a symbol of the Olympic Games. Commemorating the theft of fire from the Greek god Zeus by Prometheus, its origins lie in ancient Greece, where a fire was kept burning throughout the celebration of the ancient Olympics. The fire was reintroduced at the 1928...
which burns without interruption until the end of the Games. These torches and relay tradition were introduced in
1936 Summer Olympics
1936 Summer Olympics
The 1936 Summer Olympics, officially known as the Games of the XI Olympiad, was an international multi-sport event which was held in 1936 in Berlin, Germany. Berlin won the bid to host the Games over Barcelona, Spain on April 26, 1931, at the 29th IOC Session in Barcelona...
by
Carl Diem
Carl Diem
Carl Diem was a German sports administrator, and as Secretary General of the Organizing Committee of the Berlin Olympic Games, the chief organizer of the 1936 Olympic Summer Games .He created the tradition of the Olympic torch relay, and was an influential historian of...
, the chairman of the event because during the duration of the
Ancient Olympic Games
in
Olympia
Olympia, Greece
Olympia , a sanctuary of ancient Greece in Elis, is known for having been the site of the Olympic Games in classical times, comparable in importance to the Pythian Games held in Delphi. Both games were held every Olympiad , the Olympic Games dating back possibly further than 776 BC...
, a sacred flame burns inside of the temple of Hera, kept in custody by her priestess.
If a torch is made of
sulfur
Sulfur
Sulfur or sulphur is the chemical element with atomic number 16. In the periodic table it is represented by the symbol S. It is an abundant, multivalent non-metal. Under normal conditions, sulfur atoms form cyclic octatomic molecules with chemical formula S8. Elemental sulfur is a bright yellow...
mixed with
lime
Lime (mineral)
Lime is a general term for calcium-containing inorganic materials, in which carbonates, oxides and hydroxides predominate. Strictly speaking, lime is calcium oxide or calcium hydroxide. It is also the name for a single mineral of the CaO composition, occurring very rarely...
, the fire will not diminish after being plunged into water. Such torches were used by the ancient Romans.
Procession torches are made from coarse hessian rolled into a tube and soaked in wax. There is usually a wooden handle and a cardboard collar to deflect any wax droplets. They are an easy, safe and relatively cheap way to hold a flame aloft in a parade, or to provide illumination in any after-dark celebration.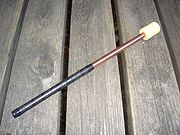 Juggling torches
Torch (juggling)
Torches are juggling props used in many toss juggling routines. Juggling torches are essentially a club or stick on which the 'far' end is an attached wick.- Wicks :The two most common wicks used with juggling torches are:*Kevlar para-aramid*Cotton...
are often used as a prop in
toss juggling
Toss juggling
Toss juggling is the form of juggling which is most recognisable as 'juggling'. Toss juggling is at once: a performing art, a sport, a form of exercise and meditation, a recreational pursuit and often is a hobby....
: they can be flipped into the air in an end-over-end motion while being juggled, in the same manner as juggling clubs or
juggling knives
Knife juggling
Knife juggling is a variant of toss juggling using special knives which are thrown and caught. Although knives are sometimes juggled recreationally, it is generally a performance art...
, but because of their sound and 'trail of flame', they can appear much more impressive to audiences. To a skilled juggler, there is only a slight chance of being burned, but they are still dangerous.
Symbolism
The torch is a common
emblem
Emblem
An emblem is a pictorial image, abstract or representational, that epitomizes a concept — e.g., a moral truth, or an allegory — or that represents a person, such as a king or saint.-Distinction: emblem and symbol:...
of both enlightenment and
hope
Hope
Hope is the emotional state which promotes the belief in a positive outcome related to events and circumstances in one's life. It is the "feeling that what is wanted can be had or that events will turn out for the best" or the act of "look[ing] forward to with desire and reasonable confidence" or...
. Thus the
Statue of Liberty
Statue of Liberty
The Statue of Liberty is a colossal neoclassical sculpture on Liberty Island in New York Harbor, designed by Frédéric Bartholdi and dedicated on October 28, 1886...
, actually "Liberty Enlightening the World", lifts her torch. Crossed reversed torches were signs of mourning that appear on Greek and Roman funerary monuments—a torch pointed downwards symbolizes death, while a torch held up symbolizes life, truth and the regenerative power of flame. The torch is also a symbol used by political parties, for instance by both
Labour
Labour Party (UK)
The Labour Party is a centre-left democratic socialist party in the United Kingdom. It surpassed the Liberal Party in general elections during the early 1920s, forming minority governments under Ramsay MacDonald in 1924 and 1929-1931. The party was in a wartime coalition from 1940 to 1945, after...
(from 1918 to 1980) and the
Conservatives
Conservative Party (UK)
The Conservative Party, formally the Conservative and Unionist Party, is a centre-right political party in the United Kingdom that adheres to the philosophies of conservatism and British unionism. It is the largest political party in the UK, and is currently the largest single party in the House...
(from 1983 to 2006) in the UK, and the
Malta Labour Party
Malta Labour Party
The Labour Party is, along with the Nationalist Party, one of two major contemporary political parties in Malta. It is the party of opposition in the Maltese House of Representatives where it has thirty-four of the sixty-nine seats.- Party Structure :...
. In the seals of schools in the
Philippines
Philippines
The Philippines , officially known as the Republic of the Philippines , is a country in Southeast Asia in the western Pacific Ocean. To its north across the Luzon Strait lies Taiwan. West across the South China Sea sits Vietnam...
, the torch symbolizes the vision of education to provide enlightenment to all the students.
In Roman Catholic liturgy
In former times, liturgical torches were carried in Eucharistic processions simply to give light. The Church eventually adopted their use for Solemn High Masses.
According to Adrian Fortescue ("The Mass: A Study of the Roman Liturgy [1912]"), the more correct form of liturgical torches are non-freestanding (i.e. cannot stand up on their own). However, today, even in the Vatican, freestanding, tall candles in ornate candle-stick holders have replaced the former type. The torches are carried by torchbearers, who enter at the Sanctus and leave after Communion.
Anglicans of the
High Church
High church
The term "High Church" refers to beliefs and practices of ecclesiology, liturgy and theology, generally with an emphasis on formality, and resistance to "modernization." Although used in connection with various Christian traditions, the term has traditionally been principally associated with the...
and some Lutherans use torches in some of their liturgical celebrations as well.
Idiom: carry a torch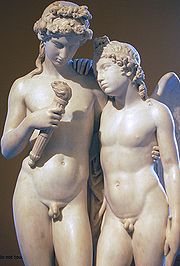 The idiom
to carry a torch
(for someone) means to
love
Love
Love is an emotion of strong affection and personal attachment. In philosophical context, love is a virtue representing all of human kindness, compassion, and affection. Love is central to many religions, as in the Christian phrase, "God is love" or Agape in the Canonical gospels...
or to be romantically
infatuate
Limerence
Limerence is a term coined c. 1977 by the psychologist Dorothy Tennov to describe an involuntary state of mind which seems to result from a romantic attraction to another person combined with an overwhelming, obsessive need to have one's feelings reciprocated...
d with someone, especially when such feelings are not
reciprocate
Reciprocity (social psychology)
Reciprocity in social psychology refers to responding to a positive action with another positive action, rewarding kind actions. People categorize an action as kind by viewing its consequences and also by the person's fundamental intentions. Even if the consequences are the same, underlying...
d. It is often used to characterize a situation in which a romantic relationship has ended, but where one partner still loves the other. It is considered by some to be dated, but still in wide usage.
Etymology
The association of a torch with love may date to the Greek and Roman tradition of a wedding torch,
lit in the bride's
hearth
Hearth
In common historic and modern usage, a hearth is a brick- or stone-lined fireplace or oven often used for cooking and/or heating. For centuries, the hearth was considered an integral part of a home, often its central or most important feature...
on her wedding night, then used to light the hearth in her new home. Such a torch is associated with the Greek god of marriage
Hymenaios
Hymenaios
In Greek mythology, Hymen was a god of marriage ceremonies, inspiring feasts and song. Related to the god's name, a hymenaios is a genre of Greek lyric poetry sung during the procession of the bride to the groom's house in which the god is addressed, in contrast to the Epithalamium, which was sung...
.
External links