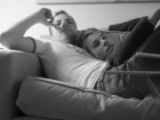 Boyfriend
A
boyfriend
is a person's regular male companion in a romantic or sexual relationship, although normally not in long-term committed (e.g. marital) relationships, where other titles (e.g.
husband, partner
) are more commonly used.
The term "guy friend" can refer to a male non-romantic and non-sexual friend.
Scope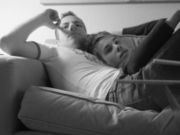 Partners in committed non-marital relationships are also sometimes described as a
significant other
Significant other
Significant other is colloquially used as a gender-blind term for a person's partner in an intimate relationship without disclosing or presuming anything about marital status, relationship status, or sexual orientation, as it is vague enough to avoid offense by using a term that an individual...
,
life partner
Life partner
A life partner is a romantic or otherwise very close friend for life. The partners can be of the same or opposite sexes, married or unmarried, and monogamous or polyamorous....
or simply
partner
, especially if the individuals are cohabiting.
At times, since
boyfriend
and
partner
mean different things to different people, the distinctions between the terms are subjective. How the term is used will ultimately be determined by personal preference.
Though nuanced, there is a significant difference between
girlfriend
Girlfriend
Girlfriend is a term that can refer to either a female partner in a non-marital romantic relationship or a female non-romantic friend that is closer than other friends....
and
boyfriend
on one hand, and
girl friend
and
boy friend
on the other. In a strictly grammatical sense, a
girlfriend
or
boyfriend
is an 'individual of significance' with whom one shares a relationship.
Word history
In the early to mid 20th century, in the
US
United States
The United States of America is a federal constitutional republic comprising fifty states and a federal district...
, women were often interviewed by "gentleman callers", single men who would arrive at the home of a young woman with the hopes of beginning a
courtship
Courtship
Courtship is the period in a couple's relationship which precedes their engagement and marriage, or establishment of an agreed relationship of a more enduring kind. In courtship, a couple get to know each other and decide if there will be an engagement or other such agreement...
.
Boyfriend
thus had implications of an illicit relationship (as sexual and romantic relationships outside marriage were generally frowned upon). As more casual courtships and relationships grew common and accepted, the term lost its pejorative intonation.
In literature, the term is discussed in July 1889 in
Neil Bartlett
Neil Bartlett (playwright)
Neil Vivian Bartlett, OBE, is an award-winning British director, performer, translator, and writer. He is one of the founding members of Gloria, a production company established in 1988 to produce his work along with that of Nicolas Bloomfield, Leah Hausman and Simon Mellor...
's,
Who Was That Man? A Present for Mr Oscar Wilde.
On pages 108-110, Bartlett quotes from an issue of
The Artist and Journal of Home Culture
, which refers to
Alectryon
Alectryon (mythology)
Alectryon is the Ancient Greek word for "rooster". In Greek mythology, Alectryon was a youth, charged by Ares to stand guard outside his door while the god indulged in illicit love with Aphrodite. He fell asleep, and Helios, the sun, walked in on the couple. Ares turned Alectryon into a rooster,...
as "a boyfriend of
Mars
Mars (mythology)
Mars was the Roman god of war and also an agricultural guardian, a combination characteristic of early Rome. He was second in importance only to Jupiter, and he was the most prominent of the military gods worshipped by the Roman legions...
".
Synonyms
An older man, e.g. sugar daddy, "gentleman caller", "gentleman friend", main man, man, old man, while others may suggest a young man (e.g., baby).
In popular culture, slang, internet chat, and cellphone texting, the truncated acronym bf is also used.*Gender-indiscriminate terms also apply, e.g., true love, and gender-neutral ones like date, escort, steady or suitor; furthermore, non-gender specific euphemisms such as admirer and companion.
Leman or lemman, an archaic word for "sweetheart, paramour," from Medieval British leofman (c.1205), from Old English leof (cognate of Dutch lief, German lieb) "dear" + man "human being, person" was originally applied to either gender, but remarkably usually meant mistress.
See also
External links