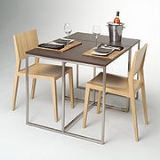 Furniture
Furniture
is the
mass noun
Mass noun
In linguistics, a mass noun is a noun that refers to some entity as an undifferentiated unit rather than as something with discrete subsets. Non-count nouns are best identified by their syntactic properties, and especially in contrast with count nouns. The semantics of mass nouns are highly...
for the movable objects intended to support various human activities such as seating and sleeping in beds, to hold objects at a convenient height for work using horizontal surfaces above the ground, or to store things. Storage furniture such as a
nightstand
Nightstand
A nightstand, alternatively night table or bedside table, is a small table or cabinet designed to stand beside a bed or elsewhere in a bedroom. It serves the role of a coffee table during nighttime hours, at a persons bedside....
often makes use of
door
Door
A door is a movable structure used to open and close off an entrance, typically consisting of a panel that swings on hinges or that slides or rotates inside of a space....
s, drawers, shelves and locks to contain, organize or secure smaller objects such as clothes, tools, books, and household goods.