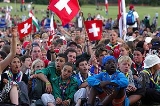 Boy Scout
A
Scout
is a
boy
Boy
A boy is a young male human , as contrasted to its female counterpart, girl, or an adult male, a man.The term "boy" is primarily used to indicate biological sex distinctions, cultural gender role distinctions or both...
or a
girl
Girl
A girl is any female human from birth through childhood and adolescence to attainment of adulthood. The term may also be used to mean a young woman.-Etymology:...
, usually 11 to 18 years of age, participating in the worldwide
Scouting
Scouting
Scouting, also known as the Scout Movement, is a worldwide youth movement with the stated aim of supporting young people in their physical, mental and spiritual development, that they may play constructive roles in society....
movement. Because of the large age and
development
Developmental psychology
Developmental psychology, also known as human development, is the scientific study of systematic psychological changes, emotional changes, and perception changes that occur in human beings over the course of their life span. Originally concerned with infants and children, the field has expanded to...
span, many Scouting associations have split this
age group
Age groups in Scouting and Guiding
National Scouting and Guiding organisations are divided into different age groups in order to deliver the Scouting and Guiding programmes for a full range of youth.-History:...
into a junior and a senior section. Scouts are organized into
troops
Scout troop
The Scout troop is a unit of Scouts, Boy Scouts, Girl Guides and Girl Scouts that usually meet weekly. Girl Guides often use Unit or Company instead. The troop is the fundamental unit, which a Scout joins and via which he or she participates in Scouting activities, such as camping, backpacking, and...
averaging twenty to thirty Scouts under guidance of one or more
Scout Leader
Scout Leader
A Scout Leader or Scouter generally refers to the trained adult leader of a Scout unit. The terms used vary from country to country, over time, and with the type of unit.-Roles:...
s. Troops subdivide into
patrol
Patrol
A patrol is commonly a group of personnel, such as police officers or soldiers, that are assigned to monitor a specific geographic area.- Military :...
s of about six Scouts and engage in outdoor and special interest activities.