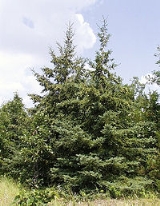 White Spruce
Picea glauca
is a species of
spruce
Spruce
A spruce is a tree of the genus Picea , a genus of about 35 species of coniferous evergreen trees in the Family Pinaceae, found in the northern temperate and boreal regions of the earth. Spruces are large trees, from tall when mature, and can be distinguished by their whorled branches and conical...
native to boreal forests in the north of
North America
North America
North America is a continent wholly within the Northern Hemisphere and almost wholly within the Western Hemisphere. It is also considered a northern subcontinent of the Americas...
, from central
Alaska
Alaska
Alaska is the largest state in the United States by area. It is situated in the northwest extremity of the North American continent, with Canada to the east, the Arctic Ocean to the north, and the Pacific Ocean to the west and south, with Russia further west across the Bering Strait...
east to
Newfoundland
, and south to northern
Montana
Montana
Montana is a state in the Western United States. The western third of Montana contains numerous mountain ranges. Smaller, "island ranges" are found in the central third of the state, for a total of 77 named ranges of the Rocky Mountains. This geographical fact is reflected in the state's name,...
,
Minnesota
Minnesota
Minnesota is a U.S. state located in the Midwestern United States. The twelfth largest state of the U.S., it is the twenty-first most populous, with 5.3 million residents. Minnesota was carved out of the eastern half of the Minnesota Territory and admitted to the Union as the thirty-second state...
,
Wisconsin
Wisconsin
Wisconsin is a U.S. state located in the north-central United States and is part of the Midwest. It is bordered by Minnesota to the west, Iowa to the southwest, Illinois to the south, Lake Michigan to the east, Michigan to the northeast, and Lake Superior to the north. Wisconsin's capital is...
,
Michigan
Michigan
Michigan is a U.S. state located in the Great Lakes Region of the United States of America. The name Michigan is the French form of the Ojibwa word mishigamaa, meaning "large water" or "large lake"....
,
upstate New York
Upstate New York
Upstate New York is the region of the U.S. state of New York that is located north of the core of the New York metropolitan area.-Definition:There is no clear or official boundary between Upstate New York and Downstate New York...
,
Vermont
Vermont
Vermont is a state in the New England region of the northeastern United States of America. The state ranks 43rd in land area, , and 45th in total area. Its population according to the 2010 census, 630,337, is the second smallest in the country, larger only than Wyoming. It is the only New England...
,
New Hampshire
New Hampshire
New Hampshire is a state in the New England region of the northeastern United States of America. The state was named after the southern English county of Hampshire. It is bordered by Massachusetts to the south, Vermont to the west, Maine and the Atlantic Ocean to the east, and the Canadian...
, and
Maine
Maine
Maine is a state in the New England region of the northeastern United States, bordered by the Atlantic Ocean to the east and south, New Hampshire to the west, and the Canadian provinces of Quebec to the northwest and New Brunswick to the northeast. Maine is both the northernmost and easternmost...
; there is also an isolated population in the
Black Hills
Black Hills
The Black Hills are a small, isolated mountain range rising from the Great Plains of North America in western South Dakota and extending into Wyoming, USA. Set off from the main body of the Rocky Mountains, the region is something of a geological anomaly—accurately described as an "island of...
of
South Dakota
South Dakota
South Dakota is a state located in the Midwestern region of the United States. It is named after the Lakota and Dakota Sioux American Indian tribes. Once a part of Dakota Territory, South Dakota became a state on November 2, 1889. The state has an area of and an estimated population of just over...
and
Wyoming
Wyoming
Wyoming is a state in the mountain region of the Western United States. The western two thirds of the state is covered mostly with the mountain ranges and rangelands in the foothills of the Eastern Rocky Mountains, while the eastern third of the state is high elevation prairie known as the High...
. It is also known as Canadian spruce, skunk spruce, cat spruce, Black Hills spruce, western white spruce, Alberta white spruce, and Porsild spruce.
Description
The white spruce is a large
evergreen
Evergreen
In botany, an evergreen plant is a plant that has leaves in all seasons. This contrasts with deciduous plants, which completely lose their foliage during the winter or dry season.There are many different kinds of evergreen plants, both trees and shrubs...
tree
Tree
A tree is a perennial woody plant. It is most often defined as a woody plant that has many secondary branches supported clear of the ground on a single main stem or trunk with clear apical dominance. A minimum height specification at maturity is cited by some authors, varying from 3 m to...
which grows normally to 15 to 30 m (49.2 to 98.4 ft) tall, but can grow up to 40 metres (131.2 ft) tall with a trunk diameter of up to 1 metres (3.3 ft). The
bark
Bark
Bark is the outermost layers of stems and roots of woody plants. Plants with bark include trees, woody vines and shrubs. Bark refers to all the tissues outside of the vascular cambium and is a nontechnical term. It overlays the wood and consists of the inner bark and the outer bark. The inner...
is thin and scaly, flaking off in small circular plates 5 to 10 cm (2 to 3.9 in) across. The crown is narrow conic in young trees, becoming cylindric in older trees. The shoots are pale buff-brown, glabrous (hairless) in the east of the range, but often pubescent in the west, and with prominent pulvini. The
leaves
Leaf
A leaf is an organ of a vascular plant, as defined in botanical terms, and in particular in plant morphology. Foliage is a mass noun that refers to leaves as a feature of plants....
are needle-like, 12 to 20 mm (0.47244094488189 to 0.78740157480315 in) long, rhombic in cross-section, glaucous blue-green above with several thin lines of stomata, and blue-white below with two broad bands of stomata.
The
cones
Conifer cone
A cone is an organ on plants in the division Pinophyta that contains the reproductive structures. The familiar woody cone is the female cone, which produces seeds. The male cones, which produce pollen, are usually herbaceous and much less conspicuous even at full maturity...
are pendulous, slender cylindrical, 3 to 7 cm (1.2 to 2.8 in) long and 1.5 centimetre (0.590551181102362 in) wide when closed, opening to 2.5 centimetre (0.984251968503937 in) broad. They have thin, flexible scales 15 millimetre (0.590551181102362 in) long, with a smoothly rounded margin. They are green or reddish, maturing to pale brown 4 to 6 months after pollination. The
seed
Seed
A seed is a small embryonic plant enclosed in a covering called the seed coat, usually with some stored food. It is the product of the ripened ovule of gymnosperm and angiosperm plants which occurs after fertilization and some growth within the mother plant...
s are black, 2 to 3 mm (0.078740157480315 to 0.118110236220472 in) long, with a slender, 5 to 8 mm (0.196850393700787 to 0.31496062992126 in) long pale brown wing.
Distribution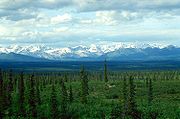 White spruce is the northernmost tree species in North America, reaching just north of 69°N latitude in the
Mackenzie River
Mackenzie River
The Mackenzie River is the largest river system in Canada. It flows through a vast, isolated region of forest and tundra entirely within the country's Northwest Territories, although its many tributaries reach into four other Canadian provinces and territories...
delta. It grows between
sea level
Sea level
Mean sea level is a measure of the average height of the ocean's surface ; used as a standard in reckoning land elevation...
and an
elevation
Elevation
The elevation of a geographic location is its height above a fixed reference point, most commonly a reference geoid, a mathematical model of the Earth's sea level as an equipotential gravitational surface ....
of 1520 metres (4,986.9 ft). Its northern distribution roughly correlates to the location of the tree line, which includes an isothermic value of 10 °C (50 °F) for mean
temperature
Temperature
Temperature is a physical property of matter that quantitatively expresses the common notions of hot and cold. Objects of low temperature are cold, while various degrees of higher temperatures are referred to as warm or hot...
in July, as well as the position of the
Arctic front
Arctic front
The Arctic front is a term used to describe the semipermanent, semi-continuous weather front between the cold arctic air mass and the warmer air of the polar cell. It can also be defined as the southern boundary of the Arctic air mass....
; cumulative summer degree days, mean net radiation, and the amount of light intensities also figure. White spruce generally is found in regions where the
growing season
Growing season
In botany, horticulture, and agriculture the growing season is the period of each year when native plants and ornamental plants grow; and when crops can be grown....
exceeds 60 days annually.
The southern distribution corresponds to the July isotherm of 18 °C (64.4 °F) around the
Great Lakes
Great Lakes
The Great Lakes are a collection of freshwater lakes located in northeastern North America, on the Canada – United States border. Consisting of Lakes Superior, Michigan, Huron, Erie, and Ontario, they form the largest group of freshwater lakes on Earth by total surface, coming in second by volume...
; in the Prairie Provinces its limit is north of this isotherm. During the
summer solstice
Summer solstice
The summer solstice occurs exactly when the axial tilt of a planet's semi-axis in a given hemisphere is most inclined towards the star that it orbits. Earth's maximum axial tilt to our star, the Sun, during a solstice is 23° 26'. Though the summer solstice is an instant in time, the term is also...
, photoperiod values range from 17 hours at its southern limits to 24 hours above the
Arctic Circle
Arctic Circle
The Arctic Circle is one of the five major circles of latitude that mark maps of the Earth. For Epoch 2011, it is the parallel of latitude that runs north of the Equator....
.
Ecology
White spruce generally occurs on well-drained
soil
Soil
Soil is a natural body consisting of layers of mineral constituents of variable thicknesses, which differ from the parent materials in their morphological, physical, chemical, and mineralogical characteristics...
s in alluvial and
riparian zone
Riparian zone
A riparian zone or riparian area is the interface between land and a river or stream. Riparian is also the proper nomenclature for one of the fifteen terrestrial biomes of the earth. Plant habitats and communities along the river margins and banks are called riparian vegetation, characterized by...
s, although it also occurs in soils of glacial and
lacustrine
Lacustrine
Lacustrine means "of a lake" or "relating to a lake".Specifically, it may refer to:*Lacustrine plain*Lacustrine delta-Fish:*Lacustrine goby , a type of small fish found in Philippine waters belonging to the Gobiidae family, known in Tagalog as dulong-See also:*Fluvial - of or relating a...
origin. The
understory
Understory
Understory is the term for the area of a forest which grows at the lowest height level below the forest canopy. Plants in the understory consist of a mixture of seedlings and saplings of canopy trees together with understory shrubs and herbs...
is dominated by
feather moss
Feather moss
Feather moss is a term applied to a number of moss species, many within the family Hypnaceae. Feather moss is a term applied to a moss species growing in a Boreal forest with the appearance of frond or feather like foliage. Alternatively the term Boreal forest moss is sometimes applied...
es (
Hylocomium splendens
Hylocomium splendens
Hylocomium splendens, commonly known as Glittering Wood-moss, Stair-step Moss and Mountain Fern Moss, is a perennial clonal moss with a widespread distribution in Northern Hemisphere boreal forests. It is commonly found in Europe, Russia, Alaska and Canada, where it is often the most abundant moss...
and
Pleurozium schreberi
,
Ptilium cristacastrensis
, and
Dicranum spp.
Dicranum
Dicranum is a genus of mosses, also called Wind-Blown Mosses or Fork Mosses.These mosses form in densely packed clumps. Stems may fork, but do not branch. In general, upright stems will be single but packed together. These are commonly found in Jack pine or Red pine stands....
), and occasionally peat moss. In the far north, the total depth of the moss and underlying
humus
is normally between 25 to 46 cm (9.8 to 18.1 in), although it tends to be shallower when
hardwood
Hardwood
Hardwood is wood from angiosperm trees . It may also be used for those trees themselves: these are usually broad-leaved; in temperate and boreal latitudes they are mostly deciduous, but in tropics and subtropics mostly evergreen.Hardwood contrasts with softwood...
s are present in the stand.
White spruce grows in soils with
pH
PH
In chemistry, pH is a measure of the acidity or basicity of an aqueous solution. Pure water is said to be neutral, with a pH close to 7.0 at . Solutions with a pH less than 7 are said to be acidic and solutions with a pH greater than 7 are basic or alkaline...
values of 4.7—7.0, although they have been found in soils as acidic as 4.0 in subalpine fir forests in the Northwest Territories. A presence of
calcium
Calcium
Calcium is the chemical element with the symbol Ca and atomic number 20. It has an atomic mass of 40.078 amu. Calcium is a soft gray alkaline earth metal, and is the fifth-most-abundant element by mass in the Earth's crust...
in the soil is common to white spruce found in New York. White spruce most commonly grows in the soil orders of
Alfisols
Alfisols
Alfisols are a soil order in USDA soil taxonomy. Alfisols form in semiarid to humid areas, typically under a hardwood forest cover. They have a clay-enriched subsoil and relatively high native fertility. "Alf" refers to aluminium and iron . Because of their productivity and abundance, the...
and
Inceptisols
Inceptisols
Inceptisols are a soil order in USDA soil taxonomy. They form quickly through alteration of parent material. They are older than entisols. They have no accumulation of clays, Iron, Aluminum or organic matter. They have an Ochric or Umbric horizon and a cambic subsurface horizon....
.
Soil
Soil
Soil is a natural body consisting of layers of mineral constituents of variable thicknesses, which differ from the parent materials in their morphological, physical, chemical, and mineralogical characteristics...
properties such as fertility, temperature, and structural stability are partial determinants of the ability of white spruce to grow in the extreme northern latitudes. In the northern limits of its range, white spruce is the
climax species
Climax species
Climax species, also called late seral, late-successional, K-selected or equilibrium species, are plant species that will remain essentially unchanged in terms of species composition for as long as a site remains undisturbed. They are the most shade-tolerant species of tree to establish in the...
along with black spruce;
Birch
Birch
Birch is a tree or shrub of the genus Betula , in the family Betulaceae, closely related to the beech/oak family, Fagaceae. The Betula genus contains 30–60 known taxa...
and
aspen
Aspen
Populus section Populus, of the Populus genus, includes the aspen trees and the white poplar Populus alba. The five typical aspens are all native to cold regions with cool summers, in the north of the Northern Hemisphere, extending south at high altitudes in the mountains. The White Poplar, by...
are the
early succession
Primary succession
Primary succession is one of two types of biological and ecological succession of plant life, occurring in an environment in which new substrate devoid of vegetation and usually lacking soil, such as a lava flow or area left from retreated glacier, is deposited...
species.
Wildfire
Wildfire
A wildfire is any uncontrolled fire in combustible vegetation that occurs in the countryside or a wilderness area. Other names such as brush fire, bushfire, forest fire, desert fire, grass fire, hill fire, squirrel fire, vegetation fire, veldfire, and wilkjjofire may be used to describe the same...
s typically occur every 60 to 200 years, although they have been known to occur as infrequently as every 300 years.
Varieties
Several geographical
varieties
Variety (biology)
In botanical nomenclature, variety is a taxonomic rank below that of species: as such, it gets a three-part infraspecific name....
have been described, but are not accepted as distinct by all authors. These comprise, from east to west:
The two western varieties are distinguished by pubescent (downy) shoots, and may be related to extensive hybridisation and/or
intergradation
Intergradation
In zoology, intergradation is the way in which two distinct subspecies are connected via areas where populations are found that have the characteristics of both...
with the closely related
Engelmann Spruce
Engelmann Spruce
Picea engelmannii is a species of spruce native to western North America, from central British Columbia and southwest Alberta, southwest to northern California and southeast to Arizona and New Mexico; there are also two isolated populations in northern Mexico...
found further south in the Rocky Mountains. White spruce also hybridises readily with the closely related
Sitka Spruce
Sitka Spruce
Picea sitchensis, the Sitka Spruce, is a large coniferous evergreen tree growing to 50–70 m tall, exceptionally to 95 m tall, and with a trunk diameter of up to 5 m, exceptionally to 6–7 m diameter...
where they meet in southern Alaska; this hybrid is known as
Picea × lutzii
.
Predators
Outbreaks of
spruce beetles
Dendroctonus rufipennis
The Spruce Beetle is a species of bark beetle native to British Columbia, Newfoundland and Labrador, Nova Scotia, Ontario, Quebec, the Yukon, and Maine. They are known to destroy forests of spruce trees including Englemann, White, Sitka, and Colorado blue spruce...
have destroyed over 2300000 acres (9,307.8 km²) of forests in Alaska.
Uses
A dwarf
cultivar
Cultivar
A cultivar'Cultivar has two meanings as explained under Formal definition. When used in reference to a taxon, the word does not apply to an individual plant but to all those plants sharing the unique characteristics that define the cultivar. is a plant or group of plants selected for desirable...
of the Alberta white spruce,
Picea glauca
var.
albertiana
'Conica', is a popular
garden
Garden
A garden is a planned space, usually outdoors, set aside for the display, cultivation, and enjoyment of plants and other forms of nature. The garden can incorporate both natural and man-made materials. The most common form today is known as a residential garden, but the term garden has...
plant. It has very slender leaves, like those normally found only on one-year-old
seedling
Seedling
thumb|Monocot and dicot seedlingsA seedling is a young plant sporophyte developing out of a plant embryo from a seed. Seedling development starts with germination of the seed. A typical young seedling consists of three main parts: the radicle , the hypocotyl , and the cotyledons...
s, and very slow growth, typically only 2–10 cm (0.78740157480315–3.9 in) per year. Older specimens commonly 'revert', developing normal adult foliage and starting to grow much faster; this 'reverted' growth must be
pruned
Pruning
Pruning is a horticultural practice involving the selective removal of parts of a plant, such as branches, buds, or roots. Reasons to prune plants include deadwood removal, shaping , improving or maintaining health, reducing risk from falling branches, preparing nursery specimens for...
if the plant is to be kept
dwarf
Dwarfing
Dwarfing is a characteristic in plants and animals whereby one or more members of a breed or cultivar are significantly smaller than standard members of their species...
.
White spruce is of major economic importance in Canada for its
wood
Wood
Wood is a hard, fibrous tissue found in many trees. It has been used for hundreds of thousands of years for both fuel and as a construction material. It is an organic material, a natural composite of cellulose fibers embedded in a matrix of lignin which resists compression...
, harvested for
paper
Paper
Paper is a thin material mainly used for writing upon, printing upon, drawing or for packaging. It is produced by pressing together moist fibers, typically cellulose pulp derived from wood, rags or grasses, and drying them into flexible sheets....
-making. It is also used to a small extent as a
Christmas tree
Christmas tree
The Christmas tree is a decorated evergreen coniferous tree, real or artificial, and a tradition associated with the celebration of Christmas. The tradition of decorating an evergreen tree at Christmas started in Livonia and Germany in the 16th century...
.
The wood is also exported to
Japan
Japan
Japan is an island nation in East Asia. Located in the Pacific Ocean, it lies to the east of the Sea of Japan, China, North Korea, South Korea and Russia, stretching from the Sea of Okhotsk in the north to the East China Sea and Taiwan in the south...
where, known as "shin-kaya", it is used to make go boards as a substitute for the rare
kaya
Torreya nucifera
Torreya nucifera is a slow-growing, coniferous tree native to southern Japan and to South Korea's Jeju Island. It is also called ' or Japanese nutmeg-yew.-Description:It grows to 15-25 m tall with a trunk up to 1.5 m diameter...
wood.
White spruce is the provincial tree of
Manitoba
Manitoba
Manitoba is a Canadian prairie province with an area of . The province has over 110,000 lakes and has a largely continental climate because of its flat topography. Agriculture, mostly concentrated in the fertile southern and western parts of the province, is vital to the province's economy; other...
and the
state tree
of
South Dakota
South Dakota
South Dakota is a state located in the Midwestern region of the United States. It is named after the Lakota and Dakota Sioux American Indian tribes. Once a part of Dakota Territory, South Dakota became a state on November 2, 1889. The state has an area of and an estimated population of just over...
.