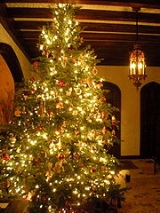 Christmas tree
The
Christmas tree
is a decorated
evergreen
Evergreen
In botany, an evergreen plant is a plant that has leaves in all seasons. This contrasts with deciduous plants, which completely lose their foliage during the winter or dry season.There are many different kinds of evergreen plants, both trees and shrubs...
coniferous
Pinophyta
The conifers, division Pinophyta, also known as division Coniferophyta or Coniferae, are one of 13 or 14 division level taxa within the Kingdom Plantae. Pinophytes are gymnosperms. They are cone-bearing seed plants with vascular tissue; all extant conifers are woody plants, the great majority being...
tree
Tree
A tree is a perennial woody plant. It is most often defined as a woody plant that has many secondary branches supported clear of the ground on a single main stem or trunk with clear apical dominance. A minimum height specification at maturity is cited by some authors, varying from 3 m to...
, real or
artificial
Artificial Christmas tree
Artificial Christmas trees are artificial pine and fir trees manufactured for the specific purpose of use as a Christmas tree. The earliest artificial Christmas trees were wooden, tree-shaped pyramids or feather trees, both developed by Germans...
, and a tradition associated with the celebration of
Christmas
Christmas
Christmas or Christmas Day is an annual holiday generally celebrated on December 25 by billions of people around the world. It is a Christian feast that commemorates the birth of Jesus Christ, liturgically closing the Advent season and initiating the season of Christmastide, which lasts twelve days...
. The tradition of decorating an evergreen tree at Christmas started in
Livonia
Livonia
Livonia is a historic region along the eastern shores of the Baltic Sea. It was once the land of the Finnic Livonians inhabiting the principal ancient Livonian County Metsepole with its center at Turaida...
and
Germany
Germany
Germany , officially the Federal Republic of Germany , is a federal parliamentary republic in Europe. The country consists of 16 states while the capital and largest city is Berlin. Germany covers an area of 357,021 km2 and has a largely temperate seasonal climate...
in the 16th century. The Christmas tree is traditionally brought into the home and decorated with Christmas lights (originally candles),
ornaments
Christmas ornament
Christmas ornaments are decorations that are used to festoon a Christmas tree.Ornaments take many different forms, from a simple round ball to highly artistic designs...
,
garland
Garland
A garland is a class of decoration, of which there are many types.Garland may also refer to:-Places:*Garland, Arkansas, a town in Miller County*Garland County, Arkansas*Garland, Maine, a town in Penobscot County...
s,
tinsel
Tinsel
Tinsel is sparkling decorative material that mimics the effect of ice or icicles. When in long narrow strips, it emulates icicles. It was originally a metallic garland for Christmas decoration. The modern production of tinsel typically involves plastic, and is used particularly to decorate...
, and candy canes during the days around Christmas.