 Travertine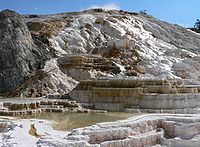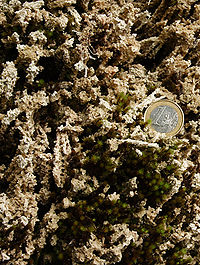 Travertine
is a form of
limestone
Limestone
Limestone is a sedimentary rock composed largely of the minerals calcite and aragonite, which are different crystal forms of calcium carbonate . Many limestones are composed from skeletal fragments of marine organisms such as coral or foraminifera....
deposited by
mineral spring
Mineral spring
Mineral springs are naturally occurring springs that produce water containing minerals, or other dissolved substances, that alter its taste or give it a purported therapeutic value...
s, especially
hot springs
Hot Springs
Hot Springs may refer to:* Hot Springs, Arkansas** Hot Springs National Park, Arkansas*Hot Springs, California**Hot Springs, Lassen County, California**Hot Springs, Modoc County, California**Hot Springs, Placer County, California...
. Travertine often has a fibrous or
concentric
Concentric
Concentric objects share the same center, axis or origin with one inside the other. Circles, tubes, cylindrical shafts, disks, and spheres may be concentric to one another...
appearance and exists in white, tan, and cream-colored varieties. It is formed by a process of rapid precipitation of
calcium carbonate
Calcium carbonate
Calcium carbonate is a chemical compound with the formula CaCO3. It is a common substance found in rocks in all parts of the world, and is the main component of shells of marine organisms, snails, coal balls, pearls, and eggshells. Calcium carbonate is the active ingredient in agricultural lime,...
, often at the mouth of a hot spring or in a limestone cave. In the latter, it can form stalactites,
stalagmite
Stalagmite
A stalagmite is a type of speleothem that rises from the floor of a limestone cave due to the dripping of mineralized solutions and the deposition of calcium carbonate. This stalagmite formation occurs only under certain pH conditions within the underground cavern. The corresponding formation on...
s, and other speleothems. It is frequently used in
Italy
Italy
Italy , officially the Italian Republic languages]] under the European Charter for Regional or Minority Languages. In each of these, Italy's official name is as follows:;;;;;;;;), is a unitary parliamentary republic in South-Central Europe. To the north it borders France, Switzerland, Austria and...
and elsewhere as a building material.
Travertine is a terrestrial
sedimentary rock
Sedimentary rock
Sedimentary rock are types of rock that are formed by the deposition of material at the Earth's surface and within bodies of water. Sedimentation is the collective name for processes that cause mineral and/or organic particles to settle and accumulate or minerals to precipitate from a solution....
, formed by the
precipitation
Precipitation (chemistry)
Precipitation is the formation of a solid in a solution or inside anothersolid during a chemical reaction or by diffusion in a solid. When the reaction occurs in a liquid, the solid formed is called the precipitate, or when compacted by a centrifuge, a pellet. The liquid remaining above the solid...
of
carbonate minerals
Carbonate minerals
Carbonate minerals are those minerals containing the carbonate ion: CO32-.-Anhydrous carbonates:*Calcite group: Trigonal**Calcite CaCO3**Gaspeite CO3**Magnesite MgCO3**Otavite CdCO3**Rhodochrosite MnCO3**Siderite FeCO3**Smithsonite ZnCO3...
from solution in ground and surface waters, and/or
geothermally heated hot-springs
Hot spring
A hot spring is a spring that is produced by the emergence of geothermally heated groundwater from the Earth's crust. There are geothermal hot springs in many locations all over the crust of the earth.-Definitions:...
. Similar (but softer and extremely porous) deposits formed from ambient-temperature water are known as
tufa
Tufa
Tufa is a variety of limestone, formed by the precipitation of carbonate minerals from ambient temperature water bodies. Geothermally heated hot-springs sometimes produce similar carbonate deposits known as travertine...
.
Features
Travertine forms from geothermal springs and is often linked to siliceous systems that form siliceous sinter.
Macrophyte
Macrophyte
A macrophyte is an aquatic plant that grows in or near water and is either emergent, submergent, or floating. In lakes macrophytes provide cover for fish and substrate for aquatic invertebrates, produce oxygen, and act as food for some fish and wildlife....
s,
bryophyte
Bryophyte
Bryophyte is a traditional name used to refer to all embryophytes that do not have true vascular tissue and are therefore called 'non-vascular plants'. Some bryophytes do have specialized tissues for the transport of water; however since these do not contain lignin, they are not considered to be...
s,
algae
Algae
Algae are a large and diverse group of simple, typically autotrophic organisms, ranging from unicellular to multicellular forms, such as the giant kelps that grow to 65 meters in length. They are photosynthetic like plants, and "simple" because their tissues are not organized into the many...
,
cyanobacteria
, and other organisms often colonise the surface of travertine and are preserved, giving travertine its distinctive porosity.
Some springs have temperatures high enough to exclude macrophytes and bryophytes from the deposits. As a consequence, deposits are, in general, less porous than
tufa
Tufa
Tufa is a variety of limestone, formed by the precipitation of carbonate minerals from ambient temperature water bodies. Geothermally heated hot-springs sometimes produce similar carbonate deposits known as travertine...
. Thermophilic microbes are important in these environments and
stromatolitic
Stromatolite
Stromatolites or stromatoliths are layered accretionary structures formed in shallow water by the trapping, binding and cementation of sedimentary grains by biofilms of microorganisms, especially cyanobacteria ....
fabrics are common. When it is apparent that deposits are devoid of any biological component, they are often referred to as
calcareous sinter
Calcareous sinter
Calcareous sinter is a freshwater calcium carbonate deposit, also known as calc-sinter. Deposits are characterised by low porosity and well-developed lamination. Calcareous sinter should not be confused with siliceous sinter, which the term sinter more frequently refers to...
.
Geochemistry
Modern travertine is formed from geothermally heated supersaturated alkaline waters, with raised pCO
2
(see
partial pressure
Partial pressure
In a mixture of ideal gases, each gas has a partial pressure which is the pressure which the gas would have if it alone occupied the volume. The total pressure of a gas mixture is the sum of the partial pressures of each individual gas in the mixture....
). On emergence, waters degas CO
2
due to the lower atmospheric pCO
2
, resulting in an increase in pH. Since carbonate solubility decreases with increased pH, precipitation is induced. Precipitation may be enhanced by factors leading to a reduction in pCO
2
, for example increased air-water interactions at waterfalls may be important, as may photosynthesis. Precipitation may also be enhanced by evaporation in some springs.
Both calcite and aragonite are found in hot spring travertines; aragonite is preferentially precipitated when temperatures are hot, while calcite dominates when temperatures are cooler. When pure and fine, travertine is white, but often it is brown to yellow due to impurities.
Travertine may precipitate out directly onto rock and other inert materials as in
Pamukkale
Pamukkale
Pamukkale, meaning "cotton castle" in Turkish, is a natural site in Denizli Province in southwestern Turkey. The city contains hot springs and travertines, terraces of carbonate minerals left by the flowing water...
or Yellowstone for example.
Occurrence
Travertine waterfalls exist not only in the U.S. in Oklahoma and Texas but most famously in
Italy
Italy
Italy , officially the Italian Republic languages]] under the European Charter for Regional or Minority Languages. In each of these, Italy's official name is as follows:;;;;;;;;), is a unitary parliamentary republic in South-Central Europe. To the north it borders France, Switzerland, Austria and...
- in
Tivoli
Tivoli, Italy
Tivoli , the classical Tibur, is an ancient Italian town in Lazio, about 30 km east-north-east of Rome, at the falls of the Aniene river where it issues from the Sabine hills...
and
Guidonia Montecelio
Guidonia Montecelio
Guidonia Montecelio is a town and comune in the province of Rome, Lazio, central Italy.- Geography :The community of Guidonia Montecelio lies to the north-east of Rome, some kilometres from the Grande Raccordo Anulare - a ring-shaped motorway which forms a circle around the capital...
- where we can find the most important quarries since Ancient Roman times like the old quarry of Bernini in Guidonia. The latter has a major historic value, because it was one of the quarries that
Gian Lorenzo Bernini
Gian Lorenzo Bernini
Gian Lorenzo Bernini was an Italian artist who worked principally in Rome. He was the leading sculptor of his age and also a prominent architect...
selected material from to build the famous (colonnato di Piazza S.Pietro )
The Colonnade of St. Peter's Square in Rome
Saint Peter's Square
Saint Peter's Square is located directly in front of St. Peter's Basilica in Vatican City, the papal enclave within Rome .-History of St...
in 1500. Michaelangelo also chose travertine has the material for the external ribs of the dome of St Peter's Basilica.> Travertine derives its name from the former town, known as Tibur in ancient Roman times. The ancient name for the stone was
lapis tiburtinus
, meaning
tibur stone
, which was gradually corrupted to travertine. Detailed studies of the Tivoli and Guidonia travertine deposits revealed diurnal and annual rhythmic banding and laminae, which have potential use in
geochronology
Geochronology
Geochronology is the science of determining the age of rocks, fossils, and sediments, within a certain degree of uncertainty inherent to the method used. A variety of dating methods are used by geologists to achieve this, and schemes of classification and terminology have been proposed...
.
Pamukkale
Pamukkale
Pamukkale, meaning "cotton castle" in Turkish, is a natural site in Denizli Province in southwestern Turkey. The city contains hot springs and travertines, terraces of carbonate minerals left by the flowing water...
is a World Heritage Site. A few other places in the world resemble it, including the Mammoth Hot Springs in the USA,
Egerszalók
Egerszalók
Egerszalók is an open-air spa and village located in Heves County in northeastern Hungary. The springs yield 68°C. mineral water from an aquifer located under the volcanic Mátra Mountains. The spa is located 8 km west of the county seat of Eger, from which it is served by motorbus...
in
Hungary
Hungary
Hungary , officially the Republic of Hungary , is a landlocked country in Central Europe. It is situated in the Carpathian Basin and is bordered by Slovakia to the north, Ukraine and Romania to the east, Serbia and Croatia to the south, Slovenia to the southwest and Austria to the west. The...
, and Huanglong in
Sichuan
Sichuan
' , known formerly in the West by its postal map spellings of Szechwan or Szechuan is a province in Southwest China with its capital in Chengdu...
Province of
China
People's Republic of China
China , officially the People's Republic of China , is the most populous country in the world, with over 1.3 billion citizens. Located in East Asia, the country covers approximately 9.6 million square kilometres...
(another
UNESCO
UNESCO
The United Nations Educational, Scientific and Cultural Organization is a specialized agency of the United Nations...
World Heritage Site).
In
Central Europe
Central Europe
Central Europe or alternatively Middle Europe is a region of the European continent lying between the variously defined areas of Eastern and Western Europe...
's last post-glacial palaeoclimatic optimum (
Atlantic Period
Atlantic (period)
The Atlantic in palaeoclimatology was the warmest and moistest Blytt-Sernander period, pollen zone and chronozone of Holocene northern Europe. The climate was generally warmer than today. It was preceded by the Boreal, with a climate similar to today's, and was followed by the Sub-Boreal, a...
, 8000-5000 B.C.), huge deposits of tufa formed from karst springs. Important
geotope
Geotope
Geotope is the geological component of the abiotic matrix present in an ecotope. Example geotopes might be: an exposed outcrop of rocks, an erratic boulder, a grotto or ravine, a cave, an old stone wall marking a property boundary, and so forth....
s are found at the
Swabian Alb
Swabian Alb
The Swabian Alps or Swabian Jura is a low mountain range in Baden-Württemberg, Germany, extending 220 km from southwest to northeast and 40 to 70 km in width. It is named after the region of Swabia....
, mainly in valleys at the foremost northwest ridge of the
cuesta
Cuesta
In structural geology and geomorphology, a cuesta is a ridge formed by gently tilted sedimentary rock strata in a homoclinal structure. Cuestas have a steep slope, where the rock layers are exposed on their edges, called an escarpment or, if more steep, a cliff...
; in many valleys of the eroded periphery of the karstic
Franconian Jura
Franconian Jura
The Franconian Jura is an upland in Bavaria, Germany. Located between two rivers, the Danube in the south and the Main in the north, its peaks reach elevations of up to .Large portions of the Franconian Jura are part of the Altmühl Valley Nature Park...
; at the northern
Alpine foothills
Swiss plateau
The Swiss Plateau or Central Plateau constitutes one of the three major landscapes in Switzerland alongside the Jura mountains and the Swiss Alps. It covers about 30% of the Swiss surface...
; and the northern Karst Alps. On a smaller scale, these karst processes are still working. Travertine has been an important building material since the
Middle Ages
Middle Ages
The Middle Ages is a periodization of European history from the 5th century to the 15th century. The Middle Ages follows the fall of the Western Roman Empire in 476 and precedes the Early Modern Era. It is the middle period of a three-period division of Western history: Classic, Medieval and Modern...
.
Travertine has formed sixteen huge, natural dams in a valley in
Croatia
Croatia
Croatia , officially the Republic of Croatia , is a unitary democratic parliamentary republic in Europe at the crossroads of the Mitteleuropa, the Balkans, and the Mediterranean. Its capital and largest city is Zagreb. The country is divided into 20 counties and the city of Zagreb. Croatia covers ...
known as
Plitvice Lakes National Park
Plitvice Lakes
Plitvice Lakes National Park is the oldest national park in Southeast Europe and the largest national park in Croatia. The national park was founded in 1949 and is situated in the mountainous karst area of central Croatia, at the border to Bosnia and Herzegovina...
. Clinging to moss and rocks in the water, the travertine has built up over several millennia to form waterfalls up to 70 metres (229.7 ft) in height.
Cascades of natural lakes formed behind travertine dams can be seen in
Mahallat
Mahallat
Mahallat is a city in and the capital of Mahallat County, Markazi Province, Iran. At the 2006 census, its population was 35,319, in 10,285 families....
, Abbass Abad, Atash Kooh, and
Badab-e Surt
Badab-e Surt
Badab-e Surt is a natural site in Mazandaran Province in northern Iran, located 68 kilometers north of city of Damghan, 95 kilometers South of city of Sari, and 7 kilometers west of Orost village...
in
Iran
Iran
Iran , officially the Islamic Republic of Iran , is a country in Southern and Western Asia. The name "Iran" has been in use natively since the Sassanian era and came into use internationally in 1935, before which the country was known to the Western world as Persia...
;
Pamukkale
Pamukkale
Pamukkale, meaning "cotton castle" in Turkish, is a natural site in Denizli Province in southwestern Turkey. The city contains hot springs and travertines, terraces of carbonate minerals left by the flowing water...
,
Turkey
Turkey
Turkey , known officially as the Republic of Turkey , is a Eurasian country located in Western Asia and in East Thrace in Southeastern Europe...
;
Band-i-Amir
Band-e Amir
Band-e Amir is a series of six deep blue lakes separated by natural dams made of travertine, a mineral deposit. The lakes are situated in the Hindu Kush Mountains of Central Afghanistan at approximately 3000 meters of elevation, west of the famous Buddhas of Bamiyan.They were created by the carbon...
,
Afghanistan
Afghanistan
Afghanistan , officially the Islamic Republic of Afghanistan, is a landlocked country located in the centre of Asia, forming South Asia, Central Asia and the Middle East. With a population of about 29 million, it has an area of , making it the 42nd most populous and 41st largest nation in the world...
; HuangLong Valley,
Sichuan
Sichuan
' , known formerly in the West by its postal map spellings of Szechwan or Szechuan is a province in Southwest China with its capital in Chengdu...
,
China
China
Chinese civilization may refer to:* China for more general discussion of the country.* Chinese culture* Greater China, the transnational community of ethnic Chinese.* History of China* Sinosphere, the area historically affected by Chinese culture...
;
Lagunas de Ruidera
Lagunas de Ruidera
The Lagunas de Ruidera are a group of small lakes in the Campo de Montiel, between Albacete Province, and Ciudad Real Province, Spain. Most of the lakes are interconnected and their total water amount may reach 23,06 Hm³, which is considerable by the standards of other lakes in the Iberian...
,
Spain
Spain
Spain , officially the Kingdom of Spain languages]] under the European Charter for Regional or Minority Languages. In each of these, Spain's official name is as follows:;;;;;;), is a country and member state of the European Union located in southwestern Europe on the Iberian Peninsula...
; and
Semuc Champey
Semuc Champey
Semuc Champey is a natural monument in the department of Alta Verapaz, Guatemala, near the Q'eqchi' Maya town of Lanquín. It consists of a natural 300 m limestone bridge, under which passes the Cahabòn River. Atop the bridge is a series of stepped, turquoise pools, a popular swimming attraction...
,
Guatemala
Guatemala
Guatemala is a country in Central America bordered by Mexico to the north and west, the Pacific Ocean to the southwest, Belize to the northeast, the Caribbean to the east, and Honduras and El Salvador to the southeast...
.
In the U.S., the most well-known place for travertine formation is
Yellowstone National Park
Yellowstone National Park
Yellowstone National Park, established by the U.S. Congress and signed into law by President Ulysses S. Grant on March 1, 1872, is a national park located primarily in the U.S. state of Wyoming, although it also extends into Montana and Idaho...
, where the
geothermal areas
Geothermal areas of Yellowstone
The geothermal areas of Yellowstone include several geyser basins in Yellowstone National Park as well as other geothermal features such as hot springs, mud pots, and fumaroles...
are rich in travertine deposits.
Oklahoma
Oklahoma
Oklahoma is a state located in the South Central region of the United States of America. With an estimated 3,751,351 residents as of the 2010 census and a land area of 68,667 square miles , Oklahoma is the 28th most populous and 20th-largest state...
has two parks are dedicated to this natural wonder. Turner Falls, the tallest waterfall in Oklahoma, is a 77 feet (23.5 m) cascade of spring water flowing over a travertine cave. Honey Creek feeds this waterfall and creates miles of travertine shelves both up and downstream. Many small waterfalls upstream in the dense woods repeat the travertine-formation effect. The city of Davis now owns thousands of acres of this land and has made it a tourist attraction. Another travertine resource is in
Sulphur, Oklahoma
Sulphur, Oklahoma
Sulphur is a city in Murray County, Oklahoma, United States. The population was 4,794 at the 2000 census. It is the county seat of Murray County.-Geography:Sulphur is located at ....
, 10 miles (16.1 km) east of Turner Falls. Travertine Creek flows through a spring-water nature preserve within the boundaries of the Chickasaw National Recreation Area.
In
Texas
Texas
Texas is the second largest U.S. state by both area and population, and the largest state by area in the contiguous United States.The name, based on the Caddo word "Tejas" meaning "friends" or "allies", was applied by the Spanish to the Caddo themselves and to the region of their settlement in...
, the city of
Austin
Austin
Austin is the capital of the U.S. state of Texas.Austin may also refer to:-In the United States:*Austin, Arkansas*Austin, Colorado*Austin, Chicago, Illinois*Austin, Indiana*Austin, Minnesota*Austin, Nevada*Austin, Oregon...
and its surrounding "Hillcountry" to the south is built on limestone. The area has many travertine formations, such as those found at Gorman Falls within
Colorado Bend State Park
Colorado Bend State Park
Colorado Bend State Park is a Texas state park in the Hill Country region. It was purchased in 1984 and opened to public in 1987. It is representative of the karst features typically seen in the Hill Country, with many sinkholes, caves, and springs....
, the nature preserve known as Hamilton Pool, the West Cave Preserve, and
Krause Springs
Krause Springs
Krause Springs is a camping & swimming site located in the Hill Country of Texas. It is located in Spicewood, Texas approximately west of Austin, Texas. The property has 32 springs on the property, and several feed the man-made pool and the natural pool which flow into Lake Travis...
in
Spicewood
Spicewood, Texas
Spicewood is an unincorporated community in Burnet County, Texas, United States. According to the Texas Almanac, the community had an estimated population of 2,000 in 2000....
.
Uses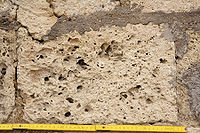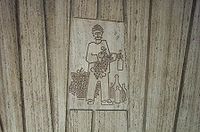 Travertine is often used as a
building material
Building material
Building material is any material which is used for a construction purpose. Many naturally occurring substances, such as clay, sand, wood and rocks, even twigs and leaves have been used to construct buildings. Apart from naturally occurring materials, many man-made products are in use, some more...
. The Romans mined deposits of travertine for building temples, aqueducts, monuments, bath complexes, and amphitheaters such as the
Colosseum
Colosseum
The Colosseum, or the Coliseum, originally the Flavian Amphitheatre , is an elliptical amphitheatre in the centre of the city of Rome, Italy, the largest ever built in the Roman Empire...
, the largest building in the world constructed mostly of travertine.
Other notable buildings using travertine extensively include the Sacré-Cœur Basilica in
Paris
Paris
Paris is the capital and largest city in France, situated on the river Seine, in northern France, at the heart of the Île-de-France region...
and the 20th-century
Getty Center
Getty Center
The Getty Center, in Brentwood, Los Angeles, California, is a campus for cultural institutions founded by oilman J. Paul Getty. The $1.3 billion center, which opened on December 16, 1997, is also well known for its architecture, gardens, and views overlooking Los Angeles...
in
Los Angeles
Los Ángeles
Los Ángeles is the capital of the province of Biobío, in the commune of the same name, in Region VIII , in the center-south of Chile. It is located between the Laja and Biobío rivers. The population is 123,445 inhabitants...
, California, and
Shell-Haus
Shell-Haus
Shell-Haus is a classical modernist architectural masterwork that stands overlooking the Landwehrkanal in the Tiergarten district of Berlin.- Building and design :...
in
Berlin
Berlin
Berlin is the capital city of Germany and is one of the 16 states of Germany. With a population of 3.45 million people, Berlin is Germany's largest city. It is the second most populous city proper and the seventh most populous urban area in the European Union...
. The travertine used in the Getty Center and Shell-Haus constructions was imported from Tivoli and Guidonia.
Travertine is one of several natural stones that are used for paving patios and garden paths. It is sometimes known as travertine limestone or travertine marble; these are the same stone, although travertine is classified properly as a type of limestone, not
marble
Marble
Marble is a metamorphic rock composed of recrystallized carbonate minerals, most commonly calcite or dolomite.Geologists use the term "marble" to refer to metamorphosed limestone; however stonemasons use the term more broadly to encompass unmetamorphosed limestone.Marble is commonly used for...
. The stone is characterised by pitted holes and troughs in its surface. Although these troughs occur naturally, they suggest signs of considerable wear and tear over time. Some installers use a grout to fill the holes, whereas others leave them open — travertine can be purchased "filled" or "unfilled." It can also be polished to a smooth, shiny finish, and comes in a variety of colors from grey to coral-red. Travertine is most commonly available in
tile
Tile
A tile is a manufactured piece of hard-wearing material such as ceramic, stone, metal, or even glass. Tiles are generally used for covering roofs, floors, walls, showers, or other objects such as tabletops...
sizes for floor installations.
Travertine is one of the most frequently used stones in
modern architecture
Modern architecture
Modern architecture is generally characterized by simplification of form and creation of ornament from the structure and theme of the building. It is a term applied to an overarching movement, with its exact definition and scope varying widely...
. It is a commonly use for façades, wall
cladding
Cladding (construction)
Cladding is the application of one material over another to provide a skin or layer intended to control the infiltration of weather elements, or for aesthetic purposes....
, and flooring. The lobby walls of the modernist Willis Tower (1970) (formerly Sears Tower) in
Chicago
Chicago
Chicago is the largest city in the US state of Illinois. With nearly 2.7 million residents, it is the most populous city in the Midwestern United States and the third most populous in the US, after New York City and Los Angeles...
are made of travertine. Architect
Welton Becket
Welton Becket
Welton Becket was an architect who designed many buildings in Los Angeles, California.Becket was born in Seattle, Washington and graduated from the University of Washington program in Architecture in 1927 with a Bachelor of Architecture degree .He settled in Los Angeles in 1933 and formed a...
frequently incorporated travertine into many of his projects. The first floor of the Becket-designed UCLA Medical Center has thick travertine walls. Architect
Ludwig Mies van der Rohe
Ludwig Mies van der Rohe
Ludwig Mies van der Rohe was a German architect. He is commonly referred to and addressed as Mies, his surname....
used travertine in several of his major works, including the
Toronto-Dominion Centre
Toronto-Dominion Centre
The Toronto-Dominion Centre, or Centre, is a cluster of buildings in downtown Toronto, Ontario, Canada, consisting of six towers and a pavilion covered in bronze-tinted glass and black painted steel. It serves as the global headquarters of the Toronto-Dominion Bank, as well as providing office and...
,
S.R. Crown Hall
S.R. Crown Hall
S. R. Crown Hall, designed by the German-born Modernist architect Ludwig Mies van der Rohe, is the home of the College of Architecture at the Illinois Institute of Technology in Chicago, Illinois.-History:...
and the Farnsworth House.
The relative softness of the stone, combined with its holes and troughs, make travertine flooring difficult to finish and maintain. Aggressive grinding — sometimes called honing — can reveal previously hidden air pockets that significantly change the look of the floor.
Two or three small travertine producers operate in the western United States. U.S. demand for travertine is about 0.85 million tons, almost all of it imported. Most of the imports come from Italy, Iran, Mexico, Turkey, and Peru. A decade ago, Italy had a near-monopoly on the world travertine market.
External links