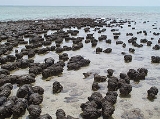 Stromatolite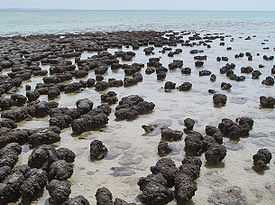 Stromatolites
or
stromatoliths
(strɵˈmætoʊlaɪts; from Greek στρώμα,
strōma
, mattress, bed, stratum, and λιθος,
lithos
, rock) are layered
accretion
Accretion (geology)
Accretion is a process by which material is added to a tectonic plate or a landmass. This material may be sediment, volcanic arcs, seamounts or other igneous features.-Description:...
ary
structure
Structure
Structure is a fundamental, tangible or intangible notion referring to the recognition, observation, nature, and permanence of patterns and relationships of entities. This notion may itself be an object, such as a built structure, or an attribute, such as the structure of society...
s formed in shallow water by the trapping, binding and cementation of sedimentary grains by
biofilm
Biofilm
A biofilm is an aggregate of microorganisms in which cells adhere to each other on a surface. These adherent cells are frequently embedded within a self-produced matrix of extracellular polymeric substance...
s of
microorganism
Microorganism
A microorganism or microbe is a microscopic organism that comprises either a single cell , cell clusters, or no cell at all...
s, especially
cyanobacteria
(commonly known as blue-green
algae
Algae
Algae are a large and diverse group of simple, typically autotrophic organisms, ranging from unicellular to multicellular forms, such as the giant kelps that grow to 65 meters in length. They are photosynthetic like plants, and "simple" because their tissues are not organized into the many...
).
Stromatolites provide some of the most ancient records of life on Earth.
Morphology
A variety of stromatolite morphologies exist including conical, stratiform, branching, domal, and columnar types. Stromatolites occur widely in the fossil record of the
Precambrian
Precambrian
The Precambrian is the name which describes the large span of time in Earth's history before the current Phanerozoic Eon, and is a Supereon divided into several eons of the geologic time scale...
, but are rare today. Very few ancient stromatolites contain
fossil
Fossil
Fossils are the preserved remains or traces of animals , plants, and other organisms from the remote past...
ized microbes. While features of some stromatolites are suggestive of
biological activity
Biota (ecology)
Biota are the total collection of organisms of a geographic region or a time period, from local geographic scales and instantaneous temporal scales all the way up to whole-planet and whole-timescale spatiotemporal scales. The biota of the Earth lives in the biosphere.-See...
, others possess features that are more consistent with abiotic (non-organic) precipitation. Finding reliable ways to distinguish between biologically-formed and abiotic (non-biological) stromatolites is an active area of research in
geology
Geology
Geology is the science comprising the study of solid Earth, the rocks of which it is composed, and the processes by which it evolves. Geology gives insight into the history of the Earth, as it provides the primary evidence for plate tectonics, the evolutionary history of life, and past climates...
.
Fossil record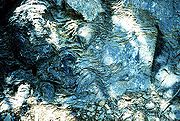 Stromatolites were much more abundant on the planet in Precambrian times. While older,
Archean
Archean
The Archean , also spelled Archeozoic or Archæozoic) is a geologic eon before the Paleoproterozoic Era of the Proterozoic Eon, before 2.5 Ga ago. Instead of being based on stratigraphy, this date is defined chronometrically...
fossil
Fossil
Fossils are the preserved remains or traces of animals , plants, and other organisms from the remote past...
remains are presumed to be
colonies
Colony (biology)
In biology, a colony reference to several individual organisms of the same species living closely together, usually for mutual benefit, such as stronger defense or the ability to attack bigger prey. Some insects live only in colonies...
of single-celled
blue-green bacteria
, younger (that is,
Proterozoic
Proterozoic
The Proterozoic is a geological eon representing a period before the first abundant complex life on Earth. The name Proterozoic comes from the Greek "earlier life"...
) fossils may be primordial forms of the eukaryote
chlorophytes
Chlorophyta
Chlorophyta is a division of green algae, informally called chlorophytes. The name is used in two very different senses so that care is needed to determine the use by a particular author...
(that is,
green algae
Green algae
The green algae are the large group of algae from which the embryophytes emerged. As such, they form a paraphyletic group, although the group including both green algae and embryophytes is monophyletic...
). One
genus
Genus
In biology, a genus is a low-level taxonomic rank used in the biological classification of living and fossil organisms, which is an example of definition by genus and differentia...
of stromatolite very common in the
geologic record
Geologic time scale
The geologic time scale provides a system of chronologic measurement relating stratigraphy to time that is used by geologists, paleontologists and other earth scientists to describe the timing and relationships between events that have occurred during the history of the Earth...
is
Collenia
Collenia
Collenia is genus of fossil cyanobacteria that form a particular type of stromatolites....
. The earliest stromatolite of confirmed microbial origin dates to 2.724 billion years ago.
A recent discovery provides strong evidence of microbial stromatolites extending as far back as 3.450 billion years ago.
Stromatolites are a major constituent of the fossil record for about the first 3.5 billion years of life on earth, with their abundance peaking about 1.25 billion years ago. They subsequently declined in abundance and diversity, which by the start of the Cambrian had fallen to 20% of their peak. The most widely-supported explanation is that stromatolite builders fell victims to grazing creatures (the
Cambrian substrate revolution
Cambrian substrate revolution
The "Cambrian substrate revolution" or "Agronomic revolution", evidenced in trace fossils, is the diversification of animal burrowing during the early Cambrian period....
), implying that sufficiently complex organisms were common over 1 billion years ago.
The connection between grazer and stromatolite abundance is well documented in the younger
Ordovician
Ordovician
The Ordovician is a geologic period and system, the second of six of the Paleozoic Era, and covers the time between 488.3±1.7 to 443.7±1.5 million years ago . It follows the Cambrian Period and is followed by the Silurian Period...
evolutionary radiation
Evolutionary radiation
An evolutionary radiation is an increase in taxonomic diversity or morphological disparity, due to adaptive change or the opening of ecospace. Radiations may affect one clade or many, and be rapid or gradual; where they are rapid, and driven by a single lineage's adaptation to their environment,...
; stromatolite abundance also increased after the
end-Ordovician
Ordovician-Silurian extinction events
The Ordovician–Silurian extinction event, or quite commonly the Ordovician extinction, was the third-largest of the five major extinction events in Earth's history in terms of percentage of genera that went extinct and second largest overall in the overall loss of life. Between about 450 Ma to 440...
and end-Permian extinctions decimated marine animals, falling back to earlier levels as marine animals recovered.
While
prokaryotic
Prokaryote
The prokaryotes are a group of organisms that lack a cell nucleus , or any other membrane-bound organelles. The organisms that have a cell nucleus are called eukaryotes. Most prokaryotes are unicellular, but a few such as myxobacteria have multicellular stages in their life cycles...
cyanobacteria themselves reproduce asexually through cell division, they were instrumental in priming the environment for the
evolutionary development
Timeline of evolution
This timeline of evolution of life outlines the major events in the development of life on planet Earth since it first originated until the present day. In biology, evolution is any change across successive generations in the heritable characteristics of biological populations...
of more complex
eukaryotic
Eukaryote
A eukaryote is an organism whose cells contain complex structures enclosed within membranes. Eukaryotes may more formally be referred to as the taxon Eukarya or Eukaryota. The defining membrane-bound structure that sets eukaryotic cells apart from prokaryotic cells is the nucleus, or nuclear...
organisms. Cyanobacteria are thought to be largely responsible for increasing the amount of
oxygen
Oxygen
Oxygen is the element with atomic number 8 and represented by the symbol O. Its name derives from the Greek roots ὀξύς and -γενής , because at the time of naming, it was mistakenly thought that all acids required oxygen in their composition...
in the primeval earth's
atmosphere
Atmosphere
An atmosphere is a layer of gases that may surround a material body of sufficient mass, and that is held in place by the gravity of the body. An atmosphere may be retained for a longer duration, if the gravity is high and the atmosphere's temperature is low...
through their continuing
photosynthesis
Photosynthesis
Photosynthesis is a chemical process that converts carbon dioxide into organic compounds, especially sugars, using the energy from sunlight. Photosynthesis occurs in plants, algae, and many species of bacteria, but not in archaea. Photosynthetic organisms are called photoautotrophs, since they can...
.
Cyanobacteria use
water
Water
Water is a chemical substance with the chemical formula H2O. A water molecule contains one oxygen and two hydrogen atoms connected by covalent bonds. Water is a liquid at ambient conditions, but it often co-exists on Earth with its solid state, ice, and gaseous state . Water also exists in a...
,
carbon dioxide
Carbon dioxide
Carbon dioxide is a naturally occurring chemical compound composed of two oxygen atoms covalently bonded to a single carbon atom...
, and
sunlight
Sunlight
Sunlight, in the broad sense, is the total frequency spectrum of electromagnetic radiation given off by the Sun. On Earth, sunlight is filtered through the Earth's atmosphere, and solar radiation is obvious as daylight when the Sun is above the horizon.When the direct solar radiation is not blocked...
to create their food. A layer of
mucus
Mucus
In vertebrates, mucus is a slippery secretion produced by, and covering, mucous membranes. Mucous fluid is typically produced from mucous cells found in mucous glands. Mucous cells secrete products that are rich in glycoproteins and water. Mucous fluid may also originate from mixed glands, which...
often forms over mats of cyanobacterial cells. In modern microbial mats, debris from the surrounding habitat can become trapped within the mucus, which can be cemented together by the calcium carbonate to grow thin laminations of
limestone
Limestone
Limestone is a sedimentary rock composed largely of the minerals calcite and aragonite, which are different crystal forms of calcium carbonate . Many limestones are composed from skeletal fragments of marine organisms such as coral or foraminifera....
. These laminations can accrete over time, resulting in the banded pattern common to stromatolites. The domal morphology of biological stromatolites is the result of the vertical growth necessary for the continued infiltration of sunlight to the organisms for photosynthesis.
Layered spherical growth structures termed
oncolite
Oncolite
Oncolites are sedimentary structures formed out of oncoids, which are layered spherical growth structures formed by cyanobacterial growth. Oncolites are very similar to stromatolites, but instead of forming columns they form approximately spherical structures...
s are similar to stromatolites and are also known from the fossil record.
Thrombolite
Thrombolite
Thrombolites are clotted accretionary structures formed in shallow water by the trapping, binding, and cementation of sedimentary grains by biofilms of microorganisms, especially cyanobacteria . Stromatolites are similar but consist of layered accretions.-External links:*...
s are poorly-laminated or non-laminated clotted structures formed by cyanobacteria common in the fossil record and in modern sediments.
The Zebra River Canyon area of the Kubis platform in the deeply dissected Zaris Mountains of south western
Namibia
Namibia
Namibia, officially the Republic of Namibia , is a country in southern Africa whose western border is the Atlantic Ocean. It shares land borders with Angola and Zambia to the north, Botswana to the east and South Africa to the south and east. It gained independence from South Africa on 21 March...
provides an extremely well exposed example of the thrombolite-stromatolite-metazoan reefs that developed during the
Proterozoic
Proterozoic
The Proterozoic is a geological eon representing a period before the first abundant complex life on Earth. The name Proterozoic comes from the Greek "earlier life"...
period, the stromatolites here being better developed in updip locations under conditions of higher current velocities and greater sediment influx.
Modern occurrence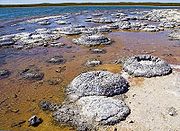 Modern stromatolites are mostly found in
hypersaline lake
Hypersaline lake
A hypersaline lake is a landlocked body of water that contains significant concentrations of sodium chloride or other mineral salts, with saline levels surpassing that of ocean water . Specific microbial and crustacean species thrive in these high salinity environments that are otherwise...
s and marine
lagoon
Lagoon
A lagoon is a body of shallow sea water or brackish water separated from the sea by some form of barrier. The EU's habitat directive defines lagoons as "expanses of shallow coastal salt water, of varying salinity or water volume, wholly or partially separated from the sea by sand banks or shingle,...
s where extreme conditions due to high saline levels exclude animal grazing. One such location is
Hamelin Pool Marine Nature Reserve
Hamelin Pool Marine Nature Reserve
Hamelin Pool Marine Nature Reserve is located in the Shark Bay World Heritage Site of Western Australia adjacent to the historic Hamelin Pool Telegraph Station about west of the Overlander Roadhouse on the North West Coastal Highway. Access is via Hamelin Pool Rd and then through the Hamelin Pool...
,
Shark Bay
Shark Bay
Shark Bay is a World Heritage listed bay in Western Australia. The term may also refer to:* the locality of Shark Bay, now known as Denham* Shark Bay Marine Park* Shark Bay , a shark exhibit at Sea World, Gold Coast, Australia* Shire of Shark Bay...
in
Western Australia
Western Australia
Western Australia is a state of Australia, occupying the entire western third of the Australian continent. It is bounded by the Indian Ocean to the north and west, the Great Australian Bight and Indian Ocean to the south, the Northern Territory to the north-east and South Australia to the south-east...
where excellent specimens are observed today, and another is
Lagoa Salgada
Lagoa Salgada
Lagoa Salgada is a town and municipality in the state of Rio Grande do Norte in the Northeast region of Brazil.-References:...
, state of
Rio Grande do Norte
Rio Grande do Norte
Rio Grande do Norte is one of the states of Brazil, located in the northeastern region of the country, occupying the northeasternmost tip of the South American continent. Because of its geographic position, Rio Grande do Norte has a strategic importance. The capital and largest city is Natal...
,
Brazil
Brazil
Brazil , officially the Federative Republic of Brazil , is the largest country in South America. It is the world's fifth largest country, both by geographical area and by population with over 192 million people...
, where modern stromatolites can be observed as bioherm (domal type) and beds. Inland stromatolites can also be found in saline waters in
Cuatro Ciénegas
Cuatro Ciénegas
Cuatro Ciénegas is a city in the northern Mexican state of Coahuila. It stands at , at an average elevation of 740 metres above sea level. The city serves as the municipal seat for the surrounding municipality of the same name....
, a unique
ecosystem
Ecosystem
An ecosystem is a biological environment consisting of all the organisms living in a particular area, as well as all the nonliving , physical components of the environment with which the organisms interact, such as air, soil, water and sunlight....
in the Mexican desert, and in Lake Alchichica, a
maar
Maar
A maar is a broad, low-relief volcanic crater that is caused by a phreatomagmatic eruption, an explosion caused by groundwater coming into contact with hot lava or magma. A maar characteristically fills with water to form a relatively shallow crater lake. The name comes from the local Moselle...
lake in Mexico's
Oriental Basin
Oriental Basin
The Oriental Basin is an endorheic basin in east-central Mexico. It covers an area of 4,958.60 square kilometers, lying in the states of Puebla, Tlaxcala, and Veracruz....
. Modern stromatolites are only known to prosper in an open marine environment in the
Exuma
Exuma
Exuma is a district of the Bahamas, consisting of over 360 islands . The largest of the cays is Great Exuma, which is 37 mi in length and joined to another island, Little Exuma by a small bridge. The capital and largest city in the district is George Town , founded 1793 and located on Great...
Cays in the Bahamas. Stromatolites can also be found in the hyper-saline inland lakes on
San Salvador Island
San Salvador Island
San Salvador Island, also known as Watlings Island, is an island and district of the Bahamas. Until 1986, when the National Geographic Society suggested Samana Cay, it was widely believed that during his first expedition to the New World, San Salvador Island was the first land sighted and visited...
, Bahamas.
Laguna Bacalar in Mexico's southern Yucatán Peninsula, has an extensive formation of living giant microbialites (stromatolites/thrombolites). The microbialite bed is over 10 km long with a vertical rise of several meters in some areas. These may be the largest sized living freshwater microbialites on Earth. Moreover, these microbialites may be the largest known organismal colony, or possibly the largest known organism on Earth.
Freshwater stromatolites are found in
Lake Salda
Lake Salda
Lake Salda is a mid-size crater lake in southwestern Turkey, within the boundaries of Yeşilova district depending Burdur Province, and it lies at a distance of about fifty kilometers to the west from the province seat of Burdur....
in southern
Turkey
Turkey
Turkey , known officially as the Republic of Turkey , is a Eurasian country located in Western Asia and in East Thrace in Southeastern Europe...
. The waters are rich in
magnesium
Magnesium
Magnesium is a chemical element with the symbol Mg, atomic number 12, and common oxidation number +2. It is an alkaline earth metal and the eighth most abundant element in the Earth's crust and ninth in the known universe as a whole...
and the stromatolite structures are made of
hydromagnesite
Hydromagnesite
Hydromagnesite is a hydrated magnesium carbonate mineral with the formula: Mg542.4H2O.It generally occurs associated with the weathering products of magnesium containing minerals such as serpentine or brucite. It occurs as incrustations and vein or fracture fillings in ultramafic rocks and...
.
Another pair of instances of freshwater stromatolites are at
Pavilion
Pavilion Lake
Pavilion Lake is a lake in Marble Canyon, British Columbia, Canada. It is located between the towns of Lillooet and Cache Creek and lies along BC Highway 99, five and a half highway miles from Pavilion, British Columbia...
and
Kelly Lake
Kelly Lake
Kelly Lake may refer to:*Kelly Lake, a lake in Carver County, Minnesota*Kelly Lake, a lake in Rice County, Minnesota*Kelly Lake, a lake in Wellington, Nova Scotia*Kelly Lake, a lake in Oconto County, Wisconsin...
s in
British Columbia
British Columbia
British Columbia is the westernmost of Canada's provinces and is known for its natural beauty, as reflected in its Latin motto, Splendor sine occasu . Its name was chosen by Queen Victoria in 1858...
,
Canada
Canada
Canada is a North American country consisting of ten provinces and three territories. Located in the northern part of the continent, it extends from the Atlantic Ocean in the east to the Pacific Ocean in the west, and northward into the Arctic Ocean...
. Pavilion Lake has the largest known freshwater stromatolites and has been researched by NASA as part of xenobiology research.
Nasa
NASA
The National Aeronautics and Space Administration is the agency of the United States government that is responsible for the nation's civilian space program and for aeronautics and aerospace research...
, the
Canadian Space Agency
and numerous universities from around the world are collaborating on a project centered around studying microbialite life in the lakes. Called the "
Pavilion Lake Research Project
Pavilion Lake Research Project
The Pavilion Lake Research Project is an international, multi-disciplinary, science and exploration effort to explain the origin of freshwater microbialites in Pavilion Lake, British Columbia, Canada.-History:...
" (PLRP) its aim is to study what conditions on the lakes' bottoms are most likely to harbor life and develop a better hypothesis on how environmental factors effect microbiolite life. The end goal of the project is to better understand what condition would be more likely to harbor life on other planets. There is a citizen science project online called "MAPPER" where anyone can help sort through thousands of photos of the lake bottoms and tag microbiolites, algae and other lake bed features.
There is a recently discovered large colony of stromatolites in the fresh water lake called Laguna Bacalar, in southern
Quintana Roo
Quintana Roo
Quintana Roo officially Estado Libre y Soberano de Quintana Roo is one of the 31 states which, with the Federal District, comprise the 32 Federal Entities of Mexico. It is divided in 10 municipalities and its capital city is Chetumal....
,
Mexico
Mexico
The United Mexican States , commonly known as Mexico , is a federal constitutional republic in North America. It is bordered on the north by the United States; on the south and west by the Pacific Ocean; on the southeast by Guatemala, Belize, and the Caribbean Sea; and on the east by the Gulf of...
. In this clear body of water the stromatolites line the southern shores for a length of over 10 miles.
A very rare type of non-lake dwelling stromatolite lives in the Nettle Cave at
Jenolan Caves
Jenolan Caves
The Jenolan Caves are caves in the Blue Mountains, New South Wales, Australia; 175 kilometres west of Sydney. They are the most celebrated of several similar groups in the limestone of the country being the oldest discovered open caves in the world...
, NSW, Australia. The cyanobacteria live on the surface of the limestone, and are sustained by the calcium rich dripping water, which allows them to grow toward the two open ends of the cave which provide light.
In 2011, a colony of presumed stromatolites was found on the
Giant's Causeway
Giant's Causeway
The Giant's Causeway is an area of about 40,000 interlocking basalt columns, the result of an ancient volcanic eruption. It is located in County Antrim on the northeast coast of Northern Ireland, about three miles northeast of the town of Bushmills...
in Northern Ireland.. Based on published pictures of the supposed stromatolites, they appear to be very similar to a modern day alga known as
Nostoc commune
. Further investigation by trained phycologists will be required to confirm the identification of the organism.
See also
External links