 Panicle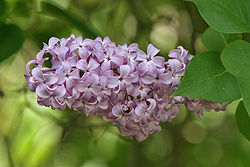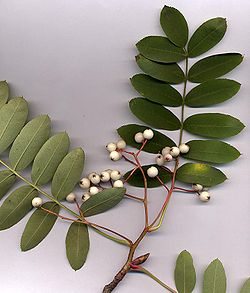 A
panicle
is a compound
raceme
Raceme
A raceme is a type of inflorescence that is unbranched and indeterminate and bears pedicellate flowers — flowers having short floral stalks called pedicels — along the axis. In botany, axis means a shoot, in this case one bearing the flowers. In a raceme, the oldest flowers are borne...
, a loose, much-branched
indeterminate
Indeterminate growth
In biology and especially botany, indeterminate growth refers to growth that is not terminated in contrast to determinate growth that stops once a genetically pre-determined structure has completely formed. Thus, a plant that grows and produces flowers and fruit until killed by frost or some other...
inflorescence
Inflorescence
An inflorescence is a group or cluster of flowers arranged on a stem that is composed of a main branch or a complicated arrangement of branches. Strictly, it is the part of the shoot of seed plants where flowers are formed and which is accordingly modified...
with
pedicellate
Pedicel (botany)
A pedicel is a stem that attaches single flowers to the main stem of the inflorescence. It is the branches or stalks that hold each flower in an inflorescence that contains more than one flower....
flower
Flower
A flower, sometimes known as a bloom or blossom, is the reproductive structure found in flowering plants . The biological function of a flower is to effect reproduction, usually by providing a mechanism for the union of sperm with eggs...
s (and
fruit
Fruit
In broad terms, a fruit is a structure of a plant that contains its seeds.The term has different meanings dependent on context. In non-technical usage, such as food preparation, fruit normally means the fleshy seed-associated structures of certain plants that are sweet and edible in the raw state,...
) attached along the secondary branches; in other words, a branched cluster of flowers in which the branches are
racemes
.
This type of inflorescence is largely characteristic of grasses like
oat
Oat
The common oat is a species of cereal grain grown for its seed, which is known by the same name . While oats are suitable for human consumption as oatmeal and rolled oats, one of the most common uses is as livestock feed...
and crabgrass, as well as other plants such as
pistachio
Pistachio
The pistachio, Pistacia vera in the Anacardiaceae family, is a small tree originally from Persia , which now can also be found in regions of Syria, Lebanon, Turkey, Greece, Kyrgyzstan, Turkmenistan, India, Pakistan, Egypt, Sicily and possibly Afghanistan , as well as in the United States,...
and
mamoncillo
Mamoncillo
Melicoccus bijugatus, commonly called Spanish lime, genip, guinep, genipe, quenepa, mamoncillo, or honeyberry, is a fruit-bearing tree in the soapberry family Sapindaceae, native or naturalised over a wide area of the tropics, including South and Central America, Mexico, the Caribbean, and parts...
. Botanists use the term
paniculate
in two ways: "having a true panicle inflorescence" as well as "having an inflorescence with the form but not necessarily the structure of a panicle".
A
corymb
is similar to a panicle with the same branching structure, but with the lower flowers having longer stems, thus giving a flattish top superficially resembling an
umbel
Umbel
An umbel is an inflorescence which consists of a number of short flower stalks which are equal in length and spread from a common point, somewhat like umbrella ribs....
. Many species in the
Maloideae
Maloideae
The Maloideae C.Weber are the apple subfamily, a grouping used by some taxonomists within the rose family, Rosaceae. Recent molecular phylogenetic evidence has shown that the traditional Spiraeoideae and Amygdaloideae form part of the same clade as the traditional Maloideae, and the correct name...
, such as
hawthorn
Crataegus
Crataegus , commonly called hawthorn or thornapple, is a large genus of shrubs and trees in the rose family, Rosaceae, native to temperate regions of the Northern Hemisphere in Europe, Asia and North America. The name hawthorn was originally applied to the species native to northern Europe,...
s and
rowan
Rowan
The rowans or mountain-ashes are shrubs or small trees in genus Sorbus of family Rosaceae. They are native throughout the cool temperate regions of the Northern Hemisphere, with the highest species diversity in the mountains of western China and the Himalaya, where numerous apomictic microspecies...
s, produce their flowers in corymbs.
A
thyrse
is a compact panicle having an obscured main axis and cymose subaxes, making its paniculate nature hard to discern. Many
Ceanothus
Ceanothus
Ceanothus L. is a genus of about 50–60 species of shrubs or small trees in the buckthorn family Rhamnaceae. The genus is confined to North America, the center of its distribution in California, with some species in the eastern United States and southeast Canada, and others extending as far south...
species have thyrsiform inflorescences, notably
Ceanothus thyrsiflorus.