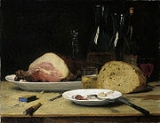 Meal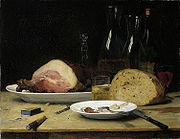 A
meal
is an instance of
eating
Eating
Eating is the ingestion of food to provide for all organisms their nutritional needs, particularly for energy and growth. Animals and other heterotrophs must eat in order to survive: carnivores eat other animals, herbivores eat plants, omnivores consume a mixture of both plant and animal matter,...
, specifically one that takes place at a specific time and includes specific, prepared
food
Food
Food is any substance consumed to provide nutritional support for the body. It is usually of plant or animal origin, and contains essential nutrients, such as carbohydrates, fats, proteins, vitamins, or minerals...
.
Meals occur primarily at
home
Home
A home is a place of residence or refuge. When it refers to a building, it is usually a place in which an individual or a family can rest and store personal property. Most modern-day households contain sanitary facilities and a means of preparing food. Animals have their own homes as well, either...
s,
restaurant
Restaurant
A restaurant is an establishment which prepares and serves food and drink to customers in return for money. Meals are generally served and eaten on premises, but many restaurants also offer take-out and food delivery services...
s, and
cafeteria
Cafeteria
A cafeteria is a type of food service location in which there is little or no waiting staff table service, whether a restaurant or within an institution such as a large office building or school; a school dining location is also referred to as a dining hall or canteen...
s, but may occur anywhere. Regular meals occur on a daily basis, typically several times a day. Special meals are usually held in conjunction with such occasions as
birthday
Birthday
A birthday is a day or anniversary where a person celebrates his or her date of birth. Birthdays are celebrated in numerous cultures, often with a gift, party or rite of passage. Although the major religions celebrate the birth of their founders , Christmas – which is celebrated widely by...
s,
wedding
Wedding
A wedding is the ceremony in which two people are united in marriage or a similar institution. Wedding traditions and customs vary greatly between cultures, ethnic groups, religions, countries, and social classes...
s,
anniversaries
Wedding anniversary
-Official recognition:In the Commonwealth realms, one can receive a message from the monarch for 60th, 65th, and 70th wedding anniversaries, and any wedding anniversary after that...
, and holidays.
A meal is different from a snack in that meals are larger, more varied, and more filling, while snacks are more likely to be small, high-calorie affairs; however, any food eaten in small amounts at an unscheduled time can be classified as a snack.
A
picnic
Picnic
In contemporary usage, a picnic can be defined simply as a pleasure excursion at which a meal is eaten outdoors , ideally taking place in a beautiful landscape such as a park, beside a lake or with an interesting view and possibly at a public event such as before an open air theatre performance,...
is an outdoor meal where one brings one's food, such as a
sandwich
Sandwich
A sandwich is a food item, typically consisting of two or more slices of :bread with one or more fillings between them, or one slice of bread with a topping or toppings, commonly called an open sandwich. Sandwiches are a widely popular type of lunch food, typically taken to work or school, or...
or a prepared meal (sometimes in a
picnic basket
Picnic basket
A picnic basket or food hamper is a basket intended to hold food and tableware for a picnic meal. Picnic baskets are standard equipment at many picnics....
). It often takes place in a natural or recreative area, such as a
park
Park
A park is a protected area, in its natural or semi-natural state, or planted, and set aside for human recreation and enjoyment, or for the protection of wildlife or natural habitats. It may consist of rocks, soil, water, flora and fauna and grass areas. Many parks are legally protected by...
,
forest
Forest
A forest, also referred to as a wood or the woods, is an area with a high density of trees. As with cities, depending where you are in the world, what is considered a forest may vary significantly in size and have various classification according to how and what of the forest is composed...
,
beach
Beach
A beach is a geological landform along the shoreline of an ocean, sea, lake or river. It usually consists of loose particles which are often composed of rock, such as sand, gravel, shingle, pebbles or cobblestones...
, or grassy
lawn
Lawn
A lawn is an area of aesthetic and recreational land planted with grasses or other durable plants, which usually are maintained at a low and consistent height. Low ornamental meadows in natural landscaping styles are a contemporary option of a lawn...
. On long drives a picnic may take place at a road-side stop such as a
rest area
Rest area
A rest area, travel plaza, rest stop, or service area is a public facility, located next to a large thoroughfare such as a highway, expressway, or freeway at which drivers and passengers can rest, eat, or refuel without exiting on to secondary roads...
.
A
banquet
Banquet
A banquet is a large meal or feast, complete with main courses and desserts. It usually serves a purpose such as a charitable gathering, a ceremony, or a celebration, and is often preceded or followed by speeches in honour of someone....
is a large, often formal, and elaborate meal with many guests and dishes.
A multi-course meal
Most
Western-world
Western culture
Western culture, sometimes equated with Western civilization or European civilization, refers to cultures of European origin and is used very broadly to refer to a heritage of social norms, ethical values, traditional customs, religious beliefs, political systems, and specific artifacts and...
multicourse meals follow a standard sequence, influenced by traditional French
haute cuisine
Haute cuisine
Haute cuisine or grande cuisine was characterised by French cuisine in elaborate preparations and presentations served in small and numerous courses that were produced by large and hierarchical staffs at the grand restaurants and hotels of Europe.The 17th century chef and writer La Varenne...
. Each course is supposed to be designed with a particular size and genre that befits its place in the sequence. There are variations depending on location and custom. The following is a common sequence for multi-course meals:
The meal begins with an entrée

Entrée

An entrée is a dish served before the main course, or between two principal courses of a meal.The disappearance in the early 20th century of a large communal main course such as a roast as a standard part of the meal in the English-speaking world has led to the term being used to describe the main...


, a small serving that usually does include red meat.l. It is sometimes referred to as a soup

Soup

Soup is a generally warm food that is made by combining ingredients such as meat and vegetables with stock, juice, water, or another liquid. Hot soups are additionally characterized by boiling solid ingredients in liquids in a pot until the flavors are extracted, forming a broth.Traditionally,...


course as soups, bisque

Bisque (food)

Bisque is a smooth, creamy, highly-seasoned soup of French origin, classically based on a strained broth of crustaceans. It can be made from lobster, crab, shrimp or crayfish...


s and consommé

Consommé

In cooking, a consommé is a type of clear soup made from richly flavored stock or bouillon that has been clarified usually through a fining process involving egg protein. It usually requires an advanced knowledge of cooking and past experience to create a high quality consommé...


s are popular entreés. In Italian custom, antipasto

Antipasto

Antipasto , means "before the meal" and is the traditional first course of a formal Italian meal. Traditional antipasto includes cured meats, olives, roasted garlic, peperoncini, mushrooms, anchovies, artichoke hearts, various cheeses...


is served, usually finger food

Finger food

Finger food is food meant to be eaten directly using the hands, in contrast to food eaten with a knife and fork, chopsticks, or other utensils. In some cultures, food is almost always eaten with the hands; for example, Ethiopian cuisine is eaten by rolling various dishes up in injera bread. In the...


which does not contain pasta or any starch

Starch

Starch or amylum is a carbohydrate consisting of a large number of glucose units joined together by glycosidic bonds. This polysaccharide is produced by all green plants as an energy store...


. In the United States the term appetizer is usually used in place of entrée as entrée is used to refer to the main course.
This may be followed by a variety of dishes, including a possible fish

Fish

Fish are a paraphyletic group of organisms that consist of all gill-bearing aquatic vertebrate animals that lack limbs with digits. Included in this definition are the living hagfish, lampreys, and cartilaginous and bony fish, as well as various extinct related groups...


course or other relevés (lighter courses), each with some kind of vegetable. The number and size of these intermittent courses is entirely dependent on local custom.
Following these is the main course

Main course

A main dish is the featured or primary dish in a meal consisting of several courses. It usually follows the entrée course, and the salad course. In North American usage it may in fact be called the "entree"....


or central part of the meal. This is the most important course and is usually a larger portion than all others. The main course is called an entrée in the United States.
Next comes the salad

Salad

Salad is any of a wide variety of dishes, including vegetable salads; salads of pasta, legumes, eggs, or grains; mixed salads incorporating meat, poultry, or seafood; and fruit salads. They may include a mixture of cold and hot, often including raw vegetables or fruits.Green salads include leaf...


course, although "salad" may often refer to a cooked vegetable, rather than the greens most people associate with the word. According to The Joy of Cooking

The Joy of Cooking

Joy of Cooking, often known as "The Joy of Cooking" is one of the United States' most-published cookbooks, and has been in print continuously since 1936 and with more than 18 million copies sold. It was privately published in 1931 by Irma S. Rombauer, a homemaker in St. Louis, Missouri, who was...


, greens serve "garnish duty only" in a salad course. Note that in the United States, Canada, Great Britain and parts of Europe, the salad course (usually a green salad) is served at some point before the main course. Sometimes, the salad also accompanies the cheese course.
The meal will often culminate with a dessert

Dessert

In cultures around the world, dessert is a course that typically comes at the end of a meal, usually consisting of sweet food. The word comes from the French language as dessert and this from Old French desservir, "to clear the table" and "to serve." Common Western desserts include cakes, biscuits,...


, either hot or cold, sometimes followed with a final serving of hot or cold fruit

Fruit

In broad terms, a fruit is a structure of a plant that contains its seeds.The term has different meanings dependent on context. In non-technical usage, such as food preparation, fruit normally means the fleshy seed-associated structures of certain plants that are sweet and edible in the raw state,...


and accompanied by a suitable dessert wine

Dessert wine

Dessert wines are sweet wines typically served with dessert.There is no simple definition of a dessert wine. In the UK, a dessert wine is considered to be any sweet wine drunk with a meal, as opposed to the white fortified wines drunk before the meal, and the red fortified wines drunk after it...


.
The meal may carry on with a cheese

Cheese

Cheese is a generic term for a diverse group of milk-based food products. Cheese is produced throughout the world in wide-ranging flavors, textures, and forms....


selection, accompanied by an appropriate selection of wine. In many countries cheeses will be served before the meal as an appetizer, and in the United States often between the main course and dessert, just like in Western European countries. Nuts

Nut (fruit)

A nut is a hard-shelled fruit of some plants having an indehiscent seed. While a wide variety of dried seeds and fruits are called nuts in English, only a certain number of them are considered by biologists to be true nuts...


are also a popular after-meal selection (thus the common saying "from soup to nuts," meaning from beginning to end).
Sorbet or other
palate
Palate
The palate is the roof of the mouth in humans and other mammals. It separates the oral cavity from the nasal cavity. A similar structure is found in crocodilians, but, in most other tetrapods, the oral and nasal cavities are not truly separate. The palate is divided into two parts, the anterior...
cleansers might be served between courses.
Before the meal, a host might serve a selection of appetizers or
hors d'œuvre
with appropriate
wine
Wine
Wine is an alcoholic beverage, made of fermented fruit juice, usually from grapes. The natural chemical balance of grapes lets them ferment without the addition of sugars, acids, enzymes, or other nutrients. Grape wine is produced by fermenting crushed grapes using various types of yeast. Yeast...
or
cocktail
Cocktail
A cocktail is an alcoholic mixed drink that contains two or more ingredients—at least one of the ingredients must be a spirit.Cocktails were originally a mixture of spirits, sugar, water, and bitters. The word has come to mean almost any mixed drink that contains alcohol...
s, and after the meal, a host might serve
snacks
Snack food
A snack is a portion of food oftentimes smaller than that of a regular meal, that is generally eaten between meals. Snacks come in a variety of forms including packaged and processed foods and items made from fresh ingredients at home....
, sweets such as
chocolate
Chocolate
Chocolate is a raw or processed food produced from the seed of the tropical Theobroma cacao tree. Cacao has been cultivated for at least three millennia in Mexico, Central and South America. Its earliest documented use is around 1100 BC...
,
coffee
Coffee
Coffee is a brewed beverage with a dark,init brooo acidic flavor prepared from the roasted seeds of the coffee plant, colloquially called coffee beans. The beans are found in coffee cherries, which grow on trees cultivated in over 70 countries, primarily in equatorial Latin America, Southeast Asia,...
, and after-dinner drinks (
cognac
Cognac (drink)
Cognac , named after the town of Cognac in France, is a variety of brandy. It is produced in the wine-growing region surrounding the town from which it takes its name, in the French Departements of Charente and Charente-Maritime....
,
brandy
Brandy
Brandy is a spirit produced by distilling wine. Brandy generally contains 35%–60% alcohol by volume and is typically taken as an after-dinner drink...
,
liqueur
Liqueur
A liqueur is an alcoholic beverage that has been flavored with fruit, herbs, nuts, spices, flowers, or cream and bottled with added sugar. Liqueurs are typically quite sweet; they are usually not aged for long but may have resting periods during their production to allow flavors to marry.The...
, or similar). These are not considered courses in and of themselves.
A meal may also begin with an amuse-bouche. An amuse-bouche, also called an amuse-gueule, is a tiny bite-sized morsel served before the hors d'œuvre or first course of a meal. These, often accompanied by a proper complementing wine, are served as an excitement of taste buds to both prepare the guest for the meal and to offer a glimpse into the chef's approach to cooking.
An
entremet
Entremet
An entremet is in modern French cuisine a small dish served between courses or simply a dessert. Originally it was an elaborate form of entertainment dish common among the nobility and upper middle class in Western Europe during the later part of the Middle Ages and the early modern period...
is a small dish that may be served between courses, or as a dessert.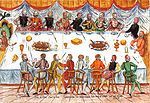 Common meals
These are the most common set mealtimes in the
Western-world
Western culture
Western culture, sometimes equated with Western civilization or European civilization, refers to cultures of European origin and is used very broadly to refer to a heritage of social norms, ethical values, traditional customs, religious beliefs, political systems, and specific artifacts and...
.
Other meals
Second Breakfast

Second breakfast

Second breakfast is a meal eaten after breakfast, but before lunch. It is traditional in Bavaria, and in Poland. In Bavaria or Poland, special dishes are made exclusively to be eaten during second breakfast. In Vienna and most other parts of Austria the second breakfast is referred to as Jause...


is a traditional midmorning meal served in parts of central Europe.
Elevenses

Elevenses

In the United Kingdom, Ireland and some Commonwealth realms, elevenses is a snack that is similar to afternoon tea, but eaten in the morning. It is generally less savoury than brunch, and might consist of some cake or biscuits with a cup of coffee or tea. The name refers to the time of day that it...


, also called "Morning Tea," is a drink and light snack taken late morning after breakfast and before lunch.
Brunch

Brunch

Brunch is a meal eaten between breakfast and lunch. The word is a portmanteau of breakfast and lunch.-Origin of the word:The 1896 supplement to the Oxford English Dictionary cites Punch magazine which wrote that the term was coined in Britain in 1895 to describe a Sunday meal for "Saturday-night...


is a late-morning meal, usually larger than a breakfast and usually replacing both breakfast and lunch; it is most common on Sundays.
Afternoon tea is a midafternoon meal, typically taken at 4 pm, consisting of light fare such as small sandwiches, individual cakes and scones with tea

Tea

Tea is an aromatic beverage prepared by adding cured leaves of the Camellia sinensis plant to hot water. The term also refers to the plant itself. After water, tea is the most widely consumed beverage in the world...


.
High Tea is a British meal usually eaten in the early evening.
Last meal

Last meal

The last meal is a customary part of a condemned prisoner's last day. Often, the day of, or before, the appointed time of execution, the prisoner receives a last meal, as well as religious rites, if they desire. In the United States, inmates generally may not ask for an alcoholic drink...


, a condemned prisoner's last meal before execution, in nation states and some American states that practice capital punishment

Capital punishment

Capital punishment, the death penalty, or execution is the sentence of death upon a person by the state as a punishment for an offence. Crimes that can result in a death penalty are known as capital crimes or capital offences. The term capital originates from the Latin capitalis, literally...


.
See also
Airline meal

Airline meal

An airline meal or in-flight meal is a meal served to passengers on board a commercial airliner. These meals are prepared by airline catering services.The first kitchens preparing meals in-flight were established by United Airlines in 1936....



Cuisine

Cuisine

Cuisine is a characteristic style of cooking practices and traditions, often associated with a specific culture. Cuisines are often named after the geographic areas or regions that they originate from...



Food

Food

Food is any substance consumed to provide nutritional support for the body. It is usually of plant or animal origin, and contains essential nutrients, such as carbohydrates, fats, proteins, vitamins, or minerals...



Full breakfast

Full breakfast

A full breakfast is a meal that consists of several courses, traditionally a starter , a main course, tea with milk, toast and marmalade or other preserves. Many variations are possible....



Leftovers

Leftovers

Leftovers are the uneaten edible remains of a meal after the meal is over, and everyone has finished eating. Food scraps that are not considered edible are not regarded as leftovers, but rather as waste material; any remaining edible portions constitute the leftovers.The ultimate fate of leftovers...



Microwave meal
Nutrition

Nutrition

Nutrition is the provision, to cells and organisms, of the materials necessary to support life. Many common health problems can be prevented or alleviated with a healthy diet....



Potluck

Potluck

A potluck is a gathering of people where each person or group of people contributes a dish of food prepared by the person or the group of people, to be shared among the group...



Tea

Tea (meal)

Tea can refer to any of several different meals or mealtimes, depending on a country's customs and its history of drinking tea. However, in those countries where the term's use is common, the influences are generally those of the former British Empire...



TV dinner

TV dinner

A TV dinner is a prepackaged frozen or chilled meal that usually comes as an individual portion...



External links