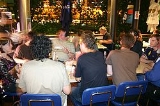 Eating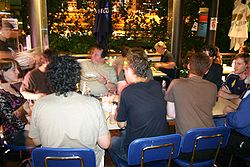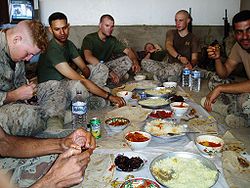 Eating
is the
ingestion
Ingestion
Ingestion is the consumption of a substance by an organism. In animals, it normally is accomplished by taking in the substance through the mouth into the gastrointestinal tract, such as through eating or drinking...
of
food
Food
Food is any substance consumed to provide nutritional support for the body. It is usually of plant or animal origin, and contains essential nutrients, such as carbohydrates, fats, proteins, vitamins, or minerals...
to provide for all
organism
Organism
In biology, an organism is any contiguous living system . In at least some form, all organisms are capable of response to stimuli, reproduction, growth and development, and maintenance of homoeostasis as a stable whole.An organism may either be unicellular or, as in the case of humans, comprise...
s their
nutrition
Nutrition
Nutrition is the provision, to cells and organisms, of the materials necessary to support life. Many common health problems can be prevented or alleviated with a healthy diet....
al needs, particularly for
energy
Food energy
Food energy is the amount of energy obtained from food that is available through cellular respiration.Food energy is expressed in food calories or kilojoules...
and
growth
Growth
Growth refers to an increase in some quantity over time.The quantity can be:*Physical *Abstract ....
. Animals and other
heterotroph
Heterotroph
A heterotroph is an organism that cannot fix carbon and uses organic carbon for growth. This contrasts with autotrophs, such as plants and algae, which can use energy from sunlight or inorganic compounds to produce organic compounds such as carbohydrates, fats, and proteins from inorganic carbon...
s must eat in order to survive:
carnivore
Carnivore
A carnivore meaning 'meat eater' is an organism that derives its energy and nutrient requirements from a diet consisting mainly or exclusively of animal tissue, whether through predation or scavenging...
s eat other animals,
herbivore
Herbivore
Herbivores are organisms that are anatomically and physiologically adapted to eat plant-based foods. Herbivory is a form of consumption in which an organism principally eats autotrophs such as plants, algae and photosynthesizing bacteria. More generally, organisms that feed on autotrophs in...
s eat plants,
omnivore
Omnivore
Omnivores are species that eat both plants and animals as their primary food source...
s consume a mixture of both plant and animal matter, and detritivores eat
detritus
Detritus
Detritus is a biological term used to describe dead or waste organic material.Detritus may also refer to:* Detritus , a geological term used to describe the particles of rock produced by weathering...
. Fungi digest organic matter outside of their bodies as opposed to animals that digest their food inside their bodies. For humans, eating is an
activity of daily living
Activities of daily living
Activities of Daily Living is a term used in healthcare to refer to daily self-care activities within an individual's place of residence, in outdoor environments, or both...
.
Eating practices among humans
Many homes have a kitchen room or outside (in the tropics) kitchen area devoted to preparation of meals and food, and may have a
dining room
Dining room
A dining room is a room for consuming food. In modern times it is usually adjacent to the kitchen for convenience in serving, although in medieval times it was often on an entirely different floor level...
, dining hall, or another designated area for eating. Some trains have a
dining car
Dining car
A dining car or restaurant carriage , also diner, is a railroad passenger car that serves meals in the manner of a full-service, sit-down restaurant....
. Dishware, silverware, drinkware, and cookware come in a wide array of forms and sizes. Most societies also have
restaurant
Restaurant
A restaurant is an establishment which prepares and serves food and drink to customers in return for money. Meals are generally served and eaten on premises, but many restaurants also offer take-out and food delivery services...
s,
food court
Food court
A food court is generally an indoor plaza or common area within a facility that is contiguous with the counters of multiple food vendors and provides a common area for self-serve dining. Food courts may be found in shopping malls and airports, and in various regions may be a standalone development...
s, and/or
food vendors
Street food
Street food is ready-to-eat food or drink sold in a street or other public place, such as a market or fair, by a hawker or vendor, often from a portable stall. While some street foods are regional, many are not, having spread beyond their region of origin. Most street food are both finger and fast...
, so that people may eat when away from home, when lacking time to prepare food, or as a social occasion (
dining club
Dining club
A dining club is a social group, usually requiring membership , which meets for dinners and discussion on a regular basis. They may also often have guest speakers...
). At their highest level of sophistication, these places become "theatrical spectacles of global
cosmopolitanism
Cosmopolitanism
Cosmopolitanism is the ideology that all human ethnic groups belong to a single community based on a shared morality. This is contrasted with communitarian and particularistic theories, especially the ideas of patriotism and nationalism...
and myth." At
picnic
Picnic
In contemporary usage, a picnic can be defined simply as a pleasure excursion at which a meal is eaten outdoors , ideally taking place in a beautiful landscape such as a park, beside a lake or with an interesting view and possibly at a public event such as before an open air theatre performance,...
s,
potluck
Potluck
A potluck is a gathering of people where each person or group of people contributes a dish of food prepared by the person or the group of people, to be shared among the group...
s, and
food festival
Food festival
A food festival is a festival, usually held annually, that uses food, often produce, as its central theme. "These festivals have always been a means of uniting communities through celebrations of harvests and giving thanks for a plentiful growing season...
s, eating is in fact the primary purpose of a social gathering. At many social events, food and beverages are made available to attendees.
People usually have two or three meals a day regularly. Snacks of smaller amounts may be consumed between meals. Some propose not snacking, yet advocate three meals a day (of 600 kcal per meal) with four to six hours between. Having three well-balanced meals (thus 1/2 of the plate with vegetables, 1/4 protein food as meat, ... and 1/4 carbohydrates as pasta, rice, ...) will then account to some 1800–2000 kcal; which is the average requirement for a regular person.
The issue of healthy eating has long been an important concern to individuals and cultures. Among other practices,
fasting
Fasting
Fasting is primarily the act of willingly abstaining from some or all food, drink, or both, for a period of time. An absolute fast is normally defined as abstinence from all food and liquid for a defined period, usually a single day , or several days. Other fasts may be only partially restrictive,...
,
dieting
Dieting
Dieting is the practice of eating food in a regulated fashion to achieve or maintain a controlled weight. In most cases dieting is used in combination with physical exercise to lose weight in those who are overweight or obese. Some athletes, however, follow a diet to gain weight...
, and
vegetarianism
Vegetarianism
Vegetarianism encompasses the practice of following plant-based diets , with or without the inclusion of dairy products or eggs, and with the exclusion of meat...
are all techniques employed by individuals and encouraged by societies to increase longevity and health. Some religions promote vegetarianism, considering it wrong to consume animals. Leading nutritionists believe that instead of indulging oneself in three large meals each day, it is much healthier and easier on the metabolism to eat five smaller meals each day (e.g. better digestion, easier on the lower intestine to deposit wastes; whereas larger meals are tougher on the digestive tract and may call for the use of laxatives). However, psychiatrists with Yale Medical School have found that people who suffer from Binge Eating Disorder (BED) and consume three meals per day weigh less than those who have meals that are more frequent. Eating can also be a way of making money (see
competitive eating
Competitive eating
Competitive eating, or speed eating, is a sport in which participants compete against each other to consume large quantities of food in a short time period. Contests are typically less than 15 minutes in length, with the person consuming the most food being declared the winner...
).
Eating positions
Eating positions vary according to the different regions of the world where many cultures influence the way people eat their meals.
In most of the Middle Eastern countries eating while sitting on the floor is considered the most common way to eat and it's believed to be healthier than eating while sitting to a table.
Emotional eating
Emotional eating is "the tendency to eat in response to negative emotions". Empirical studies have indicated that anxiety leads to decreased food consumption in people with normal weight and increased food consumption in the obese.
Many laboratory studies showed that overweight individuals are more emotionally reactive and are more likely to overeat when distressed than people of normal weight. Furthermore, it was consistently found that obese individuals experience negative emotions more frequently and more intensively than do normal weight persons.
The naturalistic study of Lowe and Fisher compared the emotional reactivity and emotional eating of normal and overweight female college students. The study confirmed the tendency of obese individuals to overeat, but these findings applied only to snacks, not to meals. That means that obese individuals did not tend to eat more while having meals – rather, the amount of snacks they ate between meals was greater. One possible explanation that Lowe and Fisher suggest is that obese individuals often eat their meals with others and do not eat more than average due to the reduction of distress because of the presence of other people. Another possible explanation would be that obese individuals do not eat more than the others while having meals due to social desirability. Conversely, snacks are usually eaten alone.
Satiety and human metabolism
The control of food intake is a physiologically complex, motivated behavioral system. Hormones such as
cholecystokinin
Cholecystokinin
Cholecystokinin is a peptide hormone of the gastrointestinal system responsible for stimulating the digestion of fat and protein...
,
bombesin
Bombesin
Bombesin is a 14-amino acid peptide originally isolated from the skin of a frog. It has two known homologs in mammals called neuromedin B and gastrin-releasing peptide. It stimulates gastrin release from G cells. It activates three different G-protein-coupled receptors known as BBR1, -2, and -3. It...
,
neurotensin
Neurotensin
Neurotensin is a 13 amino acid neuropeptide that is implicated in the regulation of luteinizing hormone and prolactin release and has significant interaction with the dopaminergic system...
,
anorectin
Anorectic
An anorectic or anorexic , also known as anorexigenic or appetite suppressant, is a dietary supplement and/or drug which reduces appetite, food consumption, and as a result, causes weight loss to occur.-List of anorectics:Numerous pharmaceutical compounds are marketed as appetite suppressants.The...
,
calcitonin
Calcitonin
Calcitonin is a 32-amino acid linear polypeptide hormone that is producedin humans primarily by the parafollicular cells of the thyroid, and in many other animals in the ultimobranchial body. It acts to reduce blood calcium , opposing the effects of parathyroid hormone . Calcitonin has been found...
,
enterostatin
Enterostatin
Enterostatin is a pentapeptide derived from a proenzyme in the gastrointestinal tract called procolipase. It reduces food intake, in particular fat intake, when given peripherally or into the brain.-Function:...
,
leptin
Leptin
Leptin is a 16 kDa protein hormone that plays a key role in regulating energy intake and energy expenditure, including appetite and metabolism. It is one of the most important adipose derived hormones...
and
corticotropin-releasing hormone
Corticotropin-releasing hormone
Corticotropin-releasing hormone , originally named corticotropin-releasing factor , and also called corticoliberin, is a polypeptide hormone and neurotransmitter involved in the stress response...
have all been shown to suppress food intake.
Disorders
Physiologically, eating is generally triggered by
hunger
Hunger
Hunger is the most commonly used term to describe the social condition of people who frequently experience the physical sensation of desiring food.-Malnutrition, famine, starvation:...
, but there are numerous physical and psychological conditions that can affect
appetite
Appetite
The appetite is the desire to eat food, felt as hunger. Appetite exists in all higher life-forms, and serves to regulate adequate energy intake to maintain metabolic needs. It is regulated by a close interplay between the digestive tract, adipose tissue and the brain. Decreased desire to eat is...
and disrupt normal eating patterns. These include
depression
Clinical depression
Major depressive disorder is a mental disorder characterized by an all-encompassing low mood accompanied by low self-esteem, and by loss of interest or pleasure in normally enjoyable activities...
, food
allergies
Allergy
An Allergy is a hypersensitivity disorder of the immune system. Allergic reactions occur when a person's immune system reacts to normally harmless substances in the environment. A substance that causes a reaction is called an allergen. These reactions are acquired, predictable, and rapid...
, ingestion of certain chemicals, bulimia,
anorexia nervosa
Anorexia nervosa
Anorexia nervosa is an eating disorder characterized by refusal to maintain a healthy body weight and an obsessive fear of gaining weight. Although commonly called "anorexia", that term on its own denotes any symptomatic loss of appetite and is not strictly accurate...
,
pituitary gland
Pituitary gland
In vertebrate anatomy the pituitary gland, or hypophysis, is an endocrine gland about the size of a pea and weighing 0.5 g , in humans. It is a protrusion off the bottom of the hypothalamus at the base of the brain, and rests in a small, bony cavity covered by a dural fold...
malfunction and other endocrine problems, and numerous other
illness
Illness
Illness is a state of poor health. Illness is sometimes considered another word for disease. Others maintain that fine distinctions exist...
es and
eating disorder
Eating disorder
Eating disorders refer to a group of conditions defined by abnormal eating habits that may involve either insufficient or excessive food intake to the detriment of an individual's physical and mental health. Bulimia nervosa, anorexia nervosa, and binge eating disorder are the most common specific...
s.
A chronic lack of
nutritious
Nutrition
Nutrition is the provision, to cells and organisms, of the materials necessary to support life. Many common health problems can be prevented or alleviated with a healthy diet....
food can cause various illnesses, and will eventually lead to
starvation
Starvation
Starvation is a severe deficiency in caloric energy, nutrient and vitamin intake. It is the most extreme form of malnutrition. In humans, prolonged starvation can cause permanent organ damage and eventually, death...
. When this happens in a locality on a massive scale, it is considered a
famine
Famine
A famine is a widespread scarcity of food, caused by several factors including crop failure, overpopulation, or government policies. This phenomenon is usually accompanied or followed by regional malnutrition, starvation, epidemic, and increased mortality. Every continent in the world has...
.
If eating and
drinking
Drinking
Drinking is the act of consuming water or a beverage through the mouth. Water is required for many of life's physiological processes. Both excessive and inadequate water intake are associated with health problems.-Physiology:...
is not possible, as is often the case when recovering from
surgery
Surgery
Surgery is an ancient medical specialty that uses operative manual and instrumental techniques on a patient to investigate and/or treat a pathological condition such as disease or injury, or to help improve bodily function or appearance.An act of performing surgery may be called a surgical...
, alternatives are enteral nutrition and parenteral nutrition.
See also
Aphagia

Aphagia

Aphagia is the inability or refusal to swallow. The word is derived from the Greek root a meaning "not" or "without" and phagia meaning "to eat." It is related to dysphagia, which is difficulty swallowing, and odynophagia, painful swallowing....



Chewing
Competitive eating

Competitive eating

Competitive eating, or speed eating, is a sport in which participants compete against each other to consume large quantities of food in a short time period. Contests are typically less than 15 minutes in length, with the person consuming the most food being declared the winner...



Crop

Crop

Crop may refer to:* Crop, a plant grown and harvested for agricultural use* Crop , part of the alimentary tract of some animals* Crop , a modified whip used in horseback riding or disciplining humans...



Dietary supplement

Dietary supplement

A dietary supplement, also known as food supplement or nutritional supplement, is a preparation intended to supplement the diet and provide nutrients, such as vitamins, minerals, fiber, fatty acids, or amino acids, that may be missing or may not be consumed in sufficient quantities in a person's diet...



Dieting

Dieting

Dieting is the practice of eating food in a regulated fashion to achieve or maintain a controlled weight. In most cases dieting is used in combination with physical exercise to lose weight in those who are overweight or obese. Some athletes, however, follow a diet to gain weight...



Dining in

Dining in

Dining in is a formal military ceremony for members of a company or other unit, which includes a dinner, drinking, and other events to foster camaraderie and esprit de corps....


, formal military ceremony
Energy crop

Energy crop

An energy crop is a plant grown as a low cost and low maintenance harvest used to make biofuels, or combusted for its energy content to generate electricity or heat. Energy crops are generally categorized as woody or herbaceous ....



Forced feeding
Swallowing

Swallowing

Swallowing, known scientifically as deglutition, is the process in the human or animal body that makes something pass from the mouth, to the pharynx, and into the esophagus, while shutting the epiglottis. If this fails and the object goes through the trachea, then choking or pulmonary aspiration...



External Links