 TV dinner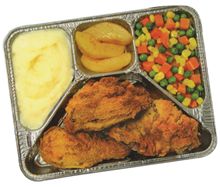 A
TV dinner
is a prepackaged frozen or chilled
meal
Meal
A meal is an instance of eating, specifically one that takes place at a specific time and includes specific, prepared food.Meals occur primarily at homes, restaurants, and cafeterias, but may occur anywhere. Regular meals occur on a daily basis, typically several times a day...
that usually comes as an individual portion. It requires very little preparation and contains all the elements for a single-serving meal.
The term
TV dinner
is a
genericized trademark
Genericized trademark
A genericized trademark is a trademark or brand name that has become the colloquial or generic description for, or synonymous with, a general class of product or service, rather than as an indicator of source or affiliation as intended by the trademark's holder...
originally used for a brand of packaged meal developed in 1953 by C.A. Swanson & Sons (the name in full was
TV Brand Frozen Dinner
). Swanson stopped using the name "TV Dinner" in 1962; in the
United States
United States
The United States of America is a federal constitutional republic comprising fifty states and a federal district...
, the term remains synonymous with any prepackaged dinner purchased frozen in a
supermarket
Supermarket
A supermarket, a form of grocery store, is a self-service store offering a wide variety of food and household merchandise, organized into departments...
and heated at home.
The original TV Dinner came in an aluminum tray and was heated in an oven. Most frozen food trays are now made of
microwaveable
Microwave oven
A microwave oven is a kitchen appliance that heats food by dielectric heating, using microwave radiation to heat polarized molecules within the food...
material, usually plastic.
History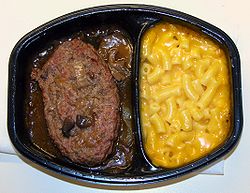 Several smaller companies had conceived of frozen dinners earlier (see Invention section below), but the first to achieve success was Swanson. The first Swanson-brand TV Dinner was produced in the United States and consisted of a
Thanksgiving
Thanksgiving
Thanksgiving Day is a holiday celebrated primarily in the United States and Canada. Thanksgiving is celebrated each year on the second Monday of October in Canada and on the fourth Thursday of November in the United States. In Canada, Thanksgiving falls on the same day as Columbus Day in the...
meal of turkey, cornbread
dressing
Dressing
Dressing may refer to:* Dressing , a medical covering for a wound, usually made of cloth* Ore dressing* Salad dressing, a type of sauce which is generally poured on a salad, or spread on the bread of a sandwich...
, frozen
pea
Pea
A pea is most commonly the small spherical seed or the seed-pod of the pod fruit Pisum sativum. Each pod contains several peas. Peapods are botanically a fruit, since they contain seeds developed from the ovary of a flower. However, peas are considered to be a vegetable in cooking...
s and
sweet potato
Sweet potato
The sweet potato is a dicotyledonous plant that belongs to the family Convolvulaceae. Its large, starchy, sweet-tasting, tuberous roots are an important root vegetable. The young leaves and shoots are sometimes eaten as greens. Of the approximately 50 genera and more than 1,000 species of...
es packaged in a tray like those used at the time for
airline food service
Airline meal
An airline meal or in-flight meal is a meal served to passengers on board a commercial airliner. These meals are prepared by airline catering services.The first kitchens preparing meals in-flight were established by United Airlines in 1936....
. Each item was placed in its own compartment. The trays proved to be useful: the entire dinner could be removed from the outer packaging as a unit; the aluminum tray could be heated directly in the
oven
Oven
An oven is a thermally insulated chamber used for the heating, baking or drying of a substance. It is most commonly used for cooking. Kilns, and furnaces are special-purpose ovens...
without any extra dishes; and one could eat the meal directly from the same tray. The product was cooked for 25 minutes at 425 °F (218.3 °C) and fit nicely on a
TV tray table
TV tray table
A TV tray table, TV dinner tray, or personal table is a type of collapsible furniture that functions as a small and easily portable, folding table. These small tables were originally designed to be a surface from which one could eat a meal while watching television...
. The original TV Dinner sold for 98 cents, and had a production estimate of 5,000 dinners for the first year. Swanson far exceeded its expectations, and ended up selling more than 10 million of these dinners in the first year of production.
The name TV dinner came from the shape of the tray it was served on. The main entrée was in a bigger compartment on one side of the tray and the vegetables lined up in smaller compartments on the other side. The arrangement was similar to that of the front panels of a 1950s television set: a screen on the left and speakers and control on the right. There were other theories about the name of the TV dinner. One reason was that early packaging featured the image of a TV set. Another was that many families would eat these in front of a TV set.
Much has changed since the first TV Dinners were marketed. For instance, a wider variety of main courses — such as
fried chicken
Fried chicken
Fried chicken is a dish consisting of chicken pieces usually from broiler chickens which have been floured or battered and then pan fried, deep fried, or pressure fried. The breading adds a crisp coating or crust to the exterior...
,
Pizza
Pizza
Pizza is an oven-baked, flat, disc-shaped bread typically topped with a tomato sauce, cheese and various toppings.Originating in Italy, from the Neapolitan cuisine, the dish has become popular in many parts of the world. An establishment that makes and sells pizzas is called a "pizzeria"...
,
Salisbury steak
Salisbury steak
Salisbury steak is a dish made from a blend of minced beef and other ingredients, which is shaped to resemble a steak, and usually is served with gravy / brown sauce. Hamburger steak is a similar product, but differs in ingredients....
and
Mexican
Mexican cuisine
Mexican cuisine, a style of food that originates in Mexico, is known for its varied flavors, colourful decoration and variety of spices and ingredients, most of which are native to the country. The cuisine of Mexico has evolved through thousands of years of blending indigenous cultures, with later...
combinations — have been introduced. Competitors such as
Banquet
Banquet Foods
Banquet Foods is a subsidiary of ConAgra Foods that sells various food products, notably frozen pre-made entrées, meals, and desserts.Banquet was founded in 1953, with the introduction of frozen meat pies. Banquet first hit the store shelves in 1955, offering frozen dinners. Soon after that,...
began offering prepackaged frozen dinners at a cheaper price than Swanson. Other changes include:
1960 – Swanson added dessert

Dessert

In cultures around the world, dessert is a course that typically comes at the end of a meal, usually consisting of sweet food. The word comes from the French language as dessert and this from Old French desservir, "to clear the table" and "to serve." Common Western desserts include cakes, biscuits,...


s (such as apple cobbler and brownies) to a new four-compartment tray.
1964 – Night Hawk name originated from the Night Hawk steak houses that operated in Austin, Texas

Austin, Texas

Austin is the capital city of the U.S. state of :Texas and the seat of Travis County. Located in Central Texas on the eastern edge of the American Southwest, it is the fourth-largest city in Texas and the 14th most populous city in the United States. It was the third-fastest-growing large city in...


from 1939 through 1994. The original "diners" were open all night catering to the late-night crowd. The restaurants produced the first frozen Night Hawk "TV dinner" in 1964.
1969 – The first TV breakfasts were marketed (pancakes and sausage were the favorites). Great Starts Breakfasts and breakfast sandwiches (such as egg and Canadian bacon) followed later.
1973 – The first Swanson Hungry-Man dinners were marketed; these were larger portions of its regular dinner products. The American football player "Mean" Joe Greene

Joe Greene (American football)

Charles Edward Greene, known as "Mean Joe" Greene, is a former all-pro American football defensive tackle who played for the Pittsburgh Steelers of the NFL. Throughout the early 1970s he was the one of most dominant defensive players in the National Football League...


was its spokesman.
1986 – The first microwave oven–safe trays were marketed.
Modern-day frozen dinners tend to come in microwave-safe containers. Product lines also tend to offer a larger variety of dinner types. These dinners, also known as microwave meals, can be purchased at most supermarkets. They are stored frozen. To prepare them, the plastic cover is removed or vented, and the meal is heated in a microwave oven for a few minutes. They are convenient since they essentially require no preparation time other than the heating, although some frozen dinners may require the preparer to briefly carry out an intermediary step (such as stirring
mashed potato
Mashed potato
Mashed potato is made by mashing freshly boiled potatoes with a ricer, fork, potato masher, food mill, or whipping them with a hand beater. Dehydrated and frozen mashed potatoes are available in many places...
es midway through the heating cycle) to ensure adequate heating and uniform consistency of component items.
In the
United Kingdom
United Kingdom
The United Kingdom of Great Britain and Northern IrelandIn the United Kingdom and Dependencies, other languages have been officially recognised as legitimate autochthonous languages under the European Charter for Regional or Minority Languages...
, pre-prepared frozen meals first became widely available in the late 1970s. Since then they have steadily grown in popularity with the increased ownership of home freezers and microwave ovens. Demographic trends such as the growth of smaller households have also influenced the sale of this and other types of
convenience food
Convenience food
Convenience food, or tertiary processed food, is commercially prepared food designed for ease of consumption. Products designated as convenience foods are often prepared food stuffs that can be sold as hot, ready-to-eat dishes; as room-temperature, shelf-stable products; or as refrigerated or...
. In 2003, the United Kingdom spent £5 million a day on ready meals, and was the largest consumer in
Europe
Europe
Europe is, by convention, one of the world's seven continents. Comprising the westernmost peninsula of Eurasia, Europe is generally 'divided' from Asia to its east by the watershed divides of the Ural and Caucasus Mountains, the Ural River, the Caspian and Black Seas, and the waterways connecting...
.
Unfrozen pre-cooked ready meals, which are merely chilled and require less time to reheat, are also popular and are sold by most supermarkets. Chilled ready meals are intended for immediate reheating and consumption. Although most can be frozen by the consumer after purchase, some may have to be fully defrosted before reheating.
Many different varieties of frozen and chilled ready meals are now generally available in the UK, including "
gourmet
Gourmet
Gourmet is a cultural ideal associated with the culinary arts of fine food and drink, or haute cuisine, which is characterised by elaborate preparations and presentations of large meals of small, often quite rich courses...
" recipes,
organic
Organic food
Organic foods are foods that are produced using methods that do not involve modern synthetic inputs such as synthetic pesticides and chemical fertilizers, do not contain genetically modified organisms, and are not processed using irradiation, industrial solvents, or chemical food additives.For the...
and vegetarian dishes, traditional British and foreign cuisine, and smaller children's meals.
Invention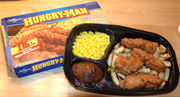 The identity of the TV Dinner's inventor has been disputed. In one account, first publicized in 1996, retired Swanson executive
Gerry Thomas
Gerry Thomas
Gerry Thomas was an American salesman sometimes credited with inventing the TV Dinner in 1952. Thomas, who worked for the Swanson food company in the 1950s and went public with his account decades later, said he designed the company's famous three-compartment aluminum tray after seeing a similar...
said he conceived the idea after the company found itself with a huge surplus of frozen turkeys because of poor Thanksgiving sales. Thomas' version of events has been challenged by the
Los Angeles Times
, members of the Swanson family and former Swanson employees. They credit the Swanson brothers with the invention.
Either way, Swanson's concept was not original. In 1944, William L. Maxson's frozen dinners were being served on airplanes. Other prepackaged meals were also marketed before Swanson's TV Dinner. In 1948, plain frozen fruits and
vegetable
Vegetable
The noun vegetable usually means an edible plant or part of a plant other than a sweet fruit or seed. This typically means the leaf, stem, or root of a plant....
s were joined by what were then called 'dinner plates' with a
main course
Main course
A main dish is the featured or primary dish in a meal consisting of several courses. It usually follows the entrée course, and the salad course. In North American usage it may in fact be called the "entree"....
,
potato
Potato
The potato is a starchy, tuberous crop from the perennial Solanum tuberosum of the Solanaceae family . The word potato may refer to the plant itself as well as the edible tuber. In the region of the Andes, there are some other closely related cultivated potato species...
, and vegetable. Later, in 1952, the first frozen dinners on oven-ready aluminum trays were introduced by Quaker States Foods under the One-Eye Eskimo label. Quaker States Foods was joined by other companies including Frigi-Dinner, which offered such fare as beef stew with
corn
Maize
Maize known in many English-speaking countries as corn or mielie/mealie, is a grain domesticated by indigenous peoples in Mesoamerica in prehistoric times. The leafy stalk produces ears which contain seeds called kernels. Though technically a grain, maize kernels are used in cooking as a vegetable...
and
peas
PEAS
P.E.A.S. is an acronym in artificial intelligence that stands for Performance, Environment, Actuators, Sensors.-Performance:Performance is a function that measures the quality of the actions the agent did....
,
veal
Veal
Veal is the meat of young cattle , as opposed to meat from older cattle. Though veal can be produced from a calf of either sex and any breed, most veal comes from male calves of dairy cattle breeds...
goulash
Goulash
Goulash is a soup or stew of meat, noodles and vegetables , seasoned with paprika and other spices. Originating in Hungary, goulash is also a popular meal in Austria, Croatia, Czech Republic, Romania, Scandinavia, Serbia, Slovakia, Slovenia and the north-eastern Italian region of Friuli Venezia...
with peas and potatoes, and chicken chow mein with egg rolls and fried rice. However, Swanson, a large producer of canned and frozen poultry in
Omaha, Nebraska
Omaha, Nebraska
Omaha is the largest city in the state of Nebraska, United States, and is the county seat of Douglas County. It is located in the Midwestern United States on the Missouri River, about 20 miles north of the mouth of the Platte River...
, was able to promote the widespread sales and adaptation of frozen dinner by using its nationally-recognized brand name with an extensive national marketing campaign nicknamed "Operation Smash" and the clever advertising name of "TV Dinner," which tapped into the public's excitement around the new device.
Contents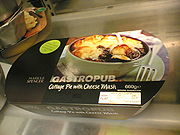 A TV dinner usually consists of a cut of meat, usually beef or chicken, with a vegetable, such as peas, corn or a potato, and sometimes also a dessert, such as a brownie or apple cobbler. The entrée could also be pasta or a common type of fish, such as
Atlantic cod
Atlantic cod
The Atlantic cod, Gadus morhua, is a well-known demersal food fish belonging to the family Gadidae. It is also commercially known as cod, codling or haberdine....
. Rice is a common side item.
Health concerns
The freezing process tends to degrade the taste of food and the meals are thus heavily processed with extra salt and fat to compensate. In addition, stabilizing the product for a long period typically means that companies will use partially hydrogenated vegetable oils for some items (typically dessert). Partially hydrogenated vegetable oils are high in trans fats and may adversely affect cardiovascular health. The dinners are almost always significantly less nutritious than fresh food and are formulated to remain edible after long periods of storage, thus often requiring preservatives such as
BHT
Butylated hydroxytoluene
Butylated hydroxytoluene , also known as butylhydroxytoluene, is a lipophilic organic compound that is primarily used as an antioxidant food additive as well as an antioxidant additive in cosmetics, pharmaceuticals, jet fuels, rubber, petroleum products, electrical transformer oil, and embalming...
. There is, however, some variability between brands.
In recent years there has been a push by a number of independent manufacturers and retailers to make meals that are low in salt and fat and free of artificial additives. ConAgra Foods'
Healthy Choice
Healthy Choice
Healthy Choice is the name of a brand of refrigerated and frozen foods owned by ConAgra Foods, Inc. According to ConAgra's official corporate history, it came into being after then-ConAgra CEO Charles "Mike" Harper suffered a heart attack in 1985...
is one brand that markets to the health-conscious niche. In the UK, most British supermarkets also produce their own "healthy eating" brands. Nearly all chilled or frozen ready meals sold in the UK are now clearly labeled with the salt, sugar and fat content and the recommended daily intake. Concern about obesity and government publicity initiatives such as those by the
Food Standards Agency
Food Standards Agency
The Food Standards Agency is a non-ministerial government department of the Government of the United Kingdom. It is responsible for protecting public health in relation to food throughout the United Kingdom and is led by a board appointed to act in the public interest...
and the
National Health Service
National Health Service
The National Health Service is the shared name of three of the four publicly funded healthcare systems in the United Kingdom. They provide a comprehensive range of health services, the vast majority of which are free at the point of use to residents of the United Kingdom...
have encouraged manufacturers to reduce the levels of salt and fat in ready prepared food. Their guidelines state:
A benefit of frozen dinners is that they are usually fully cooked during preparation, and only need to be reheated by the consumer. This eliminates the possibility of undercooking by misjudging microwave powers and cooking times, although packaging warnings often state that the food must be "piping hot" before consumption. More recently, however, frozen dinners have been created that are designed to be used as a steamer, allowing rapid cooking of essentially raw ingredients (typically fish and vegetables) immediately before consumption.
All-natural options for frozen meals are also becoming available.
External links