 Picnic
In contemporary usage, a
picnic
can be defined simply as a pleasure
excursion
Excursion
An excursion is a trip by a group of people, usually made for leisure, education, or physical purposes. It is often an adjunct to a longer journey or visit to a place, sometimes for other purposes....
at which a
meal
Meal
A meal is an instance of eating, specifically one that takes place at a specific time and includes specific, prepared food.Meals occur primarily at homes, restaurants, and cafeterias, but may occur anywhere. Regular meals occur on a daily basis, typically several times a day...
is eaten outdoors (
al fresco
Al fresco dining
Al Fresco dining is eating outside . In temperate climates it is especially popular in the summer months when temperatures and weather are most favorable. It is a style of dining that is casual and often party-like in its atmosphere...
or
en plein air
En plein air
En plein air is a French expression which means "in the open air", and is particularly used to describe the act of painting outdoors.Artists have long painted outdoors, but in the mid-19th century working in natural light became particularly important to the Barbizon school and Impressionism...
), ideally taking place in a beautiful
landscape
Landscape
Landscape comprises the visible features of an area of land, including the physical elements of landforms such as mountains, hills, water bodies such as rivers, lakes, ponds and the sea, living elements of land cover including indigenous vegetation, human elements including different forms of...
such as a
park
Park
A park is a protected area, in its natural or semi-natural state, or planted, and set aside for human recreation and enjoyment, or for the protection of wildlife or natural habitats. It may consist of rocks, soil, water, flora and fauna and grass areas. Many parks are legally protected by...
, beside a
lake
Lake
A lake is a body of relatively still fresh or salt water of considerable size, localized in a basin, that is surrounded by land. Lakes are inland and not part of the ocean and therefore are distinct from lagoons, and are larger and deeper than ponds. Lakes can be contrasted with rivers or streams,...
or with an interesting view and possibly at a public event such as before an open air
theatre
Theatre
Theatre is a collaborative form of fine art that uses live performers to present the experience of a real or imagined event before a live audience in a specific place. The performers may communicate this experience to the audience through combinations of gesture, speech, song, music or dance...
performance, and usually in
summer
Summer
Summer is the warmest of the four temperate seasons, between spring and autumn. At the summer solstice, the days are longest and the nights are shortest, with day-length decreasing as the season progresses after the solstice...
. Descriptions of picnics show that the idea of a meal that was jointly contributed and was enjoyed out-of-doors were essential to a picnic from the early 19th century.
Picnics are often family-oriented but can also be an intimate occasion between two people or a large get-together such as company picnics and church picnics. It is also sometimes combined with a cookout, usually a form of
barbecue
Barbecue
Barbecue or barbeque , used chiefly in the United States, Canada, the United Kingdom, New Zealand and Australia is a method and apparatus for cooking meat, poultry and occasionally fish with the heat and hot smoke of a fire, smoking wood, or hot coals of...
; either
grilling
Grilling
Grilling is a form of cooking that involves dry heat applied to the surface of food, commonly from above or below.Grilling usually involves a significant amount of direct, radiant heat, and tends to be used for cooking meat quickly and meat that has already been cut into slices...
(
griddling
Griddle
A griddle is a cooking device consisting of a broad flat surface that can be heated using a variety of means, and is used in both residential and commercial applications for a variety of cooking operations. Most commonly, the griddle consists of a flat metal plate, but in the non-industrialized...
,
gridironing
Gridiron (cooking)
A gridiron is a metal grate with parallel bars typically used for grilling meat, fish, vegetables, or combinations of such foods. It may also be two such grids, hinged to fold together, to securely hold food while grilling over an open flame.-Development:...
, or charbroiling),
braising
Braising
Braising , is a combination cooking method using both moist and dry heat; typically the food is first seared at a high temperature and then finished in a covered pot with a variable amount of liquid, resulting in a particular flavour...
(by combining a charbroil or gridiron grill with a broth-filled pot),
baking
Baking
Baking is the technique of prolonged cooking of food by dry heat acting by convection, and not by radiation, normally in an oven, but also in hot ashes, or on hot stones. It is primarily used for the preparation of bread, cakes, pastries and pies, tarts, quiches, cookies and crackers. Such items...
, or a combination of all of the above.
On romantic and family picnics a
picnic basket
Picnic basket
A picnic basket or food hamper is a basket intended to hold food and tableware for a picnic meal. Picnic baskets are standard equipment at many picnics....
and a blanket (to sit or recline on) are usually brought along. Outdoor
game
Game
A game is structured playing, usually undertaken for enjoyment and sometimes used as an educational tool. Games are distinct from work, which is usually carried out for remuneration, and from art, which is more often an expression of aesthetic or ideological elements...
s or some other form of
entertainment
Entertainment
Entertainment consists of any activity which provides a diversion or permits people to amuse themselves in their leisure time. Entertainment is generally passive, such as watching opera or a movie. Active forms of amusement, such as sports, are more often considered to be recreation...
are common at large picnics.
Some picnics are a
potluck
Potluck
A potluck is a gathering of people where each person or group of people contributes a dish of food prepared by the person or the group of people, to be shared among the group...
, an entertainment at which each person contributed some
dish
Recipe
A recipe is a set of instructions that describe how to prepare or make something, especially a culinary dish.-Components:Modern culinary recipes normally consist of several components*The name of the dish...
to a common table for all to share. When the picnic is not also a
cookout
Barbecue
Barbecue or barbeque , used chiefly in the United States, Canada, the United Kingdom, New Zealand and Australia is a method and apparatus for cooking meat, poultry and occasionally fish with the heat and hot smoke of a fire, smoking wood, or hot coals of...
, the food eaten is rarely hot, instead taking the form of
deli
Delicatessen
Delicatessen is a term meaning "delicacies" or "fine foods". The word entered English via German,with the old German spelling , plural of Delikatesse "delicacy", ultimately from Latin delicatus....
sandwich
Sandwich
A sandwich is a food item, typically consisting of two or more slices of :bread with one or more fillings between them, or one slice of bread with a topping or toppings, commonly called an open sandwich. Sandwiches are a widely popular type of lunch food, typically taken to work or school, or...
es,
finger food
Finger food
Finger food is food meant to be eaten directly using the hands, in contrast to food eaten with a knife and fork, chopsticks, or other utensils. In some cultures, food is almost always eaten with the hands; for example, Ethiopian cuisine is eaten by rolling various dishes up in injera bread. In the...
, fresh
fruit
Fruit
In broad terms, a fruit is a structure of a plant that contains its seeds.The term has different meanings dependent on context. In non-technical usage, such as food preparation, fruit normally means the fleshy seed-associated structures of certain plants that are sweet and edible in the raw state,...
,
salad
Salad
Salad is any of a wide variety of dishes, including vegetable salads; salads of pasta, legumes, eggs, or grains; mixed salads incorporating meat, poultry, or seafood; and fruit salads. They may include a mixture of cold and hot, often including raw vegetables or fruits.Green salads include leaf...
, cold meats and accompanied by chilled
wine
Wine
Wine is an alcoholic beverage, made of fermented fruit juice, usually from grapes. The natural chemical balance of grapes lets them ferment without the addition of sugars, acids, enzymes, or other nutrients. Grape wine is produced by fermenting crushed grapes using various types of yeast. Yeast...
or champagne or
soft drink
Soft drink
A soft drink is a non-alcoholic beverage that typically contains water , a sweetener, and a flavoring agent...
s.
Etymology
The first usage of the word is traced to the 1692 edition of Tony Willis,
Origines de la Langue Française
, which mentions
pique-nique
as being of recent origin; it marks the first appearance of the word in print. The term was used to describe a group of people dining in a
restaurant
Restaurant
A restaurant is an establishment which prepares and serves food and drink to customers in return for money. Meals are generally served and eaten on premises, but many restaurants also offer take-out and food delivery services...
who brought their own
wine
Wine
Wine is an alcoholic beverage, made of fermented fruit juice, usually from grapes. The natural chemical balance of grapes lets them ferment without the addition of sugars, acids, enzymes, or other nutrients. Grape wine is produced by fermenting crushed grapes using various types of yeast. Yeast...
. For long a picnic retained the connotation of a meal to which everyone contributed something. Whether
picnic
is actually based on the verb
piquer
which means 'pick' or 'peck' with the rhyming
nique
meaning "thing of little importance" is doubted; the
Oxford English Dictionary
Oxford English Dictionary
The Oxford English Dictionary , published by the Oxford University Press, is the self-styled premier dictionary of the English language. Two fully bound print editions of the OED have been published under its current name, in 1928 and 1989. The first edition was published in twelve volumes , and...
says it is of unknown provenance. The word predates
lynching
Lynching
Lynching is an extrajudicial execution carried out by a mob, often by hanging, but also by burning at the stake or shooting, in order to punish an alleged transgressor, or to intimidate, control, or otherwise manipulate a population of people. It is related to other means of social control that...
in the
United States
United States
The United States of America is a federal constitutional republic comprising fifty states and a federal district...
; claims that it is derived from a shortening of 'pick a n****r' are
not
true.
The word
picnic
first appeared in English in a letter of the Gallicized Lord Chesterfield in 1748 (
OED
), who associates it with card-playing, drinking and conversation, and may have entered the
English language
English language
English is a West Germanic language that arose in the Anglo-Saxon kingdoms of England and spread into what was to become south-east Scotland under the influence of the Anglian medieval kingdom of Northumbria...
from this French word. The practice of an elegant meal eaten out-of-doors, rather than a harvester worker's dinner in the harvest field, was connected with respite from hunting from the
Middle Ages
Middle Ages
The Middle Ages is a periodization of European history from the 5th century to the 15th century. The Middle Ages follows the fall of the Western Roman Empire in 476 and precedes the Early Modern Era. It is the middle period of a three-period division of Western history: Classic, Medieval and Modern...
; the excuse for the pleasurable outing of 1723 in Lemoyne's painting (
illustration, left
) is still offered in the context of a hunt.
Usage
In British and American English, the phrase "no picnic" is used to describe a difficult or trying situation or activity. For example, "Driving in rush hour

Rush hour

A rush hour or peak hour is a part of the day during which traffic congestion on roads and crowding on public transport is at its highest. Normally, this happens twice a day—once in the morning and once in the evening, the times during when the most people commute...


traffic is no picnic."
In established public parks, a picnic area generally includes picnic table

Picnic table

A picnic table is a modified table with attached benches, designed for eating a meal outdoors .-Uses:...


s and possibly other items related to eating outdoors, such as built-in grill

Grill (cooking)

A barbecue grill is a device for cooking food by applying heat directly from below. There are several varieties of such grills, with most falling into one of two categories: gas-fueled and charcoal. There is a great debate over the merits of charcoal or gas for use as the cooking method between...


s, water faucets

Tap water

Tap water is a principal component of "indoor plumbing", which became available in urban areas of the developed world during the last quarter of the 19th century, and common during the mid-20th century...


, garbage containers, and restrooms.
In Information Technology

Information technology

Information technology is the acquisition, processing, storage and dissemination of vocal, pictorial, textual and numerical information by a microelectronics-based combination of computing and telecommunications...


, a "picnic" is an acronym meaning "Problem In Chair, Not In Computer." Help desk workers use "picnic" to refer to a situation where they helped someone fix a problem with their computer where there really was no problem with the computer, but the user was to blame for the problem.
Related historical events
After the
French Revolution
French Revolution
The French Revolution , sometimes distinguished as the 'Great French Revolution' , was a period of radical social and political upheaval in France and Europe. The absolute monarchy that had ruled France for centuries collapsed in three years...
in 1789, royal parks became open to the public for the first time. Picnicking in the parks became a popular activity amongst the newly
enfranchised
Suffrage
Suffrage, political franchise, or simply the franchise, distinct from mere voting rights, is the civil right to vote gained through the democratic process...
citizens.
Early in the 19th century, a fashionable group of Londoners (including Edwin Young) formed the 'Picnic Society'. Members met in the
Pantheon
Pantheon, London
The Pantheon, was a place of public entertainment on the south side of Oxford Street, London, England. It was designed by James Wyatt and opened in 1772. The main rotunda was one of the largest rooms built in England up to that time and had a central dome somewhat reminiscent of the celebrated...
on
Oxford Street
Oxford Street
Oxford Street is a major thoroughfare in the City of Westminster in the West End of London, United Kingdom. It is Europe's busiest shopping street, as well as its most dense, and currently has approximately 300 shops. The street was formerly part of the London-Oxford road which began at Newgate,...
. Each member was expected to provide a share of the entertainment and of the refreshments with no one particular host. Interest in the society waned in the 1850s as the founders died.
From the 1830s, Romantic American landscape painting of spectacular scenery often included a group of picnickers in the foreground. An early American illustration of the picnic is
Thomas Cole
Thomas Cole
Thomas Cole was an English-born American artist. He is regarded as the founder of the Hudson River School, an American art movement that flourished in the mid-19th century...
's
The Pic-Nic
of 1846 (Brooklyn Museum of Art). In it a guitarist serenades the genteel social group in the Hudson River Valley with the Catskills visible in the distance. Cole's well-dressed young picnickers have finished their repast, served from splint baskets on blue-and-white china, to stroll about in the woodland and boat on the lake.
The image of picnics as a peaceful social activity can be utilised for political protest too. In this context, a picnic functions as a temporary occupation of significant public territory. A famous example of this is the
Pan-European Picnic
Pan-European Picnic
The Pan-European Picnic was a peace demonstration held on the Austrian-Hungarian border near the town of Sopron on 19 August 1989, an important event in political developments which led to the fall of the Iron Curtain and the reunification of Germany...
held on both sides of the Hungarian / Austrian border on the 19 August 1989 as part of the struggle towards
German reunification
German reunification
German reunification was the process in 1990 in which the German Democratic Republic joined the Federal Republic of Germany , and when Berlin reunited into a single city, as provided by its then Grundgesetz constitution Article 23. The start of this process is commonly referred by Germans as die...
.
In 2000, a 600-mile-long picnic took place from coast to coast in France to celebrate the first
Bastille Day
Bastille Day
Bastille Day is the name given in English-speaking countries to the French National Day, which is celebrated on 14 July of each year. In France, it is formally called La Fête Nationale and commonly le quatorze juillet...
of the new Millennium. In the United States, likewise, the
4 July
Independence Day (United States)
Independence Day, commonly known as the Fourth of July, is a federal holiday in the United States commemorating the adoption of the Declaration of Independence on July 4, 1776, declaring independence from the Kingdom of Great Britain...
celebration of
American independence
United States Declaration of Independence
The Declaration of Independence was a statement adopted by the Continental Congress on July 4, 1776, which announced that the thirteen American colonies then at war with Great Britain regarded themselves as independent states, and no longer a part of the British Empire. John Adams put forth a...
is a popular day for a picnic. In Italy the favourite picnic day is
Easter Monday
Easter Monday
Easter Monday is the day after Easter Sunday and is celebrated as a holiday in some largely Christian cultures, especially Roman Catholic and Eastern Orthodox cultures...
.
Cultural representations of picnics
Perhaps the most famous depiction of a picnic is
Le déjeuner sur l'herbe
The Luncheon on the Grass
Le déjeuner sur l'herbe – originally titled Le Bain – is a large oil on canvas painting by Édouard Manet created in 1862 and 1863. The painting depicts the juxtaposition of a female nude and a scantily dressed female bather on a picnic with two fully dressed men in a rural setting...
, painted by
Édouard Manet
Édouard Manet
Édouard Manet was a French painter. One of the first 19th-century artists to approach modern-life subjects, he was a pivotal figure in the transition from Realism to Impressionism....
in 1862.
The active Canadian children's health association Pediatric Investigators Collaborative Network on Infections in Canada carry the acronym PICNIC.
The Wind in the Willows
The Wind in the Willows
The Wind in the Willows is a classic of children's literature by Kenneth Grahame, first published in 1908. Alternately slow moving and fast paced, it focuses on four anthropomorphised animal characters in a pastoral version of England...
, by
Kenneth Grahame
Kenneth Grahame
Kenneth Grahame was a Scottish writer, most famous for The Wind in the Willows , one of the classics of children's literature. He also wrote The Reluctant Dragon; both books were later adapted into Disney films....
begins with a boating picnic enjoyed by Rat and Mole that exemplifies an English tradition:
"The Rat brought the boat alongside the bank, tied it up, helped awkward Mole safely ashore, and swung out the picnic basket. The Mole begged to be allowed to unpack it all by himself. He took out all the mysterious packets one by one and arranged their contents, gasping 'Oh my! Oh my!' at each fresh surprise."
In literature
In art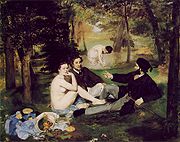 "Le Déjeuner sur l'Herbe" (1865–1866), often referred to as "The Picnic" or "The Luncheon on the Grass" in English, was one the earliest works of Manet

Manet

-MANET as an abbreviation:*MANET is a mobile ad hoc network, a self-configuring mobile wireless network.*MANET database or Molecular Ancestry Network, bioinformatics database-People with the surname Manet:*Édouard Manet, a 19th-century French painter....


.
In film
The 1955 film Picnic, based on the Pulitzer Prize

Pulitzer Prize

The Pulitzer Prize is a U.S. award for achievements in newspaper and online journalism, literature and musical composition. It was established by American publisher Joseph Pulitzer and is administered by Columbia University in New York City...


-winning play

Picnic (play)

Picnic is a 1953 play by William Inge. The play premiered at the Music Box Theatre, Broadway on 19 February 1953 in a Theatre Guild production, directed by Joshua Logan, which ran for 477 performances....


by William Inge

William Inge

William Motter Inge was an American playwright and novelist, whose works typically feature solitary protagonists encumbered with strained sexual relations. In the early 1950s, he had a string of memorable Broadway productions, and one of these, Picnic, earned him a Pulitzer Prize...


, was a multiple Oscar winner. The film has been remade twice, in 1986 and 2000.
With Picnic at Hanging Rock

Picnic at Hanging Rock (film)

Picnic at Hanging Rock is a 1975 Australian feature film directed by Peter Weir and starring Anne-Louise Lambert, Helen Morse, Rachel Roberts and Vivean Gray. The film is adapted from the novel of the same name, by author Joan Lindsay....


(1975), Peter Weir

Peter Weir

Peter Lindsay Weir, AM is an Australian film director. After playing a leading role in the Australian New Wave cinema with his films such as Picnic at Hanging Rock, The Last Wave and Gallipoli, Weir directed a diverse group of American and international films—many of them major box office...


constructs a film of haunting mystery. Three girls and one of their teachers on a school outing mysteriously disappear. The only one that is later found remembers almost nothing. It is based on a 1967 drama and mystery novel of the same name by Australian author Joan Lindsay

Joan Lindsay

Joan Lindsay, Lady Lindsay was an Australian author, best known for her "ambiguous and intriguing" novel Picnic at Hanging Rock.-Life:...


, .
Baji on the Beach, Gurinder Chada (1993). The German version of the film is titled Picknick on the Beach. Nine Indian women of various ages flee from their everyday life into a joint excursion to the English resort town of Blackpool

Blackpool

Blackpool is a borough, seaside town, and unitary authority area of Lancashire, in North West England. It is situated along England's west coast by the Irish Sea, between the Ribble and Wyre estuaries, northwest of Preston, north of Liverpool, and northwest of Manchester...


. A rather unharmonious journey because conflicts between generations raise emotions to a fever pitch.
Blissfully Yours

Blissfully Yours

Blissfully Yours is a 2002 Thai romance film directed by Apichatpong Weerasethakul. It won the Un Certain Regard prize at the 2002 Cannes Film Festival.-Plot:...


, a film with a picnic in a jungle.
Picnickers are used to illustrate the scale of one metre in the film Powers of Ten

Powers of Ten

Powers of Ten is a 1968 American documentary short film written and directed by Charles and Ray Eames. The film depicts the relative scale of the Universe in factors of ten . The film is an adaptation of the book Cosmic View by Dutch educator Kees Boeke, and more recently is the basis of a new...


.
The Office Picnic (1973) is a dark comedy set in an Australian Public Service office. It was written and produced by film maker Tom Cowan

Tom Cowan

Thomas "Tom" Cowan is a Scottish footballer who played as a defender. He was part of the Huddersfield Town side that gained promotion to the Football League First Division during the 1994–1995 season and is the only player ever for Huddersfield Town F.C...


, who is now famous for his work on the series Survivor.
In music
In 1906, the British composer John William Bratton wrote a musical piece originally titled "The Teddy Bear Two Step". It became popular in a 1908 instrumental version renamed "Teddy Bears' Picnic

Teddy bears' picnic

"Teddy Bears' Picnic" is a song consisting of a melody by American composer John Walter Bratton, written in 1907, and lyrics added by Irish songwriter Jimmy Kennedy in 1932. It remains popular as a children's song, having been recorded by numerous artists over the decades. Kennedy lived at...


", performed by the Arthur Pryor

Arthur Pryor

Arthur Willard Pryor was a trombone virtuoso, bandleader, and soloist with the Sousa Band. In later life, he was an American Democratic Party politician from New Jersey, who served on the Monmouth County, New Jersey Board of Chosen Freeholders during the 1930s.Pryor was born on the second floor of...


Band. The song regained prominence in 1932 when the Irish lyricist Jimmy Kennedy added words and it was recorded by the then popular Henry Hall

Henry Hall (bandleader)

Henry Hall was a British bandleader. He played from the 1920s to the 1950s.-Biography:Henry Hall was born in Peckham, South London and served in both the Salvation Army and the British Army...


(and his BBC Dance Orchestra) featuring Val Rosing (Gilbert Russell) as lead vocalist, which went on to sell a million copies. The Teddy Bears' Picnic resurfaced again in the late 1940s and early 1950s when it was used as the theme song for the Big Jon and Sparkie

Jon Arthur

Jon Arthur was the professional name of Jon Arthur Goerss. As Big Jon Arthur he was the host of the Saturday morning children's radio series, Big Jon and Sparkie...


children's radio show. This perennial favorite has appeared on many children's recordings ever since, as well as being the theme song for the AHL

American Hockey League

The American Hockey League is a 30-team professional ice hockey league based in the United States and Canada that serves as the primary developmental circuit for the National Hockey League...


's Hershey Bears

Hershey Bears

The Hershey Bears Hockey Club is a professional ice hockey team playing in the American Hockey League, and is currently the top affiliate of the NHL Washington Capitals. The hockey club is based in the unincorporated town of Hershey, Pennsylvania, located within Derry Township some 14 miles east of...


hockey club. lyrics and audio from the BBC
"Stone Soul Picnic", by Laura Nyro

Laura Nyro

Laura Nyro was an American songwriter, singer, and pianist. She achieved considerable critical acclaim with her own recordings, particularly the albums Eli and the Thirteenth Confession and New York Tendaberry, and had commercial success with artists such as Barbra Streisand and The 5th...


(released in 1968) It was a major hit for the group The 5th Dimension. cover version by Swing Out Sister
"Malcolm's X-Ray Picnic" was a moderate hit for the indie-pop group Number One Cup.
Roxette

Roxette

Roxette are a Swedish pop music duo, consisting of Marie Fredriksson and Per Gessle . Formed in 1986, the duo became an international act from the late 1980s, when they released their breakthrough album Look Sharp!...


's "June Afternoon" depicts images of people having fun and eating on a park during a warm june day.
Further reading