 Itinerant
An
itinerant
is a person who
travel
Travel
Travel is the movement of people or objects between relatively distant geographical locations. 'Travel' can also include relatively short stays between successive movements.-Etymology:...
s from
place to place
Lifestyle travelling
Lifestyle travelling is a type of alternative lifestyle practised by people who travel for many years, usually from country to country.Lifestyle travellers often engage in free lance jobs, entrepreneurship, or own companies, but some do not work at all....
with no fixed
home
Home
A home is a place of residence or refuge. When it refers to a building, it is usually a place in which an individual or a family can rest and store personal property. Most modern-day households contain sanitary facilities and a means of preparing food. Animals have their own homes as well, either...
. The term comes from the late 16th century: from late
Latin
Latin
Latin is an Italic language originally spoken in Latium and Ancient Rome. It, along with most European languages, is a descendant of the ancient Proto-Indo-European language. Although it is considered a dead language, a number of scholars and members of the Christian clergy speak it fluently, and...
itinerant
(travelling), from the verb
itinerari
, from Latin
iter
,
itiner
(journey, road).
Types of itinerants
Itinerants throughout history and today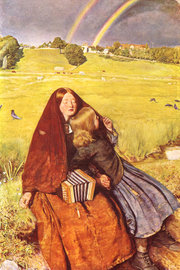 Freight Train Riders of America

Freight Train Riders of America

The Freight Train Riders of America is an American gang of homeless men who move about in railroad cars, particularly in the northwestern United States.-History and background:...


(freighthoppers

Freighthopping

Freighthopping or train hopping is the act of surreptitiously hitching a ride on a railroad freight car. In the United States, this became a common means of transportation following the American Civil War as the railroads began pushing westward, especially among migrant workers who became known as...


in United States

United States

The United States of America is a federal constitutional republic comprising fifty states and a federal district...


)
Romani people
Various indigenous peoples (indigenous peoples

Indigenous peoples

Indigenous peoples are ethnic groups that are defined as indigenous according to one of the various definitions of the term, there is no universally accepted definition but most of which carry connotations of being the "original inhabitants" of a territory....


, including uncontacted peoples

Uncontacted peoples

Uncontacted people, also referred to as isolated people or lost tribes, are communities who live, or have lived, either by choice or by circumstance, without significant contact with globalized civilisation....


)
Afar people

Afar people

The Afar , also known as the Danakil, are an ethnic group in the Horn of Africa. They primarily live in the Afar Region of Ethiopia and in northern Djibouti, although some also inhabit the southern point of Eritrea.-Early history:...


in Horn of Africa

Horn of Africa

The Horn of Africa is a peninsula in East Africa that juts hundreds of kilometers into the Arabian Sea and lies along the southern side of the Gulf of Aden. It is the easternmost projection of the African continent...



Bajau people of Philippines

Philippines

The Philippines , officially known as the Republic of the Philippines , is a country in Southeast Asia in the western Pacific Ocean. To its north across the Luzon Strait lies Taiwan. West across the South China Sea sits Vietnam...



Banjara

Banjara

The Banjara are a class of usually described as nomadic people from the Indian state of Rajasthan, North-West Gujarat, and Western Madhya Pradesh and Eastern Sindh province of pre-independence Pakistan...


of India

India

India , officially the Republic of India , is a country in South Asia. It is the seventh-largest country by geographical area, the second-most populous country with over 1.2 billion people, and the most populous democracy in the world...



Bedouin

Bedouin

The Bedouin are a part of a predominantly desert-dwelling Arab ethnic group traditionally divided into tribes or clans, known in Arabic as ..-Etymology:...


(nomadic Arab people of the desert

Desert

A desert is a landscape or region that receives an extremely low amount of precipitation, less than enough to support growth of most plants. Most deserts have an average annual precipitation of less than...


)
Beja people

Beja people

The Beja people are an ethnic group dwelling in parts of North Africa and the Horn of Africa.-Geography:The Beja are found mostly in Sudan, but also in parts of Eritrea, and Egypt...


in North Africa

North Africa

North Africa or Northern Africa is the northernmost region of the African continent, linked by the Sahara to Sub-Saharan Africa. Geopolitically, the United Nations definition of Northern Africa includes eight countries or territories; Algeria, Egypt, Libya, Morocco, South Sudan, Sudan, Tunisia, and...



Bushmen

Bushmen

The indigenous people of Southern Africa, whose territory spans most areas of South Africa, Zimbabwe, Lesotho, Mozambique, Swaziland, Botswana, Namibia, and Angola, are variously referred to as Bushmen, San, Sho, Barwa, Kung, or Khwe...


of Southern Africa

Southern Africa

Southern Africa is the southernmost region of the African continent, variably defined by geography or geopolitics. Within the region are numerous territories, including the Republic of South Africa ; nowadays, the simpler term South Africa is generally reserved for the country in English.-UN...



Dom people

Dom people

The Dom of the Middle East are an Indo-Aryan ethnic group. Some authors relate them to the Domba people of India.- Culture :...


in North Africa

North Africa

North Africa or Northern Africa is the northernmost region of the African continent, linked by the Sahara to Sub-Saharan Africa. Geopolitically, the United Nations definition of Northern Africa includes eight countries or territories; Algeria, Egypt, Libya, Morocco, South Sudan, Sudan, Tunisia, and...


and Western Asia
Eurasian nomads

Eurasian nomads

Eurasian nomads are a large group of peoples of the Eurasian Steppe. This generic title encompasses the ethnic groups inhabiting the steppes of Central Asia, Mongolia, and Eastern Europe. They domesticated the horse, and their economy and culture emphasizes horse breeding, horse riding, and a...


of Eurasian Steppe

Eurasian Steppe

The Eurasian Steppe is the vast steppe ecoregion of Eurasia in the Temperate grasslands, savannas, and shrublands Biome. It stretches from Hungary to Mongolia...



Ghilzai

Ghilzai

Ghilzai are the largest Pashtun tribal confederacy found in Afghanistan and Pakistan. They are also known historically as Ghilji, Khilji, Ghalji, Ghilzye, and possibly Gharzai...


in South

South Asia

South Asia, also known as Southern Asia, is the southern region of the Asian continent, which comprises the sub-Himalayan countries and, for some authorities , also includes the adjoining countries to the west and the east...


-Central

Central Asia

Central Asia is a core region of the Asian continent from the Caspian Sea in the west, China in the east, Afghanistan in the south, and Russia in the north...


Asia

Asia

Asia is the world's largest and most populous continent, located primarily in the eastern and northern hemispheres. It covers 8.7% of the Earth's total surface area and with approximately 3.879 billion people, it hosts 60% of the world's current human population...



Indigenous Australians

Indigenous Australians

Indigenous Australians are the original inhabitants of the Australian continent and nearby islands. The Aboriginal Indigenous Australians migrated from the Indian continent around 75,000 to 100,000 years ago....



Indigenous Norwegian Travellers

Indigenous Norwegian Travellers

The indigenous Norwegian Travellers are an ethnic minority group in Norway. They are a wandering people who once travelled by foot, with horse-drawn carts and with boats along the southern and southwestern coastline of Norway.-Names for the group:...



Indigenous peoples of the Americas

Indigenous peoples of the Americas

The indigenous peoples of the Americas are the pre-Columbian inhabitants of North and South America, their descendants and other ethnic groups who are identified with those peoples. Indigenous peoples are known in Canada as Aboriginal peoples, and in the United States as Native Americans...



Irish Travellers
Kuchi people of Afghanistan

Afghanistan

Afghanistan , officially the Islamic Republic of Afghanistan, is a landlocked country located in the centre of Asia, forming South Asia, Central Asia and the Middle East. With a population of about 29 million, it has an area of , making it the 42nd most populous and 41st largest nation in the world...



Nomads of India

Nomads of India

Nomads are known as a group of communities who use to travel place to place for livelihood. Their population is not estimated in India but it is supposed that they are 0.7% of total population of India. There are few nomadic communities found in India. Nomadic communities can be divided in to two...



Pygmy peoples in Equatorial Africa

Tropical Africa

Although tropical Africa is most familiar in the West as depicted by its rain forests, this region of Africa is far more diverse. While the tropics are thought of as regions with warm to hot moist climates caused by latitude and the tropical rain belt, the geology of areas, particularly mountain...


and parts of Southeast Asia

Southeast Asia

Southeast Asia, South-East Asia, South East Asia or Southeastern Asia is a subregion of Asia, consisting of the countries that are geographically south of China, east of India, west of New Guinea and north of Australia. The region lies on the intersection of geological plates, with heavy seismic...



Quinqui

Quinqui

Quinqui jargon is associated with quinquilleros , a reduced and possibly vanishing semi-nomadic group who live mainly in the northern half of Spain. They prefer to be called mercheros....


in northeren half of Spain

Spain

Spain , officially the Kingdom of Spain languages]] under the European Charter for Regional or Minority Languages. In each of these, Spain's official name is as follows:;;;;;;), is a country and member state of the European Union located in southwestern Europe on the Iberian Peninsula...


)
Scottish Travellers

Scottish Travellers

Scottish Travellers, or the people termed loosely Gypsies and Tinkers in Scotland, consist of a number of diverse, unrelated communities, with groups speaking a variety of different languages and holding to distinct customs, histories, and traditions...



Yeniche people in Europe

Europe

Europe is, by convention, one of the world's seven continents. Comprising the westernmost peninsula of Eurasia, Europe is generally 'divided' from Asia to its east by the watershed divides of the Ural and Caucasus Mountains, the Ural River, the Caspian and Black Seas, and the waterways connecting...



Notable itinerants
Alexander Supertramp
Kinga Freespirit
Albert Einstein

Albert Einstein

Albert Einstein was a German-born theoretical physicist who developed the theory of general relativity, effecting a revolution in physics. For this achievement, Einstein is often regarded as the father of modern physics and one of the most prolific intellects in human history...



Democritus

Democritus

Democritus was an Ancient Greek philosopher born in Abdera, Thrace, Greece. He was an influential pre-Socratic philosopher and pupil of Leucippus, who formulated an atomic theory for the cosmos....



Diogenes of Sinope

Diogenes of Sinope

Diogenes the Cynic was a Greek philosopher and one of the founders of Cynic philosophy. Also known as Diogenes of Sinope , he was born in Sinope , an Ionian colony on the Black Sea , in 412 or 404 BCE and died at Corinth in 323 BCE.Diogenes of Sinope was a controversial figure...



Friedrich Nietzsche

Friedrich Nietzsche

Friedrich Wilhelm Nietzsche was a 19th-century German philosopher, poet, composer and classical philologist...



Jean-Jacques Rousseau

Jean-Jacques Rousseau

Jean-Jacques Rousseau was a Genevan philosopher, writer, and composer of 18th-century Romanticism. His political philosophy influenced the French Revolution as well as the overall development of modern political, sociological and educational thought.His novel Émile: or, On Education is a treatise...



Mohandas Karamchand Gandhi
Paul Erdős

Paul Erdos

Paul Erdős was a Hungarian mathematician. Erdős published more papers than any other mathematician in history, working with hundreds of collaborators. He worked on problems in combinatorics, graph theory, number theory, classical analysis, approximation theory, set theory, and probability theory...



Gautama Buddha

Gautama Buddha

Siddhārtha Gautama was a spiritual teacher from the Indian subcontinent, on whose teachings Buddhism was founded. In most Buddhist traditions, he is regarded as the Supreme Buddha Siddhārtha Gautama (Sanskrit: सिद्धार्थ गौतम; Pali: Siddhattha Gotama) was a spiritual teacher from the Indian...



Historical Jesus

Historical Jesus

The term historical Jesus refers to scholarly reconstructions of the 1st-century figure Jesus of Nazareth. These reconstructions are based upon historical methods including critical analysis of gospel texts as the primary source for his biography, along with consideration of the historical and...