 Vagrancy (people)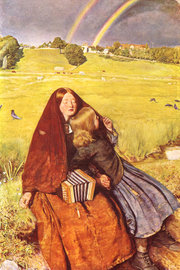 A
vagrant
is a person in
poverty
Poverty
Poverty is the lack of a certain amount of material possessions or money. Absolute poverty or destitution is inability to afford basic human needs, which commonly includes clean and fresh water, nutrition, health care, education, clothing and shelter. About 1.7 billion people are estimated to live...
, who wanders from place to place without a
home
Home
A home is a place of residence or refuge. When it refers to a building, it is usually a place in which an individual or a family can rest and store personal property. Most modern-day households contain sanitary facilities and a means of preparing food. Animals have their own homes as well, either...
or regular
employment
Employment
Employment is a contract between two parties, one being the employer and the other being the employee. An employee may be defined as:- Employee :...
or
income
Income
Income is the consumption and savings opportunity gained by an entity within a specified time frame, which is generally expressed in monetary terms. However, for households and individuals, "income is the sum of all the wages, salaries, profits, interests payments, rents and other forms of earnings...
.
Definition
A vagrant is "a person without a settled home or regular work who wanders from place to place and lives by begging;" vagrancy is the condition of such persons.
History
In settled, ordered communities, vagrants have been historically characterised as outsiders, embodiments of
otherness
Other
The Other or Constitutive Other is a key concept in continental philosophy; it opposes the Same. The Other refers, or attempts to refer, to that which is Other than the initial concept being considered...
, objects of scorn or mistrust, or worthy recipients of help and charity. Some ancient sources show vagrants as passive objects of pity, who deserve generosity and the gift of alms. Others show them as subversives, or outlaws, who make a parasitical living through theft, fear and threat. Some
fairy tale
Fairy tale
A fairy tale is a type of short story that typically features such folkloric characters, such as fairies, goblins, elves, trolls, dwarves, giants or gnomes, and usually magic or enchantments. However, only a small number of the stories refer to fairies...
s of medieval Europe have beggars cast
curse
Curse
A curse is any expressed wish that some form of adversity or misfortune will befall or attach to some other entity—one or more persons, a place, or an object...
s on anyone who was insulting or stingy towards them. In Tudor England, some of those who begged door-to-door for "
milk
Milk
Milk is a white liquid produced by the mammary glands of mammals. It is the primary source of nutrition for young mammals before they are able to digest other types of food. Early-lactation milk contains colostrum, which carries the mother's antibodies to the baby and can reduce the risk of many...
,
yeast
Yeast
Yeasts are eukaryotic micro-organisms classified in the kingdom Fungi, with 1,500 species currently described estimated to be only 1% of all fungal species. Most reproduce asexually by mitosis, and many do so by an asymmetric division process called budding...
,
drink
Drink
A drink, or beverage, is a liquid which is specifically prepared for human consumption. In addition to fulfilling a basic human need, beverages form part of the culture of human society.-Water:...
,
pottage
Pottage
Pottage is a thick soup or stew made by boiling vegetables, grains, and, if available, meat or fish.It was a staple food of all people living in Great Britain from neolithic times on into the Middle Ages...
" were thought to be witches. In some East Asian and
South Asia
South Asia
South Asia, also known as Southern Asia, is the southern region of the Asian continent, which comprises the sub-Himalayan countries and, for some authorities , also includes the adjoining countries to the west and the east...
n countries,
the condition of vagrancy has long been historically associated with the religious life, as described in the religious literature of Hindu, Buddhist, Jain and Muslim Sufi traditions. Examples include
sadhu
Sadhu
In Hinduism, sādhu denotes an ascetic, wandering monk. Although the vast majority of sādhus are yogīs, not all yogīs are sādhus. The sādhu is solely dedicated to achieving mokṣa , the fourth and final aśrama , through meditation and contemplation of brahman...
s,
dervish
Dervish
A Dervish or Darvesh is someone treading a Sufi Muslim ascetic path or "Tariqah", known for their extreme poverty and austerity, similar to mendicant friars in Christianity or Hindu/Buddhist/Jain sadhus.-Etymology:The Persian word darvīsh is of ancient origin and descends from a Proto-Iranian...
es,
Bhikkhu
Bhikkhu
A Bhikkhu or Bhikṣu is an ordained male Buddhist monastic. A female monastic is called a Bhikkhuni Nepali: ). The life of Bhikkhus and Bhikkhunis is governed by a set of rules called the patimokkha within the vinaya's framework of monastic discipline...
s and the sramanic traditions generally.
Tsardom of Russia
In the
Tsardom of Russia
Tsardom of Russia
The Tsardom of Russia was the name of the centralized Russian state from Ivan IV's assumption of the title of Tsar in 1547 till Peter the Great's foundation of the Russian Empire in 1721.From 1550 to 1700, Russia grew 35,000 km2 a year...
, the legal term "vagrancy" was defined in another way than respective terms (vagabondage, Landstreicherei) in
Western Europe
Western Europe
Western Europe is a loose term for the collection of countries in the western most region of the European continents, though this definition is context-dependent and carries cultural and political connotations. One definition describes Western Europe as a geographic entity—the region lying in the...
. Russian law recognized one as a vagrant if he could not prove his own standing (
title
Title
A title is a prefix or suffix added to someone's name to signify either veneration, an official position or a professional or academic qualification. In some languages, titles may even be inserted between a first and last name...
), or if he changed his residence without a permission from authorities, rather than punishing
loitering
Loitering
Loitering is the act of remaining in a particular public place for a protracted time. Under certain circumstances, it is illegal in various jurisdictions.-Prohibition and history:Loitering may be prohibited by local governments in several countries...
or absence of livelihood. Foreigners who had been twice expatriated with prohibition of return to the
Russian Empire
Russian Empire
The Russian Empire was a state that existed from 1721 until the Russian Revolution of 1917. It was the successor to the Tsardom of Russia and the predecessor of the Soviet Union...
and were arrested in Russia again were also recognized as vagrants. Punishments was harsh: According to Ulozhenie, a vagrant who could not elaborate on his kinship, standing, or permanent residence, or gave false evidence, was sentenced to 4-year imprisonment and subsequent exile to Siberia or another far-off province.
Russian Soviet Federative Socialist Republic
In Criminal Code of RSFSR 1960 which came into force at 1-st of January 1961 systematic (more than two times) vagrancy was punishable up to 2-year imprisonment (section 209).
It was actual till 5-th of December 1991, when Section 209 had been cancelled and vagrancy became not criminal.
Modern Russia
At the present, vagrancy in Russian Federation is not a crime or law violence.
But inducing juvenile (under 18) to vagrancy committed by a person over 18 years old is a crime
(CC of RF, section 151)
.
Vagrancy in UK law
The first major vagrancy law was passed in 1349 to increase the workforce following the
Black Death
Black Death
The Black Death was one of the most devastating pandemics in human history, peaking in Europe between 1348 and 1350. Of several competing theories, the dominant explanation for the Black Death is the plague theory, which attributes the outbreak to the bacterium Yersinia pestis. Thought to have...
by making "idleness" (unemployment) an offense. By the 1500s the statutes were mainly used as a means of controlling criminals. In the 16th and 17th century in England, a vagrant was a person who could work, but preferred not to (or could not find employment, so took to the road in order to do so), or one who begs for a living. Vagrancy was illegal, punishable by branding, whipping, conscription into the military, or at times
penal transportation
Penal transportation
Transportation or penal transportation is the deporting of convicted criminals to a penal colony. Examples include transportation by France to Devil's Island and by the UK to its colonies in the Americas, from the 1610s through the American Revolution in the 1770s, and then to Australia between...
to penal colonies. Vagrants were different from impotent poor, who were unable to support themselves because of advanced age or sickness. However, the English laws usually did not distinguish between the impotent poor and the criminals, so both received the same harsh punishments. In 1824, earlier vagrancy laws were consolidated in the
Vagrancy Act 1824 (UK)
whose main aim was removing
undesirables
from public view. The act assumed that homelessness was due to idleness and thus deliberate, and made it a criminal offense to engage in behaviors associated with extreme poverty. The
Poor Law
Poor Law
The English Poor Laws were a system of poor relief which existed in England and Wales that developed out of late-medieval and Tudor-era laws before being codified in 1587–98...
was the system for the provision of
social security
Social security
Social security is primarily a social insurance program providing social protection or protection against socially recognized conditions, including poverty, old age, disability, unemployment and others. Social security may refer to:...
in operation in
England and Wales
England and Wales
England and Wales is a jurisdiction within the United Kingdom. It consists of England and Wales, two of the four countries of the United Kingdom...
from the 16th century until the establishment of the
Welfare State
Welfare State
The Welfare State is a commitment to health, education, employment and social security in the United Kingdom.-Background:The United Kingdom, as a welfare state, was prefigured in the William Beveridge Report in 1942, which identified five "Giant Evils" in society: squalor, ignorance, want, idleness...
in the 20th century.
Vagrancy in US law
In colonial America, if a person wandered into a town and did not find work, he/she was told to leave town or be prosecuted. In the U.S., vagrancy laws were vague and covered a wide range of activities and crimes associated with vagrants, such as
loitering
Loitering
Loitering is the act of remaining in a particular public place for a protracted time. Under certain circumstances, it is illegal in various jurisdictions.-Prohibition and history:Loitering may be prohibited by local governments in several countries...
,
prostitution
Prostitution
Prostitution is the act or practice of providing sexual services to another person in return for payment. The person who receives payment for sexual services is called a prostitute and the person who receives such services is known by a multitude of terms, including a "john". Prostitution is one of...
,
drunkenness
Drunkenness
Alcohol intoxication is a physiological state that occurs when a person has a high level of ethanol in his or her blood....
, and associating with known criminals. Under the vagrancy laws, police arrested people who were suspected of crime, but who had not committed a crime. Eventually, punishments were changed to a fine, or several months in jail.
After the U.S. Civil War, the South passed Black Codes, laws that tried to control freed black slaves. Vagrancy laws were included in these codes. Homeless unemployed black Americans were arrested and fined as vagrants. Usually, the person could not afford the fine, and so was sent to county labor or hired out to a private employer.
In the U.S. of the 1960s, vagrancy laws were found to be too broad and vague, and in violation of the
due process
Due process
Due process is the legal code that the state must venerate all of the legal rights that are owed to a person under the principle. Due process balances the power of the state law of the land and thus protects individual persons from it...
requirements of the Fourteenth Amendment to the U.S. Constitution, as citizens were not informed of which behaviors were illegal. Police had too much power in deciding whether or not to arrest someone. Vagrancy laws could no longer violate
Freedom of Speech
Freedom of speech
Freedom of speech is the freedom to speak freely without censorship. The term freedom of expression is sometimes used synonymously, but includes any act of seeking, receiving and imparting information or ideas, regardless of the medium used...
, such as when police use them against political demonstrators and unpopular groups. U.S. vagrancy laws became clearer, narrower, and more defined. Since then, the status of being a vagrant is punished by the vagrancy laws, while other actions are punished under other laws.
In
Papachristou v. Jacksonville

Papachristou v. Jacksonville

Papachristou v. Jacksonville, 405 U.S. 156 , was a United States Supreme Court case resulting in a Jacksonville vagrancy ordinance being declared unconstitutionally vague. The case was argued on December 8, 1971 and decided on February 24, 1972...


,
405 U.S. 156 (1972), the U.S. Supreme Court ruled that a Florida vagrancy law was unconstitutional because it was too vague to be understood.
Nevertheless, new local laws in the U.S. have been passed to criminalize aggressive
panhandling
Aggressive panhandling
Aggressive panhandling is a legal term designating those forms of public solicitation which have been designated as unlawful. Proponents of such legislation include both liberal and conservative commentators who concur on the advisability of placing limits on these activities; opponents lament the...
activities by vagrants. In recent years, there has been an increase in laws criminalizing vagrancy and related activities in the United States – see 2009
Homes Not Handcuffs
– some under the rubric of
sit-lie ordinance
Sit-lie ordinance
In the United States, a sit-lie ordinance is municipal ordinance which, in certain circumstances, prohibits sitting or lying on the sidewalk or other public space, as the name suggests....
s.
In the U.S., some local officials encourage vagrants to move away instead of arresting them. The word
vagrant
has been replaced by
homeless person.
Prosecutions for vagrancy are rare, being replaced by prosecutions for specific offenses such as
loitering
Loitering
Loitering is the act of remaining in a particular public place for a protracted time. Under certain circumstances, it is illegal in various jurisdictions.-Prohibition and history:Loitering may be prohibited by local governments in several countries...
.
See also
Hobo

Hobo

A hobo is a term which is often applied to a migratory worker or homeless vagabond, often penniless. The term originated in the Western—probably Northwestern—United States during the last decade of the 19th century. Unlike 'tramps', who work only when they are forced to, and 'bums', who do not...



Homelessness

Homelessness

Homelessness describes the condition of people without a regular dwelling. People who are homeless are unable or unwilling to acquire and maintain regular, safe, and adequate housing, or lack "fixed, regular, and adequate night-time residence." The legal definition of "homeless" varies from country...



Squatting

Squatting

Squatting consists of occupying an abandoned or unoccupied space or building, usually residential, that the squatter does not own, rent or otherwise have permission to use....



Status crime
Vagabond (person)

Vagabond (person)

A vagabond is a drifter and an itinerant wanderer who roams wherever they please, following the whim of the moment. Vagabonds may lack residence, a job, and even citizenship....



External links