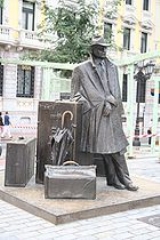 Travel
Travel
is the movement of
people
People
People is a plurality of human beings or other beings possessing enough qualities constituting personhood. It has two usages:* as the plural of person or a group of people People is a plurality of human beings or other beings possessing enough qualities constituting personhood. It has two usages:*...
or objects (such as
airplane
Fixed-wing aircraft
A fixed-wing aircraft is an aircraft capable of flight using wings that generate lift due to the vehicle's forward airspeed. Fixed-wing aircraft are distinct from rotary-wing aircraft in which wings rotate about a fixed mast and ornithopters in which lift is generated by flapping wings.A powered...
s,
boat
Boat
A boat is a watercraft of any size designed to float or plane, to provide passage across water. Usually this water will be inland or in protected coastal areas. However, boats such as the whaleboat were designed to be operated from a ship in an offshore environment. In naval terms, a boat is a...
s,
train
Train
A train is a connected series of vehicles for rail transport that move along a track to transport cargo or passengers from one place to another place. The track usually consists of two rails, but might also be a monorail or maglev guideway.Propulsion for the train is provided by a separate...
s and other conveyances) between relatively distant geographical
location
Location (geography)
The terms location and place in geography are used to identify a point or an area on the Earth's surface or elsewhere. The term 'location' generally implies a higher degree of can certainty than "place" which often has an ambiguous boundary relying more on human/social attributes of place identity...
s. 'Travel' can also include relatively short stays between successive movements.
The term "travel" originates from the
Middle English
Middle English
Middle English is the stage in the history of the English language during the High and Late Middle Ages, or roughly during the four centuries between the late 11th and the late 15th century....
word
travail
. The term also covers all the activities performed during a travel (movement). A person who travels is spelled "traveler" in the
United States
United States
The United States of America is a federal constitutional republic comprising fifty states and a federal district...
, and "traveller" in the
United Kingdom
United Kingdom
The United Kingdom of Great Britain and Northern IrelandIn the United Kingdom and Dependencies, other languages have been officially recognised as legitimate autochthonous languages under the European Charter for Regional or Minority Languages...
.
Reasons for traveling include
recreation
Recreation
Recreation is an activity of leisure, leisure being discretionary time. The "need to do something for recreation" is an essential element of human biology and psychology. Recreational activities are often done for enjoyment, amusement, or pleasure and are considered to be "fun"...
,
tourism
Tourism
Tourism is travel for recreational, leisure or business purposes. The World Tourism Organization defines tourists as people "traveling to and staying in places outside their usual environment for not more than one consecutive year for leisure, business and other purposes".Tourism has become a...
or
vacation
Vacation
A vacation or holiday is a specific trip or journey, usually for the purpose of recreation or tourism. People often take a vacation during specific holiday observances, or for specific festivals or celebrations...
ing,
research
Research
Research can be defined as the scientific search for knowledge, or as any systematic investigation, to establish novel facts, solve new or existing problems, prove new ideas, or develop new theories, usually using a scientific method...
travel for the gathering of information, for
holiday
Holiday
A Holiday is a day designated as having special significance for which individuals, a government, or a religious group have deemed that observance is warranted. It is generally an official or unofficial observance of religious, national, or cultural significance, often accompanied by celebrations...
to visit people,
volunteer travel
Volunteer travel
Volunteer travel, volunteer vacations, voluntourism, or vacanteerism is travel which includes volunteering for a charitable cause. In recent years, "bite-sized" volunteer vacations have grown in popularity. The types of volunteer vacations are diverse, from low-skill work cleaning up local...
for
charity
Charity (practice)
The practice of charity means the voluntary giving of help to those in need who are not related to the giver.- Etymology :The word "charity" entered the English language through the Old French word "charité" which was derived from the Latin "caritas".Originally in Latin the word caritas meant...
,
migration
Human migration
Human migration is physical movement by humans from one area to another, sometimes over long distances or in large groups. Historically this movement was nomadic, often causing significant conflict with the indigenous population and their displacement or cultural assimilation. Only a few nomadic...
to begin life somewhere else, religious
pilgrimage
Pilgrimage
A pilgrimage is a journey or search of great moral or spiritual significance. Typically, it is a journey to a shrine or other location of importance to a person's beliefs and faith...
s and mission trips,
business travel
Business travel
Business travel is the practice of people traveling for purposes related to their work. It is on the rise especially with foreign business markets opening up...
,
trade
Trade
Trade is the transfer of ownership of goods and services from one person or entity to another. Trade is sometimes loosely called commerce or financial transaction or barter. A network that allows trade is called a market. The original form of trade was barter, the direct exchange of goods and...
,
commuting
Commuting
Commuting is regular travel between one's place of residence and place of work or full time study. It sometimes refers to any regular or often repeated traveling between locations when not work related.- History :...
, and other reasons, such as to obtain health care or
fleeing war
Refugee
A refugee is a person who outside her country of origin or habitual residence because she has suffered persecution on account of race, religion, nationality, political opinion, or because she is a member of a persecuted 'social group'. Such a person may be referred to as an 'asylum seeker' until...
.
"A good traveler has no fixed plans, and is not intent on arriving." ~ Lao Tzu|Lao Tzu

"Anything we fully do is an alone journey." ~ Natalie Goldberg

"Don't listen to what they say. Go see." ~ Chinese_proverbs|Chinese proverb

"Go forth on your path, as it exists only through your walking." ~ Saint Augustine (354-430)

"He who strays discovers new paths." ~ Nils Kjær

"Curiosity is the best learning tool one can posses." ~ S M Neel

"It's only when we realize that life is taking us nowhere that it begins to have meaning." ~ P. D. Ouspensky

"if you're not willing to be changed by a place, there's no point in going."

"Life is like stepping onto a boat that is about to sail out to sea and sink." ~ Shunryu Suzuki

"Look at the stars lighting up the sky: no one of them stays in the same place." ~ Seneca (4 BC - 65 AD)