 Pilgrim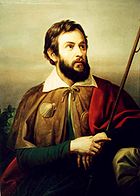 A
pilgrim
is a traveler (literally one who has come from afar) who is on
a journey to a holy place
Pilgrimage
A pilgrimage is a journey or search of great moral or spiritual significance. Typically, it is a journey to a shrine or other location of importance to a person's beliefs and faith...
. Typically, this is a physical journeying (often on foot) to some place of special significance to the adherent of a particular religious belief system. In the spiritual literature of Christianity the concept of pilgrim and pilgrimage may refer to the experience of life in
the world
World (theology)
-Christian views on the World:In Christianity, the concept connotes the fallen and corrupt world order of human society. The world is frequently cited alongside the flesh and the Devil as a source of temptation that Christians should flee...
(considered as a period of exile) or to the inner path of the spiritual aspirant from a state of wretchedness to a state of beatitude.
History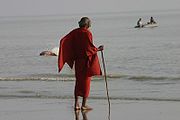 Pilgrims and the making of pilgrimages are common in many
religion
Religion
Religion is a collection of cultural systems, belief systems, and worldviews that establishes symbols that relate humanity to spirituality and, sometimes, to moral values. Many religions have narratives, symbols, traditions and sacred histories that are intended to give meaning to life or to...
s, including the faiths in
ancient Egypt
Ancient Egypt
Ancient Egypt was an ancient civilization of Northeastern Africa, concentrated along the lower reaches of the Nile River in what is now the modern country of Egypt. Egyptian civilization coalesced around 3150 BC with the political unification of Upper and Lower Egypt under the first pharaoh...
, Persia in the
Mithraic period
Mithraism
The Mithraic Mysteries were a mystery religion practised in the Roman Empire from about the 1st to 4th centuries AD. The name of the Persian god Mithra, adapted into Greek as Mithras, was linked to a new and distinctive imagery...
,
India
India
India , officially the Republic of India , is a country in South Asia. It is the seventh-largest country by geographical area, the second-most populous country with over 1.2 billion people, and the most populous democracy in the world...
,
China
China
Chinese civilization may refer to:* China for more general discussion of the country.* Chinese culture* Greater China, the transnational community of ethnic Chinese.* History of China* Sinosphere, the area historically affected by Chinese culture...
, and
Japan
Japan
Japan is an island nation in East Asia. Located in the Pacific Ocean, it lies to the east of the Sea of Japan, China, North Korea, South Korea and Russia, stretching from the Sea of Okhotsk in the north to the East China Sea and Taiwan in the south...
. The
Greek
Ancient Greece
Ancient Greece is a civilization belonging to a period of Greek history that lasted from the Archaic period of the 8th to 6th centuries BC to the end of antiquity. Immediately following this period was the beginning of the Early Middle Ages and the Byzantine era. Included in Ancient Greece is the...
and
Roman
Ancient Rome
Ancient Rome was a thriving civilization that grew on the Italian Peninsula as early as the 8th century BC. Located along the Mediterranean Sea and centered on the city of Rome, it expanded to one of the largest empires in the ancient world....
customs of consulting the
god
God
God is the English name given to a singular being in theistic and deistic religions who is either the sole deity in monotheism, or a single deity in polytheism....
s at local
oracle
Oracle
In Classical Antiquity, an oracle was a person or agency considered to be a source of wise counsel or prophetic predictions or precognition of the future, inspired by the gods. As such it is a form of divination....
s, such as those at
Dodona
Dodona
Dodona in Epirus in northwestern Greece, was an oracle devoted to a Mother Goddess identified at other sites with Rhea or Gaia, but here called Dione, who was joined and partly supplanted in historical times by the Greek god Zeus.The shrine of Dodona was regarded as the oldest Hellenic oracle,...
or
Delphi
Delphi
Delphi is both an archaeological site and a modern town in Greece on the south-western spur of Mount Parnassus in the valley of Phocis.In Greek mythology, Delphi was the site of the Delphic oracle, the most important oracle in the classical Greek world, and a major site for the worship of the god...
, both in Greece, are widely known. In Greece, pilgrimages could either be personal or state-sponsored.
In the early period of
Hebrew history
History of ancient Israel and Judah
Israel and Judah were related Iron Age kingdoms of ancient Palestine. The earliest known reference to the name Israel in archaeological records is in the Merneptah stele, an Egyptian record of c. 1209 BCE. By the 9th century BCE the Kingdom of Israel had emerged as an important local power before...
, pilgrims traveled to Shiloh, Dan,
Bethel
Bethel
Bethel was a border city described in the Hebrew Bible as being located between Benjamin and Ephraim...
, and eventually
Jerusalem
, a practice followed by other Abrahamic religions. While many religious pilgrims travel toward a specific destination, a physical location is not a necessity. One group of pilgrims in early
Celtic Christianity
Celtic Christianity
Celtic Christianity or Insular Christianity refers broadly to certain features of Christianity that were common, or held to be common, across the Celtic-speaking world during the Early Middle Ages...
were the
Peregrinari Pro Christ
, (Pilgrims for Christ), or "white martyrs". They left their homes to wander in the world. This sort of pilgrimage was an
ascetic
Asceticism
Asceticism describes a lifestyle characterized by abstinence from various sorts of worldly pleasures often with the aim of pursuing religious and spiritual goals...
religious practice, as the pilgrim left the security of home and the
clan
Clan
A clan is a group of people united by actual or perceived kinship and descent. Even if lineage details are unknown, clan members may be organized around a founding member or apical ancestor. The kinship-based bonds may be symbolical, whereby the clan shares a "stipulated" common ancestor that is a...
for an unknown destination, in complete trust of
Divine Providence
Divine Providence
In Christian theology, divine providence, or simply providence, is God's activity in the world. " Providence" is also used as a title of God exercising His providence, and then the word are usually capitalized...
. These travels often resulted in the founding of new
abbey
Abbey
An abbey is a Catholic monastery or convent, under the authority of an Abbot or an Abbess, who serves as the spiritual father or mother of the community.The term can also refer to an establishment which has long ceased to function as an abbey,...
s and spreading Christianity among the pagan population in
Britain
Sub-Roman Britain
Sub-Roman Britain is a term derived from an archaeological label for the material culture of Britain in Late Antiquity: the term "Sub-Roman" was invented to describe the potsherds in sites of the 5th century and the 6th century, initially with an implication of decay of locally-made wares from a...
as well as in continental Europe.
Modern era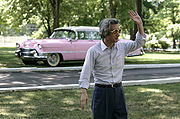 Many religions still espouse pilgrimage as a spiritual activity. The great
Islam
Islam
Islam . The most common are and . : Arabic pronunciation varies regionally. The first vowel ranges from ~~. The second vowel ranges from ~~~...
ic pilgrimage to
Mecca
Mecca
Mecca is a city in the Hijaz and the capital of Makkah province in Saudi Arabia. The city is located inland from Jeddah in a narrow valley at a height of above sea level...
(now in
Saudi Arabia
Saudi Arabia
The Kingdom of Saudi Arabia , commonly known in British English as Saudi Arabia and in Arabic as as-Sa'ūdiyyah , is the largest state in Western Asia by land area, constituting the bulk of the Arabian Peninsula, and the second-largest in the Arab World...
), is obligatory for every able Muslim. Other Islamic devotional pilgrimages, particularly to the
tombs of Shia Imams
Holiest sites in Islam (Shia)
In addition to the three Mosques accepted by all Muslims as holy sites, Shī'ah Muslims consider sites associated with Muhammad, his family members and descendants , their companions, and the Prophets as holy places...
or Sufi saints, are also popular across the Islamic world.
Beginning in 1894, Christian ministers under the direction of
Charles Taze Russell
Charles Taze Russell
Charles Taze Russell , or Pastor Russell, was a prominent early 20th century Christian restorationist minister from Pittsburgh, Pennsylvania, USA, and founder of what is now known as the Bible Student movement, from which Jehovah's Witnesses and numerous independent Bible Student groups emerged...
were appointed to travel to and work with local Bible Students congregations for a few days at a time; within a few years appointments were extended internationally, formally designated as "pilgrims", and scheduled for twice-yearly, week-long visits at each local congregation. International Bible Students Association (IBSA) pilgrims were excellent speakers, and their local talks were typically well-publicized and well-attended. Prominent Bible Students A. H. Macmillan and J. F. Rutherford were both appointed pilgrims before they joined the board of directors of the
Watch Tower Bible and Tract Society of Pennsylvania
Watch Tower Bible and Tract Society of Pennsylvania
The Watch Tower Bible and Tract Society of Pennsylvania is a non-stock, not-for-profit organization headquartered in the New York City borough of Brooklyn, United States. It is the main legal entity used worldwide by Jehovah's Witnesses to direct, administer and develop doctrines for the religion...
; the IBSA later adopted the name
Jehovah's Witnesses
Jehovah's Witnesses
Jehovah's Witnesses is a millenarian restorationist Christian denomination with nontrinitarian beliefs distinct from mainstream Christianity. The religion reports worldwide membership of over 7 million adherents involved in evangelism, convention attendance of over 12 million, and annual...
and renamed pilgrims as
traveling overseers
.
A modern phenomenon is the cultural pilgrimage, which while also about personal journey, involves a secular response. Destinations for such pilgrims can include historic sites of national or cultural importance, and can be defined as places "of cultural significance: an artist's home, the location of a pivotal event or an iconic destination." An example might be a
baseball
Baseball
Baseball is a bat-and-ball sport played between two teams of nine players each. The aim is to score runs by hitting a thrown ball with a bat and touching a series of four bases arranged at the corners of a ninety-foot diamond...
fan visiting
Cooperstown, New York
Cooperstown, New York
Cooperstown is a village in Otsego County, New York, USA. It is located in the Town of Otsego. The population was estimated to be 1,852 at the 2010 census.The Village of Cooperstown is the county seat of Otsego County, New York...
. Destinations for cultural pilgrims include examples such as
Auschwitz concentration camp
Auschwitz concentration camp
Concentration camp Auschwitz was a network of Nazi concentration and extermination camps built and operated by the Third Reich in Polish areas annexed by Nazi Germany during World War II...
,
Gettysburg Battlefield
Gettysburg Battlefield
The Gettysburg Battlefield is the area of the July 1–3, 1863, military engagements of the Battle of Gettysburg within and around the borough of Gettysburg, Pennsylvania. Locations of military engagements extend from the 4 acre site of the first shot & at on the west of the borough, to East...
, the
Ernest Hemingway House
Ernest Hemingway House
The Ernest Hemingway House, officially known as the Ernest Hemingway Home & Museum, was the residence of author Ernest Hemingway in Key West, Florida, United States. It is located at 907 Whitehead Street, near a prominent lighthouse close to the Southern coast of the island. On November 24, 1968,...
or even
Disneyland
Disneyland Park (Anaheim)
Disneyland Park is a theme park located in Anaheim, California, owned and operated by the Walt Disney Parks and Resorts division of the Walt Disney Company. Known as Disneyland when it opened on July 18, 1955, and still almost universally referred to by that name, it is the only theme park to be...
. Cultural pilgrims may also travel on religious pilgrimage routes, such as the
Way of St. James
Way of St. James
The Way of St. James or St. James' Way is the pilgrimage route to the Cathedral of Santiago de Compostela in Galicia in northwestern Spain, where tradition has it that the remains of the apostle Saint James are buried....
, with the perspective of making it a historic or architectural tour rather than a religious experience.
Secular pilgrims also exist under communist regimes. These devotional but strictly secular pilgrims visited locations such as the Mausoleum of Lenin or
Mausoleum of Mao Zedong
Mausoleum of Mao Zedong
The Chairman Mao Memorial Hall , commonly known as the Mausoleum of Mao Zedong, or the Mao Mausoleum, is the final resting place of Mao Zedong, Chairman of the Politburo of the Communist Party of China from 1943 and the chairman of the Central Committee of the Communist Party of China from 1945...
, or the
Birthplace of Karl Marx
Karl Marx House
The Karl Marx House museum is the house in Trier in which Karl Marx was born in 1818; it is now a museum. The significance of the house went unnoticed until 1904, at which point the Social Democratic Party of Germany worked hard to buy it, succeeding in 1928...
. Such visits were sometimes state-sponsored.
Notable pilgrims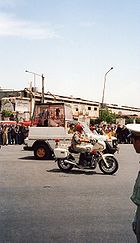 Many national and international leaders have gone on pilgrimages for both personal and political reasons.
Bridget of Sweden

Bridget of Sweden

Bridget of Sweden Bridget of Sweden Bridget of Sweden (1303 – 23 July 1373; also Birgitta of Vadstena, Saint Birgitta , was a mystic and saint, and founder of the Bridgettines nuns and monks after the death of her husband of twenty years...



Columba

Columba

Saint Columba —also known as Colum Cille , Colm Cille , Calum Cille and Kolban or Kolbjørn —was a Gaelic Irish missionary monk who propagated Christianity among the Picts during the Early Medieval Period...



Egeria
Godric of Finchale

Godric of Finchale

Saint Godric of Finchale was an English hermit, merchant and popular medieval saint, although he was never formally canonized. He was born in Walpole in Norfolk and died in Finchale in County Durham, England....



Ignatius of Loyola

Ignatius of Loyola

Ignatius of Loyola was a Spanish knight from a Basque noble family, hermit, priest since 1537, and theologian, who founded the Society of Jesus and was its first Superior General. Ignatius emerged as a religious leader during the Counter-Reformation...



James, son of Zebedee
Judah HaLevi
Junichiro Koizumi

Junichiro Koizumi

is a Japanese politician who served as Prime Minister of Japan from 2001 to 2006. He retired from politics when his term in parliament ended.Widely seen as a maverick leader of the Liberal Democratic Party , he became known as an economic reformer, focusing on Japan's government debt and the...



Mahatma Gandhi

Mahatma Gandhi

Mohandas Karamchand Gandhi , pronounced . 2 October 1869 – 30 January 1948) was the pre-eminent political and ideological leader of India during the Indian independence movement...



Malcolm X

Malcolm X

Malcolm X , born Malcolm Little and also known as El-Hajj Malik El-Shabazz , was an African American Muslim minister and human rights activist. To his admirers he was a courageous advocate for the rights of African Americans, a man who indicted white America in the harshest terms for its...



Margery Kempe

Margery Kempe

Margery Kempe is known for dictating The Book of Margery Kempe, a work considered by some to be the first autobiography in the English language. This book chronicles, to some extent, her extensive pilgrimages to various holy sites in Europe and Asia, as well as her mystical conversations with God...



Mansa Musa
Mustapha Kartali

Mustapha Kartali

Mustapha Kartali was the main Islamist guerrilla leader in the Larbaa region during the Algerian Civil War.Born in 1946, he was elected FIS mayor of Larbaa, a town south of Algiers, in 1991. After the military banned FIS, he joined the Armed Islamic Group's guerrillas in fighting the government,...



Pope John Paul II

Pope John Paul II

Blessed Pope John Paul II , born Karol Józef Wojtyła , reigned as Pope of the Catholic Church and Sovereign of Vatican City from 16 October 1978 until his death on 2 April 2005, at of age. His was the second-longest documented pontificate, which lasted ; only Pope Pius IX ...



Tenzin Gyatso, 14th Dalai Lama and Rangjung Rigpe Dorje

Rangjung Rigpe Dorje

The sixteenth Gyalwa Karmapa, Rangjung Rigpe Dorje was spiritual leader of the Karma Kagyu lineage of Tibetan Buddhism...



Piligrim

Piligrim

Piligrim was Bishop of Passau. Piligrim was ambitious, but also concerned with the Christianization of Hungary....



Thomas the Apostle

Thomas the Apostle

Thomas the Apostle, also called Doubting Thomas or Didymus was one of the Twelve Apostles of Jesus. He is best known for questioning Jesus' resurrection when first told of it, then proclaiming "My Lord and my God" on seeing Jesus in . He was perhaps the only Apostle who went outside the Roman...



Literature
External links