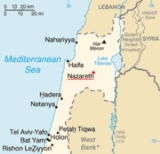 Historical Jesus
The term
historical Jesus
refers to scholarly reconstructions of the 1st-century figure
Jesus
Jesus
Jesus of Nazareth , commonly referred to as Jesus Christ or simply as Jesus or Christ, is the central figure of Christianity...
of
Nazareth
Nazareth
Nazareth is the largest city in the North District of Israel. Known as "the Arab capital of Israel," the population is made up predominantly of Palestinian Arab citizens of Israel...
. These reconstructions are based upon
historical method
Historical method
Historical method comprises the techniques and guidelines by which historians use primary sources and other evidence to research and then to write histories in the form of accounts of the past. The question of the nature, and even the possibility, of a sound historical method is raised in the...
s including
critical
Biblical criticism
Biblical criticism is the scholarly "study and investigation of Biblical writings that seeks to make discerning judgments about these writings." It asks when and where a particular text originated; how, why, by whom, for whom, and in what circumstances it was produced; what influences were at work...
analysis of gospel texts as the
primary source
Primary source
Primary source is a term used in a number of disciplines to describe source material that is closest to the person, information, period, or idea being studied....
for his biography, along with consideration of the
historical and cultural context
Cultural and historical background of Jesus
Most scholars who study the Historical Jesus and Early Christianity believe that the Canonical Gospels and life of Jesus must be viewed as firmly placed within his historical and cultural context, rather than purely in terms of Christian orthodoxy...
in which he lived.
The historical Jesus is believed to be a
Galilean
Galilee
Galilee , is a large region in northern Israel which overlaps with much of the administrative North District of the country. Traditionally divided into Upper Galilee , Lower Galilee , and Western Galilee , extending from Dan to the north, at the base of Mount Hermon, along Mount Lebanon to the...
Jew who undertook at least one
pilgrimage
Pilgrimage
A pilgrimage is a journey or search of great moral or spiritual significance. Typically, it is a journey to a shrine or other location of importance to a person's beliefs and faith...
to Jerusalem, then part of Roman Judaea, during a time of
messianic
Messiah
A messiah is a redeemer figure expected or foretold in one form or another by a religion. Slightly more widely, a messiah is any redeemer figure. Messianic beliefs or theories generally relate to eschatological improvement of the state of humanity or the world, in other words the World to...
and apocalyptic expectations in late
Second Temple Judaism
Second Temple Judaism
Second Temple Judaism refers to the religion of Judaism during the Second Temple period, between the construction of the second Jewish temple in Jerusalem in 515 BCE, and its destruction by the Romans in 70 CE This period witnessed major historical upheavals and significant religious changes that...
.