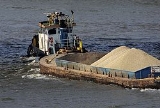 Barge
A
barge
is a flat-bottomed
boat
Boat
A boat is a watercraft of any size designed to float or plane, to provide passage across water. Usually this water will be inland or in protected coastal areas. However, boats such as the whaleboat were designed to be operated from a ship in an offshore environment. In naval terms, a boat is a...
, built mainly for
river
River
A river is a natural watercourse, usually freshwater, flowing towards an ocean, a lake, a sea, or another river. In a few cases, a river simply flows into the ground or dries up completely before reaching another body of water. Small rivers may also be called by several other names, including...
and
canal
Canal
Canals are man-made channels for water. There are two types of canal:#Waterways: navigable transportation canals used for carrying ships and boats shipping goods and conveying people, further subdivided into two kinds:...
transport of heavy goods. Some barges are not self-propelled and need to be towed by
tugboat
Tugboat
A tugboat is a boat that maneuvers vessels by pushing or towing them. Tugs move vessels that either should not move themselves, such as ships in a crowded harbor or a narrow canal,or those that cannot move by themselves, such as barges, disabled ships, or oil platforms. Tugboats are powerful for...
s or pushed by towboats. Canal barges, towed by draft animals on an adjacent
towpath
Towpath
A towpath is a road or trail on the bank of a river, canal, or other inland waterway. The purpose of a towpath is to allow a land vehicle, beasts of burden, or a team of human pullers to tow a boat, often a barge...
, contended with the railway in the early
industrial revolution
Industrial Revolution
The Industrial Revolution was a period from the 18th to the 19th century where major changes in agriculture, manufacturing, mining, transportation, and technology had a profound effect on the social, economic and cultural conditions of the times...
, but
were outcompeted
History of the British canal system
The British canal system of water transport played a vital role in the United Kingdom's Industrial Revolution at a time when roads were only just emerging from the medieval mud and long trains of pack horses were the only means of "mass" transit by road of raw materials and finished products The...
in the carriage of high-value items due to the higher speed, falling costs, and route flexibility of
rail
Rail transport
Rail transport is a means of conveyance of passengers and goods by way of wheeled vehicles running on rail tracks. In contrast to road transport, where vehicles merely run on a prepared surface, rail vehicles are also directionally guided by the tracks they run on...
.
Barge
is attested from 1300, from
Old French
Old French
Old French was the Romance dialect continuum spoken in territories that span roughly the northern half of modern France and parts of modern Belgium and Switzerland from the 9th century to the 14th century...
barge
, from
Vulgar Latin
Vulgar Latin
Vulgar Latin is any of the nonstandard forms of Latin from which the Romance languages developed. Because of its nonstandard nature, it had no official orthography. All written works used Classical Latin, with very few exceptions...
barga
.