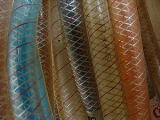 Hose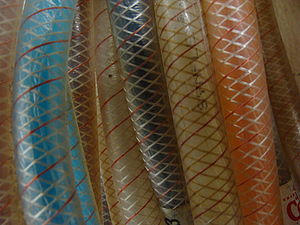 A
hose
is a hollow tube designed to carry
fluid
Fluid
In physics, a fluid is a substance that continually deforms under an applied shear stress. Fluids are a subset of the phases of matter and include liquids, gases, plasmas and, to some extent, plastic solids....
s from one location to another. Hoses are also sometimes called
pipes
Pipe (material)
A pipe is a tubular section or hollow cylinder, usually but not necessarily of circular cross-section, used mainly to convey substances which can flow — liquids and gases , slurries, powders, masses of small solids...
(the word
pipe
usually refers to a rigid tube, whereas a hose is usually a flexible one), or more generally
tubing
. The shape of a hose is usually
cylindrical
Cylinder (geometry)
A cylinder is one of the most basic curvilinear geometric shapes, the surface formed by the points at a fixed distance from a given line segment, the axis of the cylinder. The solid enclosed by this surface and by two planes perpendicular to the axis is also called a cylinder...
(having a
circular
Circle
A circle is a simple shape of Euclidean geometry consisting of those points in a plane that are a given distance from a given point, the centre. The distance between any of the points and the centre is called the radius....
cross section
Cross section (geometry)
In geometry, a cross-section is the intersection of a figure in 2-dimensional space with a line, or of a body in 3-dimensional space with a plane, etc...
).
Hose design is based on a combination of application and performance. Common factors are Size, Pressure Rating, Weight, Length, Straight hose or Coilhose and Chemical Compatabiltiy.
Hoses are made from one or a combination of many different materials. Applications mostly use
nylon
Nylon
Nylon is a generic designation for a family of synthetic polymers known generically as polyamides, first produced on February 28, 1935, by Wallace Carothers at DuPont's research facility at the DuPont Experimental Station...
,
polyurethane
Polyurethane
A polyurethane is any polymer composed of a chain of organic units joined by carbamate links. Polyurethane polymers are formed through step-growth polymerization, by reacting a monomer with another monomer in the presence of a catalyst.Polyurethanes are...
,
polyethylene
Polyethylene
Polyethylene or polythene is the most widely used plastic, with an annual production of approximately 80 million metric tons...
,
PVC
PVC
Polyvinyl chloride is a plastic.PVC may also refer to:*Param Vir Chakra, India's highest military honor*Peripheral venous catheter, a small, flexible tube placed into a peripheral vein in order to administer medication or fluids...
, or synthetic or natural
rubber
Rubber
Natural rubber, also called India rubber or caoutchouc, is an elastomer that was originally derived from latex, a milky colloid produced by some plants. The plants would be 'tapped', that is, an incision made into the bark of the tree and the sticky, milk colored latex sap collected and refined...
s, based on the environment and pressure rating needed. In recent years, hoses can also be manufactured from special grades of polyethylene (LDPE and especially LLDPE). Other hose materials include PTFE (Teflon),
stainless steel
Stainless steel
In metallurgy, stainless steel, also known as inox steel or inox from French "inoxydable", is defined as a steel alloy with a minimum of 10.5 or 11% chromium content by mass....
and other metals.
Reinforced rubber hose
To achieve a better pressure resistance hoses can be reinforced with fibers or steel cord. Commonly used reinforcement methods are braiding, spiralling, knitting and wrapping of fabric plies. The reinfocement increases the pressure resistance but also the stiffness. To obtain flexibility corrugations or bellows are used. Usually circumferential or helical reinforcement rings are applied to maintain these corrugated or bellowed structures under internal pressure.
Applications
Hoses can be used in
water
Water
Water is a chemical substance with the chemical formula H2O. A water molecule contains one oxygen and two hydrogen atoms connected by covalent bonds. Water is a liquid at ambient conditions, but it often co-exists on Earth with its solid state, ice, and gaseous state . Water also exists in a...
or other
liquid
Liquid
Liquid is one of the three classical states of matter . Like a gas, a liquid is able to flow and take the shape of a container. Some liquids resist compression, while others can be compressed. Unlike a gas, a liquid does not disperse to fill every space of a container, and maintains a fairly...
environments or to convey air or other
gas
Gas
Gas is one of the three classical states of matter . Near absolute zero, a substance exists as a solid. As heat is added to this substance it melts into a liquid at its melting point , boils into a gas at its boiling point, and if heated high enough would enter a plasma state in which the electrons...
es. Hoses are used to carry fluids through air or fluid environments, and they are typically used with
clamp
Clamp (tool)
A clamp is a fastening device to hold or secure objects tightly together to prevent movement or separation through the application of inward pressure...
s,
spigot
Tap (valve)
A tap is a valve controlling release of liquids or gas. In the British Isles and most of the Commonwealth, the word is used for any everyday type of valve, particularly the fittings that control water supply to bathtubs and sinks. In the U.S., the term "tap" is more often used for beer taps,...
s,
flange
Flange
A flange is an external or internal ridge, or rim , for strength, as the flange of an iron beam such as an I-beam or a T-beam; or for attachment to another object, as the flange on the end of a pipe, steam cylinder, etc., or on the lens mount of a camera; or for a flange of a rail car or tram wheel...
s, and
nozzle
Nozzle
A nozzle is a device designed to control the direction or characteristics of a fluid flow as it exits an enclosed chamber or pipe via an orifice....
s to control fluid flow.
Specific applications include the following: