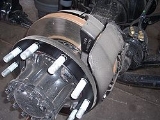 Air brake (road vehicle)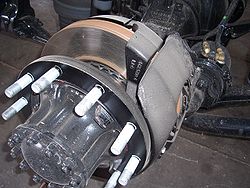 Air brakes
are used in
truck
Truck
A truck or lorry is a motor vehicle designed to transport cargo. Trucks vary greatly in size, power, and configuration, with the smallest being mechanically similar to an automobile...
s,
bus
Bus
A bus is a road vehicle designed to carry passengers. Buses can have a capacity as high as 300 passengers. The most common type of bus is the single-decker bus, with larger loads carried by double-decker buses and articulated buses, and smaller loads carried by midibuses and minibuses; coaches are...
es,
trailers
Trailer (vehicle)
A trailer is generally an unpowered vehicle pulled by a powered vehicle. Commonly, the term trailer refers to such vehicles used for transport of goods and materials....
, and semi-trailers.
George Westinghouse
George Westinghouse
George Westinghouse, Jr was an American entrepreneur and engineer who invented the railway air brake and was a pioneer of the electrical industry. Westinghouse was one of Thomas Edison's main rivals in the early implementation of the American electricity system...
first developed
air brakes
Air brake (rail)
An air brake is a conveyance braking system actuated by compressed air. Modern trains rely upon a fail-safe air brake system that is based upon a design patented by George Westinghouse on March 5, 1872. The Westinghouse Air Brake Company was subsequently organized to manufacture and sell...
for use in railway service. He patented a safer air brake on March 5, 1872. Originally designed and built for use on railroad
train
Train
A train is a connected series of vehicles for rail transport that move along a track to transport cargo or passengers from one place to another place. The track usually consists of two rails, but might also be a monorail or maglev guideway.Propulsion for the train is provided by a separate...
application, air brakes remain the exclusive systems in widespread use. Westinghouse made numerous alterations to improve his air pressured brake invention, which led to various forms of the automatic brake and the subsequent use on heavier road vehicles.
Compressed air brake system
Compressed air brake systems are typically used on heavy
trucks
Semi-trailer truck
A semi-trailer truck, also known as a semi, tractor-trailer, or articulated truck or articulated lorry, is an articulated vehicle consisting of a towing engine , and a semi-trailer A semi-trailer truck, also known as a semi, tractor-trailer, or (in the United Kingdom and Ireland) articulated truck...
and buses. The system consists of service brakes, parking brakes, a control pedal, an engine-driven air compressor and a compressed air storage tank. For the parking brake, there is a
disc
Disc brake
The disc brake or disk brake is a device for slowing or stopping the rotation of a wheel while it is in motion.A brake disc is usually made of cast iron, but may in some cases be made of composites such as reinforced carbon–carbon or ceramic matrix composites. This is connected to the wheel and/or...
or
drum brake
Drum brake
A drum brake is a brake in which the friction is caused by a set of shoes or pads that press against a rotating drum-shaped part called a brake drum....
arrangement which is designed to be held in the 'applied' position by spring pressure. Air pressure must be produced to release these "spring brake" parking brakes. For the service brakes (the ones used while driving for slowing or stopping) to be applied, the brake pedal is pushed, routing the air under pressure (approx 100-125psi) to the brake chamber, causing the brake to reduce wheel rotation speed. Most types of truck air brakes are drum units, though there is an increasing trend towards the use of disc brakes in this application. The air compressor air draws filtered air from the atmosphere and forces it into high-pressure reservoirs at around 120 PSI. Most heavy vehicles have a gauge within the driver's view, indicating the availability of air pressure for safe vehicle operation, often including warning tones or lights. Setting of the parking/emergency brake releases the pressurized air pressure in the lines between the compressed air storage tank and the brakes, thus actuating the (spring brake) parking braking hardware. An air pressure failure at any point would apply full spring brake pressure immediately.
Design and function
A compressed air brake system is divided into a supply system and a control system. The supply system compresses, stores and supplies high-pressure air to the control system as well as to additional air operated auxiliary truck systems (gearbox shift control, clutch pedal air assistance
servo
Servomechanism
thumb|right|200px|Industrial servomotorThe grey/green cylinder is the [[Brush |brush-type]] [[DC motor]]. The black section at the bottom contains the [[Epicyclic gearing|planetary]] [[Reduction drive|reduction gear]], and the black object on top of the motor is the optical [[rotary encoder]] for...
, etc.).
Supply system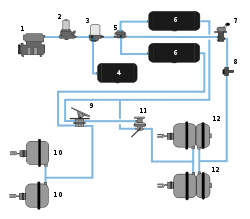 The
air compressor
Air compressor
An air compressor is a device that converts power into kinetic energy by compressing and pressurizing air, which, on command, can be released in quick bursts...
is driven off of the
engine
Engine
An engine or motor is a machine designed to convert energy into useful mechanical motion. Heat engines, including internal combustion engines and external combustion engines burn a fuel to create heat which is then used to create motion...
either by
crankshaft
Crankshaft
The crankshaft, sometimes casually abbreviated to crank, is the part of an engine which translates reciprocating linear piston motion into rotation...
pulley
Pulley
A pulley, also called a sheave or a drum, is a mechanism composed of a wheel on an axle or shaft that may have a groove between two flanges around its circumference. A rope, cable, belt, or chain usually runs over the wheel and inside the groove, if present...
via a
belt
Belt (mechanical)
A belt is a loop of flexible material used to link two or more rotating shafts mechanically. Belts may be used as a source of motion, to transmit power efficiently, or to track relative movement. Belts are looped over pulleys. In a two pulley system, the belt can either drive the pulleys in the...
or directly off of the engine timing gears. It is lubricated and cooled by the engine lubrication and cooling systems. Compressed air is first routed through a cooling coil and into an
air dryer
Air dryer
A compressed air dryer is a device for removing water vapor from compressed air. Compressed air dryers are commonly found in a wide range of industrial and commercial facilities....
which removes moisture and oil impurities and also may include a pressure regulator,
safety valve
Relief valve
The relief valve is a type of valve used to control or limit the pressure in a system or vessel which can build up by a process upset, instrument or equipment failure, or fire....
and a smaller purge reservoir. As an alternative to the air dryer, the supply system can be equipped with an anti freeze device and oil separator. The compressed air is then stored in a reservoir (also called a wet tank) from which it is then distributed via a four way protection valve into the front and rear brake circuit air reservoir, a parking brake reservoir and an auxiliary air supply distribution point. The system also includes various
check
Check valve
A check valve, clack valve, non-return valve or one-way valve is a mechanical device, a valve, which normally allows fluid to flow through it in only one direction....
, pressure limiting, drain and
safety valve
Relief valve
The relief valve is a type of valve used to control or limit the pressure in a system or vessel which can build up by a process upset, instrument or equipment failure, or fire....
s.
Control system
The control system is further divided into two service brake circuits: the parking brake circuit and the
trailer
Trailer (vehicle)
A trailer is generally an unpowered vehicle pulled by a powered vehicle. Commonly, the term trailer refers to such vehicles used for transport of goods and materials....
brake circuit. This dual brake circuit is further split into front and rear wheel circuits which receive compressed air from their individual reservoirs for added safety in case of an air leak. The service brakes are applied by means of a brake pedal air valve which regulates both circuits. The parking brake is the air operated spring brake type where its applied by spring force in the spring brake cylinder and released by compressed air via hand control valve. The trailer brake consists of a direct two line system: the supply line (marked red) and the separate control or service line (marked blue). The supply line receives air from the
prime mover
Tractor unit
A tractor unit, prime mover , road tractor, or traction unit is a heavy-duty commercial vehicle within the large goods vehicle category, usually with a large displacement diesel engine, and several axles. The tractor unit serves as a method of moving trailers...
park brake air tank via a park brake relay valve and the control line is regulated via the trailer brake relay valve. The operating signals for the relay are provided by the prime mover brake pedal air valve, trailer service brake hand control (subject to a country's relevant heavy vehicle legislation) and the prime mover park brake hand control.
Exposed Physical Structure
This example of the air brake consists of a physical structure on the exterior of a vehicle that will increase the vehicle's
drag coefficient
Drag coefficient
In fluid dynamics, the drag coefficient is a dimensionless quantity that is used to quantify the drag or resistance of an object in a fluid environment such as air or water. It is used in the drag equation, where a lower drag coefficient indicates the object will have less aerodynamic or...
, and therefore slow it down. Air brakes of this sort are ineffective at normal road vehicle speeds, and therefore are reserved for vehicles which need to quickly decelerate from high speeds, such as race and high performance sports cars.
Many high performance sports and racing cars utilize air brakes in order to slow the cars down from high speeds. The
Bugatti Veyron
Bugatti Veyron
The Bugatti Veyron EB 16.4 is a mid-engined grand touring car. The Super Sport version is the fastest road-legal production car in the world, with a top speed of . The original version has a top speed of...
, one of the fastest production cars in the world, features a rear
spoiler
Spoiler (automotive)
A spoiler is an automotive aerodynamic device whose intended design function is to 'spoil' unfavorable air movement across a body of a vehicle in motion. Spoilers on the front of a vehicle are often called air dams, because in addition to directing air flow they also reduce the amount of air...
which, at speeds above 200 km/h (124.3 mph), also acts as an air brake, snapping to a 55° angle in 0.4 seconds once the brake pedal is pressed, providing an additional 0.68 g (6.66 m/s
2
) of deceleration (equivalent to the stopping power of an ordinary
hatchback
Hatchback
A Hatchback is a car body style incorporating a shared passenger and cargo volume, with rearmost accessibility via a rear third or fifth door, typically a top-hinged liftgate—and features such as fold-down rear seats to enable flexibility within the shared passenger/cargo volume. As a two-box...
).
Top Fuel
Top Fuel
Top Fuel racing is a class of drag racing in which the cars are run on a mix of approximately 90% nitromethane and 10% methanol rather than gasoline or simply methanol. The cars are purpose-built for drag racing, with an exaggerated layout that in some ways resembles open-wheel circuit racing...
Dragsters and other
drag racing
Drag racing
Drag racing is a competition in which specially prepared automobiles or motorcycles compete two at a time to be the first to cross a set finish line, from a standing start, in a straight line, over a measured distance, most commonly a ¼-mile straight track....
cars that routinely reach speeds greater than 150 miles per hour use a physical air brake via a
parachute
Parachute
A parachute is a device used to slow the motion of an object through an atmosphere by creating drag, or in the case of ram-air parachutes, aerodynamic lift. Parachutes are usually made out of light, strong cloth, originally silk, now most commonly nylon...
(s) after the completion of a race.
In 1994,
NASCAR
NASCAR
The National Association for Stock Car Auto Racing is a family-owned and -operated business venture that sanctions and governs multiple auto racing sports events. It was founded by Bill France Sr. in 1947–48. As of 2009, the CEO for the company is Brian France, grandson of the late Bill France Sr...
introduced
roof flaps
Roof flap
A roof flap is an aerodynamic feature on race cars, mainly stock cars, which functions as an emergency spoiler to prevent the vehicle from lifting off the ground...
to the cars, which are designed to keep cars from becoming airborne and possibly flipping. Following
Rusty Wallace's
Rusty Wallace
Russell William Wallace, Jr. is a past NASCAR Winston Cup Champion, currently a broadcaster on ESPN, car owner in the Nationwide Series, and a co-host of NASCAR Angels.-Early racing career:...
crash at
Talladega
Talladega Superspeedway
Talladega Superspeedway is a motorsports complex located north of Talladega, Alabama, United States. It is located on the former Anniston Air Force Base just outside the small city of Lincoln. It was constructed by International Speedway Corporation, a business controlled by the France Family, in...
,
Penske Racing
Penske Racing
Penske Racing is a racing team that competes in the IndyCar Series and NASCAR. They also previously competed in road racing, and Formula One. Penske Racing is a division of Penske Corporation, and is owned and chaired by Roger Penske...
designed the original roof flaps. NASCAR team owner
Jack Roush
Jack Roush
Jack Roush is the founder, CEO, and co-owner along with John Henry of Roush Fenway Racing, a NASCAR team headquartered in Concord, North Carolina, and is Chairman of the Board of Roush Enterprises....
helped improve on the design of the roof flaps, in conjunction with
Embry-Riddle Aeronautical University
Embry-Riddle Aeronautical University
Embry-Riddle Aeronautical University is a private university in the US specializing in aviation and aerospace engineering. It teaches the science, practice, and business of aviation and aerospace. Called "The Harvard of the Sky" by Time Magazine in 1979, Embry-Riddle has a history dating back to...
, Daytona, Florida, USA. During a spin, the car rotates it eventually reaches an angle where the oncoming air reacts with the profile of the vehicle in the same manner as a wing. If the speed is high enough, air flowing over this aerofoil shape will create sufficient
lift
Lift (force)
A fluid flowing past the surface of a body exerts a surface force on it. Lift is the component of this force that is perpendicular to the oncoming flow direction. It contrasts with the drag force, which is the component of the surface force parallel to the flow direction...
to force the car to become airborne. To prevent this, NASCAR developed a set of flaps that are recessed into pockets on the roof of the car. As a car is turned around and reaches an angle where significant lift occurs, the low pressure above the flaps causes them to deploy. The first flap, oriented 140 degrees from the centerline of the car, typically deploys first. After flap deployment, higher pressure air is forced through an air tube which connects to a second flap, deploying it. This second flap ensures that, should the car continue to spin, no further lift will be created as the vehicle's angle changes. The deployment of these flaps eliminates most of the lift on the vehicle. The roof flaps generally keep the cars on the ground as they spin, although it is not guaranteed.
See also
Air brake

Air brake

Air brake may refer to the following contexts:* Air brake , in aeronautics, a type of flight control system used on aircraft to reduce speed...



ArvinMeritor

ArvinMeritor

Meritor, Inc. is a corporation headquartered in Troy, Michigan which manufactures automobile components for military suppliers, trucks, and trailers. Meritor is a Fortune 500 company.In 1997, Rockwell International spun off its automotive business as Meritor...



Knorr-Bremse

Knorr-Bremse

Knorr-Bremse is a manufacturer of braking systems for rail and commercial vehicles that has operated in the field for over 100 years. The company also produces door systems for rail vehicles and torsional dampers. In 2009, the Group's workforce of over 14,000 achieved worldwide sales of EUR 2.761...



Ozone cracking

Ozone cracking

Cracks can be formed in many different elastomers by ozone attack, and the characteristic form of attack of vulnerable rubbers is known as ozone cracking...



Polymer degradation

Polymer degradation

Polymer degradation is a change in the properties—tensile strength, colour, shape, etc.—of a polymer or polymer-based product under the influence of one or more environmental factors such as heat, light or chemicals such as acids, alkalis and some salts...



Railway air brake
WABCO Vehicle Control Systems

WABCO Vehicle Control Systems

WABCO Vehicle Control Systems is a provider of electronic braking, stability, suspension and transmission automation systems for heavy duty commercial vehicles....