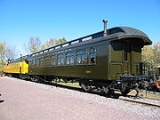 Railroad car
A
railroad car
or
railway vehicle
(UK and
international
International Union of Railways
The UIC , or International Union of Railways, is an international rail transport industry body.- Brief history :The railways of Europe originated as separate concerns. There were many border changes after World War I and the Treaty of Versailles. Colonial railways were the responsibility of the...
), also known as a
bogie
in
Indian English
Indian English
Indian English is an umbrella term used to describe dialects of the English language spoken primarily in the Republic of India.As a result of British colonial rule until Indian independence in 1947 English is an official language of India and is widely used in both spoken and literary contexts...
, is a
vehicle
Vehicle
A vehicle is a device that is designed or used to transport people or cargo. Most often vehicles are manufactured, such as bicycles, cars, motorcycles, trains, ships, boats, and aircraft....
on a
rail transport system
Rail transport
Rail transport is a means of conveyance of passengers and goods by way of wheeled vehicles running on rail tracks. In contrast to road transport, where vehicles merely run on a prepared surface, rail vehicles are also directionally guided by the tracks they run on...
(railroad or railway) that is used for the carrying of
cargo
Cargo
Cargo is goods or produce transported, generally for commercial gain, by ship, aircraft, train, van or truck. In modern times, containers are used in most intermodal long-haul cargo transport.-Marine:...
or
passenger
Passenger
A passenger is a term broadly used to describe any person who travels in a vehicle, but bears little or no responsibility for the tasks required for that vehicle to arrive at its destination....
s. Cars can be coupled together into a
train
Train
A train is a connected series of vehicles for rail transport that move along a track to transport cargo or passengers from one place to another place. The track usually consists of two rails, but might also be a monorail or maglev guideway.Propulsion for the train is provided by a separate...
and hauled by one or more
locomotive
Locomotive
A locomotive is a railway vehicle that provides the motive power for a train. The word originates from the Latin loco – "from a place", ablative of locus, "place" + Medieval Latin motivus, "causing motion", and is a shortened form of the term locomotive engine, first used in the early 19th...
s. Passenger cars can be self-propelled in which case they can be single
railcar
Railcar
A railcar, in British English and Australian English, is a self-propelled railway vehicle designed to transport passengers. The term "railcar" is usually used in reference to a train consisting of a single coach , with a driver's cab at one or both ends. Some railways, e.g., the Great Western...
s or
multiple unit
Multiple unit
The term multiple unit or MU is used to describe a self-propelled carriages capable of coupling with other units of the same or similar type and still being controlled from one driving cab. The term is commonly used to denote passenger trainsets consisting of more than one carriage...
s.
Most cars carry a "revenue" load, although "non-revenue" cars exist for the railroad's own use, such as for maintenance-of-way purposes.