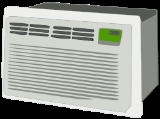 Air conditioning
An
air conditioner
is a
home appliance
Home appliance
Home appliances are electrical/mechanical machines which accomplish some household functions, such as cooking or cleaning. Home appliances can be classified into:*Major appliances, or White goods*Small appliances, or Brown goods...
,
system
System
System is a set of interacting or interdependent components forming an integrated whole....
, or mechanism designed to dehumidify and extract
heat
Heat
In physics and thermodynamics, heat is energy transferred from one body, region, or thermodynamic system to another due to thermal contact or thermal radiation when the systems are at different temperatures. It is often described as one of the fundamental processes of energy transfer between...
from an area. The cooling is done using a simple refrigeration cycle. In
construction
Construction
In the fields of architecture and civil engineering, construction is a process that consists of the building or assembling of infrastructure. Far from being a single activity, large scale construction is a feat of human multitasking...
, a complete system of heating,
ventilation
Ventilation (architecture)
Ventilating is the process of "changing" or replacing air in any space to provide high indoor air quality...
and air conditioning is referred to as "
HVAC
HVAC
HVAC refers to technology of indoor or automotive environmental comfort. HVAC system design is a major subdiscipline of mechanical engineering, based on the principles of thermodynamics, fluid mechanics, and heat transfer...
".
In 1758,
Benjamin Franklin
Benjamin Franklin
Dr. Benjamin Franklin was one of the Founding Fathers of the United States. A noted polymath, Franklin was a leading author, printer, political theorist, politician, postmaster, scientist, musician, inventor, satirist, civic activist, statesman, and diplomat...
and John Hadley, professor of chemistry at Cambridge University, conducted an experiment to explore the principle of evaporation as a means to rapidly cool an object.