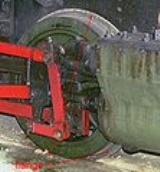 Flange
A
flange
is an external or internal
ridge
Ridge (disambiguation)
A ridge is a geological feature that features a continuous elevational crest for some distance.Ridge may also refer to:-Science:* Ridge , a domain of the genome with a high gene expression...
, or
rim
Rim (wheel)
The rim of a wheel is the outer circular design of the metal on which the inside edge of the tire is mounted on vehicles such as automobiles. For example, on a bicycle wheel the rim is a large hoop attached to the outer ends of the spokes of the wheel that holds the tire and tube.In the 1st...
(lip), for
strength
Shear strength
Shear strength in engineering is a term used to describe the strength of a material or component against the type of yield or structural failure where the material or component fails in shear. A shear load is a force that tends to produce a sliding failure on a material along a plane that is...
, as the flange of an
iron
Iron
Iron is a chemical element with the symbol Fe and atomic number 26. It is a metal in the first transition series. It is the most common element forming the planet Earth as a whole, forming much of Earth's outer and inner core. It is the fourth most common element in the Earth's crust...
beam
Beam (structure)
A beam is a horizontal structural element that is capable of withstanding load primarily by resisting bending. The bending force induced into the material of the beam as a result of the external loads, own weight, span and external reactions to these loads is called a bending moment.- Overview...
such as an
I-beam
I-beam
-beams, also known as H-beams, W-beams , rolled steel joist , or double-T are beams with an - or H-shaped cross-section. The horizontal elements of the "" are flanges, while the vertical element is the web...
or a
T-beam
T-beam
A T-beam, used in construction, is a load-bearing structure of reinforced concrete, wood or metal, with a t-shaped cross section. The top of the t-shaped cross section serves as a flange or compression member in resisting compressive stresses...
; or for attachment to another object, as the flange on the end of a pipe, steam cylinder, etc., or on the
lens mount
Lens mount
A lens mount is an interface — mechanical and often also electrical — between a photographic camera body and a lens. It is confined to cameras where the body allows interchangeable lenses, most usually the single lens reflex type or any movie camera of 16 mm or higher gauge...
of a
camera
Camera
A camera is a device that records and stores images. These images may be still photographs or moving images such as videos or movies. The term camera comes from the camera obscura , an early mechanism for projecting images...
; or for a flange of a
rail car
Rail car
A rail car can be:* Railcar, a type of self-propelled passenger-carrying railway vehicle.* Railroad car, another type of railway vehicle, pulled by a locomotive....
or
tram
Tram
A tram is a passenger rail vehicle which runs on tracks along public urban streets and also sometimes on separate rights of way. It may also run between cities and/or towns , and/or partially grade separated even in the cities...
wheel
Wheel
A wheel is a device that allows heavy objects to be moved easily through rotating on an axle through its center, facilitating movement or transportation while supporting a load, or performing labor in machines. Common examples found in transport applications. A wheel, together with an axle,...
. Thus flanged wheels are wheels with a flange on one side to keep the wheels from running off the
rails
Rail profile
The rail profile is the cross sectional shape of a railway rail, perpendicular to the length of the rail.In all but very early cast iron rails, a rail is hot rolled steel of a specific cross sectional profile designed for use as the fundamental component of railway track.Unlike some other uses of...
. The term "flange" is also used for a kind of tool used to form flanges.