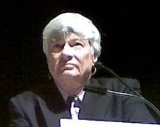 Geoffrey Robertson
Geoffrey Ronald Robertson
QC
Queen's Counsel
Queen's Counsel , known as King's Counsel during the reign of a male sovereign, are lawyers appointed by letters patent to be one of Her [or His] Majesty's Counsel learned in the law...
(born 30 September 1946,
Sydney
Sydney
Sydney is the most populous city in Australia and the state capital of New South Wales. Sydney is located on Australia's south-east coast of the Tasman Sea. As of June 2010, the greater metropolitan area had an approximate population of 4.6 million people...
, New South Wales) is an Australian-born human rights
lawyer
Lawyer
A lawyer, according to Black's Law Dictionary, is "a person learned in the law; as an attorney, counsel or solicitor; a person who is practicing law." Law is the system of rules of conduct established by the sovereign government of a society to correct wrongs, maintain the stability of political...
,
academic
Academia
Academia is the community of students and scholars engaged in higher education and research.-Etymology:The word comes from the akademeia in ancient Greece. Outside the city walls of Athens, the gymnasium was made famous by Plato as a center of learning...
,
author
Author
An author is broadly defined as "the person who originates or gives existence to anything" and that authorship determines responsibility for what is created. Narrowly defined, an author is the originator of any written work.-Legal significance:...
and
broadcaster
Presenter
A presenter, or host , is a person or organization responsible for running an event. A museum or university, for example, may be the presenter or host of an exhibit. Likewise, a master of ceremonies is a person that hosts or presents a show...
. He holds
dual
Multiple citizenship
Multiple citizenship is a status in which a person is concurrently regarded as a citizen under the laws of more than one state. Multiple citizenships exist because different countries use different, and not necessarily mutually exclusive, citizenship requirements...
Australian and British
citizenship
Citizenship
Citizenship is the state of being a citizen of a particular social, political, national, or human resource community. Citizenship status, under social contract theory, carries with it both rights and responsibilities...
.
Robertson is the founder and head of
Doughty Street Chambers
Doughty Street Chambers
Doughty Street Chambers is a UK set of barristers' chambers situated in London's Doughty Street undertaking criminal justice, public law, immigration, employment, human rights and civil liberties work. Doughty Street Chambers was set up in 1990 by thirty independent-minded barristers, aiming to...
. He serves as a
Master of the Bench
Bencher
A bencher or Master of the Bench is a senior member of an Inn of Court in England and Wales. Benchers hold office for life once elected. A bencher can be elected while still a barrister , in recognition of the contribution that the barrister has made to the life of the Inn or to the law...
at the
Middle Temple
Middle Temple
The Honourable Society of the Middle Temple, commonly known as Middle Temple, is one of the four Inns of Court exclusively entitled to call their members to the English Bar as barristers; the others being the Inner Temple, Gray's Inn and Lincoln's Inn...
, a
recorder
Recorder (judge)
A Recorder is a judicial officer in England and Wales. It now refers to two quite different appointments. The ancient Recorderships of England and Wales now form part of a system of Honorary Recorderships which are filled by the most senior full-time circuit judges...
, and visiting professor at
Queen Mary, University of London
Queen Mary, University of London
Queen Mary, University of London is a public research university located in London, United Kingdom and a constituent college of the federal University of London...
.
Education and personal life
Robertson was born in Australia and grew up in the Sydney suburb of
Eastwood
Eastwood, New South Wales
Eastwood is a suburb of Sydney, in the state of New South Wales, Australia. Eastwood is located 17 kilometres north-west of the Sydney central business district in the local government areas of the City of Ryde and the City of Parramatta...
, attending
Epping Boys' High School
Epping Boys High School
Epping Boys High School is a government high school located at Marsfield, Sydney, New South Wales, Australia. It was established in 1957. Peter Garrard is the principal.-Achievements:...
. He obtained his law degree from the
Sydney Law School
Sydney Law School
Sydney Law School is the law faculty of the University of Sydney and is regarded as one of the most prestigious institutions of legal education in Australia and the Asia Pacific. Located in the main Camperdown campus of the University, with some operations at the St...
before winning a
Rhodes Scholarship
Rhodes Scholarship
The Rhodes Scholarship, named after Cecil Rhodes, is an international postgraduate award for study at the University of Oxford. It was the first large-scale programme of international scholarships, and is widely considered the "world's most prestigious scholarship" by many public sources such as...
to study at
Oxford
University of Oxford
The University of Oxford is a university located in Oxford, United Kingdom. It is the second-oldest surviving university in the world and the oldest in the English-speaking world. Although its exact date of foundation is unclear, there is evidence of teaching as far back as 1096...
, where he graduated with a
Bachelor of Civil Law
Bachelor of Civil Law
Bachelor of Civil Law is the name of various degrees in law conferred by English-language universities. Historically, it originated as a postgraduate degree in the universities of Oxford and Cambridge, but many universities now offer the BCL as an undergraduate degree...
. In 2006 he was awarded an honorary degree of Doctor of Laws by the
University of Sydney
University of Sydney
The University of Sydney is a public university located in Sydney, New South Wales. The main campus spreads across the suburbs of Camperdown and Darlington on the southwestern outskirts of the Sydney CBD. Founded in 1850, it is the oldest university in Australia and Oceania...
.
Robertson married author
Kathy Lette
Kathy Lette
Kathy Lette is an Australian author who has written a number of bestselling books.Born in Sydney's southern suburbs, she first attracted attention in 1979 as the coauthor of Puberty Blues, a strongly autobiographical, proto-feminist teen novel about two 13-year-old southern suburbs girls...
in 1990 and currently lives with her and their two children in London. They had met in 1988 during the filming of a
Hypothetical
episode for
ABC Television
ABC Television
ABC Television is a service of the Australian Broadcasting Corporation launched in 1956. As a public broadcasting broadcaster, the ABC provides four non-commercial channels within Australia, and a partially advertising-funded satellite channel overseas....
; Robertson was going out with
Nigella Lawson
Nigella Lawson
Nigella Lucy Lawson is an English food writer, journalist and broadcaster. Lawson is the daughter of Nigel Lawson, the former Chancellor of the Exchequer, and Vanessa Salmon, whose family owned the J. Lyons and Co. empire...
at the time and Lette was married to Kim Williams, today
CEO
Chief executive officer
A chief executive officer , managing director , Executive Director for non-profit organizations, or chief executive is the highest-ranking corporate officer or administrator in charge of total management of an organization...
of
Foxtel
Foxtel
Foxtel is an Australian pay television company, operating cable, direct broadcast satellite television and IPTV services. It was formed in 1995 through a joint venture established between Telstra and News Corporation....
. In his 2010
Who's Who
Who's Who (UK)
Who's Who is an annual British publication of biographies which vary in length of about 30,000 living notable Britons.-History:...
entry, he lists his hobbies as tennis, opera and fishing.
Legal career
Robertson became a barrister in 1973. He became a
QC
Queen's Counsel
Queen's Counsel , known as King's Counsel during the reign of a male sovereign, are lawyers appointed by letters patent to be one of Her [or His] Majesty's Counsel learned in the law...
in 1988. He became well known after acting as defence counsel in the celebrated English criminal trials of
Oz
Oz (magazine)
Oz was first published as a satirical humour magazine between 1963 and 1969 in Sydney, Australia and, in its second and better known incarnation, became a "psychedelic hippy" magazine from 1967 to 1973 in London...
,
Gay News
Gay News
Gay News was a pioneering fortnightly newspaper in the United Kingdom founded in June 1972 in a collaboration between former members of the Gay Liberation Front and members of the Campaign for Homosexual Equality...
, the
ABC Trial
ABC trial
The ABC Trial was a trial of charges under sections 1 and 2 of the Official Secrets Act 1911 trial in United Kingdom. It took place in 1978 and is named after the three defendants: Crispin Aubrey, John Berry and Duncan Campbell...
,
The Romans in Britain
The Romans in Britain
The Romans in Britain is a stage play by Howard Brenton that comments upon imperialism and the abuse of power.A cast of thirty actors play sixty roles.- Stage history :...
(the prosecution brought by
Mary Whitehouse
Mary Whitehouse
Mary Whitehouse, CBE was a British campaigner against the permissive society particularly as the media portrayed and reflected it...
), Randle & Pottle, the
Brighton bombing
Brighton hotel bombing
The Brighton hotel bombing happened on 12 October 1984 at the Grand Hotel in Brighton, England. The bomb was planted by Provisional Irish Republican Army member Patrick Magee, with the intention of assassinating Prime Minister Margaret Thatcher and her cabinet who were staying at the hotel for the...
and
Matrix Churchill
Arms-to-Iraq
The Arms-to-Iraq affair concerned the uncovering of the government-endorsed sale of arms by British companies to Iraq, then under the rule of Saddam Hussein...
. He also defended the artist
J. S. G. Boggs
J. S. G. Boggs
J. S. G. Boggs was an American artist, best known for his hand-drawn, one-sided depictions of U.S. banknotes and his various "Boggs bills" he draws for use in his performances. He spends his "Boggs notes" only for their face value. If he draws a $100 bill, he exchanges it for $100 worth of goods...
from a
private prosecution
Private prosecution
A private prosecution is a criminal proceeding initiated by an individual or private organisation instead of by a public prosecutor who represents the state...
brought by the
Bank of England
Bank of England
The Bank of England is the central bank of the United Kingdom and the model on which most modern central banks have been based. Established in 1694, it is the second oldest central bank in the world...
regarding his depictions of British currency. In 1989, he was part of the defence team for Canadian artist
Rick Gibson
Rick Gibson
Rick Gibson is a Canadian sculptor and artist. He was born in Montreal, Quebec and he studied Psychology at the University of Victoria. Between 1973 and 1974 he drew weekly comics for the student newspaper. After completing his Bachelor of Arts degree in 1974 he moved to Vancouver, Canada. He...
and art gallery director Peter Sylveire who were charged with outraging public decency for exhibiting earrings made from human foetuses.
He has also acted in well known libel cases, including defending
The Guardian
The Guardian
The Guardian, formerly known as The Manchester Guardian , is a British national daily newspaper in the Berliner format...
against
Neil Hamilton MP
Neil Hamilton (politician)
Mostyn Neil Hamilton is a former British barrister, teacher and Conservative MP. Since losing his seat in 1997 and leaving politics, Hamilton and his wife Christine have become media celebrities...
. Robertson was threatened by terrorists for representing
Salman Rushdie
.
In 1972, he advised
Peter Hain
Peter Hain
Peter Gerald Hain is a British Labour Party politician, who has been the Member of Parliament for the Welsh constituency of Neath since 1991, and has served in the Cabinets of both Tony Blair and Gordon Brown, firstly as Leader of the House of Commons under Blair and both Secretary of State for...
when Hain defended himself on several charges including conspiracy to trespass arising from his involvement in anti-apartheid protests. as a protest against the apartheid regime. During the ten-day trial at the Old Bailey Hain dismissed his defence team, which included Robertson, before being convicted and fined £200. He was also briefly employed to defend
John Stonehouse
John Stonehouse
John Thomson Stonehouse was a British politician and minister under Harold Wilson. Stonehouse is perhaps best remembered for his unsuccessful attempt at faking his own death in 1974...
after his unsuccessful attempt at faking his own death in 1974 before Stonehouse opted to defend himself and was convicted. His appeal was dismissed by the House of Lords despite his contention that the trial judge directed the jury to convict in a miscarriage of justice.
Robertson has appeared in cases before the
European Court of Human Rights
European Court of Human Rights
The European Court of Human Rights in Strasbourg is a supra-national court established by the European Convention on Human Rights and hears complaints that a contracting state has violated the human rights enshrined in the Convention and its protocols. Complaints can be brought by individuals or...
and in other courts across the world. Amongst these, Robertson was involved in the defence of
Michael X
Michael X
Michael X , born Michael de Freitas in Trinidad and Tobago to a Portuguese father and a Bajan-born mother, was a self-styled black revolutionary and civil rights activist in 1960s London. He was also known as Michael Abdul Malik and Abdul Malik...
in Trinidad and has appeared for the defence in a libel case against former Prime Minister
Lee Kuan Yew
Lee Kuan Yew
Lee Kuan Yew, GCMG, CH is a Singaporean statesman. He was the first Prime Minister of the Republic of Singapore, governing for three decades...
in
Singapore
Singapore
Singapore , officially the Republic of Singapore, is a Southeast Asian city-state off the southern tip of the Malay Peninsula, north of the equator. An island country made up of 63 islands, it is separated from Malaysia by the Straits of Johor to its north and from Indonesia's Riau Islands by the...
. He was also involved in the controversial inquest of
Helen Smith
Helen Smith (nurse)
Helen Smith was a British nurse who died in suspicious circumstances in Jeddah, Saudi Arabia.Following a party at the house of Dr. Richard Arnot and his wife Penny, the bodies of Helen and Johannes Otten , a Dutch tugboat captain, were found in the street 70 feet below the Arnots' sixth floor...
and also in the
Blom-Cooper Commission
Louis Blom-Cooper
Sir Louis Jacques Blom-Cooper QC FKC is an author and UK lawyer specialising in public law and administrative law.-Education:...
inquiry into the smuggling of guns from Israel through Antigua to Colombia.
Robertson has also been on several human rights missions on behalf of
Amnesty International
Amnesty International
Amnesty International is an international non-governmental organisation whose stated mission is "to conduct research and generate action to prevent and end grave abuses of human rights, and to demand justice for those whose rights have been violated."Following a publication of Peter Benenson's...
, such as to
Mozambique
Mozambique
Mozambique, officially the Republic of Mozambique , is a country in southeastern Africa bordered by the Indian Ocean to the east, Tanzania to the north, Malawi and Zambia to the northwest, Zimbabwe to the west and Swaziland and South Africa to the southwest...
,
Venda
Venda
Venda was a bantustan in northern South Africa, now part of Limpopo province. It was founded as a homeland for the Venda people, speakers of the Venda language. It bordered modern Zimbabwe and South Africa, and is now part of Limpopo in South Africa....
,
Czechoslovakia
Czechoslovakia
Czechoslovakia or Czecho-Slovakia was a sovereign state in Central Europe which existed from October 1918, when it declared its independence from the Austro-Hungarian Empire, until 1992...
,
Malawi
Malawi
The Republic of Malawi is a landlocked country in southeast Africa that was formerly known as Nyasaland. It is bordered by Zambia to the northwest, Tanzania to the northeast, and Mozambique on the east, south and west. The country is separated from Tanzania and Mozambique by Lake Malawi. Its size...
,
Vietnam
Vietnam
Vietnam – sometimes spelled Viet Nam , officially the Socialist Republic of Vietnam – is the easternmost country on the Indochina Peninsula in Southeast Asia. It is bordered by China to the north, Laos to the northwest, Cambodia to the southwest, and the South China Sea –...
and
South Africa
South Africa
The Republic of South Africa is a country in southern Africa. Located at the southern tip of Africa, it is divided into nine provinces, with of coastline on the Atlantic and Indian oceans...
.
Until 2007 he sat as an appeal judge at the
UN Special Court for Sierra Leone
Special Court for Sierra Leone
The Special Court for Sierra Leone is an independent judicial body set up to "try those who bear greatest responsibility" for the war crimes and crimes against humanity committed in Sierra Leone after 30 November 1996 during the Sierra Leone Civil War...
.
He is a patron of the
Media Legal Defence Initiative
Media Legal Defence Initiative
The Media Legal Defence Initiative is a non-governmental organization established in 2008 to provide legal assistance to journalists and news media organizations, support training in media law and promote the exchange of information, litigation tools and strategies for lawyers working on media...
.
, Robertson is defending fellow Australian,
WikiLeaks
Wikileaks
WikiLeaks is an international self-described not-for-profit organisation that publishes submissions of private, secret, and classified media from anonymous news sources, news leaks, and whistleblowers. Its website, launched in 2006 under The Sunshine Press organisation, claimed a database of more...
founder
Julian Assange
Julian Assange
Julian Paul Assange is an Australian publisher, journalist, writer, computer programmer and Internet activist. He is the editor in chief of WikiLeaks, a whistleblower website and conduit for worldwide news leaks with the stated purpose of creating open governments.WikiLeaks has published material...
in extradition proceedings in the United Kingdom.
Media career
Since 1981, often with long intervals in between, Robertson has hosted an
Australian television series
of programmes called
Geoffrey Robertson's Hypotheticals
. These shows invite notable people, often including former and current political leaders, to discuss contemporary issues by assuming imagined identities in hypothetical situations.
He also speaks at public events. In 2008 Robertson spoke at Marxism 2008, an annual festival hosted by the
Socialist Worker's Party
Socialist Workers Party (Britain)
The Socialist Workers Party is a far left party in Britain founded by Tony Cliff. The SWP's student section has groups at a number of universities...
. In 2009 he spoke at the
Ideas Festival
Ideas festival
The Ideas Festival was established in 2001 to present ideas, promote public debate, and to foster and celebrate innovation in Queensland, Australia. The biennial event is presented by the Queensland Government. It is an open public event and incorporates programming for children and schools, youth...
in
Brisbane
Brisbane
Brisbane is the capital and most populous city in the Australian state of Queensland and the third most populous city in Australia. Brisbane's metropolitan area has a population of over 2 million, and the South East Queensland urban conurbation, centred around Brisbane, encompasses a population of...
, Australia.
Writing career
Robertson has written several books. One of them,
The Justice Game
(1998) is on the school curriculum in
New South Wales
New South Wales
New South Wales is a state of :Australia, located in the east of the country. It is bordered by Queensland, Victoria and South Australia to the north, south and west respectively. To the east, the state is bordered by the Tasman Sea, which forms part of the Pacific Ocean. New South Wales...
, Australia.
His 2005 book
The Tyrannicide Brief: The Story of the Man Who Sent Charles I to the Scaffold
details the story of John Cooke, who prosecuted King
Charles I of England
Charles I of England
Charles I was King of England, King of Scotland, and King of Ireland from 27 March 1625 until his execution in 1649. Charles engaged in a struggle for power with the Parliament of England, attempting to obtain royal revenue whilst Parliament sought to curb his Royal prerogative which Charles...
in the
treason trial
High Court of Justice for the trial of Charles I
The High Court of Justice is the name given to the court established by the Rump Parliament to try King Charles I of England. This was an ad hoc tribunal created specifically for the purpose of trying the king, although the same name was used again for subsequent courts.Neither the involvement of...
that led to his execution. After the Restoration, Cooke was convicted of high treason and
hanged, drawn and quartered
Hanged, drawn and quartered
To be hanged, drawn and quartered was from 1351 a penalty in England for men convicted of high treason, although the ritual was first recorded during the reigns of King Henry III and his successor, Edward I...
.
In his 2006 revision of
Crimes Against Humanity
, Robertson deals in detail with
human rights
Human rights
Human rights are "commonly understood as inalienable fundamental rights to which a person is inherently entitled simply because she or he is a human being." Human rights are thus conceived as universal and egalitarian . These rights may exist as natural rights or as legal rights, in both national...
,
crimes against humanity
Crime against humanity
Crimes against humanity, as defined by the Rome Statute of the International Criminal Court Explanatory Memorandum, "are particularly odious offenses in that they constitute a serious attack on human dignity or grave humiliation or a degradation of one or more human beings...
and
war crime
War crime
War crimes are serious violations of the laws applicable in armed conflict giving rise to individual criminal responsibility...
s. The book starts with the history of human rights and has several case studies such as the case of General
Augusto Pinochet
Augusto Pinochet
Augusto José Ramón Pinochet Ugarte, more commonly known as Augusto Pinochet , was a Chilean army general and dictator who assumed power in a coup d'état on 11 September 1973...
of Chile, the
Balkans Wars
Yugoslav wars
The Yugoslav Wars were a series of wars, fought throughout the former Yugoslavia between 1991 and 1995. The wars were complex: characterized by bitter ethnic conflicts among the peoples of the former Yugoslavia, mostly between Serbs on the one side and Croats and Bosniaks on the other; but also...
, and the 2003
Iraq War
. His views on the United States'
atomic bombings of Hiroshima and Nagasaki
Atomic bombings of Hiroshima and Nagasaki
During the final stages of World War II in 1945, the United States conducted two atomic bombings against the cities of Hiroshima and Nagasaki in Japan, the first on August 6, 1945, and the second on August 9, 1945. These two events are the only use of nuclear weapons in war to date.For six months...
in Japan can be considered controversial. He considers the
Hiroshima
Hiroshima
is the capital of Hiroshima Prefecture, and the largest city in the Chūgoku region of western Honshu, the largest island of Japan. It became best known as the first city in history to be destroyed by a nuclear weapon when the United States Army Air Forces dropped an atomic bomb on it at 8:15 A.M...
bomb was certainly justified, and that the second bomb on
Nagasaki
Nagasaki
is the capital and the largest city of Nagasaki Prefecture on the island of Kyushu in Japan. Nagasaki was founded by the Portuguese in the second half of the 16th century on the site of a small fishing village, formerly part of Nishisonogi District...
was most probably justified but that it might have been better if it was dropped outside a city. His argument is that the bombs, while killing more than 100,000 civilians, were justified because they pushed Emperor
Hirohito
Hirohito
, posthumously in Japan officially called Emperor Shōwa or , was the 124th Emperor of Japan according to the traditional order, reigning from December 25, 1926, until his death in 1989. Although better known outside of Japan by his personal name Hirohito, in Japan he is now referred to...
of Japan to surrender, thus saving the lives of hundreds of thousands of
allied
Allies of World War II
The Allies of World War II were the countries that opposed the Axis powers during the Second World War . Former Axis states contributing to the Allied victory are not considered Allied states...
forces, as well as Japanese soldiers and civilians.
In his 2010 book,
The Case of the Pope
, Robertson claims that
Pope Benedict XVI
Pope Benedict XVI
Benedict XVI is the 265th and current Pope, by virtue of his office of Bishop of Rome, the Sovereign of the Vatican City State and the leader of the Catholic Church as well as the other 22 sui iuris Eastern Catholic Churches in full communion with the Holy See...
is guilty of protecting
paedophiles
Pedophilia
As a medical diagnosis, pedophilia is defined as a psychiatric disorder in adults or late adolescents typically characterized by a primary or exclusive sexual interest in prepubescent children...
because the church swore the victims to secrecy and moved perpetrators in Catholic sex abuse cases to other positions where they had access to children while knowing the perpetrators were likely to reoffend. This, Robertson believes, constitutes the crime of assisting underage sex and when he was still Cardinal Ratzinger, the present pope approved this policy up to November 2002. In Robertson's opinion, the Vatican is not a
sovereign state
Sovereign state
A sovereign state, or simply, state, is a state with a defined territory on which it exercises internal and external sovereignty, a permanent population, a government, and the capacity to enter into relations with other sovereign states. It is also normally understood to be a state which is neither...
and the pope is not
immune to prosecution
Immunity from prosecution (international law)
Immunity from prosecution is a doctrine of international law that allows an accused to avoid prosecution for criminal offences. Immunities are of two types. The first is functional immunity, or immunity ratione materiae. This is an immunity granted to people who perform certain functions of...
.
External links