 Exhaust gas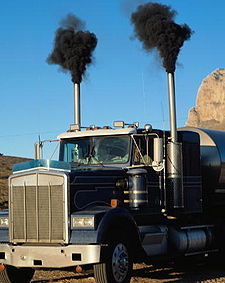 Exhaust gas
or
flue gas
Flue gas
Flue gas is the gas exiting to the atmosphere via a flue, which is a pipe or channel for conveying exhaust gases from a fireplace, oven, furnace, boiler or steam generator. Quite often, the flue gas refers to the combustion exhaust gas produced at power plants...
is emitted as a result of the
combustion
Combustion
Combustion or burning is the sequence of exothermic chemical reactions between a fuel and an oxidant accompanied by the production of heat and conversion of chemical species. The release of heat can result in the production of light in the form of either glowing or a flame...
of fuels such as
natural gas
Natural gas
Natural gas is a naturally occurring gas mixture consisting primarily of methane, typically with 0–20% higher hydrocarbons . It is found associated with other hydrocarbon fuel, in coal beds, as methane clathrates, and is an important fuel source and a major feedstock for fertilizers.Most natural...
,
gasoline
Gasoline
Gasoline , or petrol , is a toxic, translucent, petroleum-derived liquid that is primarily used as a fuel in internal combustion engines. It consists mostly of organic compounds obtained by the fractional distillation of petroleum, enhanced with a variety of additives. Some gasolines also contain...
/petrol, diesel fuel,
fuel oil
Fuel oil
Fuel oil is a fraction obtained from petroleum distillation, either as a distillate or a residue. Broadly speaking, fuel oil is any liquid petroleum product that is burned in a furnace or boiler for the generation of heat or used in an engine for the generation of power, except oils having a flash...
or
coal
Coal
Coal is a combustible black or brownish-black sedimentary rock usually occurring in rock strata in layers or veins called coal beds or coal seams. The harder forms, such as anthracite coal, can be regarded as metamorphic rock because of later exposure to elevated temperature and pressure...
. According to the type of engine, it is discharged into the atmosphere through an exhaust pipe,
flue gas stack
Flue gas stack
A flue-gas stack is a type of chimney, a vertical pipe, channel or similar structure through which combustion product gases called flue gases are exhausted to the outside air. Flue gases are produced when coal, oil, natural gas, wood or any other fuel is combusted in an industrial furnace, a power...
or
propelling nozzle
Propelling nozzle
A propelling nozzle is the component of a jet engine that operates to constrict the flow, to form an exhaust jet and to maximise the velocity of propelling gases from the engine....
.
It often disperses downwind in a pattern called an
exhaust plume
.
Composition
The largest part of most combustion gas is
nitrogen
Nitrogen
Nitrogen is a chemical element that has the symbol N, atomic number of 7 and atomic mass 14.00674 u. Elemental nitrogen is a colorless, odorless, tasteless, and mostly inert diatomic gas at standard conditions, constituting 78.08% by volume of Earth's atmosphere...
(N
2
), water vapor (H
2
O) (except with pure-carbon fuels), and
carbon dioxide
Carbon dioxide
Carbon dioxide is a naturally occurring chemical compound composed of two oxygen atoms covalently bonded to a single carbon atom...
(CO
2
) (except for fuels without carbon); these are not toxic or noxious (although carbon dioxide is generally recognized as a
greenhouse gas
Greenhouse gas
A greenhouse gas is a gas in an atmosphere that absorbs and emits radiation within the thermal infrared range. This process is the fundamental cause of the greenhouse effect. The primary greenhouse gases in the Earth's atmosphere are water vapor, carbon dioxide, methane, nitrous oxide, and ozone...
that contributes to
global warming
Global warming
Global warming refers to the rising average temperature of Earth's atmosphere and oceans and its projected continuation. In the last 100 years, Earth's average surface temperature increased by about with about two thirds of the increase occurring over just the last three decades...
). A relatively small part of combustion gas is undesirable noxious or toxic substances, such as
carbon monoxide
Carbon monoxide
Carbon monoxide , also called carbonous oxide, is a colorless, odorless, and tasteless gas that is slightly lighter than air. It is highly toxic to humans and animals in higher quantities, although it is also produced in normal animal metabolism in low quantities, and is thought to have some normal...
(CO) from incomplete combustion,
hydrocarbon
Hydrocarbon
In organic chemistry, a hydrocarbon is an organic compound consisting entirely of hydrogen and carbon. Hydrocarbons from which one hydrogen atom has been removed are functional groups, called hydrocarbyls....
s (properly indicated as C
x
H
y
, but typically shown simply as "HC" on emissions-test slips) from unburnt fuel,
nitrogen oxide
Nitrogen oxide
Nitrogen oxide can refer to a binary compound of oxygen and nitrogen, or a mixture of such compounds:* Nitric oxide, also known as nitrogen monoxide, , nitrogen oxide* Nitrogen dioxide , nitrogen oxide...
s (NO
x
) from excessive combustion temperatures,
Ozone
Ozone
Ozone , or trioxygen, is a triatomic molecule, consisting of three oxygen atoms. It is an allotrope of oxygen that is much less stable than the diatomic allotrope...
(O
3
), and particulate matter (mostly
soot
Soot
Soot is a general term that refers to impure carbon particles resulting from the incomplete combustion of a hydrocarbon. It is more properly restricted to the product of the gas-phase combustion process but is commonly extended to include the residual pyrolyzed fuel particles such as cenospheres,...
).
Spark-ignition engines
In spark-ignition engines exhaust gas from an internal combustion engine whose fuel includes
nitromethane
Nitromethane
Nitromethane is an organic compound with the chemical formula . It is the simplest organic nitro compound. It is a slightly viscous, highly polar liquid commonly used as a solvent in a variety of industrial applications such as in extractions, as a reaction medium, and as a cleaning solvent...
, contains
nitric acid
Nitric acid
Nitric acid , also known as aqua fortis and spirit of nitre, is a highly corrosive and toxic strong acid.Colorless when pure, older samples tend to acquire a yellow cast due to the accumulation of oxides of nitrogen. If the solution contains more than 86% nitric acid, it is referred to as fuming...
vapour, which when inhaled causes a muscular reaction making it impossible to breathe, and people exposed to it should wear a
gas mask
Gas mask
A gas mask is a mask put on over the face to protect the wearer from inhaling airborne pollutants and toxic gases. The mask forms a sealed cover over the nose and mouth, but may also cover the eyes and other vulnerable soft tissues of the face. Some gas masks are also respirators, though the word...
.
Gas-turbine engines
In aircraft gas turbine engines, "exhaust gas temperature" (EGT) is a primary measure of engine health. Typically the EGT is compared with a primary engine power indication called "engine pressure ratio" (EPR). For example: at full power EPR there will be a maximum permitted EGT limit. Once an engine reaches a stage in its life where it reaches this EGT limit, the engine will require specific maintenance in order to rectify the problem. The amount the EGT is below the EGT limit is called EGT margin. The EGT margin of an engine will be greatest when the engine is new, or has been overhauled. For most airlines, this information is also monitored remotely by the airline maintenance department by means of ACARS.
Jet engines and rocket engines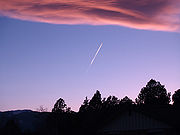 In
jet engine
Jet engine
A jet engine is a reaction engine that discharges a fast moving jet to generate thrust by jet propulsion and in accordance with Newton's laws of motion. This broad definition of jet engines includes turbojets, turbofans, rockets, ramjets, pulse jets...
s and
rocket engine
Rocket engine
A rocket engine, or simply "rocket", is a jet engineRocket Propulsion Elements; 7th edition- chapter 1 that uses only propellant mass for forming its high speed propulsive jet. Rocket engines are reaction engines and obtain thrust in accordance with Newton's third law...
s, exhaust from
propelling nozzle
Propelling nozzle
A propelling nozzle is the component of a jet engine that operates to constrict the flow, to form an exhaust jet and to maximise the velocity of propelling gases from the engine....
s which in some applications shows
shock diamond
Shock diamond
Shock diamonds are a formation of stationary wave patterns that appears in the supersonic exhaust plume of an aerospace propulsion system, such as a supersonic jet engine, rocket, ramjet, or scramjet, when it is operated in an atmosphere...
s.
Steam engines
In
steam engine
Steam engine
A steam engine is a heat engine that performs mechanical work using steam as its working fluid.Steam engines are external combustion engines, where the working fluid is separate from the combustion products. Non-combustion heat sources such as solar power, nuclear power or geothermal energy may be...
terminology the exhaust is steam that is now so low in pressure that it can no longer do useful work.
Pollution reduction
Emission standard
Emission standard
Emission standards are requirements that set specific limits to the amount of pollutants that can be released into the environment. Many emissions standards focus on regulating pollutants released by automobiles and other powered vehicles but they can also regulate emissions from industry, power...
s focus on reducing
pollutant
Pollutant
A pollutant is a waste material that pollutes air, water or soil, and is the cause of pollution.Three factors determine the severity of a pollutant: its chemical nature, its concentration and its persistence. Some pollutants are biodegradable and therefore will not persist in the environment in the...
s contained in the exhaust gases from vehicles as well as from industrial flue gas stacks and other
air pollution
Air pollution
Air pollution is the introduction of chemicals, particulate matter, or biological materials that cause harm or discomfort to humans or other living organisms, or cause damage to the natural environment or built environment, into the atmosphere....
exhaust sources in various large-scale industrial facilities such as
petroleum refineries
Oil refinery
An oil refinery or petroleum refinery is an industrial process plant where crude oil is processed and refined into more useful petroleum products, such as gasoline, diesel fuel, asphalt base, heating oil, kerosene, and liquefied petroleum gas...
, natural gas processing plants,
petrochemical
Petrochemical
Petrochemicals are chemical products derived from petroleum. Some chemical compounds made from petroleum are also obtained from other fossil fuels, such as coal or natural gas, or renewable sources such as corn or sugar cane....
plants and chemical production plants.
One of the advantages claimed for
advanced steam technology
Advanced steam technology
Advanced steam technology reflects an approach to the technical development of the steam engine intended for a wider variety of applications than has recently been the case...
engines is that that they produce smaller quantities of toxic pollutants (e.g. oxides of nitrogen) than petrol and diesel engines of the same power. They produce larger quantities of carbon dioxide but less carbon monoxide due to more efficient combustion.
See also
Alternative propulsion
Atmospheric dispersion modeling

Atmospheric dispersion modeling

Atmospheric dispersion modeling is the mathematical simulation of how air pollutants disperse in the ambient atmosphere. It is performed with computer programs that solve the mathematical equations and algorithms which simulate the pollutant dispersion...



Catalytic converter

Catalytic converter

A catalytic converter is a device used to convert toxic exhaust emissions from an internal combustion engine into non-toxic substances. Inside a catalytic converter, a catalyst stimulates a chemical reaction in which noxious byproducts of combustion are converted to less toxic substances by dint...



Clean Air Act

Clean Air Act

A Clean Air Act is one of a number of pieces of legislation relating to the reduction of airborne contaminants, smog and air pollution in general. The use by governments to enforce clean air standards has contributed to an improvement in human health and longer life spans...



Emission test cycle

Emission test cycle

An emission test cycle, also known as a 'smog check', is a specified procedure for measuring pollutant emissions of engines. For emission measurements to be comparable for different engines in a category, the measurements are performed under a specific operating pattern, or 'test cycle' of...



Flue gas

Flue gas

Flue gas is the gas exiting to the atmosphere via a flue, which is a pipe or channel for conveying exhaust gases from a fireplace, oven, furnace, boiler or steam generator. Quite often, the flue gas refers to the combustion exhaust gas produced at power plants...



Fly ash

Fly ash

Fly ash is one of the residues generated in combustion, and comprises the fine particles that rise with the flue gases. Ash which does not rise is termed bottom ash. In an industrial context, fly ash usually refers to ash produced during combustion of coal...



Kyoto protocol

Kyoto Protocol

The Kyoto Protocol is a protocol to the United Nations Framework Convention on Climate Change , aimed at fighting global warming...



Landfill gas

Landfill gas

Landfill gas is a complex mix of different gases created by the action of microorganisms within a landfill.-Production:Landfill gas production results from chemical reactions and microbes acting upon the waste as the putrescible materials begins to break down in the landfill...



External links
Health and Air Pollution Publication of the California Air Resources Board

California Air Resources Board

The California Air Resources Board, also known as CARB or ARB, is the "clean air agency" in the government of California. Established in 1967 in the Mulford-Carrell Act, combining the Bureau of Air Sanitation and the Motor Vehicle Pollution Control Board, CARB is a department within the...



The Encyclopedia Of Filters - Dust Collection An overview of the science of dust collection systems, including those used for pollution control.