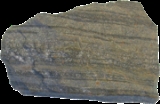 Ore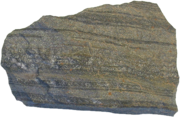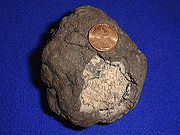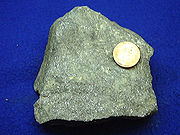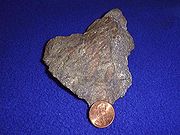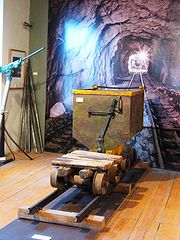 An
ore
is a type of
rock
Rock (geology)
In geology, rock or stone is a naturally occurring solid aggregate of minerals and/or mineraloids.The Earth's outer solid layer, the lithosphere, is made of rock. In general rocks are of three types, namely, igneous, sedimentary, and metamorphic...
that contains minerals with important elements including
metal
Metal
A metal , is an element, compound, or alloy that is a good conductor of both electricity and heat. Metals are usually malleable and shiny, that is they reflect most of incident light...
s. The ores are extracted through
mining
Mining
Mining is the extraction of valuable minerals or other geological materials from the earth, from an ore body, vein or seam. The term also includes the removal of soil. Materials recovered by mining include base metals, precious metals, iron, uranium, coal, diamonds, limestone, oil shale, rock...
; these are then refined to extract the valuable element(s).
The grade or concentration of an ore
mineral
Mineral
A mineral is a naturally occurring solid chemical substance formed through biogeochemical processes, having characteristic chemical composition, highly ordered atomic structure, and specific physical properties. By comparison, a rock is an aggregate of minerals and/or mineraloids and does not...
, or
metal
Metal
A metal , is an element, compound, or alloy that is a good conductor of both electricity and heat. Metals are usually malleable and shiny, that is they reflect most of incident light...
, as well as its form of occurrence, will directly affect the costs associated with mining the ore. The cost of extraction must thus be weighted against the contained metal value of the rock to determine what ore can be processed and what ore is of too low a grade to be worth mining.
Metal
Metal
A metal , is an element, compound, or alloy that is a good conductor of both electricity and heat. Metals are usually malleable and shiny, that is they reflect most of incident light...
ores are generally
oxide
Oxide
An oxide is a chemical compound that contains at least one oxygen atom in its chemical formula. Metal oxides typically contain an anion of oxygen in the oxidation state of −2....
s,
sulfide
Sulfide mineral
The sulfide minerals are a class of minerals containing sulfide as the major anion. Some sulfide minerals are economically important as metal ores. The sulfide class also includes the selenides, the tellurides, the arsenides, the antimonides, the bismuthinides, the sulfarsenides and the sulfosalts...
s,
silicates
Silicate minerals
The silicate minerals make up the largest and most important class of rock-forming minerals, constituting approximately 90 percent of the crust of the Earth. They are classified based on the structure of their silicate group...
, or "native" metals (such as
native copper
Native copper
Copper, as native copper, is one of the few metallic elements to occur in uncombined form as a natural mineral, although most commonly occurs in oxidized states and mixed with other elements...
) that are not commonly concentrated in the
Earth
Earth
Earth is the third planet from the Sun, and the densest and fifth-largest of the eight planets in the Solar System. It is also the largest of the Solar System's four terrestrial planets...
's
crust
Crust (geology)
In geology, the crust is the outermost solid shell of a rocky planet or natural satellite, which is chemically distinct from the underlying mantle...
or "noble" metals (not usually forming compounds) such as
gold
Gold
Gold is a chemical element with the symbol Au and an atomic number of 79. Gold is a dense, soft, shiny, malleable and ductile metal. Pure gold has a bright yellow color and luster traditionally considered attractive, which it maintains without oxidizing in air or water. Chemically, gold is a...
. The ores must be processed to extract the metals of interest from the waste rock and from the ore minerals. Ore bodies are formed by a variety of
geological
Geology
Geology is the science comprising the study of solid Earth, the rocks of which it is composed, and the processes by which it evolves. Geology gives insight into the history of the Earth, as it provides the primary evidence for plate tectonics, the evolutionary history of life, and past climates...
processes. The process of ore formation is called
ore genesis
Ore genesis
The various theories of ore genesis explain how the various types of mineral deposits form within the Earth's crust. Ore genesis theories are very dependent on the mineral or commodity....
.
Ore deposits
An ore deposit is an accumulation of ore. This is distinct from a mineral resource as defined by the mineral resource classification criteria. An ore deposit is one occurrence of the particular ore type. Most ore deposits are named according to either their location (for example, the Witswatersrand, South Africa), or after a discoverer (e.g. the
kambalda
Kambalda type komatiitic nickel ore deposits
Kambalda type nickel ore deposits are a class of magmatic nickel-copper ore deposit in which the physical processes of komatiite volcanology serve to enrich, concentrate and deposit nickel-bearing sulfide within the lava flow environment of an erupting komatiite volcano.-Classification:The...
nickel shoots are named after drillers), or after some whimsy, an historical figure, a prominent person, something from mythology (phoenix, kraken, serepentleopard, etc.) or the code name of the resource company which found it (e.g. MKD-5 is the in-house name for the Mount Keith nickel ).
Classification of ore deposits
Ore deposits are classified according to various criteria developed via the study of economic geology, or
ore genesis
Ore genesis
The various theories of ore genesis explain how the various types of mineral deposits form within the Earth's crust. Ore genesis theories are very dependent on the mineral or commodity....
. The classifications below are typical.
Hydrothermal epigenetic deposits
Granite related hydrothermal
IOCG or iron oxide copper gold deposits, typified by the supergiant Olympic Dam

Olympic Dam, South Australia

Olympic Dam is a mining centre in South Australia located some 550 km NNW of Adelaide, the capital city of South Australia. It is the site of an extremely large iron oxide copper gold deposit producing copper, uranium, gold and silver. The site hosts an underground mine as well as an...


Cu-Au-U deposit
Porphyry copper +/- gold +/- molybdenum +/- silver deposits
Intrusive-related copper-gold +/- (tin-tungsten), typified by the Tombstone, Arizona

Tombstone, Arizona

Tombstone is a city in Cochise County, Arizona, United States, founded in 1879 by Ed Schieffelin in what was then Pima County, Arizona Territory. It was one of the last wide-open frontier boomtowns in the American Old West. From about 1877 to 1890, the town's mines produced USD $40 to $85 million...


deposits
Hydromagmatic magnetite

Magnetite

Magnetite is a ferrimagnetic mineral with chemical formula Fe3O4, one of several iron oxides and a member of the spinel group. The chemical IUPAC name is iron oxide and the common chemical name is ferrous-ferric oxide. The formula for magnetite may also be written as FeO·Fe2O3, which is one part...


iron ore deposits and skarns
Skarn

Skarn

Skarn is an old Swedish mining term originally used to describe a type of silicate gangue, or waste rock, associated with iron-ore bearing sulfide deposits apparently replacing Archean age limestones in Sweden's Persberg mining district. In modern usage the term "skarn" has been expanded to refer...


ore deposits of copper, lead, zinc, tungsten, etcetera
Nickel-cobalt-platinum deposits
Magmatic nickel-copper-iron-PGE deposits including
Lateritic nickel ore deposits

Lateritic nickel ore deposits

Lateritic nickel ore deposits are surficial, weathered rinds formed on ultramafic rocks.They comprise 73% of the continental world nickel resources and will be in the future the dominant source for the winning of nickel....


, examples include Goro and Acoje, (Philippines

Philippines

The Philippines , officially known as the Republic of the Philippines , is a country in Southeast Asia in the western Pacific Ocean. To its north across the Luzon Strait lies Taiwan. West across the South China Sea sits Vietnam...


) and Ravensthorpe, Western Australia

Western Australia

Western Australia is a state of Australia, occupying the entire western third of the Australian continent. It is bounded by the Indian Ocean to the north and west, the Great Australian Bight and Indian Ocean to the south, the Northern Territory to the north-east and South Australia to the south-east...


.
Volcanic-related deposits
Volcanic hosted massive sulfide

Volcanogenic massive sulfide ore deposit

Volcanogenic massive sulfide ore deposits are a type of metal sulfide ore deposit, mainly Cu-Zn-Pb which are associated with and created by volcanic-associated hydrothermal events in submarine environments....


(VHMS) Cu-Pb-Zn including;

Examples include Teutonic Bore and Golden Grove, Western Australia

Besshi

Besshi copper mine

The was a rich source of copper in Niihama, Ehime Prefecture, Japan. The deposits were discovered in 1690, and mining began in the following year. From then until the closing of the mine in 1973, Besshi produced about 700,000 tons of copper, and contributed to Japan's trade and modernization...


type
Kuroko type
Metamorphically reworked deposits
Podiform serpentinite-hosted paramagmatic iron oxide

Iron oxide

Iron oxides are chemical compounds composed of iron and oxygen. All together, there are sixteen known iron oxides and oxyhydroxides.Iron oxides and oxide-hydroxides are widespread in nature, play an important role in many geological and biological processes, and are widely utilized by humans, e.g.,...


-chromite

Chromite

Chromite is an iron chromium oxide: FeCr2O4. It is an oxide mineral belonging to the spinel group. Magnesium can substitute for iron in variable amounts as it forms a solid solution with magnesiochromite ; substitution of aluminium occurs leading to hercynite .-Occurrence:Chromite is found in...


deposits, typified by Savage River, Tasmania

Savage River, Tasmania

Savage River is a small Australian mining township located on the West Coast of Tasmania.-History:Government surveyor Charles Sprent discovered Savage River's iron ore deposits in 1877, however the minerals were left untouched for nearly a century due to the difficulty in extracting iron from the...


iron ore, Coobina chromite deposit
Broken Hill Type

Broken Hill Ore Deposit

The Broken Hill Ore Deposit is located underneath Broken Hill in western New South Wales, Australia, and is the namesake for the town. It is arguably the world's richest and largest zinc-lead ore deposit.- Discovery :...


Pb-Zn-Ag, considered to be a class of reworked SEDEX deposits
Carbonatite-alkaline igneous related
Phosphorus-tantalite

Tantalite

Tantalite, [2O6], is a mineral group that is close to columbite. The two are often grouped together as a semi-singular mineral called coltan or "columbite-tantalite" in many mineral guides. However, tantalite has a much greater specific gravity than columbite...


-vermiculite

Vermiculite

Vermiculite is a natural mineral that expands with the application of heat. The expansion process is called exfoliation and it is routinely accomplished in purpose-designed commercial furnaces. Vermiculite is formed by weathering or hydrothermal alteration of biotite or phlogopite...


(Phalaborwa

Phalaborwa

Phalaborwa is a town situated in the Mopani district, halfway up along the length of the Kruger National Park in the Limpopo province in South Africa. The Lowveld, also known as Valley of the Olifants, has the highest winter temperatures in South Africa. The rainfall is low and the average winter...


South Africa

South Africa

The Republic of South Africa is a country in southern Africa. Located at the southern tip of Africa, it is divided into nine provinces, with of coastline on the Atlantic and Indian oceans...


)
Rare earth elements - Mount Weld

Mount Weld

Mount Weld is a mountain and a mine site in Western Australia, located about 30 km south of Laverton and 120 km east of Leonora. It ranks as one of the richest major rare earth deposits in the world....


, Australia

Australia

Australia , officially the Commonwealth of Australia, is a country in the Southern Hemisphere comprising the mainland of the Australian continent, the island of Tasmania, and numerous smaller islands in the Indian and Pacific Oceans. It is the world's sixth-largest country by total area...


and Bayan Obo

Bayan Obo

Bayan Obo Mining District, , or Baiyun-Obo or Baiyun'ebo, is a mining town in the west of Inner Mongolia, People's Republic of China. It is under the administration of Baotou City, more than to the south....


, Mongolia

Mongolia

Mongolia is a landlocked country in East and Central Asia. It is bordered by Russia to the north and China to the south, east and west. Although Mongolia does not share a border with Kazakhstan, its western-most point is only from Kazakhstan's eastern tip. Ulan Bator, the capital and largest...



Diatreme

Diatreme

A diatreme is a breccia-filled volcanic pipe that was formed by a gaseous explosion. Diatremes often breach the surface and produce a tuff cone, a filled relatively shallow crater known as a maar, or other volcanic pipes.- Word origin :...


hosted diamond in kimberlite

Kimberlite

Kimberlite is a type of potassic volcanic rock best known for sometimes containing diamonds. It is named after the town of Kimberley in South Africa, where the discovery of an diamond in 1871 spawned a diamond rush, eventually creating the Big Hole....


, lamproite

Lamproite

Lamproites are ultrapotassic mantle-derived volcanic and subvolcanic rocks. They have low CaO, Al2O3, Na2O, high K2O/Al2O3, a relatively high MgO content and extreme enrichment in incompatible elements....


or lamprophyre

Lamprophyre

Lamprophyres are uncommon, small volume ultrapotassic igneous rocks primarily occurring as dikes, lopoliths, laccoliths, stocks and small intrusions...



Sedimentary deposits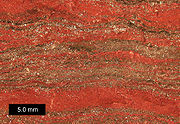 Sedimentary hydrothermal deposits
SEDEX

Sedimentary exhalative deposits

Sedimentary exhalative deposits are ore deposits which are interpreted to have been formed by release of ore-bearing hydrothermal fluids into a water reservoir , resulting in the precipitation of stratiform ore....




Lead

Lead

Lead is a main-group element in the carbon group with the symbol Pb and atomic number 82. Lead is a soft, malleable poor metal. It is also counted as one of the heavy metals. Metallic lead has a bluish-white color after being freshly cut, but it soon tarnishes to a dull grayish color when exposed...


-zinc

Zinc

Zinc , or spelter , is a metallic chemical element; it has the symbol Zn and atomic number 30. It is the first element in group 12 of the periodic table. Zinc is, in some respects, chemically similar to magnesium, because its ion is of similar size and its only common oxidation state is +2...


-silver

Silver

Silver is a metallic chemical element with the chemical symbol Ag and atomic number 47. A soft, white, lustrous transition metal, it has the highest electrical conductivity of any element and the highest thermal conductivity of any metal...


, typified by Red Dog

Red Dog mine

The Red Dog mine is a zinc and lead mine located in a remote region of the Arctic, within the boundaries of the Red Dog Mine census-designated place in the Northwest Arctic Borough of the U.S. state of Alaska....


, McArthur River, Mount Isa, etc.
Stratiform arkose-hosted and shale-hosted copper, typified by the Zambian copperbelt.
Stratiform tungsten

Tungsten

Tungsten , also known as wolfram , is a chemical element with the chemical symbol W and atomic number 74.A hard, rare metal under standard conditions when uncombined, tungsten is found naturally on Earth only in chemical compounds. It was identified as a new element in 1781, and first isolated as...


, typified by the Erzgebirge deposits, Czechoslovakia

Czechoslovakia

Czechoslovakia or Czecho-Slovakia was a sovereign state in Central Europe which existed from October 1918, when it declared its independence from the Austro-Hungarian Empire, until 1992...



Exhalative spilite-chert

Chert

Chert is a fine-grained silica-rich microcrystalline, cryptocrystalline or microfibrous sedimentary rock that may contain small fossils. It varies greatly in color , but most often manifests as gray, brown, grayish brown and light green to rusty red; its color is an expression of trace elements...


hosted gold deposits

Mississippi valley type (MVT) zinc-lead deposits

Carbonate hosted lead zinc ore deposits

Carbonate-hosted lead-zinc ore deposits are important and highly valuable concentrations of lead and zinc sulfide ores hosted within carbonate formations and which share a common genetic origin....



Hematite

Hematite

Hematite, also spelled as haematite, is the mineral form of iron oxide , one of several iron oxides. Hematite crystallizes in the rhombohedral system, and it has the same crystal structure as ilmenite and corundum...


iron ore deposits of altered banded iron formation

Banded iron formation

Banded iron formations are distinctive units of sedimentary rock that are almost always of Precambrian age. A typical BIF consists of repeated, thin layers of iron oxides, either magnetite or hematite , alternating with bands of iron-poor shale and chert...



Extraction
The basic extraction of ore deposits follows the steps below;
Prospecting

Prospecting

Prospecting is the physical search for minerals, fossils, precious metals or mineral specimens, and is also known as fossicking.Prospecting is a small-scale form of mineral exploration which is an organised, large scale effort undertaken by mineral resource companies to find commercially viable ore...


or exploration

Mineral exploration

Mineral exploration is the process of finding ore to mine. Mineral exploration is a much more intensive, organized and professional form of mineral prospecting and, though it frequently uses the services of prospecting, the process of mineral exploration on the whole is much more involved.-Stages...


to find and then define the extent and value of ore where it is located ("ore body")
Conduct resource estimation

Mineral resource classification

Mineral resource classification is the classification of mineral deposits based on their geologic certainty and economic value.Mineral deposits can be classified as:...


to mathematically estimate the size and grade of the deposit
Conduct a pre-feasibility study to determine the theoretical economics of the ore deposit. This identifies, early on, whether further investment in estimation and engineering studies is warranted and identifies key risks and areas for further work.
Conduct a feasibility study

Feasibility study

Feasibility studies aim to objectively and rationally uncover the strengths and weaknesses of the existing business or proposed venture, opportunities and threats as presented by the environment, the resources required to carry through, and ultimately the prospects for success. In its simplest...


to evaluate the financial viability, technical and financial risks and robustness of the project and make a decision as whether to develop or walk away from a proposed mine project. This includes mine planning to evaluate the economically recoverable portion of the deposit, the metallurgy

Metallurgy

Metallurgy is a domain of materials science that studies the physical and chemical behavior of metallic elements, their intermetallic compounds, and their mixtures, which are called alloys. It is also the technology of metals: the way in which science is applied to their practical use...


and ore recoverability, marketability and payability of the ore concentrates, engineering, milling and infrastructure costs, finance and equity requirements and a cradle to grave analysis of the possible mine, from the initial excavation all the way through to reclamation.
Development to create access to an ore body and building of mine plant and equipment
The operation of the mine in an active sense
Reclamation

Land rehabilitation

Land rehabilitation is the process of returning the land in a given area to some degree of its former state, after some process has resulted in its damage...


to make land where a mine had been suitable for future use
Trade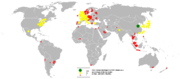 Ores (metals) are traded internationally and comprise a sizeable portion of international trade in raw materials both in value and volume. This is because the worldwide distribution of ores is unequal and dislocated from locations of peak demand and from smelting infrastructure.
Most base metals (copper, lead, zinc, nickel) are traded internationally on the
London Metal Exchange
London Metal Exchange
The London Metal Exchange is the futures exchange with the world's largest market in options, and futures contracts on base and other metals. As the LME offers contracts with daily expiry dates of up to three months from trade date, along with longer-dated contracts up to 123 months, it also...
, with smaller stockpiles and metals exchanges monitored by the
COMEX
Comex
Comex may refer to:*COMEX, a division of the New York Mercantile Exchange *COMEX , a French company in undersea engineering*COMEX, a gold trust owned by iShares...
and NYMEX exchanges in the United States and the Shanghai Futures Exchange in China.
Iron ore is traded between customer and producer, though various benchmark prices are set quarterly between the major mining conglomerates and the major consumers, and this sets the stage for smaller participants.
Other, lesser, commodities do not have international clearing houses and benchmark prices, with most prices negotiated between suppliers and customers one-on-one. This generally makes determining the price of ores of this nature opaque and difficult. Such metals include
lithium
Lithium
Lithium is a soft, silver-white metal that belongs to the alkali metal group of chemical elements. It is represented by the symbol Li, and it has the atomic number 3. Under standard conditions it is the lightest metal and the least dense solid element. Like all alkali metals, lithium is highly...
,
niobium
Niobium
Niobium or columbium , is a chemical element with the symbol Nb and atomic number 41. It's a soft, grey, ductile transition metal, which is often found in the pyrochlore mineral, the main commercial source for niobium, and columbite...
-
tantalum
Tantalum
Tantalum is a chemical element with the symbol Ta and atomic number 73. Previously known as tantalium, the name comes from Tantalus, a character in Greek mythology. Tantalum is a rare, hard, blue-gray, lustrous transition metal that is highly corrosion resistant. It is part of the refractory...
,
bismuth
Bismuth
Bismuth is a chemical element with symbol Bi and atomic number 83. Bismuth, a trivalent poor metal, chemically resembles arsenic and antimony. Elemental bismuth may occur naturally uncombined, although its sulfide and oxide form important commercial ores. The free element is 86% as dense as lead...
,
antimony
Antimony
Antimony is a toxic chemical element with the symbol Sb and an atomic number of 51. A lustrous grey metalloid, it is found in nature mainly as the sulfide mineral stibnite...
and rare earths. Most of these commodities are also dominated by one or two major suppliers with >60% of the world's reserves. The London Metal Exchange aims to add uranium to its list of metals on warrant.
The
World Bank
World Bank
The World Bank is an international financial institution that provides loans to developing countries for capital programmes.The World Bank's official goal is the reduction of poverty...
reports that China was the top importer of ores and metals in 2005 followed by the USA and Japan.
See also