 Foundation Stock Service Program
The
Foundation Stock Service (FSS) Program
is a
breed registry
Breed registry
A breed registry, also known as a stud book or register, in animal husbandry and the hobby of animal fancy, is an official list of animals within a specific breed whose parents are known. Animals are usually registered by their breeders when they are still young...
of the
American Kennel Club
American Kennel Club
The American Kennel Club is a registry of purebred dog pedigrees in the United States. Beyond maintaining its pedigree registry, this kennel club also promotes and sanctions events for purebred dogs, including the Westminster Kennel Club Dog Show, an annual event which predates the official...
in which breeders can record the birth and parentage of a rare breed they are working to establish in the United States. These dogs provide the
foundation stock
from which an AKC fully recognized breed might result. These breeds cannot participate in AKC events until at least 150 individual dogs are registered. Thereafter, provisional competition in various events is allowed.
Current FSS Breeds
As of April 2011, 60 breeds are recognized in the Foundation Stock Service (FSS) Program.
American English Coonhound

English Coonhound

The English Coonhound, sometimes referred to as the "Redtick Coonhound", is a breed of dog. It is a type of coonhound that is typically bred in the southern United States.-Coloration:...




Appenzeller Sennenhund

Appenzeller Sennenhund

The Appenzeller Sennenhund is a medium-size breed of dog, one of the four regional breeds of Sennenhund-type dogs from the Swiss Alps. The name Sennenhund refers to people called Senn, herders in the Swiss Alps...




Azawakh

Azawakh

The Azawakh is a sighthound dog breed from Africa.-Appearance:Morphology is very similar to that of the Middle Eastern and South Indian sight hounds, all swift, high-bred coursing hounds, although there are several obvious differences. For example, a short, flat back combined with long legs place...




Barbet

Barbet (dog)

The Barbet is a breed of dog; it is a medium-sized French water dog. It is listed in Group 8 by the , the French Kennel Club.- Description :...




Belgian Laekenois

Belgian Shepherd Dog (Laekenois)

The Belgian Shepherd Dog is a breed of dog, sometimes classified as a variety of the Belgian Shepherd Dog rather than as a separate breed. Laekenois is pronouned as ""Lak-in-wah". This breed is not fully recognized in the United States...




Bergamasco

Berger Picard

Boerboel

Boerboel

The Boerboel is a large, mastiff dog breed from South Africa, bred for the purpose of guarding the homestead. These dogs were often a first line of defense against predators and were valuable in tracking and holding down wounded game...



Bolognese

Bolognese (dog)

The Bolognese is a small breed of dog of the Bichon type, originating in Italy. The name refers to the northern Italian city of Bologna.-Appearance:...




Bracco Italiano

Bracco Italiano

The Bracco Italiano is a breed of dog developed in Italy as a versatile gun dog. It is not common in its native country and is virtually unknown elsewhere.-Description:...




Catahoula Leopard Dog

Caucasian Mountain Dog

Central Asian Shepherd Dog

Cesky Terrier

Cesky Terrier

The Cesky Terrier is a small terrier type dog originating in Czechoslovakia. The name is pronounced .- History :...




Chinook

Chinook (dog)

The Chinook is a rare dog breed of sleddog type, developed in the New England region of the United States in the early 20th century. They are recognized as the "New Hampshire State Dog."-Appearance:...




Cirneco dell'Etna

Cirneco dell'Etna

The Cirneco dell'Etna is a small breed of dog originally from Sicily. This hound was historically used to hunt rabbits and can work for hours without food or water. The breed also has a keen sense of smell and is primarily built for endurance over harsh terrain such as that of Mount Etna...




Coton de Tulear

Coton de Tulear

The Coton de Tuléar is a small breed of dog. It is named for the city of Tuléar in Madagascar and for its cotton-like coat.-Appearance:Multiple registries with differing standards describe the Coton de Tuléar, but in general, it has very soft hair, comparable to a cotton ball, a prominent black...




Czechoslovakian Vlcak

Czechoslovakian Wolfdog

The Czechoslovakian Wolfdog is a relatively new breed of dog that traces its original lineage to an experiment conducted in 1955 in Czechoslovakia...



Danish-Swedish Farmdog

Dogo Argentino
Drentsche Patrijshond

Drentse Patrijshond

The Drentsche Patrijshond is a versatile spaniel-type hunting dog from the Dutch province of Drenthe. Called the Dutch Partridge Dog in English, approximately 5,000 dogs are registered with the breed club in the Netherlands, and breed clubs operate in Belgium, Denmark, Scandinavia and North America...



Estrela Mountain Dog

Eurasier

Eurasier

The Eurasier, sometimes referred to as Eurasian, is a breed of dog of spitz type that originated in Germany. It is widely known as a wonderful companion that maintains its own personality, has a dignified reserve to strangers, a strong bond to its family and that is relatively easy to...




Finnish Lapphund

Finnish Lapphund

The Finnish Lapphund is a hardy, easy going, medium-size breed of Spitz type. Traditionally it has been used for herding reindeer. Although it is one of the most popular dog breeds in its native country, Finland, it is not very numerous outside of the Nordic countries.-Appearance:-Type:The Finnish...



German Longhaired Pointer

German Longhaired Pointer

The German longhaired pointer is a breed of dog. It was developed in Germany, and is used as a gundog.-Appearance:The GLP should be muscular, elegant, and athletic. It should not be bulky or cumbersome, and it should be able to move with great speed and freedom. It has moderate bone, but has...




German Spitz

German Spitz

German Spitz is used to refer to both a breed of dog and category or type of dog. Several modern breeds have been developed from the German Spitz, and are either registered as separate breeds or as varieties of German Spitz. All the German Spitz type dogs are dogs of the Spitz type of German origin...




Grand Basset Griffon Vendéen

Grand Basset Griffon Vendéen

The Grand Basset Griffon Vendéen is a long-backed, short legged hunting breed of dog of the hound type, originating in the Vendée region of France. They are still used today to hunt boar, deer, and to track rabbit and hare, but are more commonly kept as a domestic pet.They are pack dogs, so owners...



Hovawart

Hovawart

The Hovawart is a German dog breed. The name of the breed means "an estate guard dog," which is the original use for the breed. The breed originated in the Black Forest region and was first described in text and paintings in medieval times....




Jindo

Kai Ken

Kai Ken

The is a breed of dog that hails from Japan where it is a natural monument and has been bred for centuries. It is an extremely rare dog even in its native land and is related to the Japanese Spitz dog type.-Appearance:...




Karelian Bear Dog

Karelian Bear Dog

The Karelian Bear Dog is a Finnish or Karelian breed of dog. In its home country, it is regarded as a national treasure. KBD will hunt any kind of animal. Its quick reflexes and fearless nature have made it very popular for hunting aggressive game, including bear, moose, and wild boar...




Kishu Ken

Kooikerhondje

Lagotto Romagnolo

Lagotto Romagnolo

The Lagotto Romagnolo is a breed of dog that comes from the Romagna sub-region of Italy. The name means "lake dog from Romagna," coming from the Italian word lago, lake. Its traditional function is a gundog, specifically a water retriever...




Lancashire Heeler

Lancashire Heeler

The Lancashire Heeler is a small breed of dog developed for use as a drover and herder of cattle. The Lancashire Heeler is listed by the Kennel Club as a vulnerable breed.-Appearance:...




Mudi

Mudi

The Mudi is a rare herding breed of dog from Hungary.- Appearance :Mudis usually weigh and stand high at the withers. The coat is medium wavy or curly, with short hair on the face and legs. The accepted colors are black, ash, brown, white, fawn, and black merle...




Norrbottenspets

Norrbottenspets

The Norbottenspets is a breed of dog of the spitz type. It is an ancient breed whose original purpose was a farm and hunting dog but has recently became more popular as a companion dog. The Norrbottenspets is used to hunt wood grouse, black grouse, capercaillie and hazel grouse, but also fox,...



Perro de Presa Canario

Perro de Presa Canario

The Perro de Presa Canario is a large Molosser-type dog breed originally bred for working livestock. The name of the breed is Spanish, means "Canarian blood hound," and is often shortened to "Presa Canario" or simply "Presa." The breed is also called Dogo Canario, mean Canarian...




Peruvian Inca Orchid

Peruvian Hairless Dog

The Peruvian Hairless Dog is a breed of dog with its origins in Peruvian pre-Inca cultures. It is one of several breeds of hairless dog. It is not to be confused with the Xoloitzcuintli.- Appearance :...




Portuguese Podengo

Portuguese Podengo

The Portuguese Podengo is an ancient multi-sensory hound breed of dog from Portugal. The Podengo comes in three sizes that are not interbred - small , medium and large , each size with two hair coats and its own unique temperament.All three sizes love to hunt, its tradition in their native...




Portuguese Podengo Pequeno

Portuguese Pointer

Portuguese Pointer

A Portuguese Pointer, is a breed of dog developed as a gun dog. It is one of several pointing breeds and is mainly used in Red-legged Partridge hunting....




Pumi

Pumi (dog)

The Pumi is a medium-small terrier-type breed of sheep dog from Hungary.-History:The Pumi has been used as a "general farm dog", shepherding not only sheep but also cows and pigs, and also for catching small rodents. It originated in the 17th or 18th century, when shepherding terriers were brought...




Rafeiro do Alentejo

Rafeiro do Alentejo

The Rafeiro do Alentejo or Alentejo Mastiff, also called the Portuguese Mastiff, is a breed of dog that originated in Portugal. The Rafeiro do Alentejo is of the livestock guardian dog type, and the name refers to its area of origin, Alentejo, in south-central Portugal...




Rat Terrier

Rat Terrier

The Rat Terrier is an American dog breed with a rich and varied background as an all-around farm dog and hunting companion. Traditionally more of a type than a breed, they share much ancestry with the tough little mixed-breed dogs known as feists...




Russell Terrier

Russell Terrier

The Russell Terrier is a predominantly white working terrier with an insatiable instinct to hunt formidable quarry underground. The breed was derived from the Reverend John Russell's fox working terrier strains that were used in the 19th century for fox hunting. The Reverend's fox working strains...




Russian Toy

Schapendoes

Schapendoes

The Schapendoes or Dutch Sheepdog, is a breed of dog originating in the Netherlands. The Schapendoes was originally a herding dog and general farm dog, but today also participates in dog sports such as agility and flyball.-History:...




Sloughi

Sloughi

The Sloughi is a North African breed of dog, specifically a member of the sighthound family. It is found in Morocco, Algeria, Tunisia and Libya. Sloughis are likely closely related to the Azawakh, but not to the Saluki .-Appearance:...




Slovensky Cuvac

Small Munsterlander Pointer

Small Munsterlander

The Small Munsterlander is a versatile hunting-pointing-retrieving dog breed that reached its current form in the area around Münster, Germany. The Large Munsterlander is from the same area, but was developed from different breeding stock and is not related as the names would suggest...




Spanish Mastiff

Spanish Mastiff

The Spanish Mastiff, or Mastín Español is a large breed of dog, originating in Spain, originally bred to be a Livestock guardian dog and a guard dog whose purpose is to defend livestock from wolves and other predators...




Spanish Water Dog

Spanish Water Dog

The Spanish Water Dog or Perro de Agua Español is a breed of dog developed by the shepherds in Spain as a multi-purpose herder who was also used sometimes as a gundog, as well as an assistant to fishermen.-Appearance:...




Stabyhoun

Stabyhoun

The Stabyhoun or Stabij is a rare dog breed that just like the Wetterhoun originates from Friesland, a province in the North of the Netherlands. The first part of the name is probably from the Dutch: "sta me bij" . The last part is simply Frisian, meaning dog, which is pronounced "hoon"...




Swedish Lapphund

Swedish Lapphund

The Swedish Lapphund is a breed of dog of the Spitz type from Sweden, one of three Lapphund breeds developed from a type of dog used by the Sami people for herding and guarding their reindeer....




Thai Ridgeback

Thai Ridgeback

The Thai Ridgeback is an ancient breed of dog. The breed was formerly unknown outside of Thailand, but is gaining notice in the Western world. The Thai Ridgeback is one of only three breeds that has a ridge of hair that runs along its back in the opposite direction to the rest of the coat...



Tosa

Tosa (dog)

The is a breed of dog of Japanese origin that is considered rare. It was originally bred in Tosa as a fighting dog and still is today.- Appearance :...



Tennessee Treeing Brindle

Treeing Walker Coonhound

Treeing Walker Coonhound

The Treeing Walker Coonhound is a breed of dog descended from the English Foxhound, first recognized as a separate breed in 1945. The breed began when a stolen dog of unknown origin, known as "Tennessee Lead", was crossed into the Walker Hound in the 19th century...




Wirehaired Vizsla
Breeds rejected by FSS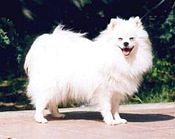 Volpino Italiano
Volpino Italiano
A Volpino Italiano is a spitz-type breed of dog originally from Italy.-History:Spitz-type dogs were found throughout the ancient world. Specimens from this group have been found preserved in European peat bogs which anthropologists trace to 4000 BC...
In the summer of 2006, the AKC/FSS rejected inclusion of the Volpino Italiano, citing similarities with the
American Eskimo Dog
American Eskimo Dog
The American Eskimo Dog is a breed of companion dog originating in Germany. The American Eskimo is a member of the Spitz family. Despite its name and appearance, the American Eskimo dog is not from Alaska; the dog's heritage is traced back to Northern Europe...
. The Volpino is recognized internationally by the
Fédération Cynologique Internationale
Fédération Cynologique Internationale
Fédération Cynologique Internationale is an international federation of kennel clubs based in Thuin, Belgium. The English language translation, World Canine Organisation, is not often used.Its goals are described in Article 2 of their regulations:...
and its member kennel clubs. In the United States, the breed is recognized for conformation showing by the
United Kennel Club
United Kennel Club
The United Kennel Club is the second oldest all-breed registry of purebred dog pedigrees in the United States and the second largest in the world. According to the website, the club records 250,000 registrations annually. The UKC is not part of the International Canine Organisation, Fédération...
and the
American Rare Breed Association
American Rare Breed Association
The American Rare Breed Association or ARBA is a national dog association of the United States, based in Cheltenham, Prince George's County, Maryland. The club was formed to register, show, educate and promote the breeding of uncommon dog breeds...
.