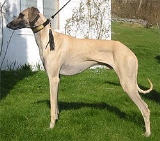 Sloughi
The
Sloughi
is a North African breed of
dog
Dog
The domestic dog is a domesticated form of the gray wolf, a member of the Canidae family of the order Carnivora. The term is used for both feral and pet varieties. The dog may have been the first animal to be domesticated, and has been the most widely kept working, hunting, and companion animal in...
, specifically a member of the
sighthound
Sighthound
Sighthounds, also called gazehounds, are hounds that primarily hunt by speed and sight, instead of by scent and endurance as scent hounds do.-Appearance:...
family. It is found in Morocco, Algeria, Tunisia and Libya. Sloughis are likely closely related to the
Azawakh
Azawakh
The Azawakh is a sighthound dog breed from Africa.-Appearance:Morphology is very similar to that of the Middle Eastern and South Indian sight hounds, all swift, high-bred coursing hounds, although there are several obvious differences. For example, a short, flat back combined with long legs place...
, but not to the
Saluki
Saluki
The Saluki, also known as the Royal Dog of Egypt and Persian Greyhound is one of the oldest known breeds of domesticated dog. From the period of the Middle Kingdom onwards, Saluki-like animals appear on the ancient Egyptian tombs of 2134 BC. They have connections both to the Bible and Imperial...
http://sloughi.tripod.com/SFAA/MitochondrialDNA.html
.
Appearance
The Sloughi belongs to the Sighthound family. In appearance, it is a short-haired, middle-sized, strong sighthound with drooping ears. Its expression is often described to be melancholy. Its muscular system is "dry", that is, the Sloughi has flat and long muscles, which must not be as brawny as those of
Greyhound
Greyhound
The Greyhound is a breed of sighthound that has been primarily bred for coursing game and racing, and the breed has also recently seen a resurgence in its popularity as a pedigree show dog and family pet. It is a gentle and intelligent breed...
s or
Whippet
Whippet
The Whippet is a breed of dog in the sighthound family. They are active and playful and are physically similar to a small Greyhound.- Description :...
s, even when in excellent physical condition. Its back is nearly horizontal (the
lumbar
Lumbar
In tetrapod anatomy, lumbar is an adjective that means of or pertaining to the abdominal segment of the torso, between the diaphragm and the sacrum ...
region must be slightly vaulted). It has a moderate angulation and a tucked up underline.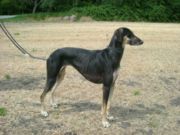 The Sloughi's eyes are ideally dark brown, though sometimes of
amber
Amber
Amber is fossilized tree resin , which has been appreciated for its color and natural beauty since Neolithic times. Amber is used as an ingredient in perfumes, as a healing agent in folk medicine, and as jewelry. There are five classes of amber, defined on the basis of their chemical constituents...
colour. Its coat colour varies from light-sand, to red-sand, red- or mahogany with or without
brindling
Brindle
Brindle is a coat coloring pattern in animals, particularly dogs, cats, cattle, guinea pigs, crested geckos and, rarely, horses. It is sometimes described as "tiger striped", although the brindle pattern is more subtle than that of a tiger's coat...
, black mantle,
black mask
Melanistic mask
A melanistic mask is a dog coat pattern that gives the appearance of a mask on the dog's face. The hairs on the muzzle, and sometimes entire face or ears, are colored by eumelanin instead of pheomelanin pigment. Eumelanin is typically black, but may instead be brown, dark gray, or light gray-brown...
, black ears. According to the standard, a Sloughi may only have a small white patch on its chest. Extensive white markings and parti-colored coats are not allowed. The Sloughi's gait is feather-light, with a moderate and energy-efficient stride.
The Sloughi's general view is compact and strong; it may not be too dainty.
Temperament
It is of a sensitive nature yet is an alert and intelligent hound. It is said that Sloughis have a mighty longing for moving and that is not easy to keep them in flats with families; however, a Sloughi does not need more exercise than other dogs of similar size. It loves variety, walking on the leash, romping in the countryside, and racing. A Sloughi is faithful to his owner and it needs him close by. Sloughis are easy to bring up and to train, if you know how to do it. Because the Sloughi is somewhat sensitive, its training should not be oppressive, and any punishment should be omitted. What it likes is a friendly confirmation of its behaviour.
Health
The Sloughi is largely unchanged from ancient times, and so retains a robust genetic health. Only a few genetic conditions have been noted in the breed, in particular
Progressive retinal atrophy
Progressive retinal atrophy
Progressive retinal atrophy is a group of genetic diseases seen in certain breeds of dogs and, more rarely, cats. Similar to retinitis pigmentosa in humans, it is characterized by the bilateral degeneration of the retina, causing progressive vision loss culminating in blindness...
(PRA). Fortunately the Sloughi is one of the breeds in whom this condition can be tested for with a small blood sample, and breeders are working to eliminate PRA from the gene pool. Like all sighthounds, the Sloughi is very sensitive to anesthesia, and can be sensitive to vaccines, worming, and other medications - so these routine treatments should be spaced apart instead of given all at once. Otherwise the breed tends to enjoy excellent health into old age.
History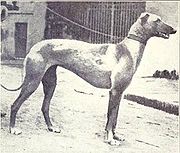 The Sloughi's origin is mostly a matter of speculation. It is thought that Sloughis originally came from the Orient or from what is today Ethiopia (the tributes to the Pharaohs included smooth Lop-eared Sighthounds from Nubia, south of Egypt). The Sloughi is one of the two African Sighthound breeds recognized by the FCI. On old fragments of
earthenware
Earthenware
Earthenware is a common ceramic material, which is used extensively for pottery tableware and decorative objects.-Types of earthenware:Although body formulations vary between countries and even between individual makers, a generic composition is 25% ball clay, 28% kaolin, 32% quartz, and 15%...
(about 3000 B.C.), a short-haired sighthound with lop ears was discovered that looks like a Sloughi. Today, the Sloughi is found mainly in
Morocco
Morocco
Morocco , officially the Kingdom of Morocco , is a country located in North Africa. It has a population of more than 32 million and an area of 710,850 km², and also primarily administers the disputed region of the Western Sahara...
,
Algeria
Algeria
Algeria , officially the People's Democratic Republic of Algeria , also formally referred to as the Democratic and Popular Republic of Algeria, is a country in the Maghreb region of Northwest Africa with Algiers as its capital.In terms of land area, it is the largest country in Africa and the Arab...
,
Tunisia
Tunisia
Tunisia , officially the Tunisian RepublicThe long name of Tunisia in other languages used in the country is: , is the northernmost country in Africa. It is a Maghreb country and is bordered by Algeria to the west, Libya to the southeast, and the Mediterranean Sea to the north and east. Its area...
,
Libya
Libya
Libya is an African country in the Maghreb region of North Africa bordered by the Mediterranean Sea to the north, Egypt to the east, Sudan to the southeast, Chad and Niger to the south, and Algeria and Tunisia to the west....
, and Morocco is responsible for the breed's
FCI
FCI
FCI is a three-letter abbreviation that can refer to:* Facility Condition Index, a benchmark to compare the relative condition of a group of facilities* Factors Chain International, a global network of factoring companies* Federal Correctional Institution...
Standard.
It is not to be confused with the smooth Saluki of the Arabian peninsula and the Middle East, which is a variety of the Saluki breed. It is also not to be confused with the smooth Afghan Hound, which is a variety of the Afghan Hound. The Sloughi was and is still used for hunting in its native countries, and is also a reliable guarding dog.
External links
Sloughi World (including 'Preserving the Sloughi site')
American Sloughi Association
Sloughi in Europe
Sloughi Rescue
The Sloughi Fanciers Association of America
Sloughi Pedigree Database