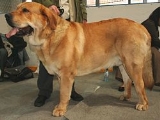 Spanish Mastiff
The
Spanish Mastiff
, or
Mastín Español
is a large
breed
Breed
A breed is a group of domestic animals or plants with a homogeneous appearance, behavior, and other characteristics that distinguish it from other animals or plants of the same species. Despite the centrality of the idea of "breeds" to animal husbandry, there is no scientifically accepted...
of dog, originating in Spain, originally bred to be a
Livestock guardian dog
Livestock guardian dog
A livestock guardian dog is a domesticated canine used to defend livestock against predators. LGDs are commonly referred to as "sheep dogs" since they most often have guarded flocks of sheep, but most are capable of guarding other species of livestock. They are classified as pastoral dogs...
and a
guard dog
Guard dog
A guard dog, an attack dog or watch dog is a dog used to guard against, and watch for, unwanted or unexpected people or animals. The dog is discriminating so that it does not annoy or attack familiar people.-Barking:...
whose purpose is to defend livestock from wolves and other predators. The
Mountain dog
Mountain dog
Mountain dog is a generic form of canidae, dog, dog breed or landrace typically from mountain environs.They are often a working dog, particularly a livestock or flock guardian or farm dog. By and large, these dogs tend to have a claimed Molosser dog in their genetic heritage...
type has a heavier coat, and is more commonly exhibited at dog shows.
Roots and history
The Spanish Mastiff is thought to have descended from Greek dogs brought to Spain via Greek and
Phoenicia
Phoenicia
Phoenicia , was an ancient civilization in Canaan which covered most of the western, coastal part of the Fertile Crescent. Several major Phoenician cities were built on the coastline of the Mediterranean. It was an enterprising maritime trading culture that spread across the Mediterranean from 1550...
n maritime traders starting around 1000 BC. The Greeks used similar dogs in battle because of their strength.
During the conquest of the Americas, Spanish conquistadors used Spanish Mastiffs and other Molossers in battle against
Native Americans
Indigenous peoples of the Americas
The indigenous peoples of the Americas are the pre-Columbian inhabitants of North and South America, their descendants and other ethnic groups who are identified with those peoples. Indigenous peoples are known in Canada as Aboriginal peoples, and in the United States as Native Americans...
, like the Taínos, Aztecs, or Mayans. These specially trained dogs were feared by the Indians for their strength and ferocity.
Appearance
The Spanish Mastiff is a very large and powerful dog, similar in appearance to the other Mastiff breeds. They have a large powerful head, with loose folds of skin and a double
dewlap
Dewlap
A dewlap is a longitudinal flap of skin that hangs beneath the lower jaw or neck of many vertebrates. While the term is usually used in this specific context, it can also be used to include other structures occurring in the same body area with a similar aspect, such as those caused by a double...
on the neck.
Males in this breed are at least 77 cm (30 in) tall at the withers, and range from 50–65 kg (110-140 lbs). Females are at least 72 cm (28 in), and weigh 50–60 kg (110-130 lbs).
This dog has a long muzzle compared to many other mastiffs. It has small eyes and drop ears resembling triangles. This dog's coat is most often reddish or fawn-colored, but can also be brindle, black or 'wolf' colored.
Temperament
This noble giant is aloof, dignified, calm and intelligent. It is devoted to its family and may politely accept strangers if it has been socialized properly, although it will be wary of them. It can be aggressive toward other dogs. The Spanish Mastiff may be a less-than-ideal pet in urban situations, where its booming voice and massive size could be problematic. It is a wonderful protector of its home and family.
Socializing and training should begin early to ensure a stable and reliable pet. Supervised exposure in puppyhood to a variety of unfamiliar but nonthreatening dogs will help dampen a tendency to aggression toward other dogs. The breed is quite alert and food motivated but can bore easily; training must be consistent and firm but gentle. Once the trainer has established the dog's respect as leader, the Spanish Mastiff will be an extremely loyal pet.
Exercise
This dog is more inclined to lumber than gallop, but it can move quite rapidly when necessary. A long daily walk will be sufficient, although it will appreciate a fenced area where it can exercise at its own rate.
See also
Argentine Dogo

Argentine Dogo

The Dogo Argentino is a large, white, muscular dog that was developed in Argentina primarily for the purpose of big-game hunting, including wild boar and puma; the breeder, Antonio Nores Martinez, also wanted a dog that would exhibit steadfast bravery and willingly protect its human companion to...



Las Meninas

Las Meninas

Las Meninas is a 1656 painting by Diego Velázquez, the leading artist of the Spanish Golden Age, in the Museo del Prado in Madrid. The work's complex and enigmatic composition raises questions about reality and illusion, and creates an uncertain relationship between the viewer and the figures...


by Diego Velázquez

Diego Velázquez

Diego Rodríguez de Silva y Velázquez was a Spanish painter who was the leading artist in the court of King Philip IV. He was an individualistic artist of the contemporary Baroque period, important as a portrait artist...


features an impressive example of the breed.