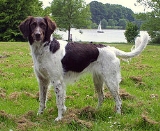 Small Munsterlander
The
Small Munsterlander
(SM) (or Kleiner Münsterländer) is a versatile
hunting
Hunting dog
A hunting dog refers to any dog who assists humans in hunting. There are several types of hunting dogs developed for various tasks. The major categories of hunting dogs include hounds, terriers, dachshunds, cur type dogs, and gun dogs...
-pointing-
retrieving
Retriever
A retriever is a type of gun dog that retrieves game for a hunter. Generally gun-dogs are divided into three major classifications: retrievers, flushing spaniels, and pointing breeds. Retrievers were bred primarily to retrieve birds or other prey and return them to the hunter without damage...
dog breed
Dog breed
Dog breeds are groups of closely related and visibly similar domestic dogs, which are all of the subspecies Canis lupus familiaris, having characteristic traits that are selected and maintained by humans, bred from a known foundation stock....
that reached its current form in the area around
Münster
Münster
Münster is an independent city in North Rhine-Westphalia, Germany. It is located in the northern part of the state and is considered to be the cultural centre of the Westphalia region. It is also capital of the local government region Münsterland...
, Germany. The
Large Munsterlander
Large Munsterlander
The Large Munsterlander is a breed of gun dog originally from the Münster region in Germany.The Kennel Club in England recognised the breed in 1919 and established the breed standard in 1921.-Appearance:...
is from the same area, but was developed from different breeding stock and is not related as the names would suggest. Small Munsterlanders bear a resemblance to both
spaniel
Spaniel
A spaniel is a type of gun dog. It is assumed spaniels originated from Spain as the word spaniel may be derived from Hispania or possibly from the French phrase "Chiens de l'Espagnol" . Spaniels were especially bred to flush game out of dense brush. By the late 17th century spaniels had become...
s and
setter
Setter
The setter is a type of gundog used most often for hunting game such as quail, pheasant, and grouse. A setter silently searches for game by scent. When prey is encountered the dog freezes rather than chasing after the game. Setters get their name from their distinctive stance; a sort of crouch...
s but are rather more versatile while hunting on land and water. The Small Munsterlander is recognized by the
Fédération Cynologique Internationale
Fédération Cynologique Internationale
Fédération Cynologique Internationale is an international federation of kennel clubs based in Thuin, Belgium. The English language translation, World Canine Organisation, is not often used.Its goals are described in Article 2 of their regulations:...
under Group 7, Section 1.2, Continental Pointing Dogs of Spaniel type, and it is related to the Epagneul Français and the Drentsche Patrijshond.
Appearance
The breed is often described as about 35 pounds (16 kg) and 18 to 20 inches (0.45 to 0.5 m) at the shoulder, but the average is somewhat heavier, around 45 pounds (20 kg) with some males reaching or slightly exceeding 60 pounds (27 kg) and up to 22 inches (0.55 m). The body is lean yet powerful and not prone to becoming overweight due to an active nature and natural athleticism. Coloration is large patches of brown (plates) on a ticked or solid white background. The soft coat is medium length, requiring grooming after hunting in heavy cover or weekly otherwise. The breed is now registered with the
American Kennel Club
American Kennel Club
The American Kennel Club is a registry of purebred dog pedigrees in the United States. Beyond maintaining its pedigree registry, this kennel club also promotes and sanctions events for purebred dogs, including the Westminster Kennel Club Dog Show, an annual event which predates the official...
under the Foundation Stock Service program
http://www.akc.org/breeds/fss_breeds.cfm
. In the US Small Munsterlanders may also be registered with the
United Kennel Club
United Kennel Club
The United Kennel Club is the second oldest all-breed registry of purebred dog pedigrees in the United States and the second largest in the world. According to the website, the club records 250,000 registrations annually. The UKC is not part of the International Canine Organisation, Fédération...
,
North American Versatile Hunting Dog Association
or the
Small Munsterlander Club of North America
.
Temperament
Small Munsterlanders are very intelligent, trainable, and attentive but require gentle and patient training, which provides excellent results. They are also strong-willed and an owner who is inconsistent or indecisive might find that his dog is hard to control. Both voice and hand signals are used, and an SM looks back at the hunter for silent signals at intervals when on hold or pointing. They have a very strong drive to follow their keen sense of smell, and thrive with hunting or comparably challenging exercise for an hour or more every day. They love swimming, too. Lack of regular and sufficient exercise and mental challenge will likely result in unwanted behavior, which is common in highly intelligent, driven breeds. They mature rather slowly over 2.5 to 3 years but a well-trained, mature SM is a hunter without peer, and the upland bird hunter hunting over such a dog will enjoy both the experience and great success. The Small Munsterlander is a happy, affectionate family pet when in the house, while remaining a keenly focused, even driven, hunter-pointer-retriever when in the field. They are not suited to life in a
kennel
Kennel
A kennel is the name given to any structure or shelter for dogs. A kennel is a doghouse, run, or other small structure in which a dog is kept...
because of their sociable nature and need to interact with people—they need to live in the home of their human family. SMs will pick an individual person to bond most closely with, typically the one who hunts with the dog, but will revel in the company of the rest of the family, too. When raised with other pets in the household, such as
cat
Cat
The cat , also known as the domestic cat or housecat to distinguish it from other felids and felines, is a small, usually furry, domesticated, carnivorous mammal that is valued by humans for its companionship and for its ability to hunt vermin and household pests...
s, they can coexist happily though they may enjoy a game of chase and point. Unfamiliar small animals outdoors will not be tolerated in the same way.
History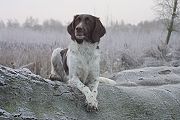 Originally a dog bred to work with noble families'
falconer
Falconry
Falconry is "the taking of wild quarry in its natural state and habitat by means of a trained raptor". There are two traditional terms used to describe a person involved in falconry: a falconer flies a falcon; an austringer flies a hawk or an eagle...
s before guns were used in bird and small game hunting, ancestors of the Small Munsterlander had to work in upland areas to flush prey for the
falcon
Falcon
A falcon is any species of raptor in the genus Falco. The genus contains 37 species, widely distributed throughout Europe, Asia, and North America....
, then allow the falcon to keep the prey until the falconer could retrieve it while the dog pointed at the catch. To this day the Small Munsterlander has excellent close searching and pointing drive. With wider availability of guns and personal time for commoners, hunting became more popular, and the breed was further developed as a retriever that worked equally well in the field and water. Owners of the breed consider it to be uniquely effective in working as a team with the huntsman in all phases of the hunt, akin to the close cooperation between a sheep herder and
Border Collie
Border Collie
The Border Collie is a herding dog breed developed in the Anglo-Scottish border region for herding livestock, especially sheep. It is the most widespread of the collie breeds....
.
By the 1800s the breed had fallen into obscurity. Small Munsterlanders were little known, kept by a few families on farms around Munster. For a half century the few dogs that were bred were primarily companions, and used when hunting to feed the family rather than for sport. It developed a local reputation as the dog to have when a hunter's success or failure determined whether his family would have enough to eat. At the end of the 19th century, a concerted effort was made to re-establish the breed from the remaining lines in the Munster region. The fortunate outcome of the companion phase in the Small Munsterlander history was its excellent in-home personality.
International popularity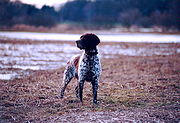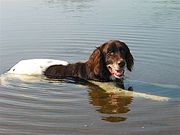 The Small Munsterlander is a rare breed in the United States, numbering perhaps in the low thousands, and demand from hunters outstrips the number of available dogs, so breeders typically give preference to hunters. They're especially hard to come by for nonhunters there. They are more numerous in Germany, the Netherlands, and the Czech Republic.
In the United Kingdom, the breed is rarer still. Recognised by The Kennel Club as an imported breed in 2006, they are still to be established in the hunting community.
Other names for this breed: Spion in Germany; and Heidewachtel in the Netherlands.