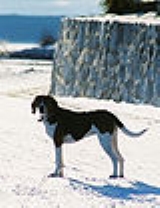 Treeing Walker Coonhound
The
Treeing Walker Coonhound
is a
breed
Dog breed
Dog breeds are groups of closely related and visibly similar domestic dogs, which are all of the subspecies Canis lupus familiaris, having characteristic traits that are selected and maintained by humans, bred from a known foundation stock....
of
dog
Dog
The domestic dog is a domesticated form of the gray wolf, a member of the Canidae family of the order Carnivora. The term is used for both feral and pet varieties. The dog may have been the first animal to be domesticated, and has been the most widely kept working, hunting, and companion animal in...
descended from the
English Foxhound
English Foxhound
The English Foxhound is one of the four foxhound breeds of dog. They are scent hounds, bred to hunt foxes by scent.-Appearance:The English Foxhound is about 21-25 inches tall to the withers, and weighs anywhere between 65-75 pounds, although some English Foxhounds bred for the show ring can be...
, first recognized as a separate breed in 1945
http://www.akc.org/breeds/treeing_walker_coonhound/history.cfm
. The breed began when a stolen dog of unknown origin, known as "Tennessee Lead", was crossed into the Walker Hound in the 19th century.