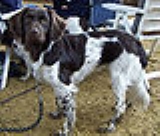 Stabyhoun
The
Stabyhoun
or
Stabij
is a rare
dog breed
Dog breed
Dog breeds are groups of closely related and visibly similar domestic dogs, which are all of the subspecies Canis lupus familiaris, having characteristic traits that are selected and maintained by humans, bred from a known foundation stock....
that just like the
Wetterhoun
Wetterhoun
The Wetterhoun is a breed of dog traditionally used as a hunting dog for hunting small mammals and waterfowl in the province of Friesland in the Netherlands. The name of the dog comes from the West Frisian Wetterhûn meaning "water dog." Plural of Wetterhoun is Wetterhounen in Dutch...
originates from
Friesland
Friesland
Friesland is a province in the north of the Netherlands and part of the ancient region of Frisia.Until the end of 1996, the province bore Friesland as its official name. In 1997 this Dutch name lost its official status to the Frisian Fryslân...
, a
province
Province
A province is a territorial unit, almost always an administrative division, within a country or state.-Etymology:The English word "province" is attested since about 1330 and derives from the 13th-century Old French "province," which itself comes from the Latin word "provincia," which referred to...
in the North of the
Netherlands
Netherlands
The Netherlands is a constituent country of the Kingdom of the Netherlands, located mainly in North-West Europe and with several islands in the Caribbean. Mainland Netherlands borders the North Sea to the north and west, Belgium to the south, and Germany to the east, and shares maritime borders...
. The first part of the name is probably from the Dutch: "sta me bij" (stand by me). The last part is simply Frisian, meaning dog, which is pronounced "hoon". There are only approximately 3500 Stabyhouns in existence today.
A sturdily built long-coated breed, greater in length than height, which should be neither too coarse not too refined in build.
Most Stabyhouns have a black and white colored coat.