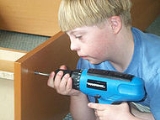 Drill
A
drill
or
drill motor
is a
tool
Tool
A tool is a device that can be used to produce an item or achieve a task, but that is not consumed in the process. Informally the word is also used to describe a procedure or process with a specific purpose. Tools that are used in particular fields or activities may have different designations such...
fitted with a cutting tool attachment or driving tool attachment, usually a
drill bit
Drill bit
Drill bits are cutting tools used to create cylindrical holes. Bits are held in a tool called a drill, which rotates them and provides torque and axial force to create the hole. Specialized bits are also available for non-cylindrical-shaped holes....
or driver bit, used for
drilling
Drilling
Drilling is a cutting process that uses a drill bit to cut or enlarge a hole in solid materials. The drill bit is a multipoint, end cutting tool...
holes in various materials or fastening various materials together with the use of fasteners. The attachment is gripped by a chuck at one end of the drill and rotated while pressed against the target material. The tip, and sometimes edges, of the cutting tool does the work of cutting into the target material. This may be slicing off thin shavings (twist drills or
auger
Auger
An auger is a drilling device, or drill bit, that usually includes a rotating helical screw blade called a "flighting" to act as a screw conveyor to remove the drilled out material...
bits), grinding off small particles (
oil drilling
Oil well
An oil well is a general term for any boring through the earth's surface that is designed to find and acquire petroleum oil hydrocarbons. Usually some natural gas is produced along with the oil. A well that is designed to produce mainly or only gas may be termed a gas well.-History:The earliest...
), crushing and removing pieces of the workpiece (SDS masonry drill),
countersink
Countersink
A countersink is a conical hole cut into a manufactured object, or the cutter used to cut such a hole. A common usage is to allow the head of a countersunk bolt or screw, when placed in the hole, to sit flush with or below the surface of the surrounding material...
ing,
counterboring
Counterbore
A counterbore can refer to a cylindrical flat-bottomed hole, which enlarges another hole, or the tool used to create that feature. A spot face is a very shallow counterbore...
, or other operations.
Drills are commonly used in
woodworking
Woodworking
Woodworking is the process of building, making or carving something using wood.-History:Along with stone, mud, and animal parts, wood was one of the first materials worked by early humans. Microwear analysis of the Mousterian stone tools used by the Neanderthals show that many were used to work wood...
,
metalworking
Metalworking
Metalworking is the process of working with metals to create individual parts, assemblies, or large scale structures. The term covers a wide range of work from large ships and bridges to precise engine parts and delicate jewelry. It therefore includes a correspondingly wide range of skills,...
, construction and do-it-yourself projects. Specially designed drills are also used in medicine, space missions and other applications. Drills are available with a wide variety of performance characteristics, such as
power
Power (physics)
In physics, power is the rate at which energy is transferred, used, or transformed. For example, the rate at which a light bulb transforms electrical energy into heat and light is measured in watts—the more wattage, the more power, or equivalently the more electrical energy is used per unit...
and
capacity
Drilling capacity
Drilling capacity indicates the maximum diameter a given power drill or drill press can produce in a given material. It is essentially a proxy for the continuous torque the machine is capable of producing. Typically a given drill will have its capacity specified for different materials. i.e.,...
.
History
The earliest drills were
bow drill
Bow drill
The bow drill is an ancient tool. While it was usually used to make fire, it was also used for primitive woodworking and dentistry. It consists of a bearing block or handhold, a spindle or drill, a hearth or fireboard, and a simple bow...
s which date back to the ancient
Harappans
Indus Valley Civilization
The Indus Valley Civilization was a Bronze Age civilization that was located in the northwestern region of the Indian subcontinent, consisting of what is now mainly modern-day Pakistan and northwest India...
and
Egyptians
Ancient Egypt
Ancient Egypt was an ancient civilization of Northeastern Africa, concentrated along the lower reaches of the Nile River in what is now the modern country of Egypt. Egyptian civilization coalesced around 3150 BC with the political unification of Upper and Lower Egypt under the first pharaoh...
. The drill press as a machine tool evolved from the bow drill and is many centuries old. It was powered by various power sources over the centuries, such as human effort,
water wheel
Watermill
A watermill is a structure that uses a water wheel or turbine to drive a mechanical process such as flour, lumber or textile production, or metal shaping .- History :...
s, and
windmill
Windmill
A windmill is a machine which converts the energy of wind into rotational energy by means of vanes called sails or blades. Originally windmills were developed for milling grain for food production. In the course of history the windmill was adapted to many other industrial uses. An important...
s, often with the use of
belt
Belt (mechanical)
A belt is a loop of flexible material used to link two or more rotating shafts mechanically. Belts may be used as a source of motion, to transmit power efficiently, or to track relative movement. Belts are looped over pulleys. In a two pulley system, the belt can either drive the pulleys in the...
s. With the coming of the
electric motor
Electric motor
An electric motor converts electrical energy into mechanical energy.Most electric motors operate through the interaction of magnetic fields and current-carrying conductors to generate force...
in the late 19th century, there was a great rush to power machine tools with such motors, and drills were among them. The invention of the first electric drill is credited to
Arthur James Arnot
Arthur James Arnot
Arthur James Arnot was an electrical engineer and inventor, best known for patenting the world's first electric drill. He later designed the Spencer Street Power Station, Victoria.-Biography:...
and William Blanch Brain, in 1889, at
Melbourne
Melbourne
Melbourne is the capital and most populous city in the state of Victoria, and the second most populous city in Australia. The Melbourne City Centre is the hub of the greater metropolitan area and the Census statistical division—of which "Melbourne" is the common name. As of June 2009, the greater...
, Australia. Wilhelm Fein invented the portable electric drill in 1895, at
Stuttgart
Stuttgart
Stuttgart is the capital of the state of Baden-Württemberg in southern Germany. The sixth-largest city in Germany, Stuttgart has a population of 600,038 while the metropolitan area has a population of 5.3 million ....
, Germany. In 1917,
Black & Decker
Black & Decker
Black & Decker Corporation is a corporation based in Towson, Maryland, United States, that designs and imports power tools and accessories, hardware and home improvement products, and technology based fastening systems...
patented a trigger-like switch mounted on a pistol-grip handle.
Types
There are many types of drills: some are powered manually, others use electricity (electric drill) or compressed air (
pneumatic drill
) as the motive power, and a minority are driven by an
internal combustion engine
Internal combustion engine
The internal combustion engine is an engine in which the combustion of a fuel occurs with an oxidizer in a combustion chamber. In an internal combustion engine, the expansion of the high-temperature and high -pressure gases produced by combustion apply direct force to some component of the engine...
(for example, earth drilling augers). Drills with a percussive action (
hammer drill
Hammer drill
A hammer drill, also known as a "Hammer drill", "roto-drill" or "hammering drill", is a rotary drill with a hammering action. The hammering action provides a short, rapid hammer thrust to pulverize relatively brittle material and provide quicker drilling with less effort...
s) are mostly used in hard materials such as
masonry
Masonry
Masonry is the building of structures from individual units laid in and bound together by mortar; the term masonry can also refer to the units themselves. The common materials of masonry construction are brick, stone, marble, granite, travertine, limestone; concrete block, glass block, stucco, and...
(brick, concrete and stone) or
rock
Rock (geology)
In geology, rock or stone is a naturally occurring solid aggregate of minerals and/or mineraloids.The Earth's outer solid layer, the lithosphere, is made of rock. In general rocks are of three types, namely, igneous, sedimentary, and metamorphic...
.
Drilling rig
Drilling rig
A drilling rig is a machine which creates holes or shafts in the ground. Drilling rigs can be massive structures housing equipment used to drill water wells, oil wells, or natural gas extraction wells, or they can be small enough to be moved manually by one person...
s are used to bore holes in the earth to obtain water or oil. Oil wells,
water well
Water well
A water well is an excavation or structure created in the ground by digging, driving, boring or drilling to access groundwater in underground aquifers. The well water is drawn by an electric submersible pump, a trash pump, a vertical turbine pump, a handpump or a mechanical pump...
s, or holes for
geothermal heating
Geothermal heating
Geothermal heating is the direct use of geothermal energy for heating applications. Humans have taken advantage of geothermal heat this way since the Paleolithic era. Approximately seventy countries made direct use of a total of 270 PJ of geothermal heating in 2004...
are created with large drilling rigs. Some types of hand-held drills are also used to drive
screw
Screw
A screw, or bolt, is a type of fastener characterized by a helical ridge, known as an external thread or just thread, wrapped around a cylinder. Some screw threads are designed to mate with a complementary thread, known as an internal thread, often in the form of a nut or an object that has the...
s and other
fastener
Fastener
A fastener is a hardware device that mechanically joins or affixes two or more objects together.Fasteners can also be used to close a container such as a bag, a box, or an envelope; or they may involve keeping together the sides of an opening of flexible material, attaching a lid to a container,...
s. Some small appliances that have no motor of their own may be drill-powered, such as small pumps, grinders, etc.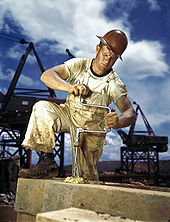 Hand tools
A variety of hand-powered drills have been employed over the centuries. Here are a few, starting with approximately the oldest:
Bow drill

Bow drill

The bow drill is an ancient tool. While it was usually used to make fire, it was also used for primitive woodworking and dentistry. It consists of a bearing block or handhold, a spindle or drill, a hearth or fireboard, and a simple bow...



Brace and bit
Gimlet
Breast drill, also known as "eggbeater" drill
Push drill, a tool using a spiral ratchet

Ratchet (device)

A ratchet is a device that allows continuous linear or rotary motion in only one direction while preventing motion in the opposite direction. Because most socket wrenches today use ratcheting handles, the term "ratchet" alone is often used to refer to a ratcheting wrench, and the terms "ratchet"...


mechanism
Pin chuck, a small hand-held jewellers drill
Pistol-grip (corded) drill
Drills with
pistol
Handgun
A handgun is a firearm designed to be held and operated by one hand. This characteristic differentiates handguns as a general class of firearms from long guns such as rifles and shotguns ....
grips are the most common type in use today, and are available in a huge variety of subtypes. A less common type is the right-angle drill, a special tool used by tradesmen such as plumbers and electricians.
For much of the 20th century, many attachments could commonly be purchased to convert corded electric hand drills into a range of other power tools, such as orbital sanders and power saws, more cheaply than purchasing conventional, self-contained versions of those tools (the greatest saving being the lack of an additional electric motor for each device). As the prices of power tools and suitable electric motors have fallen, however, such attachments have become much less common. A similar practice is currently employed for cordless tools where the battery, the most expensive component, is shared between various motorised devices, as opposed to a single electric motor being shared between mechanical attachments.
Hammer drill
The
hammer drill
is similar to a standard electric drill, with the exception that it is provided with a hammer action for drilling
masonry
Masonry
Masonry is the building of structures from individual units laid in and bound together by mortar; the term masonry can also refer to the units themselves. The common materials of masonry construction are brick, stone, marble, granite, travertine, limestone; concrete block, glass block, stucco, and...
. The hammer action may be engaged or disengaged as required. Most electric hammer drills are rated (input power) at between 600 and 1100 watts. The efficiency is usually 50-60% i.e. 1000 watts of input is converted into 500-600 watts of output (rotation of the drill and hammering action).
The hammer action is provided by two cam plates that make the chuck rapidly pulse forward and backward as the drill spins on its axis. This pulsing (hammering) action is measured in Blows Per Minute (BPM) with 10,000 or more BPMs being common. Because the combined mass of the chuck and bit is comparable to that of the body of the drill, the energy transfer is inefficient and can sometimes make it difficult for larger bits to penetrate harder materials such as poured concrete. The operator experiences considerable vibration, and the cams are generally made from hardened steel to avoid them wearing out quickly. In practice, drills are restricted to standard masonry bits up to 13 mm (1/2 inch) in diameter. A typical application for a hammer drill is installing electrical boxes, conduit straps or shelves in concrete.
In contrast to the cam-type hammer drill, a rotary/pneumatic hammer drill accelerates only the bit. This is accomplished through a piston design, rather than a spinning cam. Rotary hammers have much less vibration and penetrate most building materials. They can also be used as "drill only" or as "hammer only" which extends their usefulness for tasks such as chipping brick or concrete. Hole drilling progress is greatly superior to cam-type hammer drills, and these drills are generally used for holes of 19 mm (3/4 inch) or greater in size. A typical application for a rotary hammer drill is boring large holes for lag bolts in foundations, or installing large lead anchors in concrete for handrails or benches.
A standard hammer drill accepts 6 mm (1/4 inch) and 13 mm (1/2 inch) drill bits, while a rotary hammer uses SDS or Spline Shank bits. These heavy bits are adept at pulverising the masonry and drill into this hard material with relative ease.
However, there is a big difference in cost. In the UK a cam hammer typically costs £12 or more, while a rotary/pneumatic costs £35 or more. In the US a typical hammer drill costs between $70 and $120, and a rotary hammer between $150 and $500 (depending on bit size). For DIY use or to drill holes less than 13 mm (1/2 inch) in size, the hammer drill is most commonly used.
Rotary hammer drill
The rotary hammer drill (also known as a rotary hammer, roto hammer drill or masonry drill) combines a primary dedicated hammer mechanism with a separate rotation mechanism, and is used for more substantial material such as masonry or concrete. Generally, standard chucks and drills are inadequate and chucks such as SDS and carbide drills that have been designed to withstand the percussive forces are used. Some styles of this tool are intended for masonry drilling only and the hammer action cannot be disengaged. Other styles allow the drill to be used without the hammer action for normal drilling, or hammering to be used without rotation for chiselling.
Cordless drills
A
cordless
Cordless
The term cordless literally means without a cord and is generally used to refer to electrical or electronic devices that are powered by a battery or battery pack and can operate without a power cord or cable attached to a fixed electricity supply such as an outlet, generator, or other centralized...
drill is an electric drill which uses
rechargeable batteries
Rechargeable battery
A rechargeable battery or storage battery is a group of one or more electrochemical cells. They are known as secondary cells because their electrochemical reactions are electrically reversible. Rechargeable batteries come in many different shapes and sizes, ranging anything from a button cell to...
. These drills are available with similar features to an
AC
Alternating current
In alternating current the movement of electric charge periodically reverses direction. In direct current , the flow of electric charge is only in one direction....
mains-powered drill. They are available in the hammer drill configuration and most have a clutch, which aids in driving screws into various substrates while not damaging them. Also available are
right angle
Right angle
In geometry and trigonometry, a right angle is an angle that bisects the angle formed by two halves of a straight line. More precisely, if a ray is placed so that its endpoint is on a line and the adjacent angles are equal, then they are right angles...
drills, which allow a worker to drive screws in a tight space. While 21st century battery innovations allow significantly more drilling, large diameter holes (typically 12 – or larger) may drain current cordless drills quickly.
For continuous use, a worker will have one or more spare battery packs charging while drilling, and quickly swap them instead of having to wait an hour or more for recharging, although there are now Rapid Charge Batteries that can charge in 10–15 minutes.
Early cordless drills used interchangeable 7.2
V
Volt
The volt is the SI derived unit for electric potential, electric potential difference, and electromotive force. The volt is named in honor of the Italian physicist Alessandro Volta , who invented the voltaic pile, possibly the first chemical battery.- Definition :A single volt is defined as the...
battery packs. Over the years battery voltages have increased, with 18 V drills being most common, but higher voltages are available, such as 24 V, 28 V, and 36 V. This allows these tools to produce as much
torque
Torque
Torque, moment or moment of force , is the tendency of a force to rotate an object about an axis, fulcrum, or pivot. Just as a force is a push or a pull, a torque can be thought of as a twist....
as some corded drills.
Common battery types of are
nickel-cadmium (NiCd) batteries
Nickel-cadmium battery
The nickel–cadmium battery ' is a type of rechargeable battery using nickel oxide hydroxide and metallic cadmium as electrodes....
and
lithium-ion batteries
Lithium ion battery
A lithium-ion battery is a family of rechargeable battery types in which lithium ions move from the negative electrode to the positive electrode during discharge, and back when charging. Chemistry, performance, cost, and safety characteristics vary across LIB types...
, with each holding about half the
market share
Market share
Market share is the percentage of a market accounted for by a specific entity. In a survey of nearly 200 senior marketing managers, 67 percent responded that they found the "dollar market share" metric very useful, while 61% found "unit market share" very useful.Marketers need to be able to...
. NiCd batteries have been around longer, so they are less expensive (their main advantage), but have more disadvantages compared to lithium-ion batteries. NiCd disadvantages are limited life, self-discharging, environment problems upon disposal, and eventually internally
short circuit
Short circuit
A short circuit in an electrical circuit that allows a current to travel along an unintended path, often where essentially no electrical impedance is encountered....
ing due to
dendrite
Dendrite (metal)
A dendrite in metallurgy is a characteristic tree-like structure of crystals growing as molten metal freezes, the shape produced by faster growth along energetically favourable crystallographic directions. This dendritic growth has large consequences in regards to material properties.Dendrites form...
growth. Lithium-ion batteries are becoming more common because of their short charging time, longer life, and low weight. Instead of charging a tool for an hour to get 20 minutes of use, 20 minutes of charge can run the tool for an hour. Lithium-ion batteries also have a constant discharge rate. The power output remains constant until the battery is depleted, something that nickel-cadmium batteries also lack, and which makes the tool much more versatile. Lithium-ion batteries also hold a charge for a significantly longer time than nickel-cadmium batteries, about two years if not used, vs. 1 to 4 months for a nickel-cadmium battery. There are three major drawbacks to Lithium Ion batteries:
They do not perform well in low temperatures
The batteries are very expensive to replace
The overall batteries can only handle about 1/3 of the recharges over a lifetime as a NiCad or NiMH battery.
Drill press
A drill press (also known as pedestal drill, pillar drill, or bench drill) is a fixed style of drill that may be mounted on a stand or bolted to the floor or
workbench
Workbench
A workbench is sturdy table at which manual work is done. They range from simple flat surfaces to very complex designs that may be considered tools in themselves. Workbenches vary in size from tiny jewelers benches to the huge benches used by staircase makers...
. Portable models with a
magnetic base
Magnetic base
A magnetic base is a magnetic fixture based on a magnet that can effectively be turned "on" and "off" at will; they are often used in optics and metalworking, e.g., to hold a dial indicator....
grip the steel workpieces they drill. A drill press consists of a base, column (or pillar), table, spindle (or quill), and drill head, usually driven by an induction motor. The head has a set of handles (usually 3) radiating from a central hub that, when turned, move the spindle and chuck vertically, parallel to the axis of the column. The table can be adjusted vertically and is generally moved by a
rack and pinion
Rack and pinion
A rack and pinion is a type of linear actuator that comprises a pair of gears which convert rotational motion into linear motion. A circular gear called "the pinion" engages teeth on a linear "gear" bar called "the rack"; rotational motion applied to the pinion causes the rack to move, thereby...
; however, some older models rely on the operator to lift and reclamp the table in position. The table may also be offset from the spindle's axis and in some cases rotated to a position perpendicular to the column. The size of a drill press is typically measured in terms of
swing
. Swing is defined as twice the
throat distance
, which is the distance from the center of the spindle to the closest edge of the pillar. For example, a 16 inches (406.4 mm) drill press has an 8 inches (203.2 mm) throat distance.
A drill press has a number of advantages over a hand-held drill:
Less effort is required to apply the drill to the workpiece. The movement of the chuck and spindle is by a lever working on a rack and pinion

Rack and pinion

A rack and pinion is a type of linear actuator that comprises a pair of gears which convert rotational motion into linear motion. A circular gear called "the pinion" engages teeth on a linear "gear" bar called "the rack"; rotational motion applied to the pinion causes the rack to move, thereby...


, which gives the operator considerable mechanical advantage

Mechanical advantage

Mechanical advantage is a measure of the force amplification achieved by using a tool, mechanical device or machine system. Ideally, the device preserves the input power and simply trades off forces against movement to obtain a desired amplification in the output force...



The table allows a vise

Vise (tool)

A vise or vice is a mechanical screw apparatus used for holding or clamping a work piece to allow work to be performed on it with tools such as saws, planes, drills, mills, screwdrivers, sandpaper, etc. Vises usually have one fixed jaw and another, parallel, jaw which is moved towards or away from...


or clamp

Clamp (tool)

A clamp is a fastening device to hold or secure objects tightly together to prevent movement or separation through the application of inward pressure...


to be used to position and restrain the work, making the operation much more secure
The angle of the spindle is fixed relative to the table, allowing holes to be drilled accurately and consistently
Drill presses are almost always equipped with more powerful motors compared to hand-held drills. This enables larger drill bits to be used and also speeds up drilling with smaller bits.
For most drill presses—especially those meant for woodworking or home use—speed change is achieved by manually moving a belt across a stepped
pulley
Pulley
A pulley, also called a sheave or a drum, is a mechanism composed of a wheel on an axle or shaft that may have a groove between two flanges around its circumference. A rope, cable, belt, or chain usually runs over the wheel and inside the groove, if present...
arrangement. Some drill presses add a third stepped pulley to increase the number of available speeds. Modern drill presses can, however, use a variable-speed motor in conjunction with the stepped-pulley system. Medium-duty drill presses such as those used in machine shop (tool room) applications are equipped with a
continuously variable transmission
Continuously variable transmission
A continuously variable transmission is a transmission that can change steplessly through an infinite number of effective gear ratios between maximum and minimum values. This contrasts with other mechanical transmissions that offer a fixed number of gear ratios...
. This mechanism is based on variable-diameter pulleys driving a wide, heavy-duty belt. This gives a wide speed range as well as the ability to change speed while the machine is running. Heavy-duty drill presses used for metalworking are usually of the gear-head type described below.
Drill presses are often used for miscellaneous workshop tasks other than drilling holes. This includes sanding, honing, and polishing. These tasks can be performed by mounting sanding drums, honing wheels and various other rotating accessories in the chuck. This can be unsafe in some cases, as the chuck arbor, which may be retained in the spindle solely by the friction of a taper fit, may dislodge during operation if the side loads are too high.
Geared head drill press
A geared head drill press is a drill press in which power transmission from the motor to the spindle is achieved solely through
spur gearing
Gear
A gear is a rotating machine part having cut teeth, or cogs, which mesh with another toothed part in order to transmit torque. Two or more gears working in tandem are called a transmission and can produce a mechanical advantage through a gear ratio and thus may be considered a simple machine....
inside the machine's head. No friction elements (e.g., belts) of any kind are used, which assures a positive drive at all times and minimizes maintenance requirements. Gear head drills are intended for metalworking applications where the drilling forces are higher and the desired speed (RPM) is lower than that used for woodworking.
Levers attached to one side of the head are used to select different gear ratios to change the spindle speed, usually in conjunction with a two- or three-speed motor. Most machines of this type are designed to be operated on three phase power and are generally of more rugged construction than equivalently sized belt-driven units. Virtually all examples have geared racks for adjusting the table and head position on the column.
Geared head drill presses are commonly found in tool rooms and other commercial environments where a heavy duty machine capable of production drilling and quick setup changes is required. In most cases, the spindle is machined to accept Morse taper tooling for greater flexibility. Larger geared head drill presses are frequently fitted with power feed on the quill mechanism, with an arrangement to disengage the feed when a certain drill depth has been achieved or in the event of excessive travel. Some gear-head drill presses have the ability to perform tapping operations without the need for an external tapping attachment. This feature is commonplace on larger gear head drill presses. A clutch mechanism drives the tap into the part under power and then backs it out of the threaded hole once the proper depth is reached. Coolant systems are also common on these machines to prolong tool life under production conditions.
Radial arm drill press
A radial arm drill press is a large geared head drill press in which the head can be moved along an arm that radiates from the machine's column. As it is possible to swing the arm relative to the machine's base, a radial arm drill press is able to operate over a large area without having to reposition the workpiece. This saves considerable time because it is much faster to reposition the drill head than it is to unclamp, move, and then re-clamp the workpiece to the table. The size of work that can be handled may be considerable, as the arm can swing out of the way of the table, allowing an
overhead crane
Overhead crane
An overhead crane, commonly called a bridge crane, is a type of crane found in industrial environments. An overhead crane consists of parallel runways with a traveling bridge spanning the gap...
or
derrick
Derrick
A derrick is a lifting device composed of one tower, or guyed mast such as a pole which is hinged freely at the bottom. It is controlled by lines powered by some means such as man-hauling or motors, so that the pole can move in all four directions. A line runs up it and over its top with a hook on...
to place a bulky workpiece on the table or base. A vise may be used with a radial arm drill press, but more often the workpiece is secured directly to the table or base, or is held in a
fixture
Fixture (tool)
A fixture is a work-holding or support device used in the manufacturing industry. What makes a fixture unique is that each one is built to fit a particular part or shape. The main purpose of a fixture is to locate and in some cases hold a workpiece during either a machining operation or some...
. Power spindle feed is nearly universal with these machines and coolant systems are common. Larger size machines often have power feed motors for elevating or moving the arm. The biggest radial arm drill presses are able to drill holes as large as four inches (101.6 millimeters) diameter in solid steel or cast iron. Radial arm drills are specified by the diameter of the column and the length of the arm. The length of the arm is usually the same as the maximum throat distance. The Radial Arm Drill pictured in this article is a 9-inch column x 3-foot arm. The maximum throat distance of this drill would be approximately 36", giving a swing of 72" (6 feet).
Mill drill
Mill drills are a lighter alternative to a
milling machine
Milling machine
A milling machine is a machine tool used to machine solid materials. Milling machines are often classed in two basic forms, horizontal and vertical, which refers to the orientation of the main spindle. Both types range in size from small, bench-mounted devices to room-sized machines...
. They combine a drill press (belt driven) with the X/Y coordinate abilities of the milling machine's table and a locking collet that ensures that the cutting tool will not fall from the spindle when lateral forces are experienced against the bit. Although they are light in construction, they have the advantages of being space-saving and versatile as well as inexpensive, being suitable for light machining that may otherwise not be affordable.
Unusual uses
A household drill was used to save a boy's life in Australia. The boy suffered from potentially fatal bleeding within the brain after a fall from his bike. Having no proper medical tools, the attending doctor decided to use a household drill stored in the hospital maintenance room to remove a clot. This was done in order to relieve the blood pressure in the boy's brain. If this had not been done, the boy would have died in minutes. The doctor performed the procedure and was guided by a neurosurgeon over the phone. The boy was later airlifted to a larger hospital and recovered within days.
Paul Gilbert and Billy Sheehan of Mr. Big use a cordless drill for the solo of Daddy, Brother, Lover, Little Boy commonly known as "The Electric Drill Song". This was done by using 3.3mm plectrums on a wooden dowel.
The 1970s horror movies The Toolbox Murders

The Toolbox Murders

The Toolbox Murders is a 1978 slasher film starring Cameron Mitchell, Tim Donnelly, Pamelyn Ferdin, and Wesley Eure. It is notorious for its reputation as a video nasty due to its violent murder scenes in the film's first act...


and The Driller Killer

The Driller Killer

The Driller Killer is a 1979 slasher film directed by and starring Abel Ferrara. It was on a list of banned so-called video nasties in the United Kingdom...


depict deranged killers using battery powered drills to kill their victims.
Other perforation tools
Milling machines, metal lathes

Lathe (metal)

A metal lathe or metalworking lathe is a large class of lathes designed for precisely machining relatively hard materials. They were originally designed to machine metals; however, with the advent of plastics and other materials, and with their inherent versatility, they are used in a wide range of...


and routers are also often used for drilling.
External links