 Classicism
Classicism
, in the
arts
The arts
The arts are a vast subdivision of culture, composed of many creative endeavors and disciplines. It is a broader term than "art", which as a description of a field usually means only the visual arts. The arts encompass visual arts, literary arts and the performing arts – music, theatre, dance and...
, refers generally to a high regard for
classical antiquity
Classical antiquity
Classical antiquity is a broad term for a long period of cultural history centered on the Mediterranean Sea, comprising the interlocking civilizations of ancient Greece and ancient Rome, collectively known as the Greco-Roman world...
, as setting standards for taste which the classicists seek to emulate. The art of classicism typically seeks to be formal and restrained: of the
Discobolus
Discobolus
The Discobolus of Myron is a famous Greek sculpture that was completed towards the end of the Severe period, circa 460-450 BC. The original Greek bronze is lost...
Sir Kenneth Clark observed, "if we object to his restraint and compression we are simply objecting to the classicism of
classic
Classic
The word classic means something that is a perfect example of a particular style, something of lasting worth or with a timeless quality. The word can be an adjective or a noun . It denotes a particular quality in art, architecture, literature and other cultural artifacts...
art. A violent emphasis or a sudden acceleration of rhythmic movement would have destroyed those qualities of balance and completeness through which it retained until the present century its position of authority in the restricted repertoire of visual images." Classicism, as Clark noted, implies a canon of widely accepted ideal forms, whether in the
Western canon
Western canon
The term Western canon denotes a canon of books and, more broadly, music and art that have been the most important and influential in shaping Western culture. As such, it includes the "greatest works of artistic merit." Such a canon is important to the theory of educational perennialism and the...
that he was examining in
The Nude
(1956), or the Chinese classics.
Classicism is a force which is often present in post-medieval European and European influenced traditions; however, some periods felt themselves more connected to the classical ideals than others, particularly the
Age of Reason
Age of reason
Age of reason may refer to:* 17th-century philosophy, as a successor of the Renaissance and a predecessor to the Age of Enlightenment* Age of Enlightenment in its long form of 1600-1800* The Age of Reason, a book by Thomas Paine...
, the
Age of Enlightenment
Age of Enlightenment
The Age of Enlightenment was an elite cultural movement of intellectuals in 18th century Europe that sought to mobilize the power of reason in order to reform society and advance knowledge. It promoted intellectual interchange and opposed intolerance and abuses in church and state...
, and some classicizing movements in
Modernism
Modernism
Modernism, in its broadest definition, is modern thought, character, or practice. More specifically, the term describes the modernist movement, its set of cultural tendencies and array of associated cultural movements, originally arising from wide-scale and far-reaching changes to Western society...
.
General term
Classicism is a specific genre of philosophy, expressing itself in literature, architecture, art, and music, which has Ancient Greek and Roman sources and an emphasis on
society
Society
A society, or a human society, is a group of people related to each other through persistent relations, or a large social grouping sharing the same geographical or virtual territory, subject to the same political authority and dominant cultural expectations...
. It was particularly expressed in the Enlightenment, and the
Age of Reason
Age of reason
Age of reason may refer to:* 17th-century philosophy, as a successor of the Renaissance and a predecessor to the Age of Enlightenment* Age of Enlightenment in its long form of 1600-1800* The Age of Reason, a book by Thomas Paine...
.
Classicism first made an appearance as such during the
Italian renaissance
Italian Renaissance
The Italian Renaissance began the opening phase of the Renaissance, a period of great cultural change and achievement in Europe that spanned the period from the end of the 13th century to about 1600, marking the transition between Medieval and Early Modern Europe...
when the fall of
Byzantium
Byzantium
Byzantium was an ancient Greek city, founded by Greek colonists from Megara in 667 BC and named after their king Byzas . The name Byzantium is a Latinization of the original name Byzantion...
and rising trade with the Islamic cultures brought a flood of knowledge about, and from, the antiquity of
Europe
Europe
Europe is, by convention, one of the world's seven continents. Comprising the westernmost peninsula of Eurasia, Europe is generally 'divided' from Asia to its east by the watershed divides of the Ural and Caucasus Mountains, the Ural River, the Caspian and Black Seas, and the waterways connecting...
. Until that time the identification with antiquity had been seen as a continuous history of
Christendom
Christendom
Christendom, or the Christian world, has several meanings. In a cultural sense it refers to the worldwide community of Christians, adherents of Christianity...
from the conversion of Roman Emperor
Constantine I
Constantine I
Constantine the Great , also known as Constantine I or Saint Constantine, was Roman Emperor from 306 to 337. Well known for being the first Roman emperor to convert to Christianity, Constantine and co-Emperor Licinius issued the Edict of Milan in 313, which proclaimed religious tolerance of all...
.
Renaissance
Renaissance
The Renaissance was a cultural movement that spanned roughly the 14th to the 17th century, beginning in Italy in the Late Middle Ages and later spreading to the rest of Europe. The term is also used more loosely to refer to the historical era, but since the changes of the Renaissance were not...
classicism introduced a host of elements into European culture, including the application of mathematics and
empiricism
Empiricism
Empiricism is a theory of knowledge that asserts that knowledge comes only or primarily via sensory experience. One of several views of epistemology, the study of human knowledge, along with rationalism, idealism and historicism, empiricism emphasizes the role of experience and evidence,...
into art,
humanism
Humanism
Humanism is an approach in study, philosophy, world view or practice that focuses on human values and concerns. In philosophy and social science, humanism is a perspective which affirms some notion of human nature, and is contrasted with anti-humanism....
, literary and depictive
realism
Realism (arts)
Realism in the visual arts and literature refers to the general attempt to depict subjects "in accordance with secular, empirical rules", as they are considered to exist in third person objective reality, without embellishment or interpretation...
, and
formalism
Formalism
The term formalism describes an emphasis on form over content or meaning in the arts, literature, or philosophy. A practitioner of formalism is called a formalist. A formalist, with respect to some discipline, holds that there is no transcendent meaning to that discipline other than the literal...
. Importantly it also introduced
Polytheism
Polytheism
Polytheism is the belief of multiple deities also usually assembled into a pantheon of gods and goddesses, along with their own mythologies and rituals....
, or "
paganism
Paganism
Paganism is a blanket term, typically used to refer to non-Abrahamic, indigenous polytheistic religious traditions....
", and the juxtaposition of ancient and modern.
The classicism of the Renaissance led to, and gave way to, a different sense of what was "classical" in the 16th and 17th centuries. In this period classicism took on more overtly structural overtones of orderliness, predictability, the use of geometry and grids, the importance of rigorous discipline and pedagogy, as well as the formation of schools of art and music. The court of Louis XIV was seen as the center of this form of classicism, with its references to the gods of
Olympus
Mount Olympus
Mount Olympus is the highest mountain in Greece, located on the border between Thessaly and Macedonia, about 100 kilometres away from Thessaloniki, Greece's second largest city. Mount Olympus has 52 peaks. The highest peak Mytikas, meaning "nose", rises to 2,917 metres...
as a symbolic prop for absolutism, its adherence to axiomatic and deductive reasoning, and its love of order and predictability.
This period sought the revival of classical art forms, including Greek drama and music.
Opera
Opera
Opera is an art form in which singers and musicians perform a dramatic work combining text and musical score, usually in a theatrical setting. Opera incorporates many of the elements of spoken theatre, such as acting, scenery, and costumes and sometimes includes dance...
, in its modern European form, had its roots in attempts to recreate the combination of singing and dancing with theatre thought to be the Greek norm. Examples of this appeal to classicism included
Dante
DANTE
Delivery of Advanced Network Technology to Europe is a not-for-profit organisation that plans, builds and operates the international networks that interconnect the various national research and education networks in Europe and surrounding regions...
, Petrarch, and Shakespeare in
poetry
Poetry
Poetry is a form of literary art in which language is used for its aesthetic and evocative qualities in addition to, or in lieu of, its apparent meaning...
and
theatre
Theatre
Theatre is a collaborative form of fine art that uses live performers to present the experience of a real or imagined event before a live audience in a specific place. The performers may communicate this experience to the audience through combinations of gesture, speech, song, music or dance...
. Tudor drama, in particular, modeled itself after classical ideals and divided works into
Tragedy
Tragedy
Tragedy is a form of art based on human suffering that offers its audience pleasure. While most cultures have developed forms that provoke this paradoxical response, tragedy refers to a specific tradition of drama that has played a unique and important role historically in the self-definition of...
and
Comedy
Comedy
Comedy , as a popular meaning, is any humorous discourse or work generally intended to amuse by creating laughter, especially in television, film, and stand-up comedy. This must be carefully distinguished from its academic definition, namely the comic theatre, whose Western origins are found in...
. Studying
Ancient Greek
Ancient Greek
Ancient Greek is the stage of the Greek language in the periods spanning the times c. 9th–6th centuries BC, , c. 5th–4th centuries BC , and the c. 3rd century BC – 6th century AD of ancient Greece and the ancient world; being predated in the 2nd millennium BC by Mycenaean Greek...
became regarded as essential for a well-rounded education in the
liberal arts
Liberal arts
The term liberal arts refers to those subjects which in classical antiquity were considered essential for a free citizen to study. Grammar, Rhetoric and Logic were the core liberal arts. In medieval times these subjects were extended to include mathematics, geometry, music and astronomy...
.
The Renaissance also explicitly returned to architectural models and techniques associated with Greek and Roman antiquity, including the
golden rectangle
as a key proportion for buildings, the classical orders of columns, as well as a host of ornament and detail associated with Greek and Roman architecture. They also began reviving plastic arts such as bronze casting for sculpture, and used the classical naturalism as the foundation of
drawing
Drawing
Drawing is a form of visual art that makes use of any number of drawing instruments to mark a two-dimensional medium. Common instruments include graphite pencils, pen and ink, inked brushes, wax color pencils, crayons, charcoal, chalk, pastels, markers, styluses, and various metals .An artist who...
,
painting
Painting
Painting is the practice of applying paint, pigment, color or other medium to a surface . The application of the medium is commonly applied to the base with a brush but other objects can be used. In art, the term painting describes both the act and the result of the action. However, painting is...
and sculpture.
The
Age of Enlightenment
Age of Enlightenment
The Age of Enlightenment was an elite cultural movement of intellectuals in 18th century Europe that sought to mobilize the power of reason in order to reform society and advance knowledge. It promoted intellectual interchange and opposed intolerance and abuses in church and state...
identified itself with a vision of antiquity which, while continuous with the classicism of the previous century, was shaken by the
physics
Physics
Physics is a natural science that involves the study of matter and its motion through spacetime, along with related concepts such as energy and force. More broadly, it is the general analysis of nature, conducted in order to understand how the universe behaves.Physics is one of the oldest academic...
of Sir
Isaac Newton
Isaac Newton
Sir Isaac Newton PRS was an English physicist, mathematician, astronomer, natural philosopher, alchemist, and theologian, who has been "considered by many to be the greatest and most influential scientist who ever lived."...
, the improvements in machinery and measurement, and a sense of liberation which they saw as being present in the Greek civilization, particularly in its struggles against the Persian Empire. The ornate, organic, and complexly integrated forms of the
baroque
Baroque
The Baroque is a period and the style that used exaggerated motion and clear, easily interpreted detail to produce drama, tension, exuberance, and grandeur in sculpture, painting, literature, dance, and music...
were to give way to a series of movements that regarded themselves expressly as "classical" or "neo-classical", or would rapidly be labelled as such. For example the painting of
Jacques-Louis David
Jacques-Louis David
Jacques-Louis David was an influential French painter in the Neoclassical style, considered to be the preeminent painter of the era...
which was seen as an attempt to return to formal balance, clarity, manliness, and vigor in art.
The 19th century saw the classical age as being the precursor of academicism, including such movements as
uniformitarianism
Uniformitarianism
In the philosophy of naturalism, the uniformitarianism assumption is that the same natural laws and processes that operate in the universe now, have always operated in the universe in the past and apply everywhere in the universe. It has included the gradualistic concept that "the present is the...
in the sciences, and the creation of rigorous categories in artistic fields. Various movements of the romantic period saw themselves as classical revolts against a prevailing trend of emotionalism and irregularity, for example the
Pre-Raphaelites
Pre-Raphaelite Brotherhood
The Pre-Raphaelite Brotherhood was a group of English painters, poets, and critics, founded in 1848 by William Holman Hunt, John Everett Millais and Dante Gabriel Rossetti...
. By this point classicism was old enough that previous classical movements received revivals; for example, the Renaissance was seen as a means to combine the organic medieval with the orderly classical. The 19th century continued or extended many classical programs in the sciences, most notably the Newtonian program to account for the movement of energy between bodies by means of exchange of mechanical and thermal energy.
The 20th century saw a number of changes in the arts and sciences. Classicism was used both by those who rejected, or saw as temporary, transfigurations in the political, scientific, and social world and by those who embraced the changes as a means to overthrow the perceived weight of the 19th century. Thus, both pre-20th century disciplines were labelled "classical" and modern movements in art which saw themselves as aligned with light, space, sparseness of texture, and formal coherence.
In the present day
philosophy
Philosophy
Philosophy is the study of general and fundamental problems, such as those connected with existence, knowledge, values, reason, mind, and language. Philosophy is distinguished from other ways of addressing such problems by its critical, generally systematic approach and its reliance on rational...
classicism is used as a term particularly in relation to Apollonian over Dionysian impulses in society and art; that is a preference for rationality, or at least rationally guided catharsis, over
emotionalism
Emotionalism
Emotionalism, in its meaning as a research paradigm, refers to an approach to conducting research studies that provides a gateway to understanding people's experiences through the use of social inquiry methodologies such as ethnography....
.
In the theatre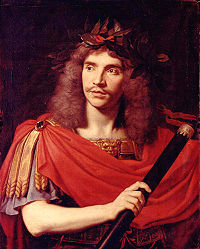 Classicism
in the
theatre
Theatre
Theatre is a collaborative form of fine art that uses live performers to present the experience of a real or imagined event before a live audience in a specific place. The performers may communicate this experience to the audience through combinations of gesture, speech, song, music or dance...
was developed by 17th century
French
France
The French Republic , The French Republic , The French Republic , (commonly known as France , is a unitary semi-presidential republic in Western Europe with several overseas territories and islands located on other continents and in the Indian, Pacific, and Atlantic oceans. Metropolitan France...
playwright
Playwright
A playwright, also called a dramatist, is a person who writes plays.The term is not a variant spelling of "playwrite", but something quite distinct: the word wright is an archaic English term for a craftsman or builder...
s from what they judged to be the rules of Greek classical theatre, including the "
Classical unities
Classical unities
The classical unities, Aristotelian unities or three unities are rules for drama derived from a passage in Aristotle's Poetics. In their neoclassical form they are as follows:...
" of time, place and action, found in the
Poetics
of
Aristotle
Aristotle
Aristotle was a Greek philosopher and polymath, a student of Plato and teacher of Alexander the Great. His writings cover many subjects, including physics, metaphysics, poetry, theater, music, logic, rhetoric, linguistics, politics, government, ethics, biology, and zoology...
.
Unity of time referred to the need for the entire action of the play to take place in a fictional 24-hour period
Unity of place meant that the action should unfold in a single location
Unity of action meant that the play should be constructed around a single 'plot-line', such as a tragic love affair or a conflict between honour

Honour

Honour or honor is an abstract concept entailing a perceived quality of worthiness and respectability that affects both the social standing and the self-evaluation of an individual or corporate body such as a family, school, regiment or nation...


and duty

Duty

Duty is a term that conveys a sense of moral commitment to someone or something. The moral commitment is the sort that results in action and it is not a matter of passive feeling or mere recognition...


.
Examples of classicist playwrights:
Pierre Corneille

Pierre Corneille

Pierre Corneille was a French tragedian who was one of the three great seventeenth-century French dramatists, along with Molière and Racine...



Jean Racine

Jean Racine

Jean Racine , baptismal name Jean-Baptiste Racine , was a French dramatist, one of the "Big Three" of 17th-century France , and one of the most important literary figures in the Western tradition...



Moliere

Molière

Jean-Baptiste Poquelin, known by his stage name Molière, was a French playwright and actor who is considered to be one of the greatest masters of comedy in Western literature...



Victor Hugo
Victor Hugo
Victor-Marie Hugo was a Frenchpoet, playwright, novelist, essayist, visual artist, statesman, human rights activist and exponent of the Romantic movement in France....
was among the first French playwrights to break these conventions.
The influence of these French rules on playwrights in other nations is debatable. In the English theatre, Restoration playwrights such as William Wycherly and
William Congreve
William Congreve
William Congreve was an English playwright and poet.-Early life:Congreve was born in Bardsey, West Yorkshire, England . His parents were William Congreve and his wife, Mary ; a sister was buried in London in 1672...
would have been familiar with them.
William Shakespeare
William Shakespeare
William Shakespeare was an English poet and playwright, widely regarded as the greatest writer in the English language and the world's pre-eminent dramatist. He is often called England's national poet and the "Bard of Avon"...
and his contemporaries did not follow this Classicist philosophy, in particular since they were not French and also because they wrote several decades prior to their establishment. Those of Shakespeare's plays that seem to display the unities, such as
The Tempest
The Tempest
The Tempest is a play by William Shakespeare, believed to have been written in 1610–11, and thought by many critics to be the last play that Shakespeare wrote alone. It is set on a remote island, where Prospero, the exiled Duke of Milan, plots to restore his daughter Miranda to her rightful place,...
, probably indicate a familiarity with actual models from
classical antiquity
Classical antiquity
Classical antiquity is a broad term for a long period of cultural history centered on the Mediterranean Sea, comprising the interlocking civilizations of ancient Greece and ancient Rome, collectively known as the Greco-Roman world...
.
In architecture

Classicism in architecture developed during the
Italian Renaissance
Italian Renaissance
The Italian Renaissance began the opening phase of the Renaissance, a period of great cultural change and achievement in Europe that spanned the period from the end of the 13th century to about 1600, marking the transition between Medieval and Early Modern Europe...
, notably in the writings and designs of Leon Battista Alberti and the work of
Filippo Brunelleschi
Filippo Brunelleschi
Filippo Brunelleschi was one of the foremost architects and engineers of the Italian Renaissance. He is perhaps most famous for inventing linear perspective and designing the dome of the Florence Cathedral, but his accomplishments also included bronze artwork, architecture , mathematics,...
. It places emphasis on
symmetry
Symmetry
Symmetry generally conveys two primary meanings. The first is an imprecise sense of harmonious or aesthetically pleasing proportionality and balance; such that it reflects beauty or perfection...
,
proportion
Proportion (architecture)
Proportion is the relation between elements and a whole.-Architectural proportions:In architecture the whole is not just a building but the set and setting of the site. The things that make a building and its site "well shaped" include the orientation of the site and the buildings on it to the...
, geometry and the regularity of parts as they are demonstrated in the architecture of Classical antiquity and in particular, the architecture of
Ancient Rome
Roman architecture
Ancient Roman architecture adopted certain aspects of Ancient Greek architecture, creating a new architectural style. The Romans were indebted to their Etruscan neighbors and forefathers who supplied them with a wealth of knowledge essential for future architectural solutions, such as hydraulics...
, of which many examples remained.
Orderly arrangements of
column
Column
A column or pillar in architecture and structural engineering is a vertical structural element that transmits, through compression, the weight of the structure above to other structural elements below. For the purpose of wind or earthquake engineering, columns may be designed to resist lateral forces...
s,
pilaster
Pilaster
A pilaster is a slightly-projecting column built into or applied to the face of a wall. Most commonly flattened or rectangular in form, pilasters can also take a half-round form or the shape of any type of column, including tortile....
s and lintels, as well as the use of semicircular arches, hemispherical
dome
Dome
A dome is a structural element of architecture that resembles the hollow upper half of a sphere. Dome structures made of various materials have a long architectural lineage extending into prehistory....
s,
niche
Niche (architecture)
A niche in classical architecture is an exedra or an apse that has been reduced in size, retaining the half-dome heading usual for an apse. Nero's Domus Aurea was the first semi-private dwelling that possessed rooms that were given richly varied floor plans, shaped with niches and exedras;...
s and aedicules replaced the more complex proportional systems and irregular profiles of
medieval
Gothic architecture
Gothic architecture is a style of architecture that flourished during the high and late medieval period. It evolved from Romanesque architecture and was succeeded by Renaissance architecture....
buildings. This style quickly spread to other Italian cities and then to France, Germany, England, Russia and elsewhere.
In the 16th century,
Sebastiano Serlio
Sebastiano Serlio
Sebastiano Serlio was an Italian Mannerist architect, who was part of the Italian team building the Palace of Fontainebleau...
helped codify the
classical order
Classical order
A classical order is one of the ancient styles of classical architecture, each distinguished by its proportions and characteristic profiles and details, and most readily recognizable by the type of column employed. Three ancient orders of architecture—the Doric, Ionic, and Corinthian—originated in...
s and Palladio's legacy evolved into the long tradition of
Palladian architecture
Palladian architecture
Palladian architecture is a European style of architecture derived from the designs of the Venetian architect Andrea Palladio . The term "Palladian" normally refers to buildings in a style inspired by Palladio's own work; that which is recognised as Palladian architecture today is an evolution of...
. Building off of these influences, the 17th-century architects
Inigo Jones
Inigo Jones
Inigo Jones is the first significant British architect of the modern period, and the first to bring Italianate Renaissance architecture to England...
and
Christopher Wren
Christopher Wren
Sir Christopher Wren FRS is one of the most highly acclaimed English architects in history.He used to be accorded responsibility for rebuilding 51 churches in the City of London after the Great Fire in 1666, including his masterpiece, St. Paul's Cathedral, on Ludgate Hill, completed in 1710...
firmly established classicism in England.
For the development of classicism from the mid-18th-century onwards, see
Neoclassical architecture
Neoclassical architecture
Neoclassical architecture was an architectural style produced by the neoclassical movement that began in the mid-18th century, manifested both in its details as a reaction against the Rococo style of naturalistic ornament, and in its architectural formulas as an outgrowth of some classicizing...
.
In the fine arts
For Greek art of the 5th century B.C.E., see Classical art in ancient Greece and the Severe style

Severe style

The severe style, or Early Classic style, was the dominant idiom of Greek sculpture in the period ca. 490 to 450 BCE. It marks the breakdown of the canonical forms of archaic art and the transition to the greatly expanded vocabulary and expression of the classical moment of the late 5th century...



Italian Renaissance painting
Italian Renaissance painting
Italian Renaissance painting is the painting of the period beginning in the late 13th century and flourishing from the early 15th to late 16th centuries, occurring within the area of present-day Italy, which was at that time divided into many political areas...
and
sculpture
Sculpture
Sculpture is three-dimensional artwork created by shaping or combining hard materials—typically stone such as marble—or metal, glass, or wood. Softer materials can also be used, such as clay, textiles, plastics, polymers and softer metals...
are marked by their renewal of classical forms, motifs and subjects. In the 15th century Leon Battista Alberti was important in theorizing many of the ideas for painting that came to a fully realised product with
Raphael
Raphael
Raffaello Sanzio da Urbino , better known simply as Raphael, was an Italian painter and architect of the High Renaissance. His work is admired for its clarity of form and ease of composition and for its visual achievement of the Neoplatonic ideal of human grandeur...
's
School of Athens
The School of Athens
The School of Athens, or in Italian, is one of the most famous paintings by the Italian Renaissance artist Raphael. It was painted between 1510 and 1511 as a part of Raphael's commission to decorate with frescoes the rooms now known as the , in the Apostolic Palace in the Vatican...
during the
High Renaissance
High Renaissance
The expression High Renaissance, in art history, is a periodizing convention used to denote the apogee of the visual arts in the Italian Renaissance...
. The themes continued largely unbroken into the 17th century, when artists such as
Nicolas Poussin
Nicolas Poussin
Nicolas Poussin was a French painter in the classical style. His work predominantly features clarity, logic, and order, and favors line over color. His work serves as an alternative to the dominant Baroque style of the 17th century...
and
Charles Le Brun
Charles Le Brun
Charles Le Brun , a French painter and art theorist, became the all-powerful, peerless master of 17th-century French art.-Biography:-Early life and training:...
represented of the more rigid classicism. Like Italian classicizing ideas in the 15th and 16th centuries, it spread through Europe in the mid to late 17th century.
Later classicism in painting and sculpture from the mid-18th and 19th centuries is generally referred to a
Neoclassicism
Neoclassicism
Neoclassicism is the name given to Western movements in the decorative and visual arts, literature, theatre, music, and architecture that draw inspiration from the "classical" art and culture of Ancient Greece or Ancient Rome...
.
See also
Further reading
Kallendorf, Craig W., editor. A Companion to the Classical Tradition. Blackwell Publishing, 2007. Essays by various authors on topics related to historical periods, places, and themes. Limited preview online.
External links