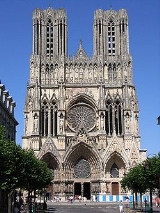 Gothic architecture
Gothic architecture
is a style of architecture that flourished during the high and late
medieval period
Middle Ages
The Middle Ages is a periodization of European history from the 5th century to the 15th century. The Middle Ages follows the fall of the Western Roman Empire in 476 and precedes the Early Modern Era. It is the middle period of a three-period division of Western history: Classic, Medieval and Modern...
. It evolved from
Romanesque architecture
Romanesque architecture
Romanesque architecture is an architectural style of Medieval Europe characterised by semi-circular arches. There is no consensus for the beginning date of the Romanesque architecture, with proposals ranging from the 6th to the 10th century. It developed in the 12th century into the Gothic style,...
and was succeeded by
Renaissance architecture
Renaissance architecture
Renaissance architecture is the architecture of the period between the early 15th and early 17th centuries in different regions of Europe, demonstrating a conscious revival and development of certain elements of ancient Greek and Roman thought and material culture. Stylistically, Renaissance...
.
Originating in 12th century France and lasting into the 16th century, Gothic architecture was known during the period as "the French Style," (), with the term
Gothic
first appearing during the latter part of the
Renaissance
Renaissance
The Renaissance was a cultural movement that spanned roughly the 14th to the 17th century, beginning in Italy in the Late Middle Ages and later spreading to the rest of Europe. The term is also used more loosely to refer to the historical era, but since the changes of the Renaissance were not...
. Its characteristic features include the
pointed arch
Ogive
An ogive is the roundly tapered end of a two-dimensional or three-dimensional object.-Applied physical science and engineering:In ballistics or aerodynamics, an ogive is a pointed, curved surface mainly used to form the approximately streamlined nose of a bullet or other projectile.The traditional...
, the ribbed vault and the
flying buttress
Flying buttress
A flying buttress is a specific form of buttressing most strongly associated with Gothic church architecture. The purpose of any buttress is to resist the lateral forces pushing a wall outwards by redirecting them to the ground...
.
Gothic architecture is most familiar as the architecture of many of the great
cathedral
Cathedral
A cathedral is a Christian church that contains the seat of a bishop...
s,
abbey
Abbey
An abbey is a Catholic monastery or convent, under the authority of an Abbot or an Abbess, who serves as the spiritual father or mother of the community.The term can also refer to an establishment which has long ceased to function as an abbey,...
s and churches of Europe.