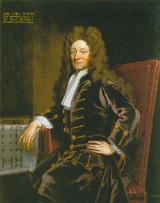 Christopher Wren
Sir Christopher Wren
FRS
Royal Society
The Royal Society of London for Improving Natural Knowledge, known simply as the Royal Society, is a learned society for science, and is possibly the oldest such society in existence. Founded in November 1660, it was granted a Royal Charter by King Charles II as the "Royal Society of London"...
(20 October 1632 – 25 February 1723) is one of the most highly acclaimed
English
English people
The English are a nation and ethnic group native to England, who speak English. The English identity is of early mediaeval origin, when they were known in Old English as the Anglecynn. England is now a country of the United Kingdom, and the majority of English people in England are British Citizens...
architect
Architect
An architect is a person trained in the planning, design and oversight of the construction of buildings. To practice architecture means to offer or render services in connection with the design and construction of a building, or group of buildings and the space within the site surrounding the...
s in history.
He used to be accorded responsibility for rebuilding
51 churches
in the
City of London
City of London
The City of London is a small area within Greater London, England. It is the historic core of London around which the modern conurbation grew and has held city status since time immemorial. The City's boundaries have remained almost unchanged since the Middle Ages, and it is now only a tiny part of...
after the
Great Fire
Great Fire of London
The Great Fire of London was a major conflagration that swept through the central parts of the English city of London, from Sunday, 2 September to Wednesday, 5 September 1666. The fire gutted the medieval City of London inside the old Roman City Wall...
in 1666, including his masterpiece, St. Paul's Cathedral, on
Ludgate Hill
Ludgate Hill
Ludgate Hill is a hill in the City of London, near the old Ludgate, a gate to the City that was taken down, with its attached gaol, in 1780. Ludgate Hill is the site of St Paul's Cathedral, traditionally said to have been the site of a Roman temple of the goddess Diana. It is one of the three...
, completed in 1710.